A DIY Midsummer Skate Dream
09.08.2022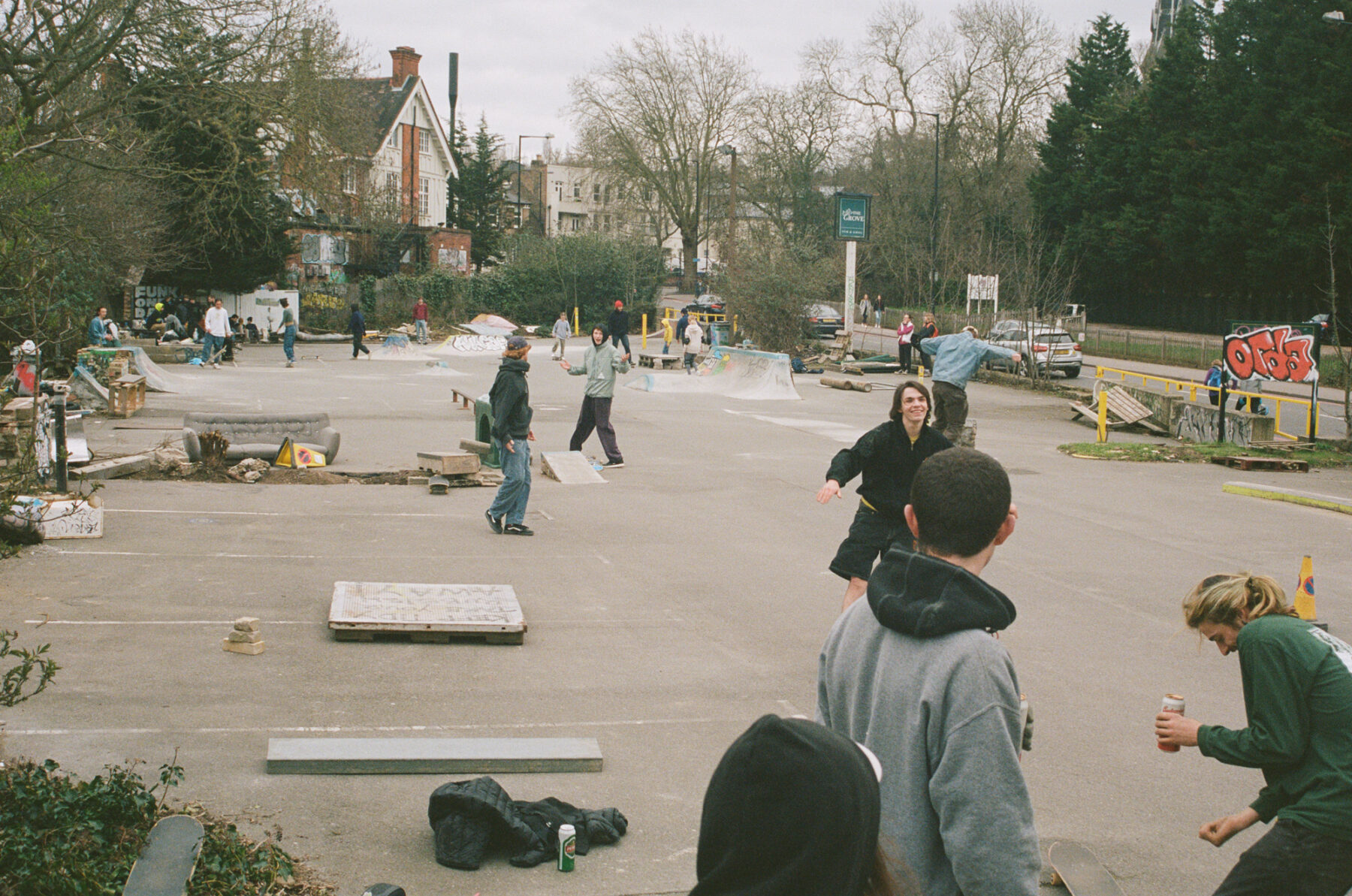 Words: Tom Critchley
Photography: Alastair Gleeson
Grey covered the emergence of The Grove DIY back in 2020 as this amateur-built skatepark grew organically among groups of skateboarders in need of somewhere to go during a year of lockdowns and pandemic-related restrictions. Cutting a long story short, The Grove DIY is located in the car park of a derelict pub within a relatively quiet area of south-east London, Dulwich. Perhaps better known for its exclusive private boys' school than its skateparks, Dulwich is one of London's most socioeconomically segregated areas with The Grove sitting on the edge of a social housing estate. Elsewhere in the Borough controversial development patterns under the New Southwark Plan have been met with strong criticism in areas such as Elephant and Castle, which have been highlighted as facilitating aggressive gentrification processes that disproportionately affect marginalised communities.
It is at this coming together of skaters and inequitable citywide development plans that The Grove DIY currently yet also uncertainly sits. Since Grey's article in 2020, the spot has become one of London's most recognisable skateparks, offering an uncouth selection of bump-to-rail, volcanos, ledges, rails, speed bumps, quarters and more, each offering a unique and often awkward composition that reflects the amateur and freewheeling nature of their construction. While The Grove has been blossoming, behind the scenes power struggles, poor communication, and uncertainty amongst stakeholders – local councillors, landowners and leaseholders – make the future of The Grove unknown. The derelict pub haunting the site serves as a reminder of the impermanent nature of London city that largely serves the interests of the elite.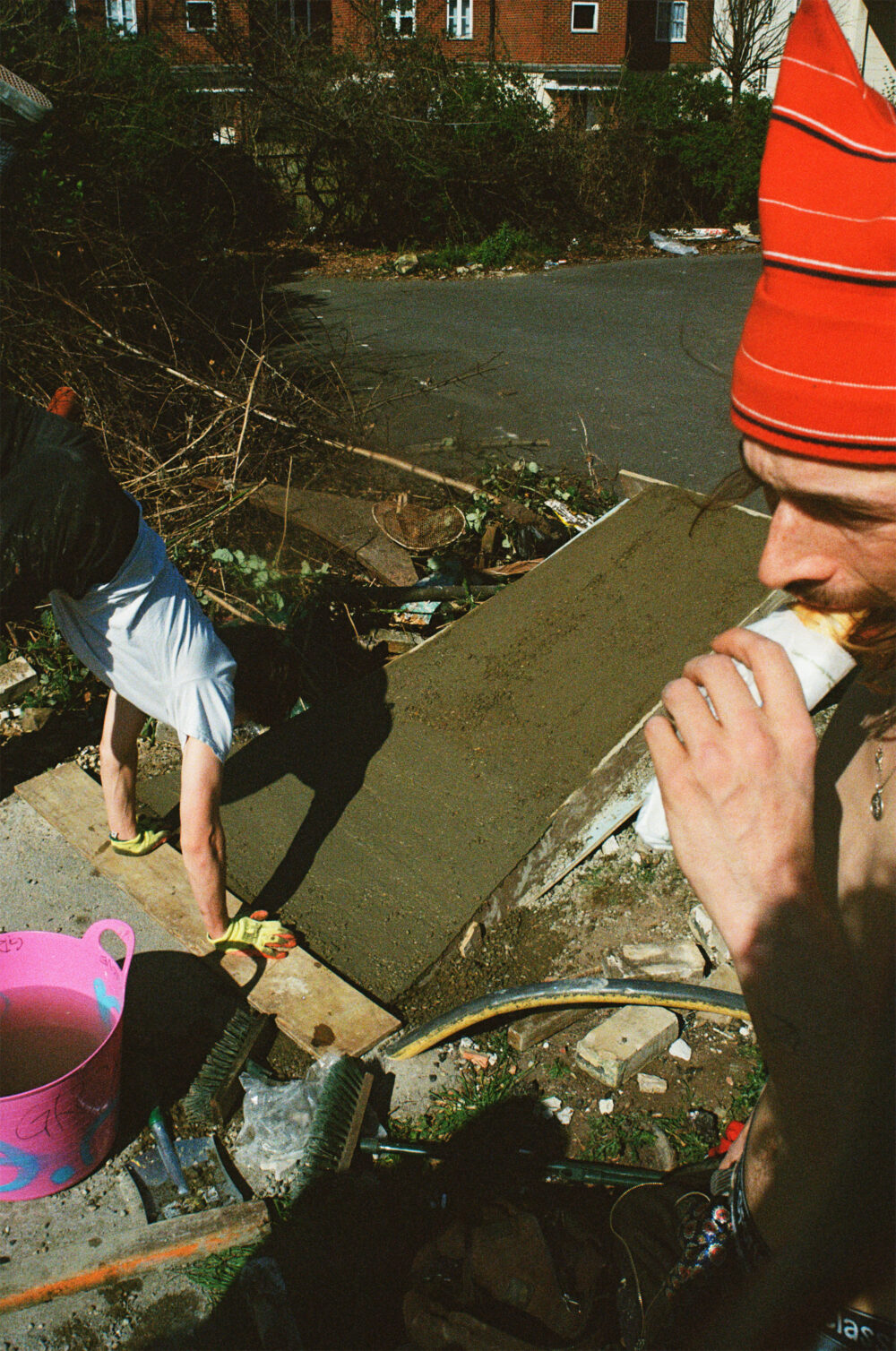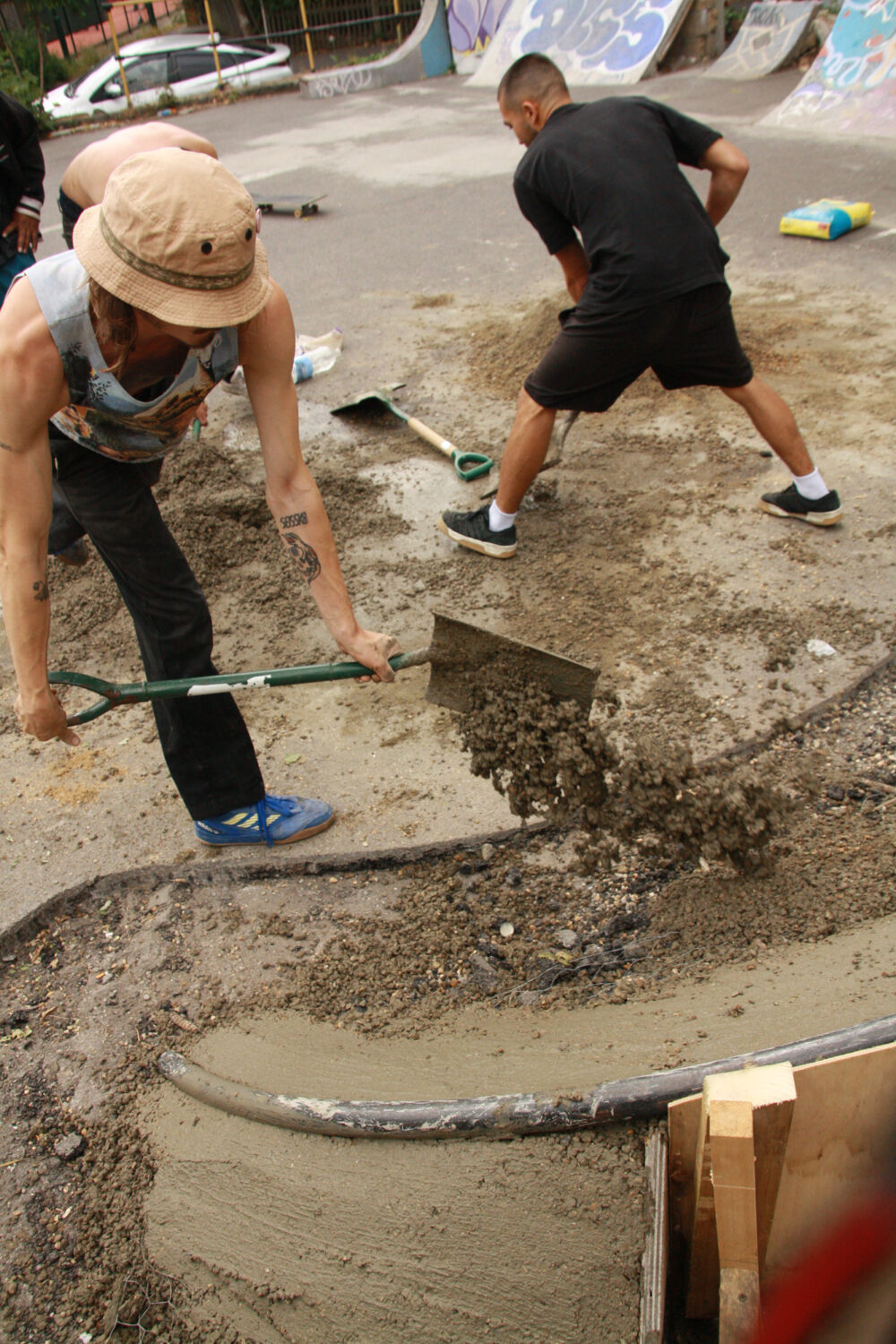 Grove patron Alastair Gleeson explained: "The Grove started with a few different crews coming together in the locked-down summer of 2020; councils were really quick to put scaff fences around all our local parks but didn't really rush to take them down once restrictions started to ease. We needed somewhere to skate, so we started learning to build our own ramps in the abandoned carpark of the Grove Tavern, which had been derelict for almost a decade.
"We have semi-regular communication with the landowners, they wanted to sell the land last year so we had a bunch of meetings and emails off the back of that where they raised the idea of compensating us with a free long-term lease for an entirely new space for us to build on. The sale of The Grove fell through in the end and the communication went dead for a while, so we're still firmly rooted at The Grove for the foreseeable future. As far as I know, the landowners are still looking at options for relocation."
DIY skateparks in particular are heralded as a radical reclamation of space within such patterns, and The Grove is no different, as groups of skateboarders have transformed the pub car park into a healthy community despite all this. But what to do as this uncertainty continues to define the construction of The Grove? Thankfully, London has a number of iconic campaigns to draw inspiration from, the obvious being Southbank, as well as more recently the redevelopment of Stockwell Skatepark after years of campaigning by Friends of Stockwell Skatepark. In this lineage of skatepark activism, The Grove has drawn from a unique site to expand beyond just a skatepark to include community gardens, gigs, film screenings and charity fundraisers to name a few.
"Although the Grove DIY looks well established and thriving now, we should be under no illusion that we are working with powerful landowners with their own ways and means… we should never lose site of that reality," warned Grove regular, Tilly Yo-Yo.
"The key to longevity of a DIY spot is to create a community space for all sorts of people and activities. Any event or project that would enrich the character of our site is a plus, and such addition would hopefully enhance the experience of whoever comes in our spot, which should ultimately strengthen our presence as the whole of the Grove community."
The thinking behind such events is simple: at best we can draw attention to the benefits of The Grove beyond the skateboarding community, at worst we can have some fun before everything gets shut down.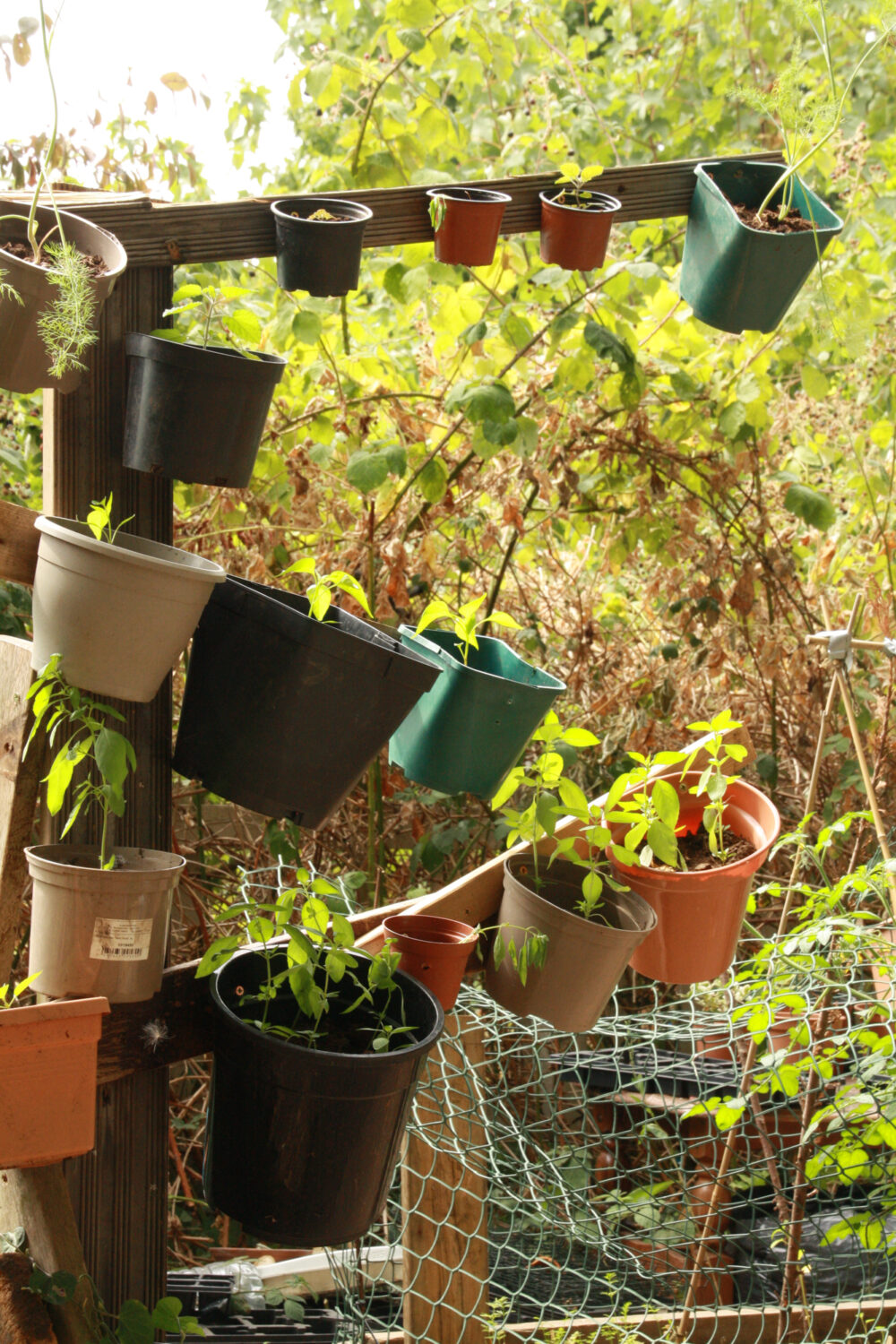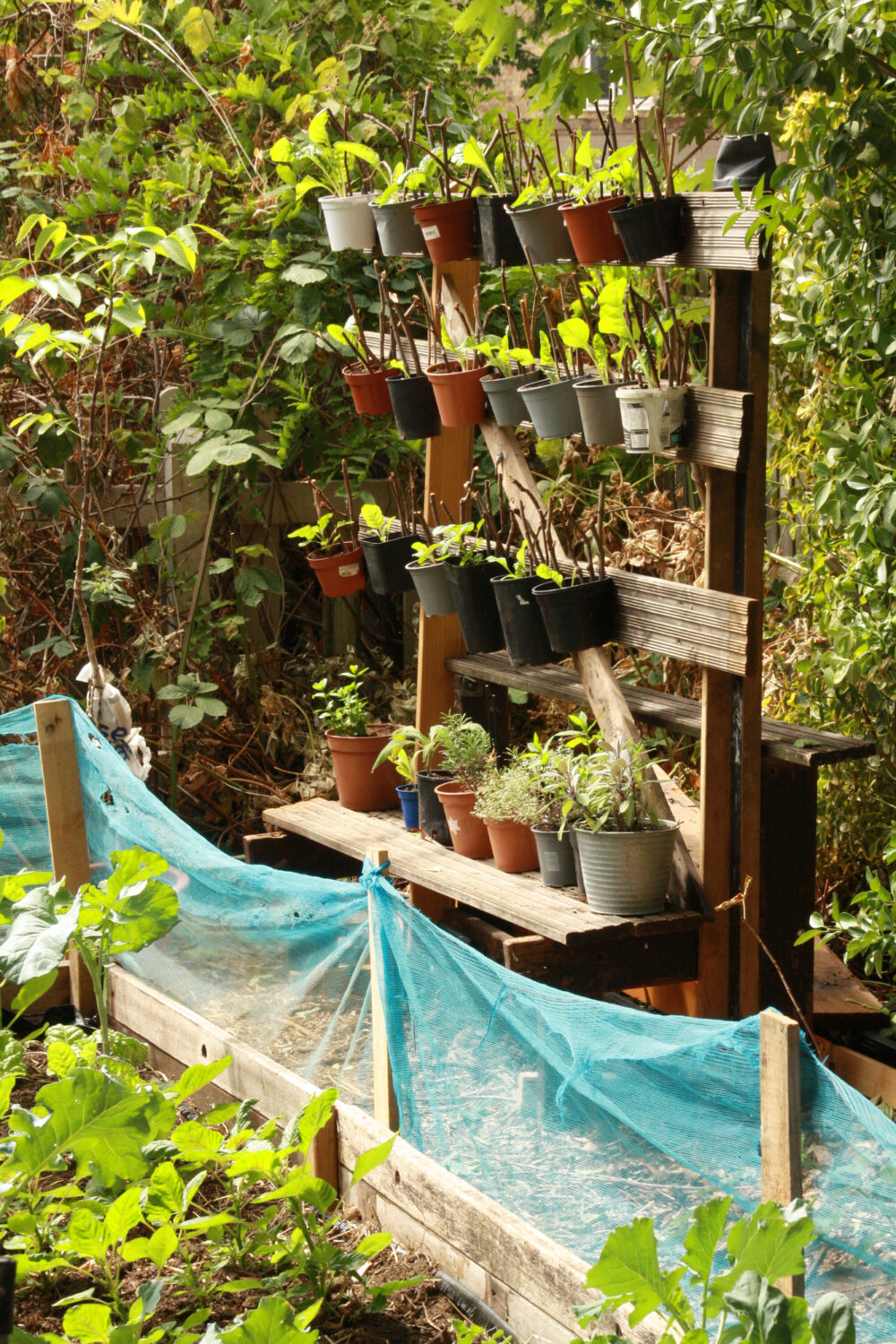 It was from this standpoint that The Grove's next – and unusual – endeavour was born: A Midsummer Skate Dream.
Over summer 2022, a cast of 30 skateboarders is producing an adaption of Shakespeare's classic A Midsummer Night's Dream at The Grove DIY. Funded by Arts Council England, this is providing paid opportunities for skateboarders interested in theatre to work over summer at the intersection of their two fields. Beyond this, the project has been designed to open conversations between stakeholders in The Grove – from the skateboarders to landowners – as well as playfully asking questions on who and what can participate in London's skateparks as traditionally male-dominated and potentially exclusionary spaces.
This is reflected by a healthy contingent of organisations supporting the project from The Ben Raemers Foundation to Concrete Jungle Foundation, Long Live Southbank and Skateboard GB, whose values align with the reasoning behind the skate play. Through The Ben Raemers Foundation, wellbeing conversation courses and suicide prevention first aid are available to cast members and users of The Grove, with themes and discussions later intertwined into the script to reflect the lived experiences of those partaking in the performances.
Similarly Nell Hardy, who is co-director of the play alongside Imy Wyatt Corner, founded Response Ability Theatre to engage with issues of trauma and wellbeing among participants, drawing from her experiences of homelessness.
"We are living in a scary time in so many different ways. Our society loves binaries – this person is marginalised, this person is not; this person is a good citizen, this person is not. But our lives and the circumstances around them are so much more complex than that, and the moral, social, political confusions that arise from these labels play havoc with the mental health of young people trying to find their identity and take charge of their needs among it all," explained Nell.
"When I was homeless, in mental health inpatient care, and having all of these contradictory and constantly shifting labels thrown at me, writing, playing music and eventually getting back to making theatre were what really saved my mental health because they kept me connected to my own truth, my own values, my own integrity. I see the young people at the Grove doing exactly that in the space they have managed to create for themselves in the midst of economic crises, severe cuts to youth provision, worsening negative stereotypes against skateboarders and the pandemic turning journeys into adulthood upside down."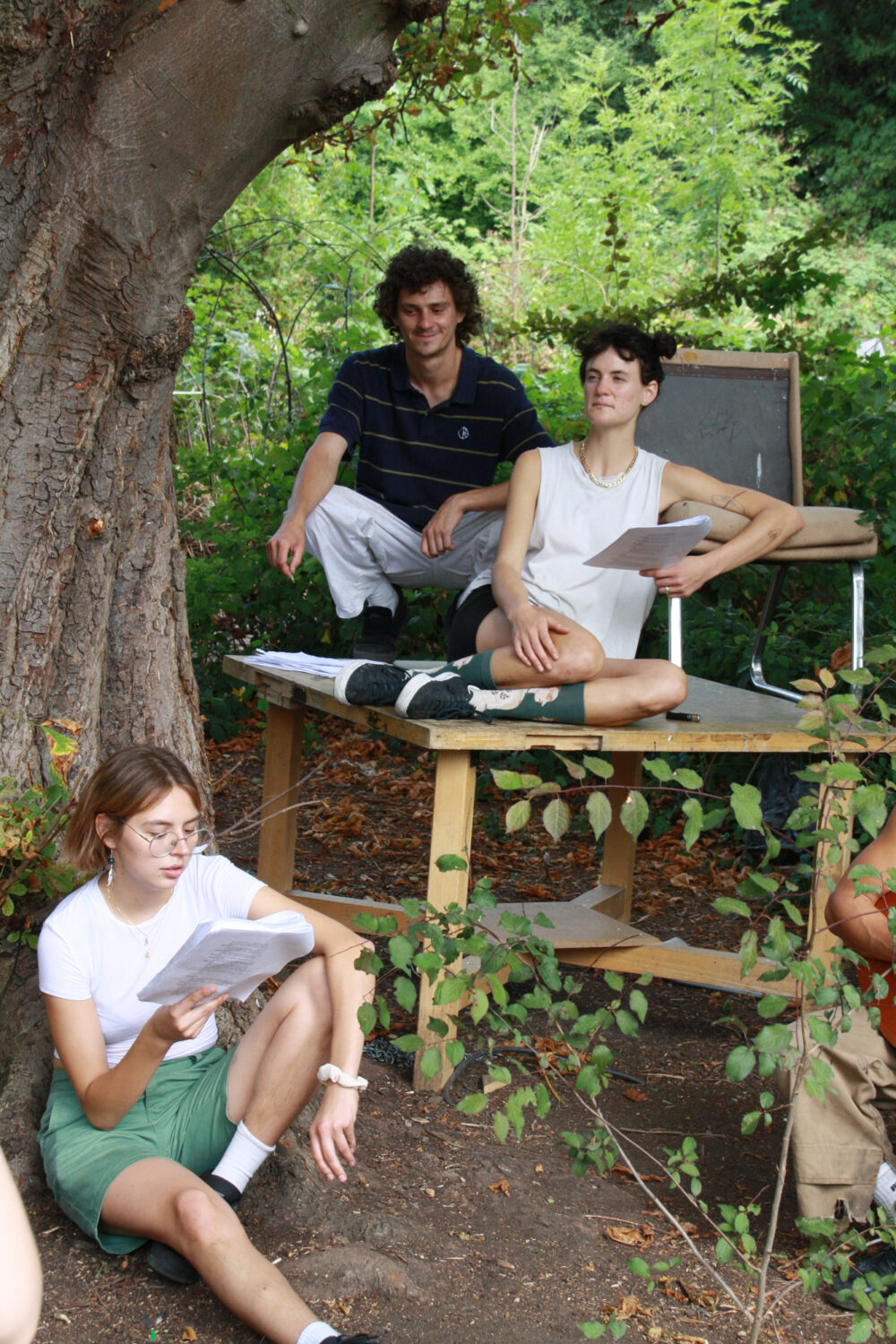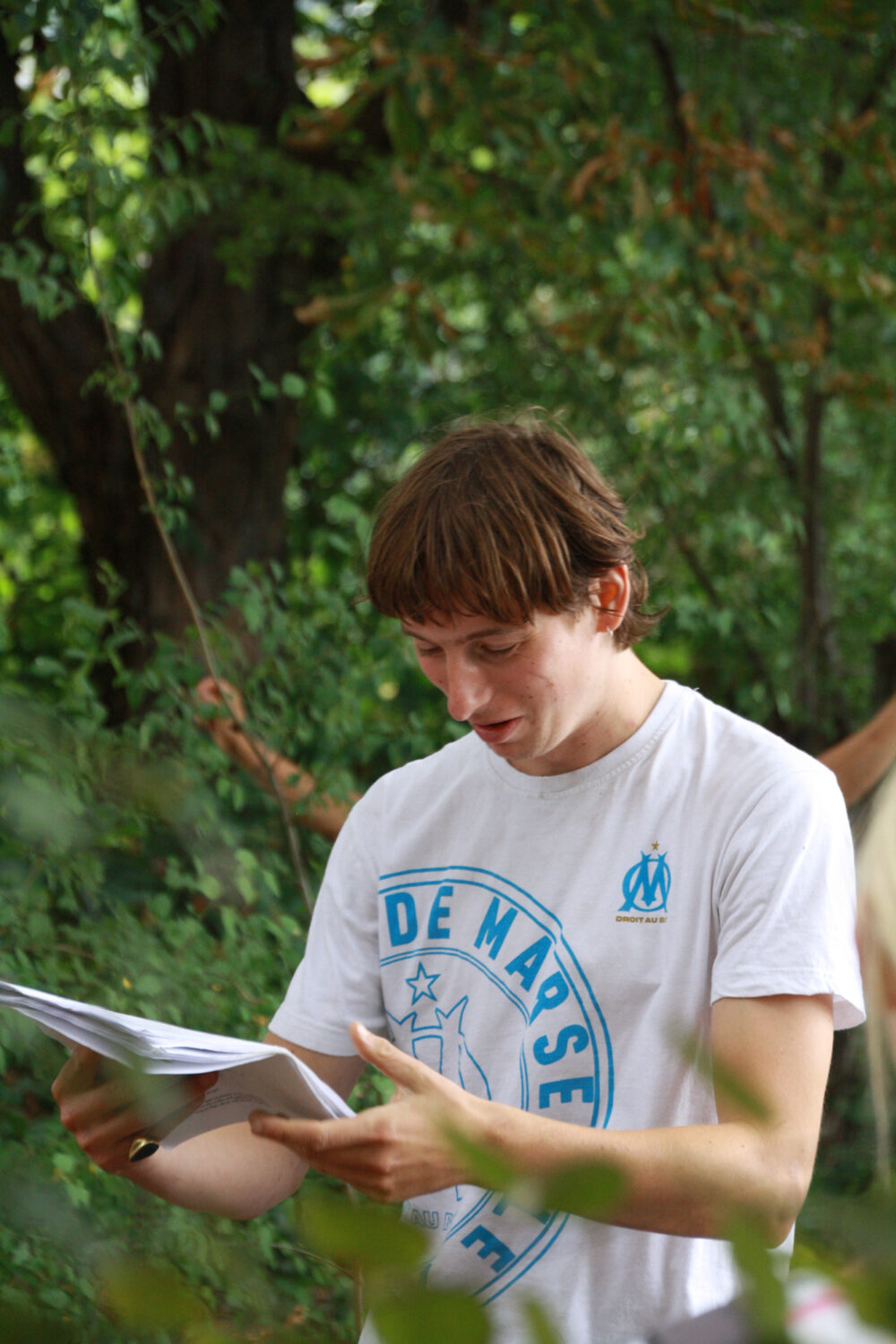 Imy also noted how: "The Grove, as with other skateparks, serves as such an important place for young people to do sport, belong and be a part of something. I feel very lucky to be working with these young skaters who have created their own community centred around something they're passionate about. Every time I work with them I find my own perceptions and expectations around skate culture being challenged and I hope our non-skating audiences feel the same way."
A Midsummer Skate Dream also offers the opportunity to ask important questions regarding participation and exclusion within London's skate scene, from which the platform Safe Skate Space emerged in response to patterns of abuse early in 2022. The play is choregraphed by Dani Abulhawa and Theo Ray. Dani's book Skateboarding and Femininity was published in 2020.Her work explores gendered power dynamics within skateboarding from skateboarders to skateparks and trick selection, combining performance, movement, skateboarding and frequently, dance, while highlighting the politics of community spaces that will often cross gendered lines.
"These three things (movement, performance, skateboarding) have merged together and I see lots of ways that they inform each other; I often use skateboarding processes and structures when I'm devising performance work, and I use some of the movement and dance training practices to help me with breaking down skateboarding tricks, or lines. My interest in performance is also really heavily related to skateboarding, as I tend to make site-specific work. What that means is that performance ideas come from the specific features, histories, stories, and myths of a particular place. For me that's very closely related to skateboarding, because of the way we respond to specific environments," Dani explained.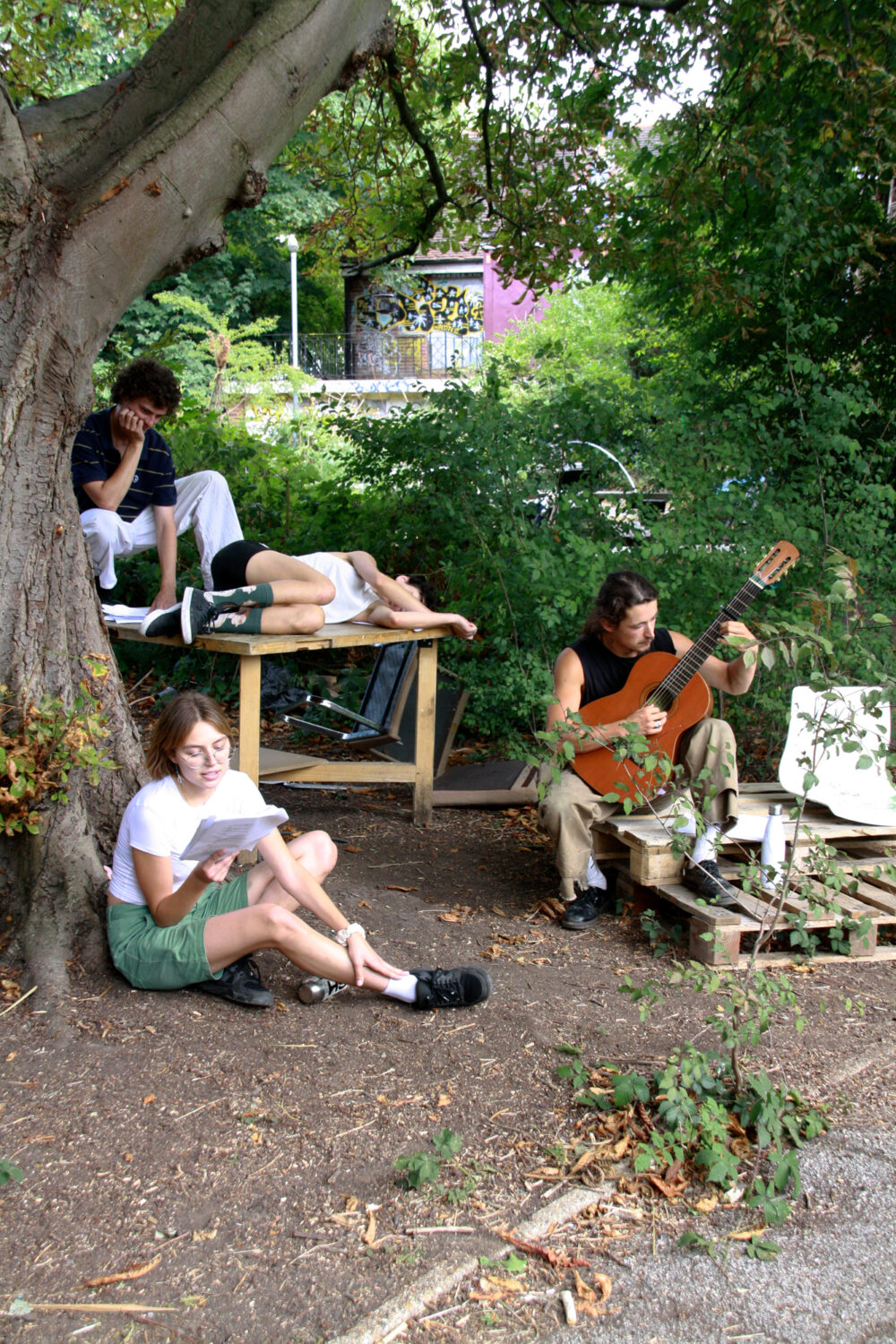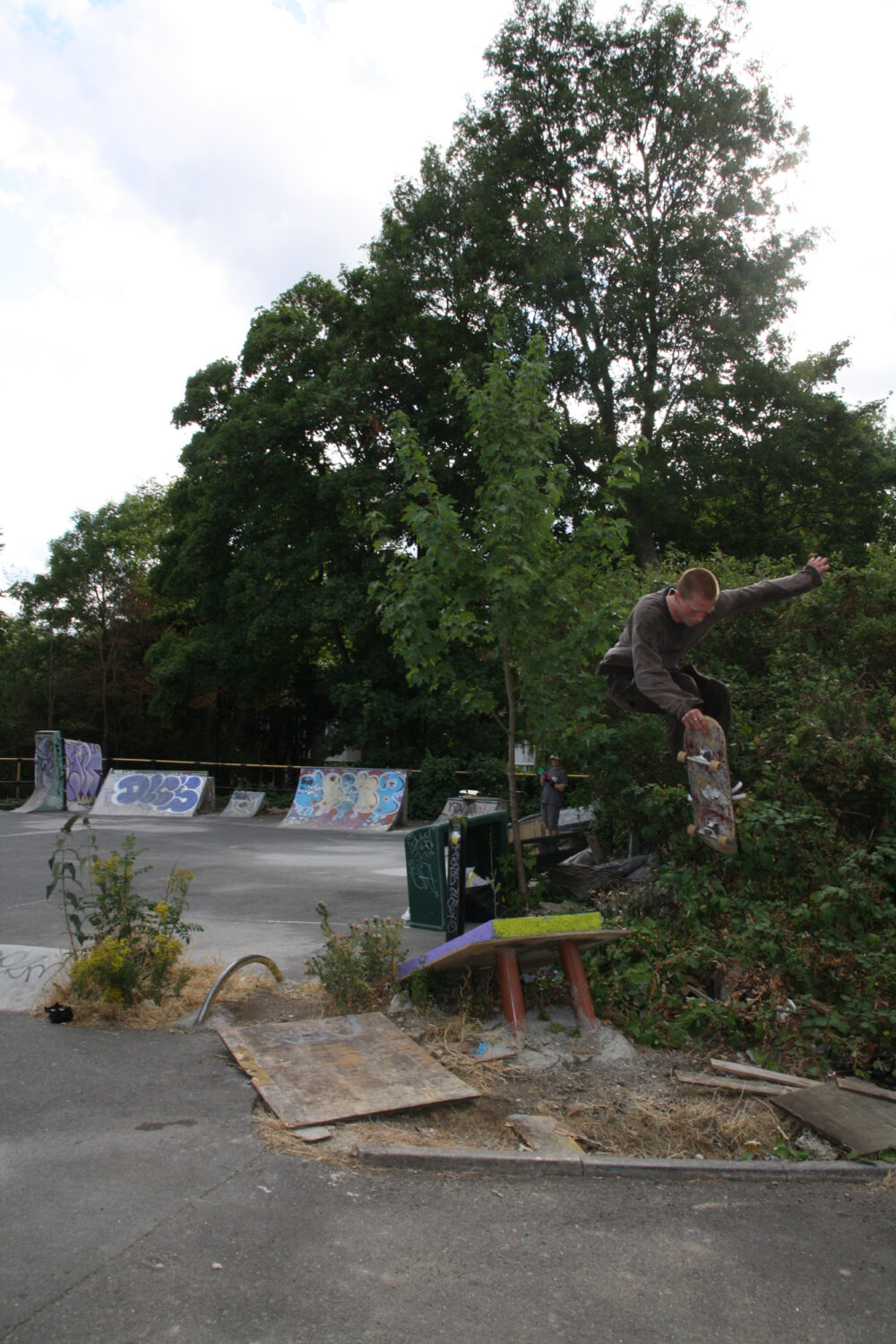 "The skate play has a diverse cast, which is wonderful because it represents skateboarding's current direction. In terms of inclusion, what I think about with this project is how we're expanding and broadening the use of the space. That's ultimately at the centre of what inclusion is. The choreography is designed to explore and uncover really unique, playful responses to the Grove's obstacles. It's exciting because audiences are going to see the space used in completely different ways than they might be used to. And I hope that is going to bring the play to life, and be inspiring for all audiences, but especially for people who skate there regularly."
Shakespeare's play explores themes of humanity, nature, love, chaos, evil and patriarchy, which positions itself as a well-suited medium to ask important questions about skateboarding, skateparks and the right to the city. In truth, not much can turn the tide of citywide development plans that are backed by astronomical funding bodies and highly influential people, and the general feeling among users of The Grove DIY is one of transience and acceptance of eventual closure. In the meantime, projects such as A Midsummer Skate Dream can bring together skateboarders, theatre practitioners and the public to celebrate a concrete past and present and perhaps reshape an uncertain future.
Performances of A DIY Midsummer Nights Dream are free and open to all.
There are five performances in total over September 03 & 04 2022:
Saturday September 03 at 15:00 and 19:00
Sunday September 04 at 12:00, 15:00 and 19:00
Register for a free ticket here.
Follow A Midsummer Skate Dream on Instagram.