Ben Keegan Up interview
16.07.2023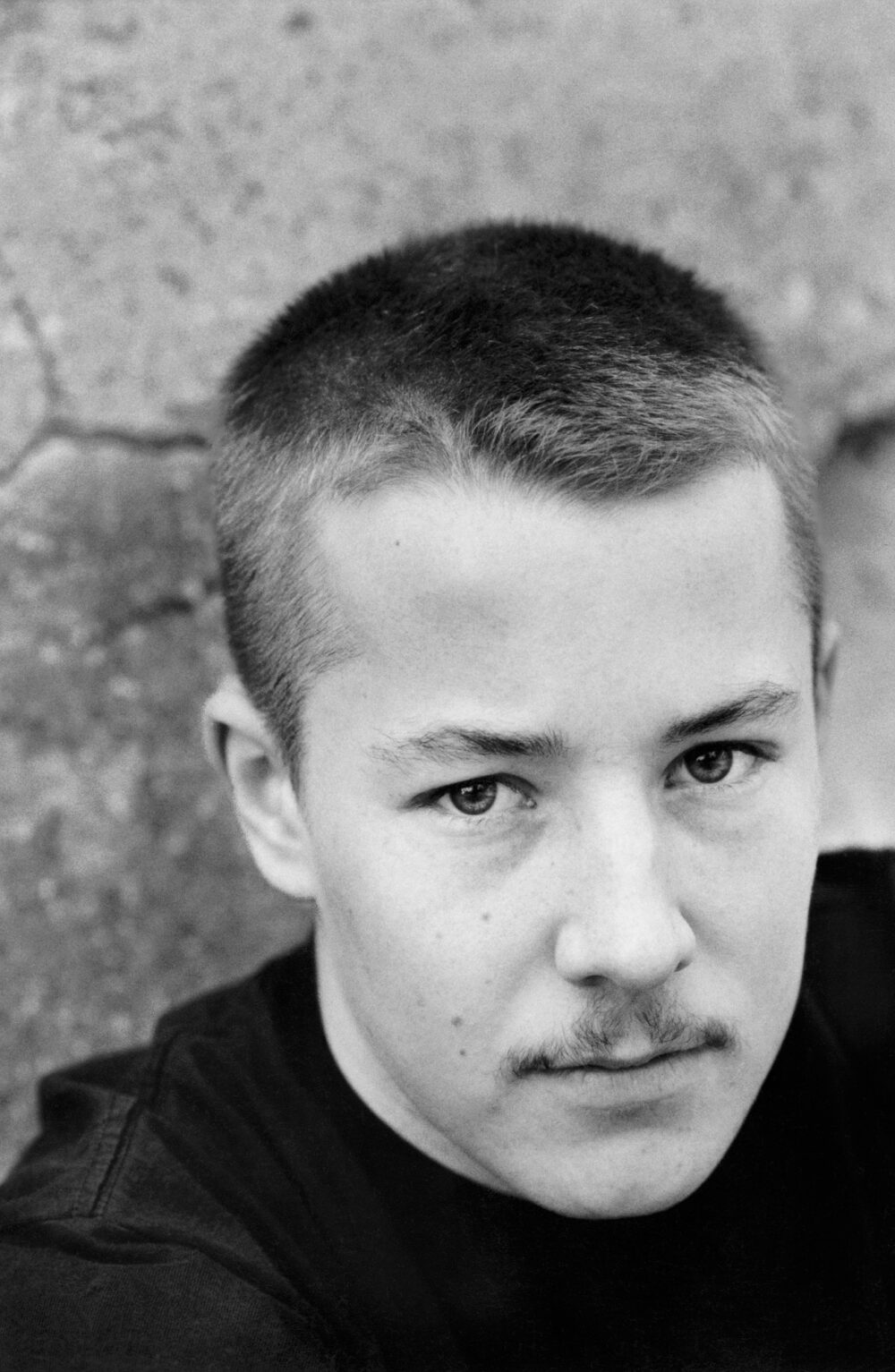 Portrait: Kembery
Interview: Kingsford
Who are your sponsors?
Huf, Ride skate shop back in Coventry and I just recently got some boards off Hoddle through
Workshop Distribution and Sunday Hardware too.
How did you start skating?
Through my brothers. I remember being at the skatepark when I was mad young, being on one of them little scooters, and those two had a skateboard. I remember being like: "That's kind of the shit," and I just didn't want to pick up the scooter any more. My dad got me a set-up from Ride and I just fell in love with it from there. My brothers would take me out – we'd go skate Cov town every weekend, some weeknights. I just started getting into it like crazy.
Your brothers are twins and they're older, right?
Yeah. They're three years older than me.
What did they think when you starting skating? Were they happy to have you along?
Yeah I think so. I'm sure it was a bit weird because from young I was always chilling with their group, but they were pretty accepting. They would just drag me along. We'd all just get the bus to town – it wasn't a thing.
I'm interested in the brother – specifically the older brother – dynamic. Was it competitive between you three?
I would see them do stuff and would automatically be like: "Wow, I want to do that too." If we'd go to stair sets, they would be able to ollie them because they were way bigger and I was probably only a year into skating. I could barely lift up the board, but I'd just throw myself down them too. We'd all try to do it and if one of us didn't, we'd take the piss. Having that always pushed me to try more shit and not be as comfy just chilling.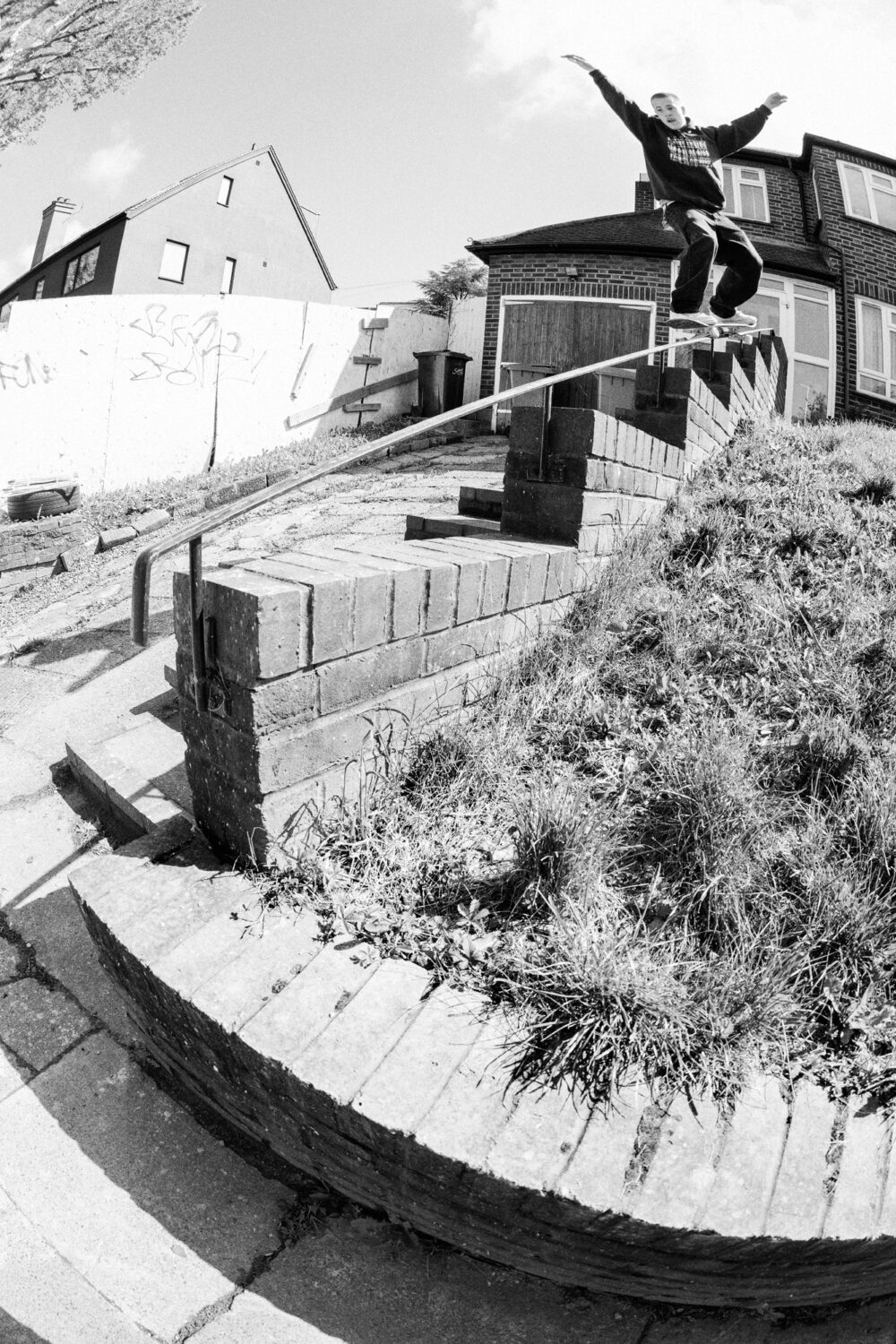 Were you all sponsored by Ride?
No. When I was about 13 my brother Matt put me together a little part, just mashed all this iPhone footage together, and I think Jim (Paul Atkins) who owns Ride saw it, spoke to Lucas (Healey, Ride team rider) and was like: "Tell him we'll put him on." It was sick – I went in and (they) sorted us the hoody, the T-shirt and all the rest of it. It was always cool – them two were never on but they would obviously get the hook-up too. I skated only Ride shop boards for five years straight.
How was the skate scene in Coventry when you started skating?
I think it was probably at its best. There are no good skateparks in Coventry. Everyone just goes to this one spot called Herbert in the city centre and at that point you could pull up without shouting no one – you always knew there were going to be 20-30 heads there chilling. I haven't been back and skated properly in years but I'm sure there are still heads holding it down. Andy Clare – a Cov OG – is still capturing a lot of skating getting done there.
Who were some locals you looked up to back then?
Definitely Lucas. Lucas was (the) GOAT. The first time I ever went street skating, he was trying to flip an 11-stair, aged 15. Then there was a guy called Dan Odjo. He was throwing flips down eight-sets in two tries when he was 16, just naturally so good.
Your brother Jamie moved to London before you for university and you used to visit to skate with him at a young age.
Yeah I was 15, 16. He was filming with these heads making these Esse videos.
I don't think I've seen those.
They were a little crew. It was nothing too serious, but they'd go in. I remember watching that shit back in Cov and seeing both of them (Matt would visit more than me) and they'd just gotten so good. All the spots they were skating blew my mind because Cov has a small city centre and you only skate the same spots. I remember thinking: "This is the place, that's where I need to be."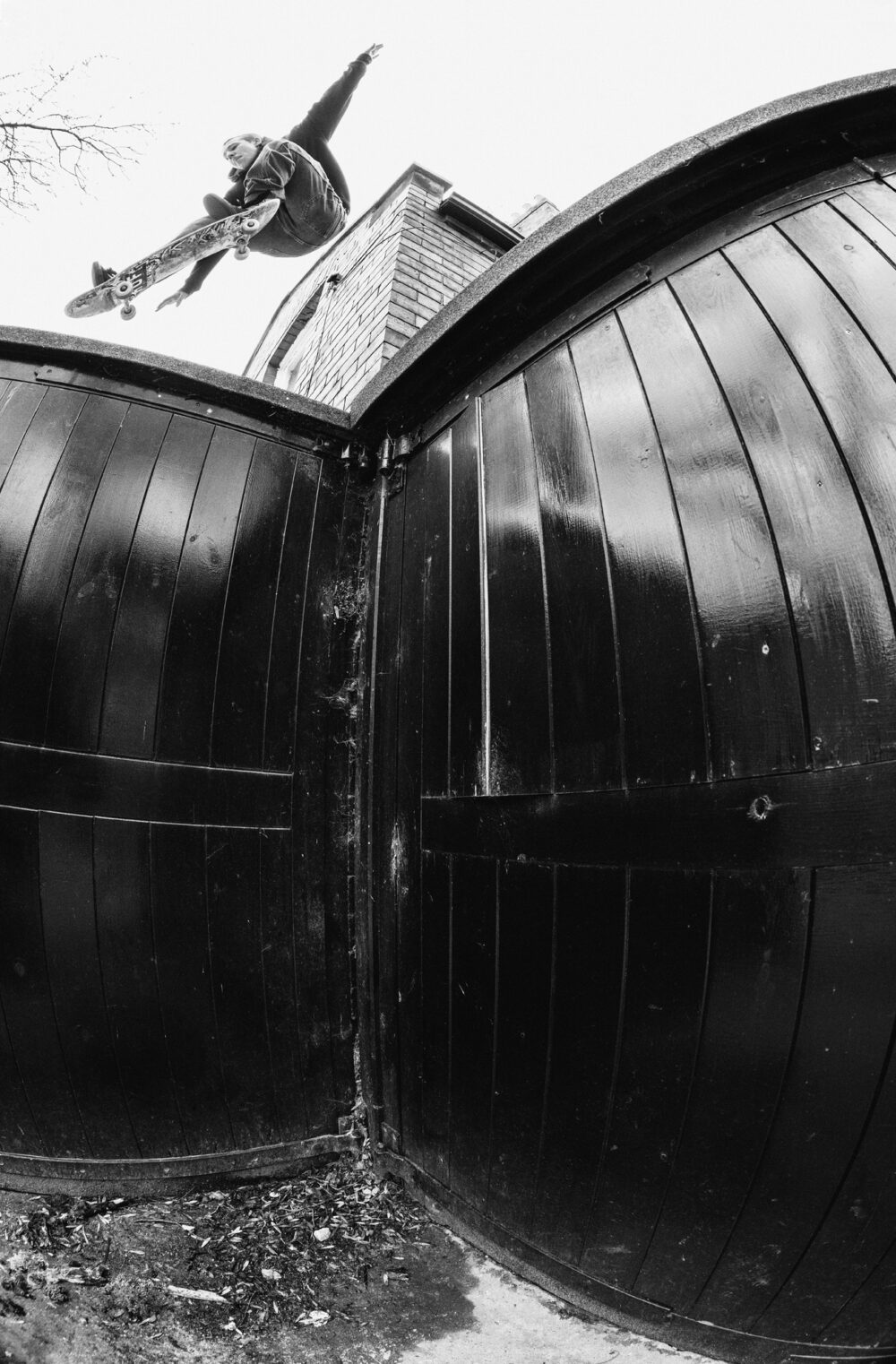 What do you remember about those visits?
I remember not knowing where I was 90 per cent of the time, but it was super-fun. I was blessed to have that – it introduced me to London.
What made you move to London?
I think just not knowing what the fuck I was doing. I moved here for uni initially but I came down during clearing – I wasn't planning on going uni. I did A-levels and I was maybe going to get a job in Cov and I was like: "I need to move." It didn't feel like the place to be if I wanted to do any sort of creative job and Cov was getting no shine in the wider UK skate scene.
You're living in New Cross at the moment. Are your brothers nearby?
Yeah we've always been pretty close to each other. Right now they both live on the same road in New Cross. I've always lived a couple of minutes away from Queens Road in the Peckham-New Cross area so we've always linked up and skated.
Your brothers both have interesting careers, right?
Yeah both of them are killing it – I'm proper proud of them both. Matt did his uni thing, finished, started doing little hand-pokes from his house and then progressed over the next couple of years, got a space in the studio, started using the gun, turned into a proper thing, which is sick. And then Jam (Jamie) with the hair… this skater he knew from Queens Road hooked him up with a job in a salon and now he's doing a load of shoots and stuff.
What did you end up doing at uni?
I did film. I did a year, Covid hit and I had some shit going on and I just ended up dropping out. I shouted David (Bray) – the guy who owns Hotel (skate shop) – about a job and he was like: "OK, we're going to move into a bigger spot in Peckham so we're going to need more staff." I didn't know him at all really. He just took a chance on me and I've been there ever since. Shout out David!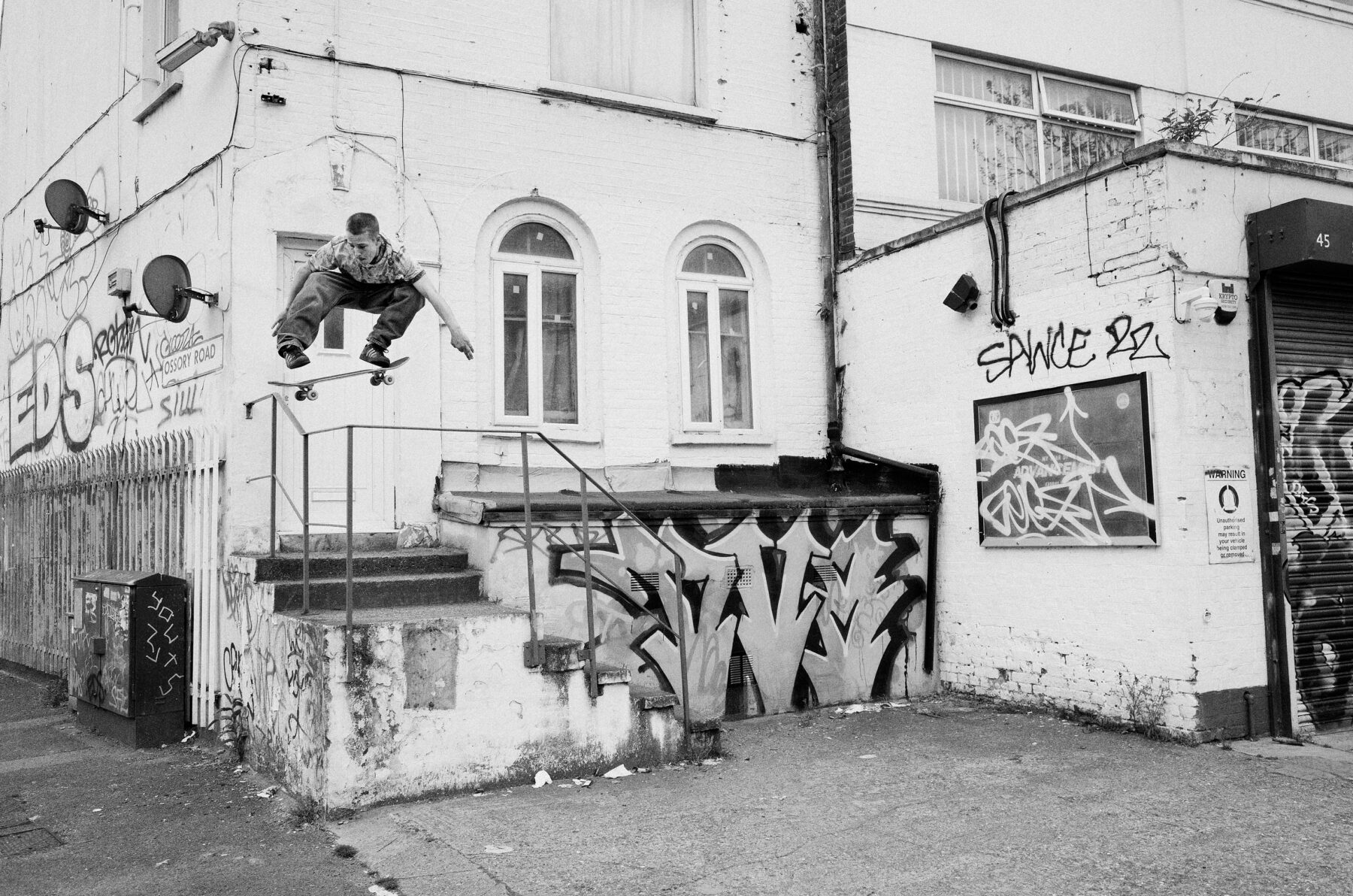 How's the shop doing?
The shop's doing good. He just put a coffee machine in there, so I'm kind of a barista now as well, which is fun.
I've heard from a few people that you dislike leaving your neighbourhood.
I know Elephant and Castle down to Deptford and I'm comfortable being around that. Jim (Silver) is always trying to drag me east and I'm never down – two Overgrounds seem like too much to me. Also, having the friends I've got around here… you've got Queens, which is just chill, a couple of good skateparks, Telegraph Hill for chilling… I don't feel the need to go elsewhere in London because I feel like I've got it all here.
You've been working on a Huf video project with Jimmy for the last year or so. Tell us about that.
Jimmy tapped me and Isaac (Gale) up about getting on Huf and we were both super-stoked on it. He shouted me to go film and we just got on – it was pretty natural. We started stacking clips, then I had a couple of minutes of footage and we decided to do something with it. That came about pretty naturally too, which was nice. We're wrapping it up now.
Who else is involved in the project?
It's mainly me and Cass (Doig). We're good mates and we'd always be trying to film with Jim together, so it made sense. Then everyone who's on Huf is trying to get a little something.
Whose skating has impressed you most first-hand?
I mean Cass for sure. He's always stoking me out because he'll just do the shit everyone wants to do but no one's got the balls to do. Dan (Fisher-Eustance) too, dude's so talented. Isaac's always smashing it, same with Mia (Gurary) and Merryn (Garner). Who else is on the team? Big up Joel (Banner) actually. Joel's been injured but I remember watching Contact High… his shit was killer.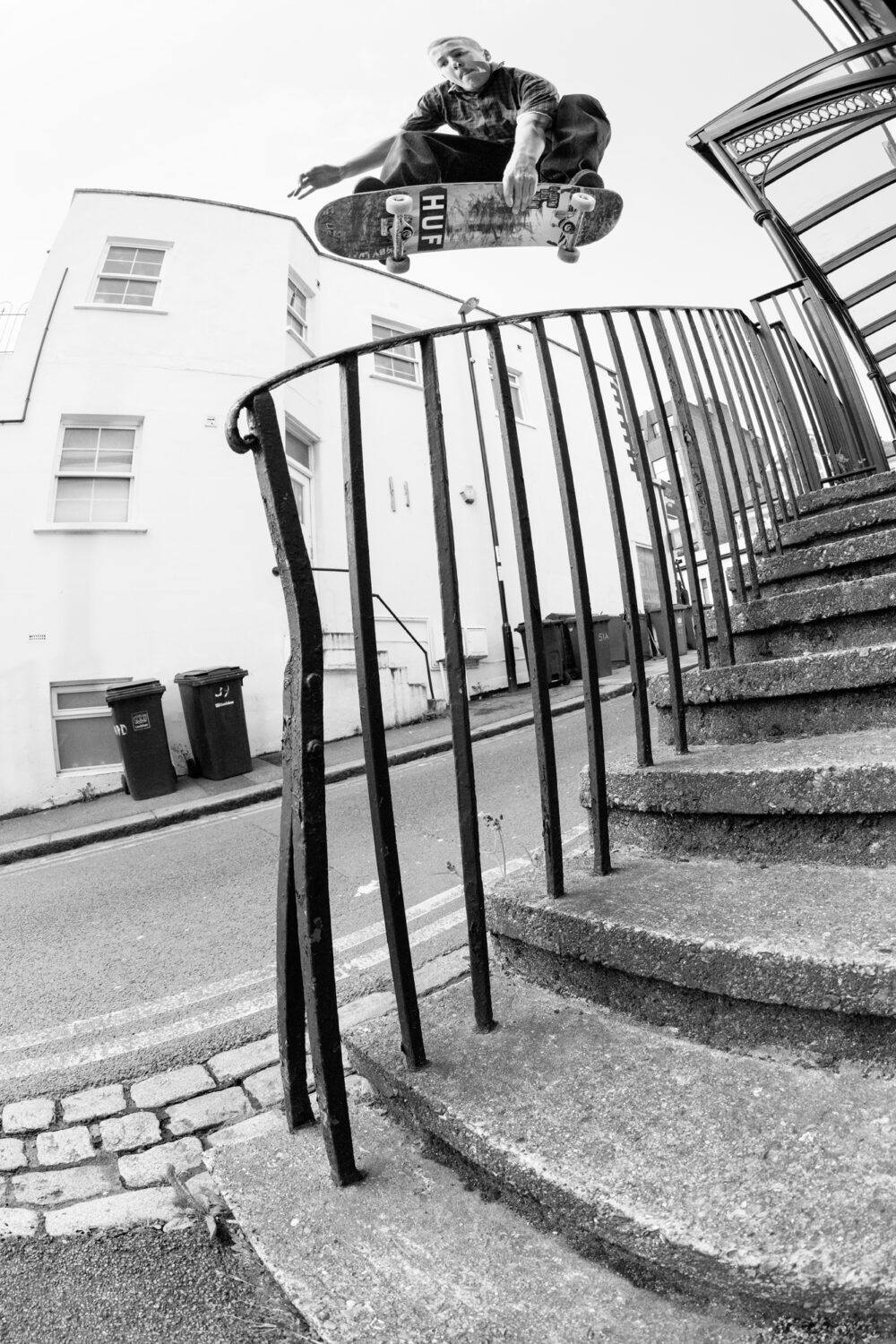 Who are your biggest influences in skating?
It's always changing but growing up the first dude I was always stoked on was Geoff Rowley. The first vid me and my brothers got was Flip Extremely Sorry and I think him being from the UK made it feel more accessible. Nowadays I'll see some shit for one week, a vid will drop, and I'll be like: "This guy's the guy, I'm trying to be like him," then a new vid will come out and it'll be the same sort of shit. Actually saying that, I really like Chris Milic. When I was growing up we'd watch his parts on YouTube. I like the quirkiness of his skating. Recently I've been rewatching (Alien Workshop) Photosynthesis and Memory Screen, and that way of editing and that style of skating is proper resonating with me now. That Rob Dyrdek part at the start of Memory Screen, it's goated man. It's funny that he's now this kind of corporate, snapback guy.
Who are some of your favourite skaters to watch in real life?
Always the homies because that's who I'm on the session with. I've seen Casper (Brooker) at Southbank a couple of times and the power he has when he's skating is fucked. He did all the best manny combos possible at Queens too. Another guy I'm stoked to see is Chewy (Cannon). Me and Isaac ended up on a random session with him and Ryan Gray. We went to the City University ledges and my god he must have raked off five or six tricks on the ledge over the dirt gap, casual like. I remember being stoked on his footage when I was back in Cov – that Palasonic era Chewy – but then seeing it the flesh I was like: "OK, this guy's the shit."
Who are some younger, up-and-coming skaters people should look out for?
Teo (Palfreyman-Gaze) skates for Hotel and he fucking killed it in that vid (Let Down), but all them boys did, Harry (Haddon), Billy (Munden)… They're next up for sure.
What are your plans for the rest of 2023?
Hopefully put this vid out soon then just have a good summer. I'm fairly sure we'll be doing more events at Hotel, which I'm stoked on. To be honest I'm never planning too far in the future.
I was about to ask if you have any longer-term plans (laughs).
I guess stick around in London for a bit. I really like it here. I feel like I've built a really good base of friends. I'm comfy now but I think I'd like to experience some other places, maybe elsewhere in the UK, but abroad would be sick too.