Dilabor – Laurence Aragão interview + 'Not a Moment Too Soon' gallery
18.10.2022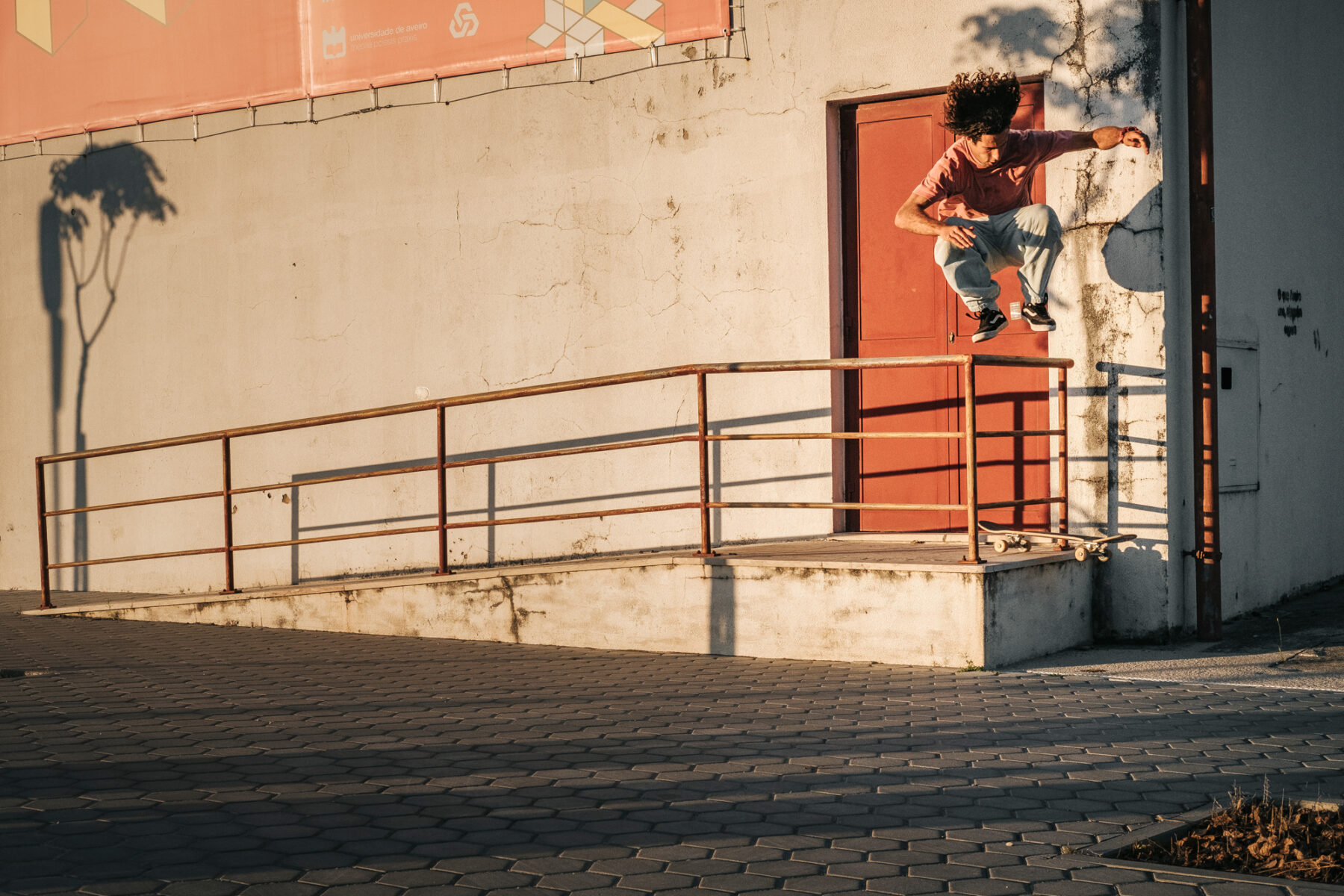 We caught up for a quick chat with Laurence Aragão about Dilabor, the Portuguese board brand he founded with his twin brother Bernard, their skate shop Pop and the #LongLivePDG movement among other topics. You can watch Not a Moment Too Soon, Dilabor's latest video offering, below and enjoy some photos shot during its production.
Interview: Kingsford
Photography: Aragão & Vilardebó
Where did you and your twin brother Bernard grow up?
We were originally born in London but since our mom's Portuguese, we moved to Portugal when we were just three years old, after our parents broke up. We grew up close to her family in a town by the ocean named São João do Estoril, just 30 minutes away from central Lisbon.
What got you both interested in skating?
When we were around 12 years old, the promenade at our local beach was renewed and with that came a perfect floor to skate plus benches, stairs and walls. That instantly became the meeting spot for all our friends, kind of a European Z-Boys vibe with everyone skating and surfing.
Tell us about your gap year in London.
When we finished high school in 2011 we weren't sure what to do next, so we took a gap year to skate, travel and work. London was our first choice since we were born there and had always kept a big connection. So we were two 18-year-old kids super hyped on life and skateboarding, experiencing the big city life with a skate rat attitude. We worked in a pub and skated as much as we could. It was amazing to see such a big skate scene with so many cool and different people shredding, loads of brands doing rad stuff and big teams coming though on tours. It was one of the best life experiences no doubt, and one that made us grow the most. Big up to all the Bay 66 fam that took us in and helped us a lot.
What made you open Pop nine years ago?
When we came back from London we were super inspired by what we saw and experienced. There was a big opportunity to finally make the skatepark of our dreams a reality in our local neighbourhood thanks to a new council participatory budget that allowed citizens to pitch ideas for potential funding. That's how PDG (Parque das Gerações skatepark) became a reality. It wouldn't have been possible without our good friend, neighbour and '80s skater Pedro Coriel, who came to us with this idea when we were only 16 years old in an era when skateparks were just sketchy wooden ramps. We ended up getting super involved in the project and when construction of PDG began, we decided to open a skate shop because that is one of the most fundamental pillars of building a skate scene.
Could you briefly explain the situation with PDG currently?
Since its opening PDG has been a huge success, hosting national and international events, boosting the Portuguese skate scene and changing old mentalities that linked skateboarding to vandalism, for example. By 2017, with the growth of the community, an expansion of the park was needed so we entered another council participatory budget, which we won with record votes. Since then we have worked really hard to make it happen the best and the fastest way possible. But even though the regulations said it had to be done by December 2020, construction never started. At the beginning of 2022 we found out that the council was changing the Urban Master Plan to approve the construction of a road through PDG, which explained why the expansion never happened. When the community learned about it, the #LongLivePDG movement was born (inspired by LLSB (Long Live Southbank) with the hope of a similar outcome). Since then the story has been all over the place, with coverage from lots of media (most recently an article in I-D) plus all the digital and physical campaigns, which have created a lot of buzz and awareness. At the moment it's in the hands of the Assembly of the Republic, which has received and accepted the national petition with more than 8500 signatures so far. We are still awaiting the outcome.
What made you start a board brand back in 2015?
Back then distributors and international brands were not doing much in Portugal and we wanted to do more, so we started Dilabor as a tool to express ourselves and to be able to give back more to skateboarding.
Tell us about the brand. What makes it different from other brands out there?
To us Dilabor is about breaking through old cycles, mentalities and patterns. It's the punk attitude; to not conform to what this world imposes on us, skateboarding as a counterculture, making us question the values and norms established by society.
The fact that Dilabor was founded in Lisbon, a place with such a special balance between the city vibe (full of ancient history and many new cultural movements blooming) and the nature vibe (with the ocean, rivers, mountains and forests nearby), has a big influence on the way we live and the way we express ourselves through Dilabor. Besides that most of our team riders grew up surfing and nowadays do other art stuff. Ben (Delaporte) with painting, Gonçalo (Vilardebó) with photography, Bernard with music…
Who is on the team and who is involved behind the scenes?
The team consists of Gonçalo Vilardebó, Manuel Santos, Daniel Crespo, Benoit Delaporte, us (Bernard and Laurence Aragão) and then we got some homies / flow riders such as Tomé Jonet, Rodrigo Campos, Khayam do Castelo and Zé Cardoso. Behind the scenes we do most of the work with the help of Gonçalo, then we have João Fonseca helping with the designs.
Tell us about Not a Moment Too Soon.
The video was filmed over three years, mainly on street sessions around Portugal, but also during some trips to Spain and Denmark. We wanted to drop the video earlier, but it didn't make sense to do it without a proper premiere party, so the pandemic ended up delaying the whole thing. Not a Moment Too Soon means "just in time" because there were some setbacks throughout its process. For example our computer broke down and we hadn't backed up all the footage, so we lost a year and a half's worth. But despite the adversities we're pretty stoked with the outcome. We believe we managed to show the good times we had with the Dilabor squad successfully.
What are your goals for the future with Dilabor?
To keep on pushing skateboarding as a culture and grow the brand so that we can:
do more skate tours around the world, do more video projects, do more events, support more causes that we believe in, involve more rad people in the project, create more awareness on topics that need to be addressed and enjoy the process as much as we can, while trying to leave a positive footprint.