Donovon and John interview
05.08.2016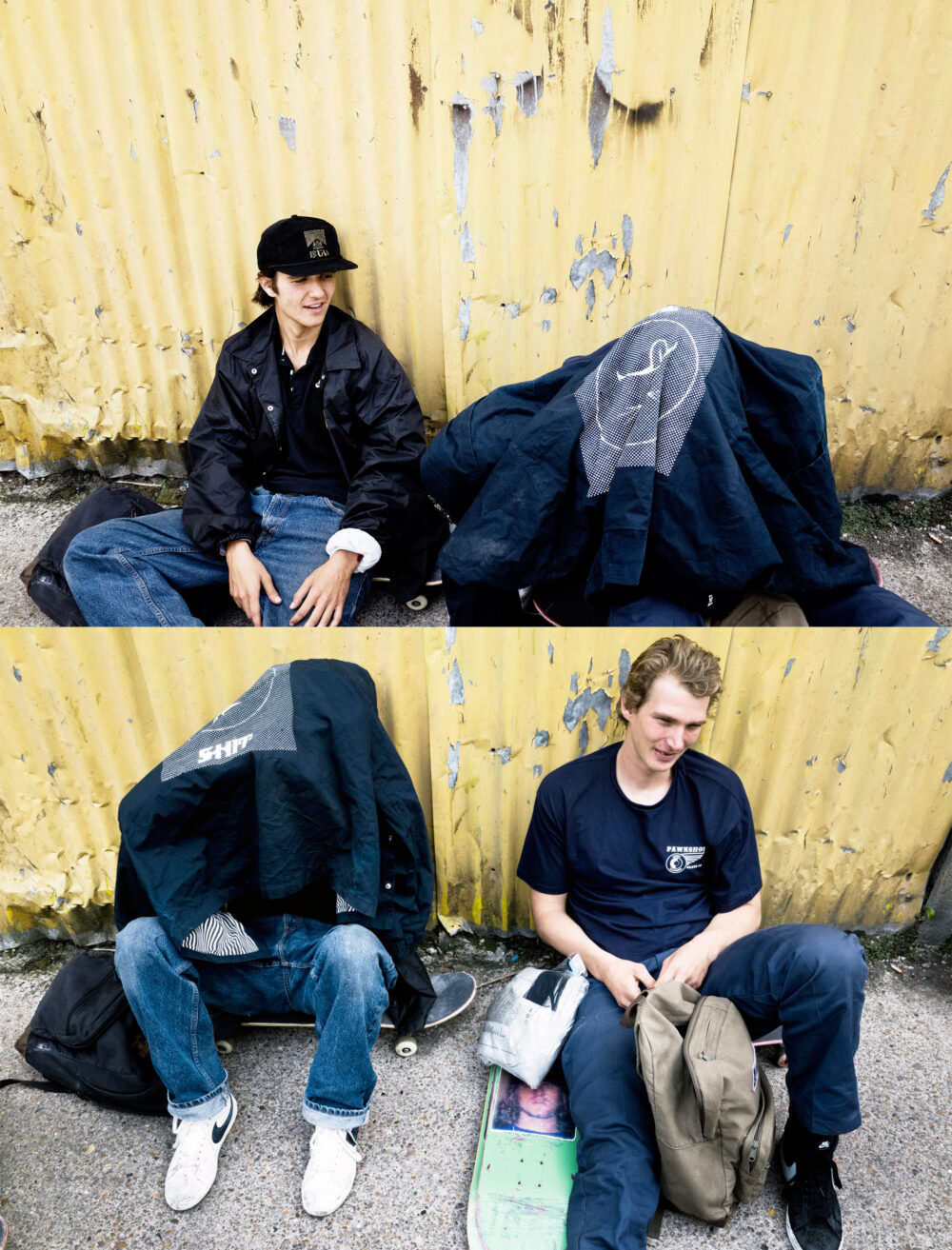 Last summer, Hockey riders Donovon Piscopo and John Fitzgerald spent a week in London skating with their UK Nike SB teammates. We caught up with them for chat about their impressions of London, growing up in the San Gabriel Valley, surfing with AVE, ice baths, Zero, Hockey and Slap's One in Million competition.
Watch Donovon and John along with the UK Nike SB team in Dan Magee's Grey Blips #01 and #02. Check out a photo gallery from their week in London here.
Interview and photography: Henry Kingsford.
How has your week in London been?
D – It's been great. It's been a fucking dream.
J – Yeah, it's been great. It's my first time here.
D – Everyone is so fucking cool. Everyone is a true skateboarder here. I love it.
J – I even got hurt first day and I'm still having a good time here, so that says something, you know.
So you would both like to come back I take it?
J – Oh yes, for sure, because I want to skate. I haven't been able to skate and it's torture, dude. I see so many good spots here.
D – The spots here are exactly how I like it. It's rough, and that makes it way harder. It makes it more fun. It's what skating should be all about. That fucking tranny park was epic, the DIY one…
Tottenham.
J – Yes, I would go back and skate that. That hubba too, that was pretty sick too.
D – I can't believe Willis (Kimbel) fucking charged that thing. There's some rad shit out here, exactly the sort of stuff I like to skate.
How has it been hanging out with the UK Nike team?
D – I fucking love them.
J – It's been sick. Everyone's rad.
D – We're all brothers. I met Kyron (Davis) before, but it feels like I've known the rest of them my whole life now. Everyone is so down to earth.
Were you into any UK skaters before you came here?
D – I knew Casper (Brooker). I think his skating is fucking sick. That gap to powerslide Kyron did, that was heavy to watch. We had the jam box going, that day was sick.
J – I think I only knew Tom Knox before I came here. I saw his name…
D – I thought he was the '80s dude.
J – Yes, that's sort of how I found out about him. The first time I saw him skate was at that contest (Nike SB London AM 2015) and he's fucking good, dude. It was pretty cool watching him skate in person. He's super good, but I like Casper, he's just power.
You both mentioned getting a lot of hassle from the police at home for skating. I don't think we got moved on by the police once in London.
D – It's a different story in the US.
Tell us that story about the drainage ditch in LA, John.
J – We were skating a big fullpipe in the middle of nowhere. You had to take a dirt road to it off the freeway and there was a helicopter circling us. We had to throw up all these camera bags and everything and then we were surrounded by cops within five minutes. The helicopter and five cops pull up and they all get out guns drawn, like: "Get face down on the ground." Everyone got thrown in the back of a cop car, it was crazy.
D – That's what we have to deal with back home.
J – It depends on the cop. We didn't end up getting arrested that time.
You mentioned that situation was something to do with drug smuggling.
J – There was a tunnel, and I guess what the cops were telling us was that it's a pretty known drug smuggling route, because it's just a mile-long underground fullpipe. It's a sick skate spot, but people use it for drug trafficking, shit like that, so when we were skating it, they had no clue what was going on, because we had all these bags and stuff. A helicopter was circling us and we saw it and then everyone ran under the tunnel, sort of like hiding from them because we were a bit sketched out, and then that's when all the cops showed up.
D – 90% of what we do for a living is running away from cops. That's how it is. You've got to run. You definitely don't want to talk to them. You never want to talk to cops. Keep your mouth shut if you're in LA and you have to talk to cops. It's a different world. It's like they want to ruin your life, it's just bullshit. Here, I haven't even seen a cop this whole trip. It's been a dream. I got to just skate and hang out with my friends all day.
You also both mentioned being stoked on being able to drink in the streets.
J – It's amazing. Honestly, we were talking about it earlier, at that spot today where we were playing music and drinking in the street, and security was coming out, and people were sort of jamming the security guard… If it was in LA, there would have been 10 cops surrounding us, people would have been thrown in the back of the car for having open containers.
D – There's a sense of anarchy and all that crazy shit. It makes it way more fun. We're not getting hassled for drinking on the street.
Tell us about where you're both from.
D – We live in the San Gabriel Valley. It's 15 minutes from downtown LA, to the east. The city is called Covina. He's from Glendora, but it's basically the same little area. That's where I learned how to skate, there's great weather every day and just fucking true skateboarders.
You guys were friends before you were on Alien Workshop together, right?
D – I've known him nearly my whole life, more than I can remember.
You started skating together?
D – Yes. Fuck it's actually insane how long we've know each other.
J – You remember when we were super little and that dude was taking us out to go filming and no one wanted to skate that rail…
D – Oh yes, we were banging on these poles so the security guard would come. This dude was like: "Yo, let's try and get some tricks down this big-ass rail". For us it was big at the time.
J – We were babies and this dude was taking us to all these rails and we would get the security guards to come so we didn't have to try it.
D – I don't know if would have even made it down the rail. It would have been savage for a kid our age to try a rail like that. So we got ourselves kicked out. It was funny as shit.
What's Covina like?
D – It's a cesspool. It's gross, honestly. It's a shithole, but that's the best part of it. That's why we're who we are I guess. Everyone's a product of their environment. It has beautiful people, and that whole aspect's great, but the rest of it is pretty insane.
J – It's tweaky.
D – There are a bunch of tweakers, just really poor… It's pretty fucked up to be honest.
People on crystal meth?
D – Yes, it's all meth. That's the drug of choice there. There's fucking great stories that come out of Covina, but the actual place is pretty brutal. It's just in the middle of a valley and the place is concreted from mountain to mountain. It's pretty bizarre, but we do have the beach 30 minutes away from us.
J – Newport is the closest beach to us.
D – Newport's the closest and that's one of our favourite little spots for surfing, then we go skate in LA during the day.
You were saying you surf with Anthony Van Engelen most mornings.
D – Anthony calls us at fucking 4am, like: "Get the fuck down here", and we lag and he's already at the fucking beach. We get our surf session in, we're all charging it – it's the funnest shit – and then we all go home for an hour, try to catch up on sleep, then he's like: "Let's go skate", so we drive to LA and session the park.
Which park?
D – He has a park with Guy (Mariano). That little three-week span was insane, we did that every day. Since the Vans video (Propeller) came out, we go surf in the morning and then we just shred all day.
Tell us about Pawn Shop.
D – It's my life, it's my family. It's only been around for five years and the impact it's already made on my life is drastic.
So it's your Dad's shop?
D – Yes, it's my dad's shop. It's our shop.
J – It's a second family to me.
Who are you guys skating with most of the time?
D – Our crew is John, myself, Anthony… Kevin (Terpening) is out with us, and then Jared (Sherbert) and Benny (Maglinao), the photographer and filmer. They skate just as much as we do. They're savages, they're so sick.
J – Benny recreated the step-off.
D – Yeah Benny reinvented the modern-day step-off after fucking Ray (Barbee) blessed us with his.
The step-off?
D – The no-comply. He tries to call it the step-off. We were in SF, and this motherfucker started doing it and then kind of started showing Kevin Terps how to do it, this whole new way of doing the no-comply.
J – Kevin learned it from Benny.
D – Then Kevin started taking it to a whole new level. It's such a fucking rad trick.
John, you mentioned AVE is quite focused on being healthy, stretching, eating well etc. How much of this stuff do you guys get involved in?
D – You've got to think about it: the age he's at and just how fucking on point he is as a human being, he's doing something right. So any advice that dude has for me, I take it, especially with food: we are what we eat.
J – I used to eat like shit.
D – I used to eat like shit too.
J – He's 36, and he's a savage. He's out every single day and I was starting to feel like shit and he was like: "You've got to do this and this", and I'll listen to everything that dude has to say. He's the best.
D – He gives us great advice.
What about taking ice baths?
J – No, we don't do that.
D – Do you want to hear something funny? I watched an interview with (Andrew) Reynolds the other day, and this shows how powerful media is: you know the photo where he's taking that ice bath and he has the little towel? Supposedly that's the only ice bath he's ever taken. That's the funniest thing I've heard in skateboarding. People were telling me, "You're going to get old, take these fucking ice baths…" Fuck that shit.
J – I've taken ice baths, they're miserable.
How did you both end up riding for Hockey?
J – We were riding for Alien Workshop and AVE (Anthony Van Engelen) and (Jason) Dill quit, and they started their own thing with FA (Fucking Awesome). Me and Donovon were still at Workshop and they asked us: "Hey we want to do a company, you and Donovon, that's it, we're going to call it Hockey," and so obviously we were like: "Alright, let's do it." So we pretty much quit Alien Workshop with no plan. Well we had a plan…
D – Our plan was to ride spray-painted boards for a year.
There was some time between leaving Alien and Hockey starting up, right?
D – Yes, it's been a long time.
But you knew Hockey was planned before you left Alien?
J – Yes, there was talk about it, but there was no concrete plan.
D – It was such a small idea.
Were you getting FA boards during that time?
D – We were getting some FA boards, but there weren't enough boards for us because it was still quite small. We would ride our old Workshop boards and spray paint them. I was riding Pawn Shop boards. Then when shit started to take off for them…
J – We started getting FA boards and planning what we were going to do with Hockey and then it just started happening.
D – Dude, it happened within the blink of an eye. It was fucking crazy.
J – It all just started rolling.
That first promo was really well-received.
D – When we were making that, we were just going skating. It's fucking sick that people liked it so much.
J – I was filming for the Vans video though, so Greg (Hunt) and Vans let us use that footage. That was pretty rad. So we used that and then I was filming for a couple of months afterwards, just with Benny.
D – We just used everything we had, pretty much.
AVE and Dill seem quite picky about riders. Did you two get on well with them from the start, back on Alien?
D – When I was a kid I rode for Zero. I got on Zero when I was 12. So I did that and toured all round southern California and Arizona with those dudes. That was insane. I met Anthony when I was 14 and I would go skate with him; it was the sickest shit ever. I met Dill with Anthony in New York and we skated together there and they were like, "Hey, do you want to ride for the Workshop?" So they got me on, and that's how I got my brother on the team.
J – I got on Zero later on.
That was after the Slap One in a Million competition, right?
J – Yes, after the One in a Million thing I was doing Zero, and he (Donovon) was doing Zero…
D – But I quit to ride for Workshop and I was like: " Fuck, I need my brother on the team," and then you got on.
J – I was riding for Zero for a little bit.
Was that part of the prize for One in Million?
J – Yes, you got a sponsorship. Whoever won got a year's sponsorship. When I was riding for Zero, everything was going good, and he (Donovon) left to Workshop and I was stoked for him, because Workshop was my favourite. He was skating with AVE and Dill and I would come out and hang, just because I would skate with Donovon, and eventually those dudes asked me to ride for Workshop. That's how I met those guys.
D – I've known them since I was a teenager, since I was 14, and those are some prime years in terms of understanding what you're going to be doing with your life, so those dudes helped me out a lot. I love those guys.