Element x Hotel Radio Paris – JC Leuvrey interview
11.10.2021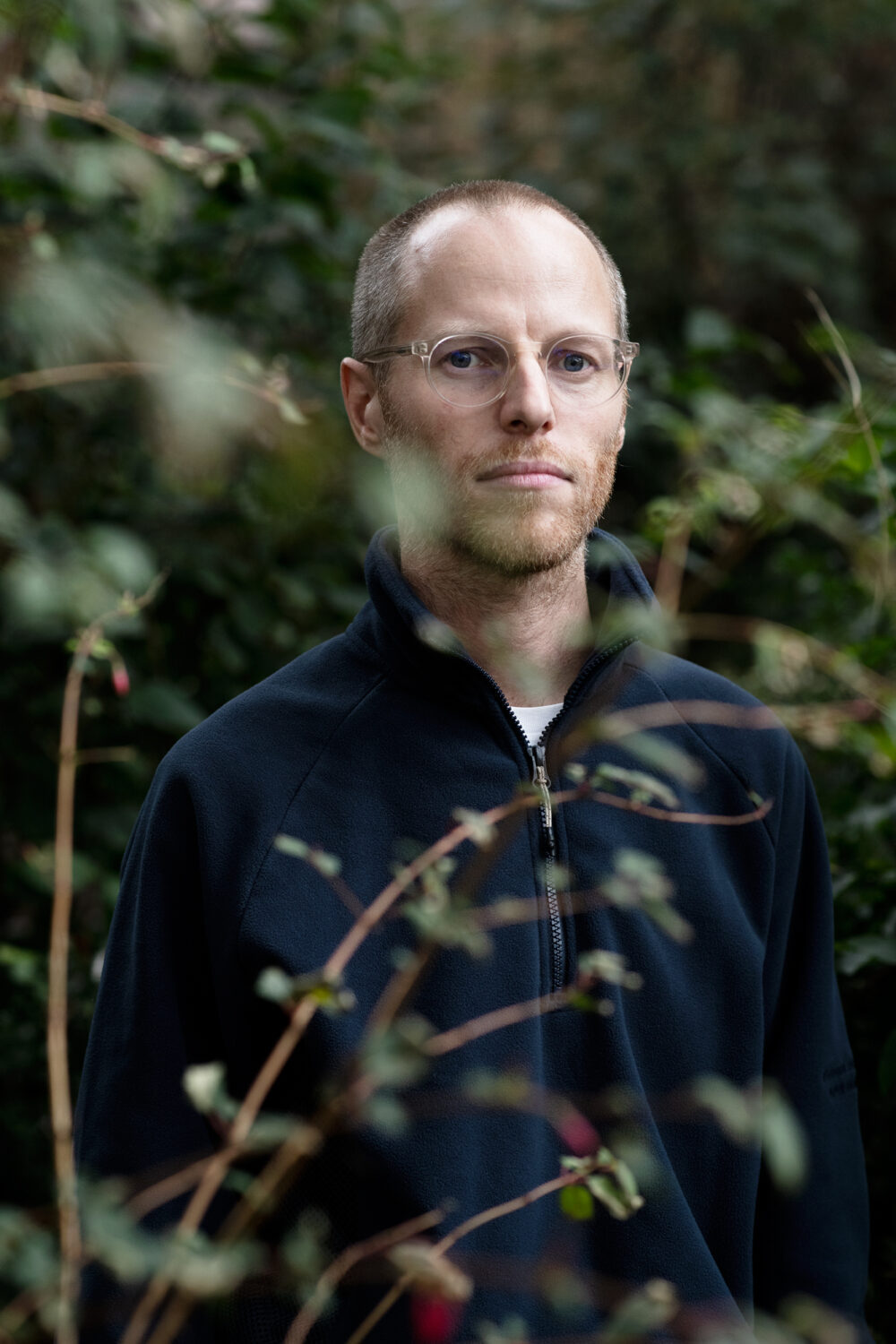 Element recently collaborated with Hotel Radio Paris for an outdoor-themed collection and pop-up radio tour through Paris, Brighton, New York, Milan, Toronto and Hong Kong with shows by Lord Apex and local artists and DJs. We caught up with Hotel Radio Paris founder and skateboarder Jean-Charles Leuvrey during the Brighton leg of the tour for a chat about his time living in London, skating Southbank and working in finance, his love of the outdoors, learning about music from skate videos in the '90s and of course, the collection.
Interview & photography: Kingsford
Tell us about your time living in London.
I moved there at the end of 2005 / early 2006 because I was really bored in France. I met an Australian girl and she told me: "You should move to London, there are tons of skateboarders," and I said: "You know what? Let's do that." I moved there and at the same time, Clément (Brunel) from Hélas – we used to be in the same city in the south – was thinking about moving to London too, without both of us talking about it. I told him: "I'm moving to London in two weeks." He was like: "I'm moving in one month." So when I moved there, the first people I met through Clément, straight away, were Lucien (Clarke) and Steph (Morgan). I ended up going to Southbank every day for three years, just skating and drinking beers.
Were you working as an investment banker during that period?
I was studying. I ended up starting the banking thing in 2011, straight after studying – I have a masters degree in statistics and another one in finance. I was an investment banker for four years.
Did your colleagues know you skated?
Yes. I had a locker with my skateboard and baggy pants inside. I was wearing a suit and I'd change. We had a swimming pool and a gym in the basement, so I would go to the pool, put on my regular shoes, take my skateboard and go to Southbank by bike, every day. Yeah they knew. It was a big gap. That's one of the reasons why I stopped: it was too much of a gap – you're at work and you have nothing to tell them. And I got really bored of it (laughs). I was complaining a lot and at some point one of my friends… I had a radio show with one of my best friends (Louis Rogé) back in France and that best friend became one of the biggest techno DJs (Brodinski) while I was living in London. We were throwing parties at Fabric back then, in 2009, and we did Boiler Room in 2008, stuff like that. I kept on complaining and he was like: "JC you should stop complaining and quit your job and come and work with me." Through him I met so many people in London and I ended up getting a job in a booking agency for DJs in London (Primary Talent) and doing different freelance stuff. But I got really bored of London at some point. I was there for eight or nine years and I split up with my girl at the time. I was looking at myself and I was like: "Fuck, I'm not from here…" It felt like I couldn't settle there. When I moved there, the first three or four years, I was like: "I'm never going to leave," but then I felt like a foreigner at some point. I think I felt: "Maybe this is not where I belong."
Right.
There was too much traffic, London became so expensive in 2013 – pints doubled in price and shit like that. I was still skating a lot and one of my friends from France, a really good skateboarder, moved to Barcelona. I was 29 at the time and he was like: "JC you should to come to Barcy and have one last year of skating," and I was like: "You know what? Yes let's do that." So I spent one year in Barcy doing absolutely nothing, like throwing a few parties with my friends, but mainly skating every day and I got, not bored, but I really wanted to do something. I met this French girl who told me: "You should maybe move back to France." And I had this radio thing in the back of my head for maybe two or three years. When I was in London, I was helping NTS to get in touch with the French DJs. I was the middleman. It was quite funny and I liked it and NTS… I was like: "They did it well," and they started getting bigger and bigger. I was like: "Maybe this radio thing is something…" I had a radio show for three years, from the age of 16-19 more or less. It was still in the back of my head. I was big into the music industry and there was just one radio station in France, web radio, and it was the French part of Rinse FM.
So there was a gap.
There was a gap. In France hip-hop and rap music is big. We all grew up listening to rap music. Even if you are posh, you're rich, you're black, you're white, you're Asian, whatever… at some point you listened to rap music because rap music in France is a big thing. Even if electronic music is big too, rap music was so big. In 2015 it started blowing up everywhere in the world, even more than before, and especially in France. So I moved back. One of my best friends – I've known for a long time, he's the manager of Daft Punk – was an art director at a big radio station and he gave me a show there, but we all got fired for some financial reason and I was like: "I'm going to start my own radio actually." I ended up doing that February 2016.
What stations do you listen to these days?
I listen to classical music or jazz music now. We have this big public radio in France, like BBC in the UK. There are two: one specialises in classical music, the other in jazz, and I just listen to those two, that's it. Radio is really annoying in France, really annoying. The funny part is that I'm being bought by a hedge fund that owns one of the radio stations in France, so I'm going to end up being the art director of this big radio station.
How will that affect your station?
We're going to have way more money so I'm going to have more employees, I'm going to be able to pay even more. I have three employees and I want to give them a raise, because they work really well. I'm going to employ two more people and get a bigger office. I'm going to focus on the art direction, whereas now I have to focus on some administration bullshit and stuff that takes time. I have to do the accounting and that's so annoying and it takes so much time, even if I'm an old banker.
How does the station make money?
It's mainly about doing music for other people. Right now we are in a Size? shop and I do all the music in all Size? shops in France. I used to do adidas but I lost the contract. So we do this and we throw parties everywhere in the world, concerts, and I'm becoming like a consultant for record labels. Sometimes publicity companies come to see me like: "We want to get some really fresh music, can you give us an artist?" So I'm becoming a proper consultant in music and a bit in fashion too.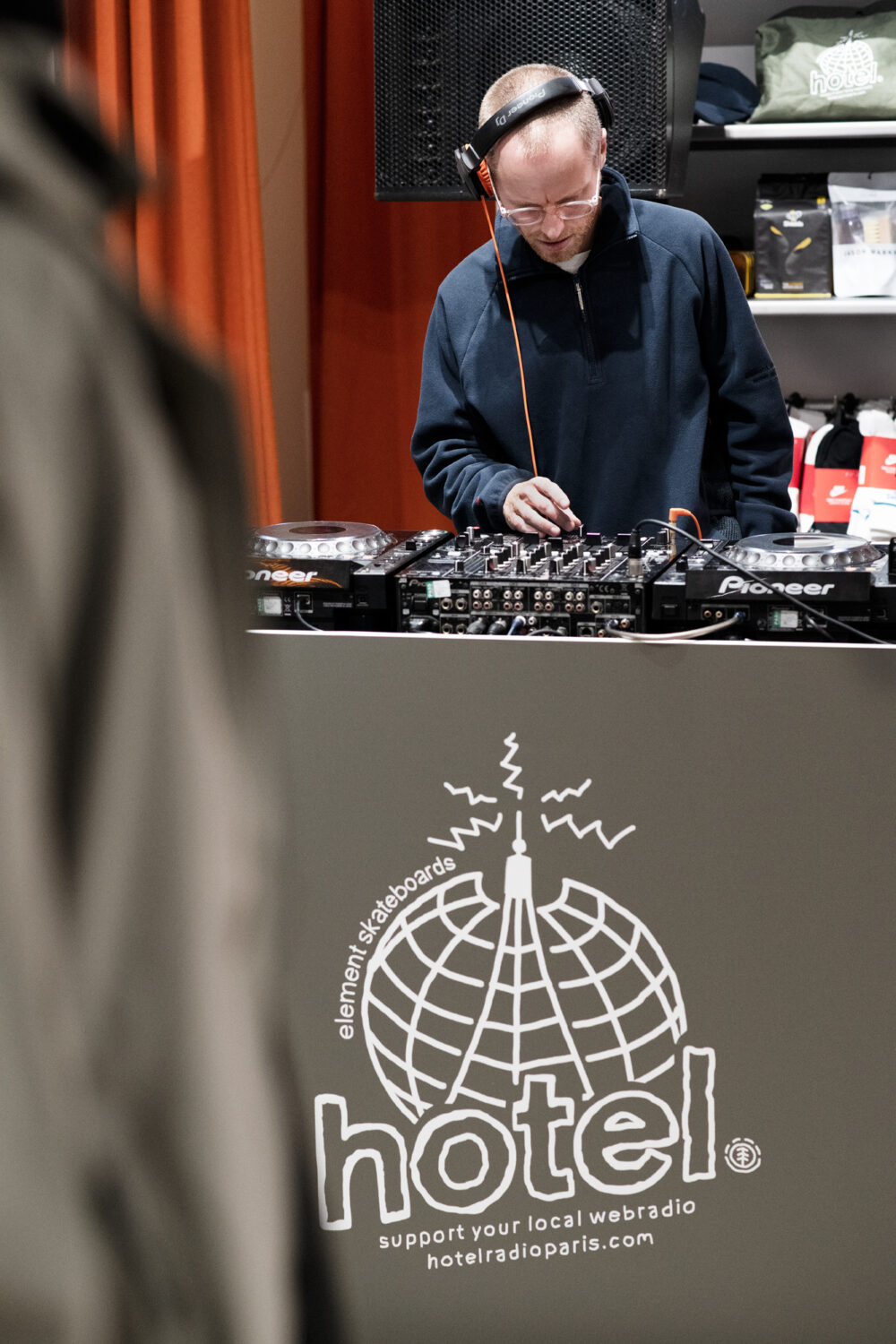 Tell us about the Element x Hotel Radio Paris collection. How did the project come about?
I met Rey (Gautier) the (Element) clothing art director three or four years ago. I played at the French Nigel Cabourn shop and Rey was there and he loved it. I was playing a bit of grime with French music and different like clubby, nice stuff – my set was really good. I ended up talking to Rey. He's half English and he lived in London for a while. He knows OG Southbank people and obviously I was at Southbank for so long and when I moved to London, I got raised by English skateboarders. In France I was a bit more of a quiet kid. I was skating a lot, but I didn't really care about it. When I moved to London, I fell in love big time. I talked about this with Rey and we got along really well together. I was doing merch with the radio to make a bit of money. One day I gave Rey a piece of merch, a fleece cap, and he loved it so much that he called me six months later and said: "Let's do a collab and lets redo the cap." And the cap you have now in the collection is the one I did two years ago with Hotel Radio.

Rey is really into outdoors stuff and he saw that I was really into it. He was like: "Come with a moodboard. Let's go for fully outdoors." I came with really, really precise moodboards. I had already started drawing some shit. My wife is a big fashion designer and she taught me a lot over the years. So I came with the moodboard and Rey was like: "Whoa, you already have half of the thing." We started finishing everything and we talked about what we wanted to achieve with Element and he wanted to push boundaries. It went really well and we started talking about the marketing part. Element never used a face outside of skateboarding before, so for the first time in their history they are using someone in the music scene as the face of the collection. I was the first one to step up the idea. I was like: "Why don't we take an English rapper, someone who is a bit famous around Europe ­– like (Lord) Apex – to be the face of the thing?" It's pushing the vision I have with the radio, which is empowering people and giving people a chance, you know? And it went really well and with the money we had left, instead of doing ads in skate magazines or big fashion magazines, we decided to do this whole world tour with pop-ups with local web radios, local artists. And the idea is always the same: it's to empower local people and young artists – and even older artists sometimes – to keep doing what they do, you know? That's the whole idea behind this tour and the marketing thing we are doing.
Tell us about your interest in hiking and mountaineering.
I've been into mountaineering for a quite a while actually. When I moved to Paris I kind of stopped skating because I needed to focus on my business and I had this year before in Barcelona, where I really wanted to skate, skate, skate. At one point I think I didn't skate for six months – I was so busy during the first year. I felt that something was missing, like being outdoors and all of that. At the time I saw something on Facebook: there was a guy crossing the desert in Morocco, walking 30 miles a day and I was like: "I want to do that!" I'd slept in a tent, but on skateboard tours – that wasn't really camping and mountaineering. So straight away: five days, four people in the desert and the mountains of Morocco and it was one of the best things I ever did. That was Christmas 2016. From that, I was like: "I'm hooked," like I got hooked by skateboarding. I'm lucky: my uncle has a flat in the French Alps, so I could go when I wanted and do hikes. Now my wife is really into it.
I felt like it was like skating: you spend the day doing sport outside, sometimes by yourself, sometimes with your mates. When you go skating, you arrive at a spot and you want to do a trick and if you do it in three tries, then you start on a new trick that you hadn't even thought about. That's the way you push yourself to learn new tricks. And mountaineering is the best. Last trip I did I did 100km in fours days, so this time I'm going to do 120… It has the same feeling to be honest. Ryan Lay from Welcome Skateboards is into trails and hiking. He said something that's so true: as skateboarders, our bodies are built to do these things. Our balance… like I can stand on one leg for six hours, because I've been doing mannys forever. And you know how we are all muscly but kind of slim? And we can skate for six hours? No one can run for six hours. We can, because we've been skating for so long. This summer I went on a solo trip through the French Alps for five days and after three days I was really tired, but I was climbing something like 1500m every day, doing 30km, and I felt really good. My body felt really, really good. I felt not at home, but at ease. That was the best. I'm actually doing Mont Blanc by myself in June. I got Arcteryx to pay for that. They're sponsoring me to do Mont Blanc by myself, so I'm starting training next month.
A lot of people from our generation… I think we're a similar age.
I'm 36.
I'm 40. So a lot of people from our generation got into music through skate videos. Was that the case for you?
Of course! I would never have the background I have in music without growing up in the '90s watching skateboard videos. Back then, when you were pro, you would choose your song. Now the videographer chooses the song. So basically Chris Cole was a metalhead, so he would have a metal band and a Rasta guy would have like a Rasta song. We could find out a full range of different music, even jazz. I guess I would never have found out about jazz without NYC videos back in '96 or something. Even if I don't like rock 'n' roll that much, I know all the classics though skate videos, like all of us. That's why there are so many skateboarders in the music industry and even doing music: because we got this full spectrum of music when we were really young. And it does open your mind. You are more open-minded in a way.
Can you think of some videos that were particularly influential in terms of music?
Yes, of course. The first video I ever saw – I still remember nearly everything – was the Birdhouse Ravers video. Willy Santos with the Beatles song, Here Comes the Sun – best song. It's still one of my favourite songs in the world. "Here Comes the Sun…" (sings). This one was amazing and then a bit later – because in France we got them a bit later – Birdhouse The End. I was a massive fan of Andrew Reynolds. Before I was introduced to Arto (Saari), I was one of Reynolds' biggest fans. And in The End he has a track from DJ Shadow and that track made me listen to electronic music for the first time. I think in '99 I started listening to DJ Shadow and I was 14. I loved it so much. Even the skating was important – the Steve Berra part was amazing. That Birdhouse video… that shit at the end with the burning shit and the suits, it's too good man. And then what else? The (Flip) Sorry video and the (éS) Menikmati video. I started growing my hair like Arto (Saari). I was doing the same tricks: trying switch tre – I never really managed to do them the same way – doing big crook grinds… I was so into Arto. And (Tom) Penny was living in France back then. Sometimes I would go Bordeaux or Paris skating and bump into fucking Penny!
You can watch the Element x Hotel Radio Paris tour shows on Element's Youtube channel.