Feature: Hot as Hell – Vans in Malaysia
09.02.2023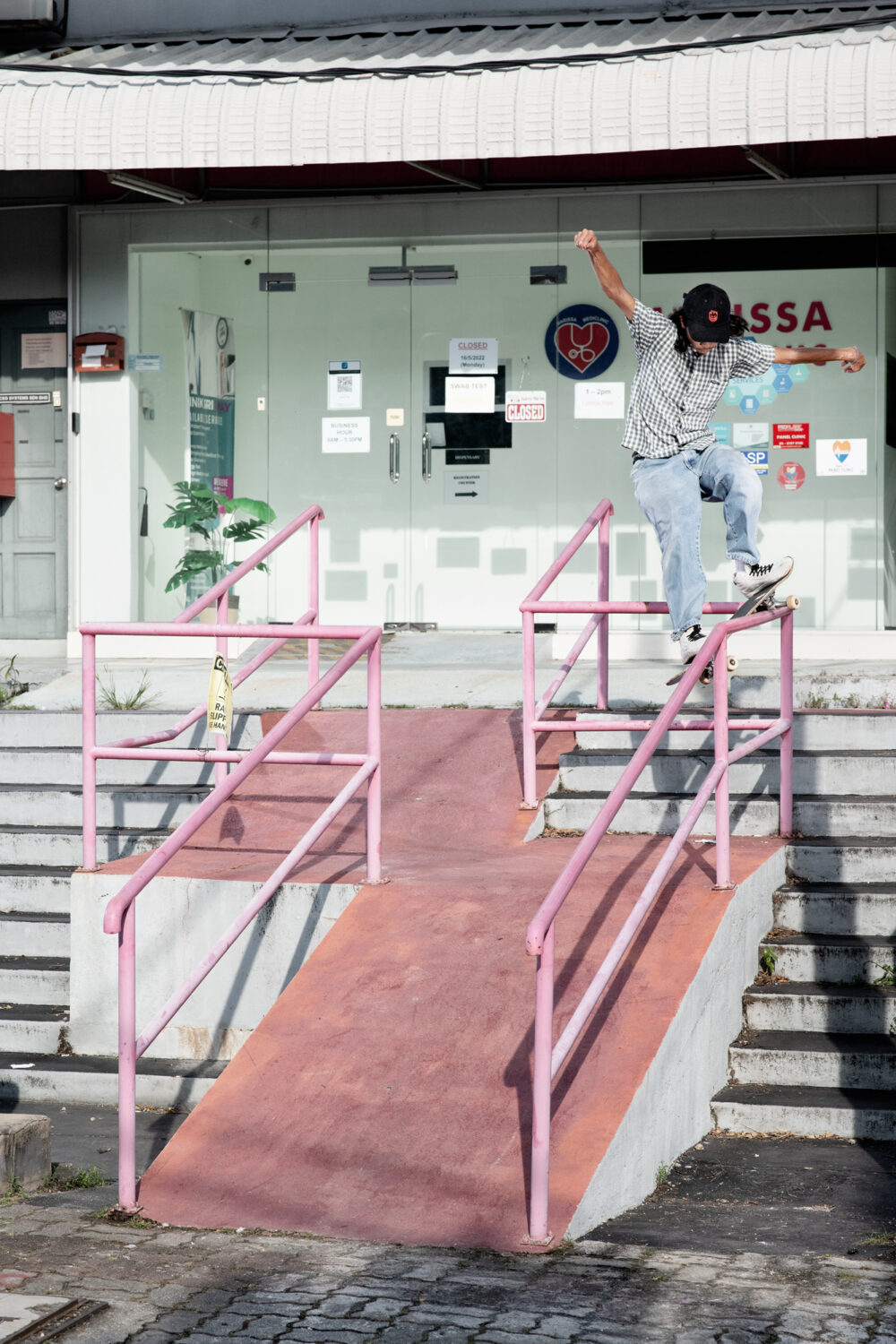 Photography & interview: Kingsford
An interview with skateboarders Don Irfan & Tep York, who both grew up in Kuala Lumpur. Don currently lives in Cardiff, Wales, but returns to KL regularly. Tep is a filmmaker and founder of KL-based brand, Quit. Both showed us around their city and joined us on our road trip in May 2022.
What have you been up to since our visit?
D – After you guys went back, I stayed on for another month in Malaysia. I did my rounds of visiting family, caught up with mates and also some skating. Since then, I have been back in Cardiff enjoying the last bit of summer.
T – I've been working on my collaboration project with Vans Malaysia for the Sk8-Hi campaign.
Tell us more about that, Tep.
T – 'TY at Work' is a celebration of the act of doing nothing, produced for Vans' Sk8-Hi campaign in conjunction with KL Fashion Weak. It's an installation of a used mannequin butchered and reassembled to appear asleep on the floor, fully covered in a blanket embroidered with custom-made patches, with only the feet peeking out in a pair of Sk8-His. Next to it, copies of the 'zine are stacked like an intimidating to-read pile, a looming tower of responsibility.
At what age did you start skating in KL?
D – I started skating when I was 12 years old. I got started from watching films and video games. I was always intrigued and wanted to try it since I can remember.
T – I can't remember. I got into a car accident a couple years after I left high school and I lost some of my memories.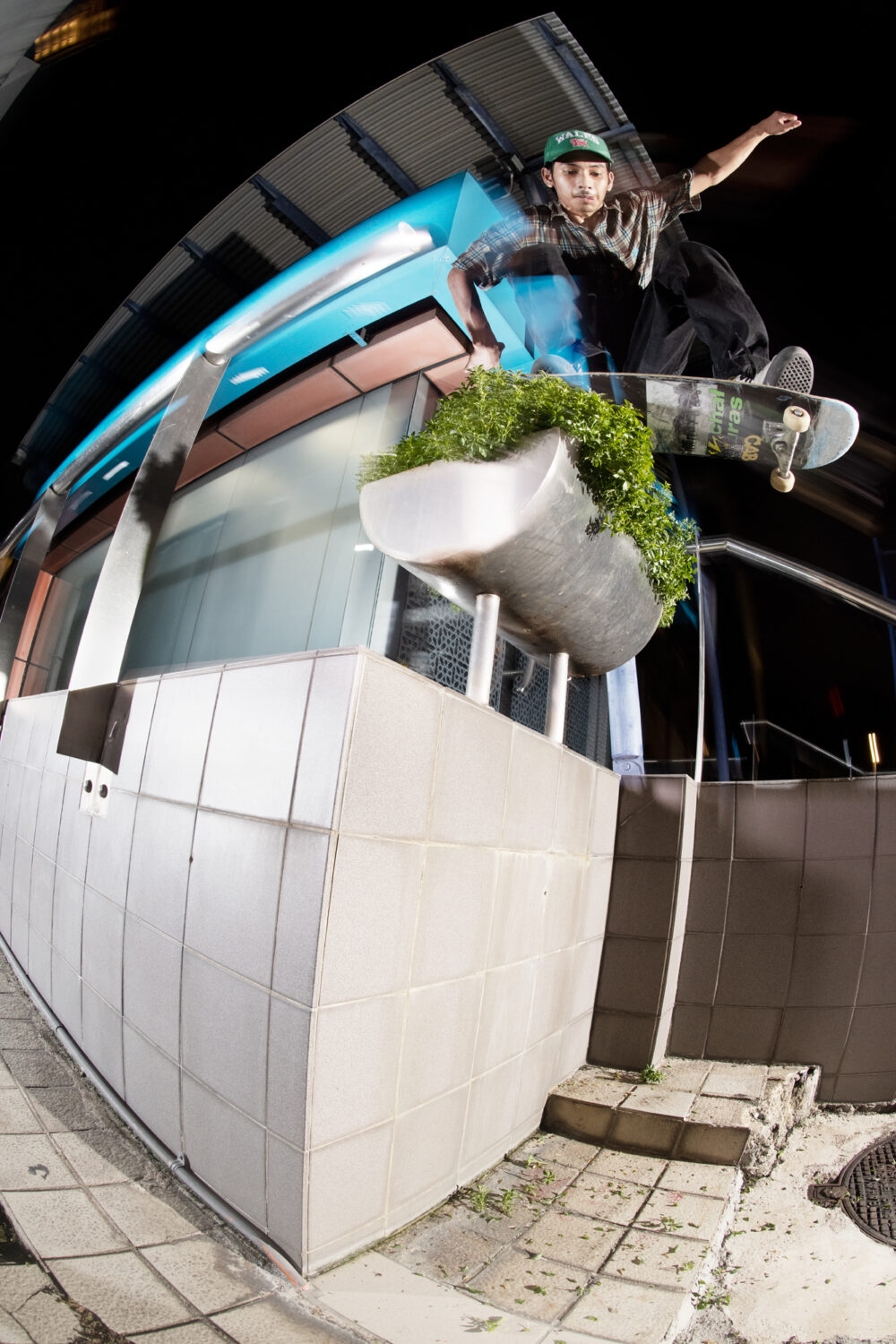 How was the skate scene when you started?
D – At that time I didn't know much about the skate scene in Malaysia besides stuff I came across on Youtube like videos by Hellbent, Laksamana and Sibling. It wasn't until I met the community at AU5 skatepark and other people that I started to know about the skate scene. The skate scene in KL is huge. There are a lot of different crews across the city. Back then, Ampang Park was the go-to skate spot for street skating and hanging out in the centre of KL.
T – Small and cute I'd say.
How has the scene changed since you started?
D – There are a lot of things for sure that have changed, especially post-Covid.
A lot of people have started skating and the scene is very welcoming for those who want to try it. There are different crews for everyone: a skate crew for the older heads, a slappy crew, a girls' skate crew, you name it… More skateparks are popping up all around Klang Valley (KL and Selangor), thanks to efforts from the community that has been pushing the government. Besides that, more people are more keen than ever to go street skating, more videos of street skating are being released and there are a lot of skate events organised by shops and councils. There are so many talented skateboarders and people who want to give back to the scene, which is amazing for the community. The scene is definitely getting better and at a fast rate.
T – Still the same. Small and cute (laughs).
Can you tell us a little about the history of skateboarding in KL and Malaysia?
D – I don't think I'm the best person to ask about this, but as far as I know skateboarding in KL started in the '80s when people from all over Malaysia started to come to Bulat Bulat Curbs (in front of Lot 10 shopping mall). That was the iconic skate spot in KL where people would meet up. When talking about key figures in the Malaysian skate scene it's important to mention Pa'din (Musa). He has been a legend since the '80s and is to this day. Besides Pa'din, there are a lot of other people who have also helped build the skate scene in KL / Malaysia into what it is today. Some pioneers are: Joe Ipoh (Johary Fitry Khairuddin), Boy Ipoh (Adlan Farazi), Mariss (Khan), Boy PJ (Mohd Zamri Ramli), Munir (Muhammad) and Ajam (Benuden). If anyone is interested in learning more about the skate scene back then, you should definitely search Gencos Skateboards, KL Minute and Climax Skateboards on Youtube for OG Malaysian street skating videos. A few of my favourite OG skaters are: Usher (Mohd Fikri), Kecok (Rozaimi Rashid), Am Cher, Nizam Lee and Kecik Ampang.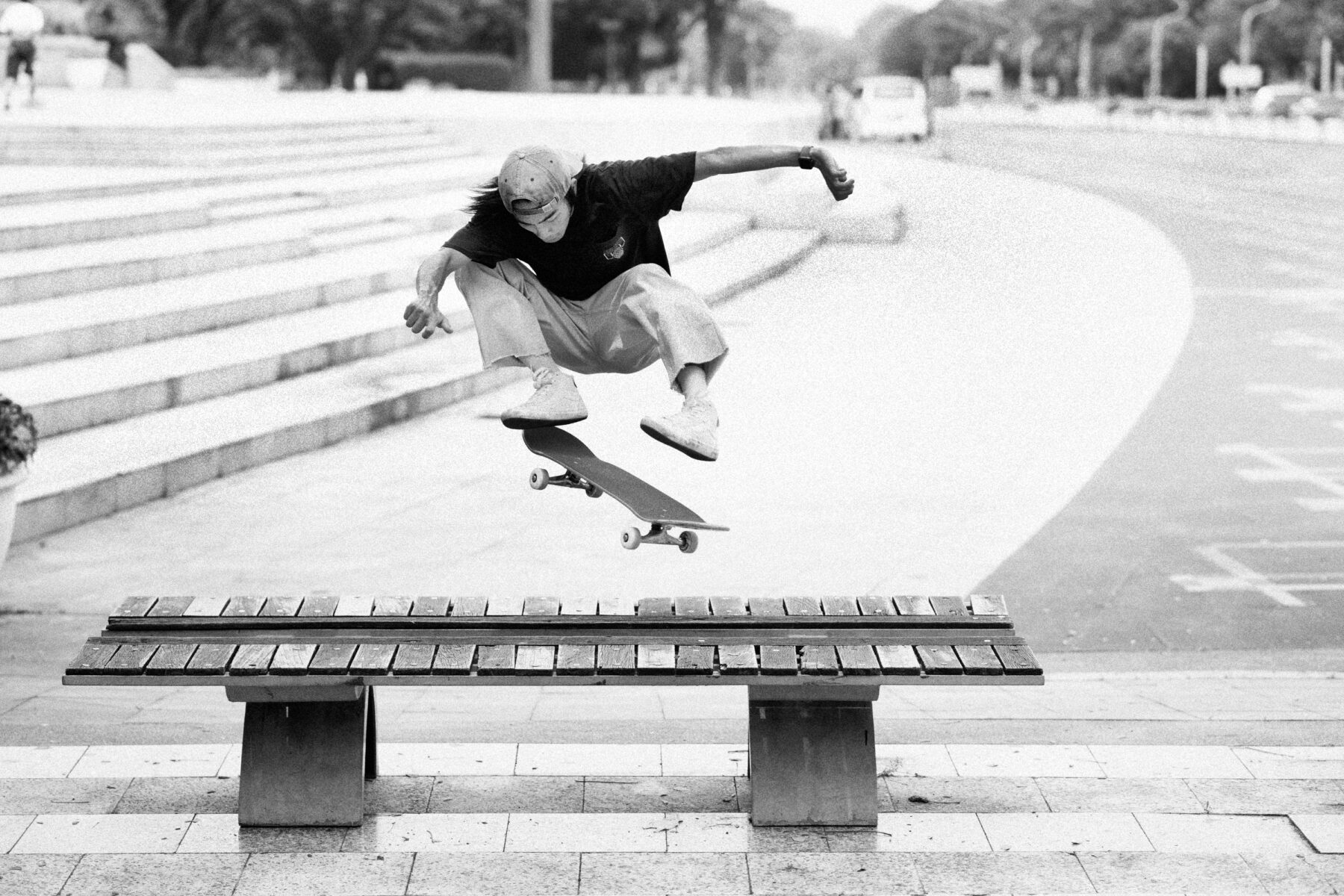 Who are some of your favourite skaters to watch in KL today?
D – Porock Luis, Gjoy Azizul, Usher, Danniel Aqmal, Fuad (Saifullah) and Azhad (Didat) Isad.
T – Don Irfan.
Who are some younger, up-and-coming skaters people should look out for?
D – Amir Danial, Luqman Hakim, Saifful Malique and Ian Iman.
T – Don Irfan.
Are many women and girls skating in the city?
D – I've been in away in Wales these past few years so I haven't experienced this first-hand, but there are definitely a lot of them from what I have seen on social media and at events, particularly post-Covid. I truly believe this is important for the scene, so that girls and women can feel less intimated to try skating.
What do you see for the future of the skate scene in KL?
D – I don't know really. I really like where it is right now. It looks like it's going in the right direction: more events for the community, loads of street spots popping up, loads of talented skaters… I really hope more people come to visit Malaysia. I think that would be pretty cool.
T – Growing I guess. Shout out to Vans Malaysia team manager Munir Muhammad, Pa'din etc for keeping the local skate scene happening and lively.
Tep, when did you start filming and why?
T – 2013 or 2014. At that time there were no local skate edits that I liked in KL so I started one myself. I wanted to see something that was super raw, a pure fun street edit with weird spontaneous moments capturing different walks of life on the streets of KL. Most of my inspiration was from the New York skate scene.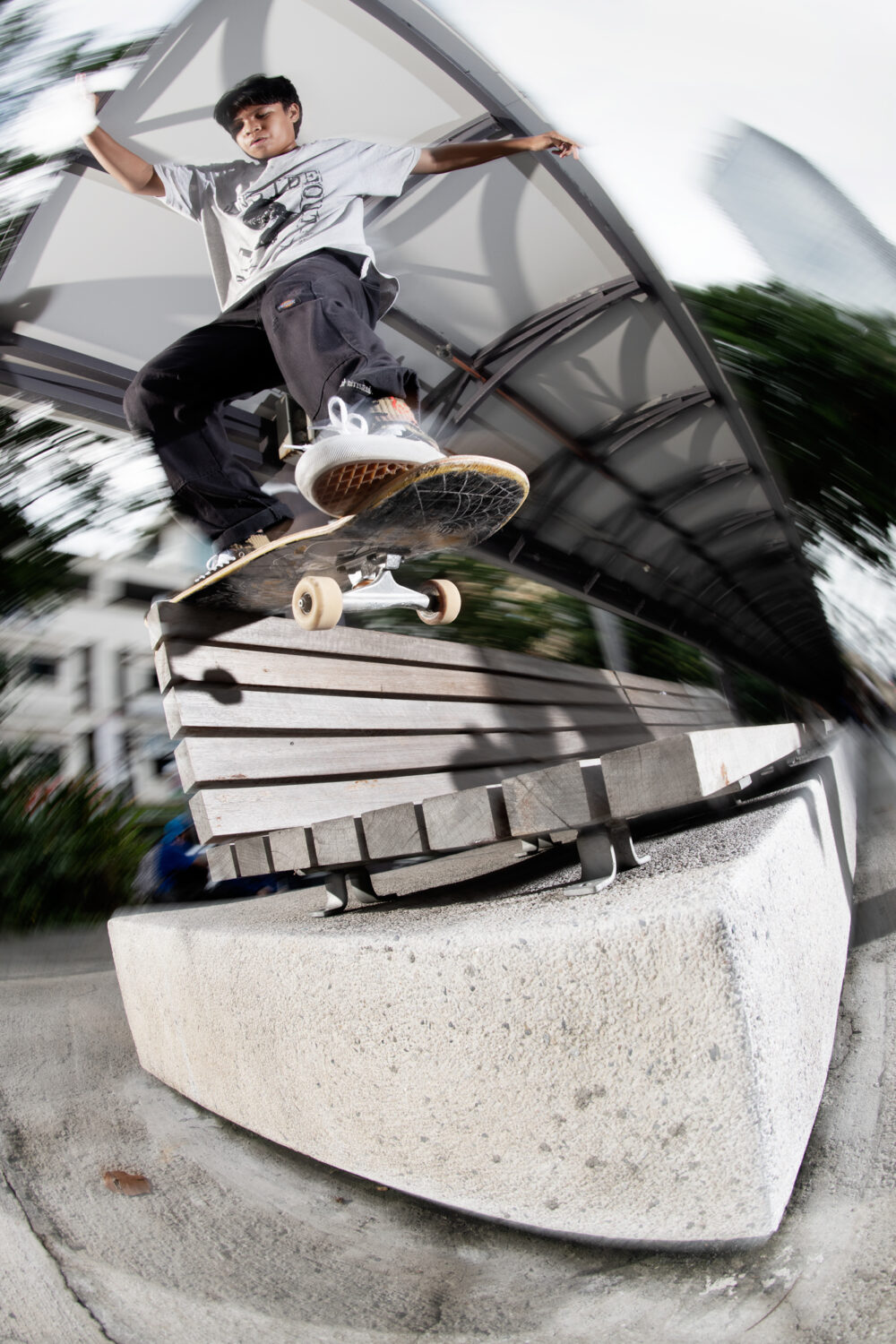 Tell us about Quit.
T – Back then I wanted to quit everything: my day job and everything else that mattered (or not) at the time – and drugs too (I've been sober since then) – just to start a skateboard company that promises nothing (laughs). That is one of the reasons it is called Quit. Also, at that time there were no skateboard brands I liked in KL, so I started one myself. To be honest, Quit started out as just a joke. Then a skate crew, then videos, then hats, T-shirts and then the rest is history.
Oh, since we're talking about this, don't forget to check out my skate edit Why Bother? (on Quit's Youtube channel), which has reached almost half a million views worldwide (laughs).
What are your goals with the brand?
T – The goal is to make non-skate-boarders become skateboarders and of course to make a lot of money (laughs). Why not?
What inspires the designs?
T – I'm inspired by everything and everyone, from the past to contemporary, music, subculture, the art world and of course the KL streets. To me creativity is all about connecting information, ideas, knowledge, sources, research and technical skills.
What are your plans for the future with Quit?
T – Shutting it down! I can't take it any more. I'm getting old (laughs).
D – We are going to quit from Quit!
What are some other local skate brands people should know about?
D – CAB Hardware by the good homies Johan (Arif) and Arief (Azzarudin), Cozy Club by Nizam Hisham and Gazed World by Syahmi Norsan.
T – Siti Skateboards, Cozy Club and CAB Hardware.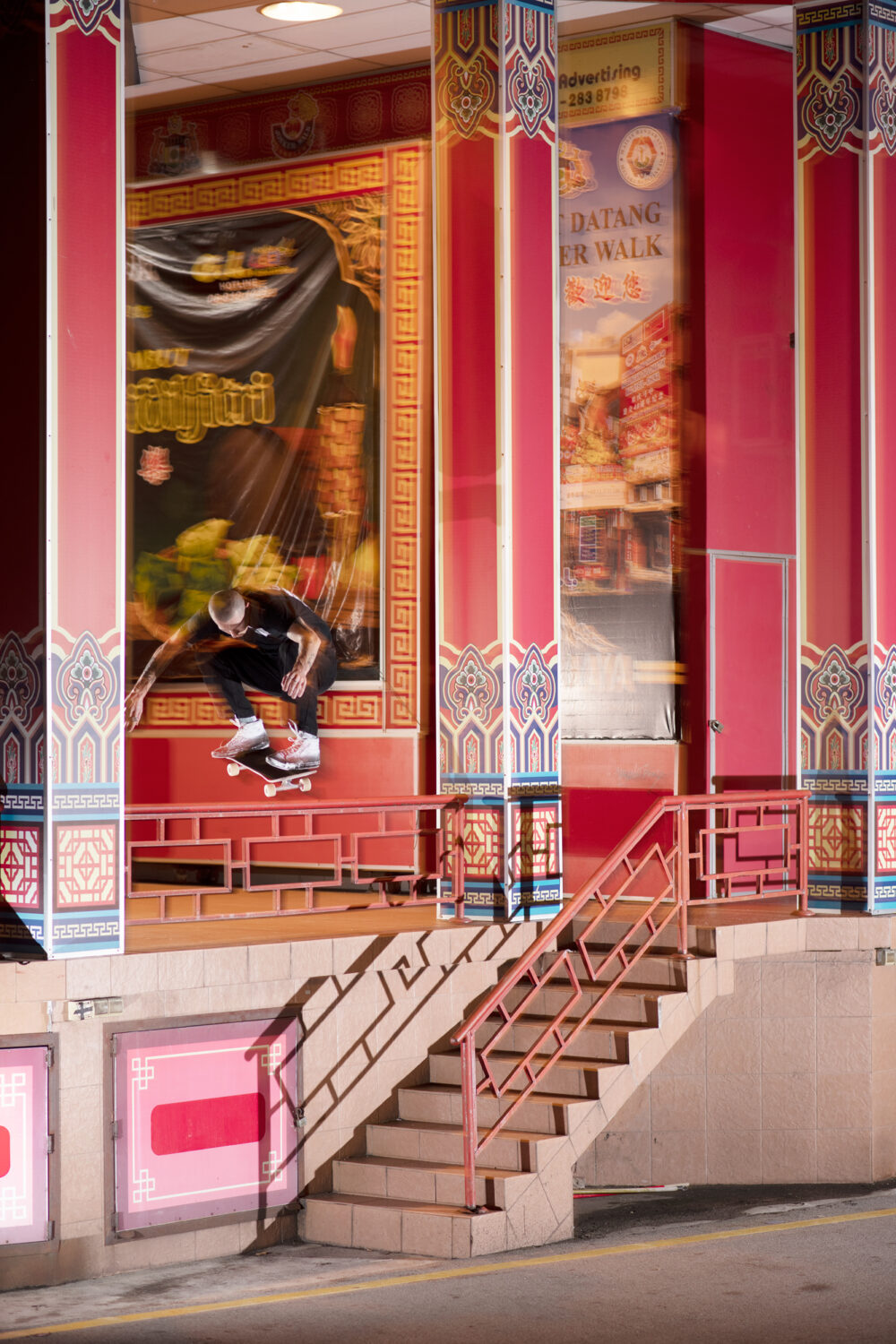 How did you find our visit back in May? You both mentioned you found being out filming all day every day quite intense.
D – Yes it definitely was insane (laughs). From being tortured street skating in extreme heat conditions to having to drive everyone around (and trying not to hit other cars) every day was definitely not the holiday I imagined it would be! Jokes aside I actually had an amazing time. It's the first project like this I've been a part of and we had fun doing it. I would definitely do it again.
T – Intense. It was a good experience. I learned a lot. Thanks for the visit guys. Please come again! But next visit make sure we only skate at night. Please sir (laughs). This country is hot as hell and more spots are available at night! Also shout out to Nizam Hisham from Cozy Club for helping with the filming.
What are some favourite memories from our visit?
D – Going to Malacca and the beach close to Port Dickson are my favourites. Malacca is a small city just two hours from KL with a rich cultural heritage and ancient architecture with a mixture of Portuguese, Dutch and British influences. Port Dickson was great; visiting there is one of the things I look forward to when I'm back in Malaysia for sure. I really enjoyed the beach, hiking and the seafood.
T – Every single one of them. Let's go!
Can you give some tips for skaters visiting KL?
D – For skaters who want to visit Malaysia, my main tip would probably be to try not to skate out in the sun around midday. The ideal time is in the morning just before 11 and in the evening after 4pm. You definitely should hit up the locals, as they might be able to help you around KL. The best skateparks to visit are Kiara Skatepark and AU5 Skatepark. There is also a purpose-built skate spot outside the Twin Towers (KLCC). That's a good skate spot in the heart of the city that is easily accessible and you can skate there any time. You should also definitely check out the skate shops in KL and show some love. For example: The G Hard Pro Shop, Showroom, Southtown Skates, Exit Skateshop and Skateboard Station.
There are tons of interesting sights for tourists depending on what you are looking for. I would recommend Batu Caves and Twin Towers in the city centre. Kepong is a really nice spot to go jungle trekking and there are tons of good spots for river swimming: Sungai Pisang, Ulu Yam and Ulu Langat are some good examples.
T – For good restaurants, try BRJ (Bistro Corner), Nasi Kandar Supreme in Chow Kit market and Kampung Baru, the mecca of tom yam food, especially if you like eating spicy food. For bars, check out Fight Club, Fono KL and the Zhongshan Building, an art community space in Kampung Attap. There are a lot of bars in Petaling Street but my recommendations are Moutou and Shuang Xi. For vintage shops, Jalan Raja Bot is a must-visit, you can find Family Bundle anywhere in KL and of course Jalan Haji Taib in Chow Kit. Now go home!
We would like to thank the following people for making our trip to Malaysia possible: Donald Abraham, Johan Arif, Arief Azzarudin, Alex Forbes, Hilman Hamdi, Nizam Hisham, Don Irfan, Mark Khor, Munir Muhammad, Amanda Perez, Tep York & Josh Young. Apologies to anyone we forgot.