Geoff Rowley interview
25.03.2016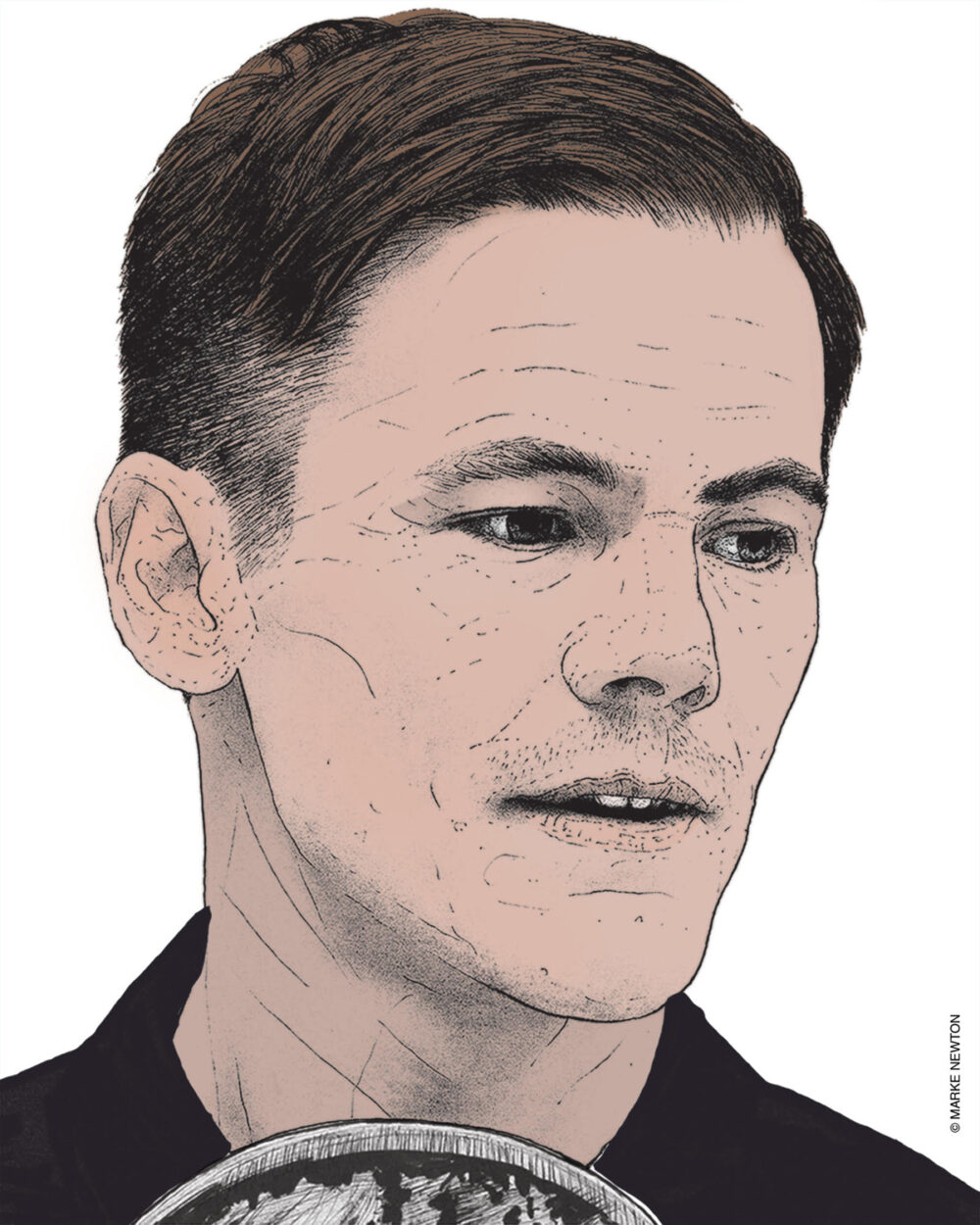 We caught up with Geoff Rowley at last week's Vans 50th birthday celebrations at House of Vans London for a chat about riding for Lost Art, Dave Mackey, north-south rivalry back in the day, sobriety and having to fight Vans to make a vulcanized shoe back in the late '90s, among other topics.
Illustration: Marke Newton
Interview: Henry Kingsford
What have you been up to since Propeller came out last spring?
I filmed a lot after Propeller, a lot of street stuff, and I actually wanted to start making another video. Then I took a break from October to January, which is weird for me. Since I was 12 years old, I always skated; it was only when I was hurt that I stopped skating. So I took a little bit of a break and I guided a bunch of desert bighorn sheep hunts for my friend's business, to get in shape. I've been back on my board since January and I've been filming for another Vans video project that we're half way through. That will be done by the end of the summer. So I've been skating a lot.
Will you have time to return to Liverpool this trip?
Not on this trip. I leave on Sunday, then about a week and half later I fly back to England and I'm going straight to Liverpool. I'm coming back for a friend's stag night in a farmhouse in Wales. We'll see what happens. It could get messy.
You joined the Lost Art team back in 2013. Talk us through that decision.
I've always been good friends with (Dave) Mackey and he's always done so much to support the local scene in Liverpool. I never really had a shop sponsor for a long time and I just wanted to support what he was doing. I thought he was doing a great job with the skate shop and did a great job at building a community in the city when we grew up. I find that fairly rare in this day and age, one (a scene) so healthy and friendly and inviting to people outside of the city, so I wanted to show my support for that.
What memories do you have of Mackey from when you lived in Liverpool?
Mackey was from a different part of Liverpool, to the north, so when he came into the city you'd mainly just see him skating like he always skates, which is really fast and just kind of hectic. So my memories of him are just mainly that: just seeing him bomb through, skating super fast everywhere.
As Grey is a London-based magazine, I wanted to ask about north-south rivalry back in the day, specifically the mid '90s. Liverpool had its hesh, punk-influenced scene with a lot of Anti-Hero and Consolidated purists while London was known more for its affinity with hip hop, chilling and scenes like EMB. Do you remember much about this?
Yes, I was sober from 18 to 23 so I remember everything about that. I don't know, every area has its predominant cultural things that it feeds off and Liverpool definitely had a heavy punk, thrash side to it but honestly, we had everyone in the city, guys into everything. I think the main difference was that back then, people didn't really travel like they do now and coming all the way down to London was a big deal for us. I didn't even really come that far until I got sponsored because I couldn't afford the train ticket. I would skate Manchester and go to Birmingham; we'd go as far as our money would take us. So I think that was the main difference: the London scene was separated from the Liverpool scene and the Liverpool scene was strong. It's always been strong. I remember coming to London and some of the guys were amazing: Matt McMullen and Tony Luckhurst were the raddest dudes. They were super-friendly, super-inviting and they were into hip hop and all that stuff that was going on in the early '90s: big, thick beanies and big, fat laces and baggy pants. We were all wearing that stuff anyway, because it was part of the skate culture and everyone was buying into that and feeding off that. But it was mostly good. There were some vibes (in London), but I was such a little kid, I didn't really care. I just put my head down and skated. Tony Luckhurst was probably the best skater that came out of London. He was one of the most talented skaters I've seen.
I wanted to ask about sobriety because I remember some of the Liverpool locals were straightedge back in the day, and I know you've had periods of not drinking and also been around the infamous Warner Ave. crew at the height of their drinking and drug-taking.
They're not the only ones who were drinking and doing crazy stuff. I mean I grew up in Liverpool if you remember.
Would you say you're an advocate of sobriety within skateboarding?
No. Hey, that's personal; it's not for me to judge. I've been in skate mags since I was 12 or 13 years old and I'm 39 now. I've gone through different stages of my life. I've had things that have forced me to change my diet and forced me to change how much alcohol I drink, so I would just say if anything, I'd rather be an influence for people to do what works for them and trust themselves and take care of their body regardless of what category people are trying to put them in. It's (alcohol) not as important as sometimes people make it out to be. The most important thing is the skateboarding, right?
I guess so, yes. Are you in touch with Brian Sumner at all these days?
I have been in touch with Brian a lot lately. I didn't talk to him very much for quite a long period of time, but I was always close with him. I've always been very, very close to Brian, probably because we both grew up in Liverpool and moved to the US. He was always such a rad skate rat. I miss guys like that. I've been spending a bit of time with him, but I've been spending a lot of time talking to him because we're growing up a little bit more and I think we're both in more of a level place where we can communicate with each other. It's been rad.
Where does he live now?
In Huntington Beach. He still lives in the same house he's lived in for a very long time, with his wife and kids. He still skates. His kids skate too.
Can you talk a little about your relationship with Vans?
I started riding for Vans in 1998 and my first shoe came out in '99. It's been a big uphill… I don't mean hard, but the company has grown a lot in that time: a lot of different employees have been and gone, a lot of different riders. I'm fortunate: I've built a strong relationship with the brand and I love the shoes. I don't complain about my shoes ever; I always trust the shoes. There are great people working in the company who believe in doing the right thing, who want to support skateboarding. That comes from the president down. I can tell you personally that from the president down, they know how important skateboarding is to their business, but they also know how important skateboarding is to youth culture and so they nurture it and put their money into it. I've got a huge amount of respect for that.
What are your thoughts on the involvement of bigger sports brands in skateboarding? I ask because Vans is a really big, successful company, with huge appeal (and sales) outside skateboarding, however it seems to escape the sort of strong feeling and criticism that the sports brands stir up.
Most of its (Vans) growth since the late '90s has come through its involvement with skateboarding and that's had the direct knock-on effect of people looking at Vans and seeing it as something a little more special and wanting to be a part of that. lt's an American-born brand and it came from this culture – it didn't come from running shoes, it didn't come from basketball, it came from skateboarding. And yes, they (Vans) tried a bunch of other stuff like breakdancing shoes and tennis shoes and everything, but that was before. Most of the guys who are my age or older have watched Vans grow since the late '90s and I think there's a certain amount of trust there, whether they like other shoes or not. I think even people working for those other shoe companies have a lot of respect for Vans and they voice that. I'm OK with other shoe companies coming into the industry, as long as they nurture it and put money back into it and don't come in and try to own it outright and change everything that we've always believed in. It's quite possible that could happen and that's scary. So that's my viewpoint on it; I don't want that to happen.
I remember seeing you skating in Berlin in 1999, opposite the New National Gallery. You hurt your ankle pretty badly trying to 50-50 a big ledge out over some cobbles. I remember being shocked that you were skating something so big wearing Authentics.
They were Eras. I always wore the Era. For me, the Era's the skate shoe and the Authentic is the surf shoe, because there was no padding (in the Authentic) and then they put in padding for skateboarding, which made it (the Era) the very first skate shoe.
Anyway, these days vulc shoes are the norm and cupsoles more of a novelty. Do you find this amusing at all? To what extent do you feel you influenced skateboard footwear by wearing these shoes when virtually no one was?
A lot of guys wanted to wear vulc shoes at that time but couldn't get them. Vans wasn't making them the way they should have been making them at the time and I definitely had to fight within that building to get that shoe manufactured. Nobody wanted to buy vulcanized shoes at that time.
Are you talking about your first Vans pro shoe?
Yes. I had to battle for everything about that first pro shoe. During the first 12 months I rode for Vans, I wasn't sure if I had made the right decision. I had a little bit of a crisis, during that period, a shoe crisis. I didn't like any of the shoe companies. I rode for Airwalk because I wanted Airwalk to be what it used to be. The two people who made it what it used to be were still there when I left, but I gave them a year and a half to try and figure it out and they couldn't fix it and make the shoes good again. So I left to ride for the only other shoe company I had any respect for at that time, which was Vans. The other skate shoes, I couldn't wear them. I'd put every skate shoe on in the skate shop at that time and I wanted to throw them all against the wall. They felt over-padded, too thick, there was no board control, no real grip or traction and I didn't really feel like they were designed for skateboarding. For the first year of Vans I bought all my shoes from the store myself – or the team manager would go to the stores and buy shoes for me – all the old stock of made-in-the-USA Vans. They (Vans) were making Eras, Sk8-His and Slip-ons in black, blue and white at the time, but they weren't manufacturing them in the right facilities and the compound wasn't the same, the moulds weren't the same. They weren't the shoes I grew up skating and I couldn't skate in them. So for my pro shoe, we basically had to re-engineer the whole shoe, all of it, down to the crepe content of the rubber. I wanted a more consistent Vans shoe, with better padding and more comfort. If you actually look at it and break it down, that's actually what it was: it was the first vulc shoe with real padding and comfort and that's why it did well. But it was definitely an uphill battle at that time. The president (of Vans) wasn't keen initially: "We're not doing that, we're not having a side stripe or the little skateboard logo on the back, it's not going to be vulcanized…" People didn't wear vulc shoes, people didn't care… But once I started skating in the original, made-in-the-USA Vans, I knew that's what I wanted. They were so fucking good, so grippy. You could take them right out of the box and go skate in them right away. When I saw you in Berlin, that's what I was wearing: made-in-the-USA black canvas Eras that could have been from ten or fifteen years earlier, purchased from old stock from a store somewhere in southern California. Freak, huh?
You've had a lengthy professional career. Do you have any tips for younger skaters on how to stay healthy and keep skating for longer?
Focus on the skateboarding, man. That's all I always ever did. I know why I skate: I enjoy it, I love it, I like learning tricks. Every time I go skating, I get something different out of it. Always nurture that, because if that's not there, you won't enjoy it and you'll get caught up in the sides of skateboarding that maybe aren't so pleasant. I always made a real, very clear effort to make sure that my skateboarding was the most important thing, especially the things I enjoyed most about it: skating down the street and humming an old skate track from when you were growing up. I always remembered that if it stopped being like that, it was probably time to stop skateboarding. I'm fortunate that I've always been able to find that fire and I'm just thankful for that, honestly. I enjoy my skateboarding now more than ever. I feel like I'm a better skateboarder than I've ever been, I just have more restrictions because of how many slams and broken bones I've had. I don't like repeating the same thing. If I go skating and I try a trick don't get it, I won't ever go back. That probably tells you something about the way I like to skate and what keeps me going: just doing new things. That could be new terrain, hitting a bank a different way or doing a trick a different way. I've been enjoying that lately: not trying to do everything the same way that I would usually do it. I remember being young and thinking the way to be a good skateboarder was to master skateboarding. You know: do a frontside grind, do a backside grind, a backside tail, a frontside tailslide, learn it all fakie, learn it all forward… I don't feel like that any more. I'm bored with that structure and I just enjoy trying to ride uncomfortably and out of my comfort zone. I've had a lot of fun skateboarding lately. I've been filming this transition part and I've been having a blast.
Where have you been filming that?
At Vans. In the corporate office, in their promo cage. What does that say about Vans? It's rad that they allow me to do that. That's Steve Van Doren for you. He's down for it.