Island interview
18.12.2017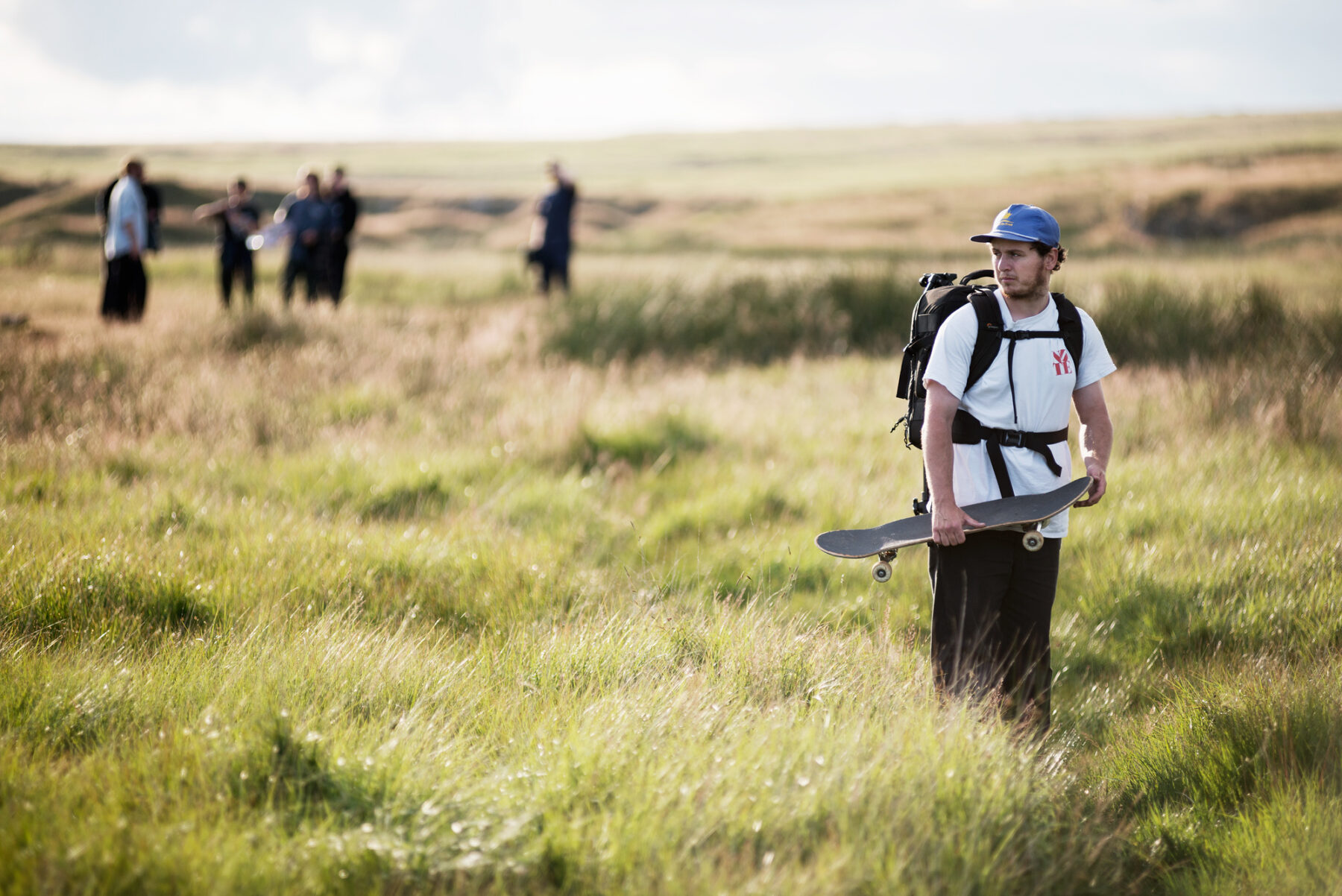 A conversation with film-maker James Craven and skateboarders Tom Day and Zach Riley about Island, our new film by James, starring Tom and Zach. Taken from the Island magazine, in shops now / available to order from Palomino. Watch Island here. Read an interview with Mat Fowler of Spillage Fete, who provided the soundtrack to Island here.
Island is kindly supported by Emerica and Dickies.
Interview and photography: Henry Kingsford
Is it fair to say that your new film Island came about because Land was so well received, James?
J – Yes exactly. That gave us confidence. The response was so cool. Skaters from rural places sent me messages telling me how much they appreciated the film. Because skateboard media is so city-oriented, they generally feel completely left out of the scene.
T – Also, we had a number of spots we never made it to for Land and after that came out, we continued the search.
For anyone who didn't read the Land interview, can you explain the motivation / inspiration behind locating and then skating these remote rural spots?
J – There were always clips you'd see in videos. We mentioned Death videos last time. They always went to these mad rural spots – they had names for them all – but there was only ever one spot like that in each video. Bringing them all together was something I had wanted to do for a long time.
T – Colin Read was in Manchester about four years ago with Magenta and he only wanted to go to spots without foliage. That stuck with me. We played on that idea and talked about making a video full of trees, full of rural spots.
J – I just really enjoy being able to get the fuck out of the city. I'm not from one and it all still feels quite alien to me. I'd be trying to do these types of trips anyway, without a skateboard.
How did you locate spots?
J – Various ways. Mainly clicking around on Google Maps. I got told about lots of locations, especially after Land. Every skater seems to know about one ditch they go to once a year. So kind of the collective knowledge of skaters from around the UK… Past those tip-offs, if you trace big bodies of water online and follow where the water is being taken from, usually you will find some ridiculous structure that's been built to flow that water from somewhere to somewhere else. If you follow those, you start to find spots.
For Island, we travelled the full length of the UK from Land's End to John O'Groats, but in four legs and not in one direction.
J – We decided the best way was to split it up into four separate trips that mostly had obvious, linear routes: Wales, Scotland and northern and southern England. The timing of each trip depended on the weather. We couldn't plan too far in advance, because everything revolved around whether it had rained recently. That dictated the water level of reservoirs and overflow systems. So we waited until two days before each trip before we decided where we were going. We left Scotland till last, because it was raining there all summer. It never really stopped.
T – Midges were a factor too.
J – Yes, we wanted to leave that one as late possible. Midges die down in September, but they were pretty bad even then.
Were there any areas of the country or specific spots we missed that you wanted to visit?
T – Despite being on our doorstep, we didn't really get the chance to explore much of the North-West. There are lots of spots in the Peak and Lake Districts. Also there are a bunch of WWII sound mirrors along the east coast of England.
J – There were a few really good spots we didn't make it to for this project unfortunately.
How many spots did you have saved on your map, James?
J – At one point I remember there were 166, but a lot of them were no good. It's hard to tell from satellite images. We arrived at one spot I was excited about with loads of drops and ledges to find it was all made out of rocks in metal cages. It was hard to determine scale.
J – You see a photo of a dam taken by a walker and it looks just like a 4ft quarter pipe. You get there and it can easily be 40ft or 4in.
Except for one night at Joe O'Donnell's parents' house in Milton Keynes – and the week we spent at your house in Manchester, skating spots nearby – we wild camped every night. Can you talk a little about the legality and practicalities of wild camping, James?
J – Legally speaking, we were only allowed to do it in certain places in Scotland, but people seemed fairly liberal about this stuff pretty much anywhere we went. Practically speaking, because we were covering a lot of ground every day, we usually had to find somewhere to camp after dark, then pitch and cook our tea. That got a little bit stressful.
T – We never had any issues getting kicked out of where we were camping.
Everyone seemed to have conflicting feelings about each different campsite.
T – I guess people were bothered by different things. Also, I think it depended on how well each person had slept the previous night. Tell us about that awful night near Minehead, James.
Z – Fucking hell. That was bad.
T – We had run out of time finding somewhere to sleep. Google Maps told us there was a green space near the coast.
The spot was recommended on a wild camping forum.
T – People camp there all the time apparently because it's next to the coastal path, but when we arrived we realised the whole area was on a 45-degree incline. By that point we had no other option, so we pitched our tents behind trees
in the hope that we wouldn't slide down the hill in our sleep.
J – I picked up my tent in the night, semi-conscious, really drunk and really annoyed, and carried it to the top of the hill where I put it on the coastal path itself, which was only about 2ft wide. I was woken in the morning by a dog coming into my tent. I'd left it a little bit open.
Z – All your batteries and stuff were all down the hill.
J – That stuff skittled down the hill in the night while I was moving my tent. I had no idea. That was the worst one I think.
What about some practicalities relating to filming, James?
J – It was tough. I had just bought a new camera with terrible battery life – I really couldn't have picked a worse camera for the project in that respect. A few days before the first trip I ordered 16 spare batteries and charged them all before we left. Then, every time we went to a Wetherspoons or anywhere with a plug socket, I got one on. That sufficed.
Can we talk about food?
J – We had limited resources: two or three little camping stoves, a couple of pans, a kettle…
T – We never knew if we'd have wood for a fire, so we had to be resourceful when shopping.
J – We just made the best thing we could with the most basic essential ingredients. There were a lot of made-up dishes. Those kidney beans in chilli sauce were everyone's favourite.
The staple. Zach liked to do more elaborate stuff, even for lunch.
J – He was making gourmet shit.
Grilled halloumi wraps.
Z – I was trying to save some money, but everyone was just laughing at me.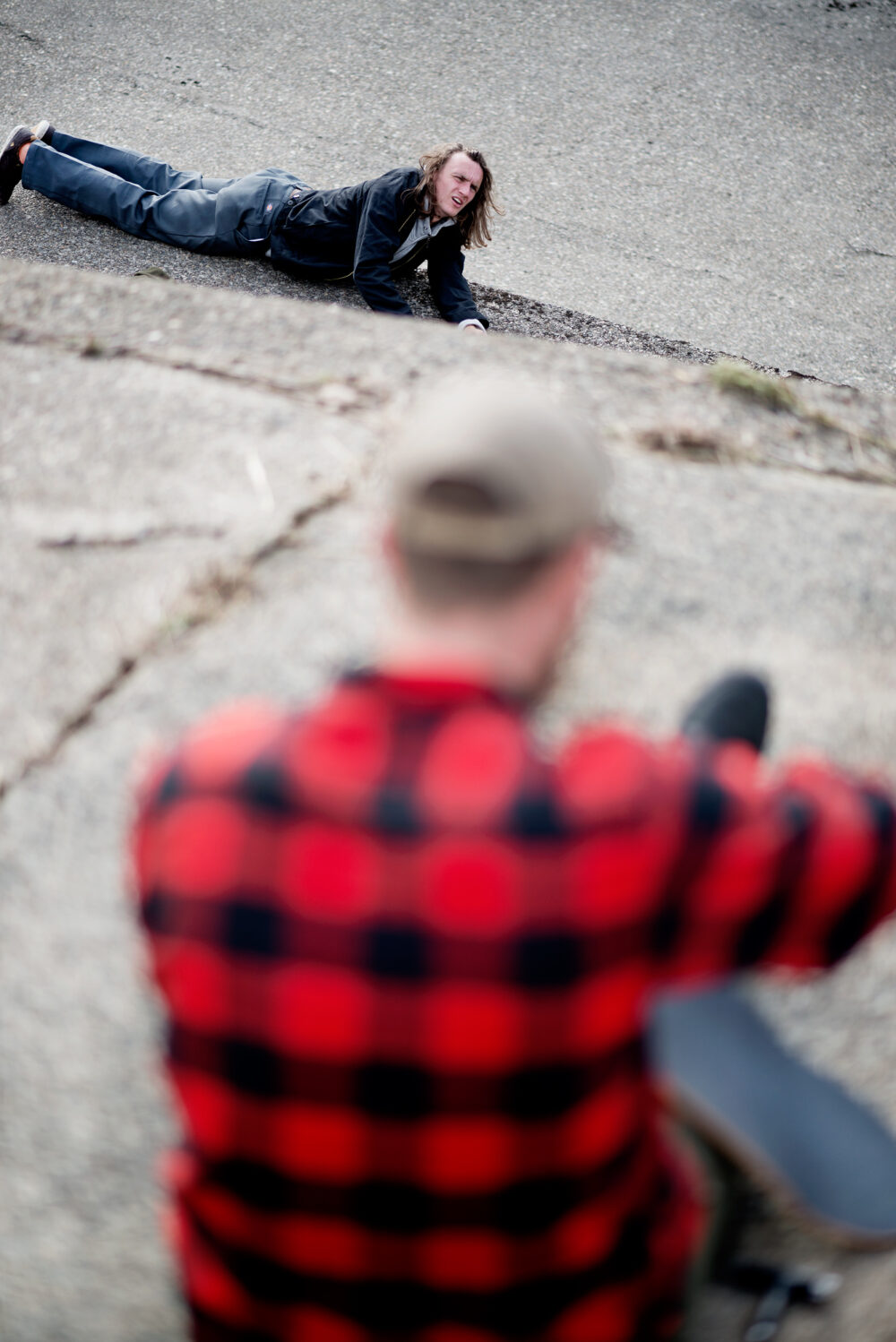 I used to hate camping, but quickly became a convert this summer. It's a cliché, but you
feel very free wild camping.
J – Camping has a reputation for being this thing you pay £15 a night to do on a farmer's field in close proximity to loads of other campers. That doesn't appeal to me at all, but the idea of going off somewhere and no one really even knowing where you are… you really do get a sense of freedom. Like you say, it's a cliché, but it's so true.
There are some challenges, like shitting in the woods.
T – I think we all became quite accustomed to that after a bit.
Z – I was terrible at wild shits. I always picked the worst spots.
And not showering for days. I thought I would hate that but I got used it quite quickly.
J – When you are at home, the idea of not showering or changing your clothes very often isn't appealing, but when you're out in that environment, in a muddy, smeggy ditch somewhere, it really doesn't matter. You're not so finely
tuned to your cleanliness. I definitely stopped noticing how filthy I was after a few days.
For me, the main downside of these trips was not really having anything to do or anywhere to go if it rained, which it did a lot while we were in Scotland.
T – You don't really have anywhere you can go to keep dry because your tent is just getting wetter and the car is such
a ridiculous size you don't want to spend long periods of time in it.
We spent a wet day in Edinburgh.
J – That was fun. We ate battered pizza on the Royle Mile and visited Focus.
I found that experience strange, because we were doing all this city stuff you might do back at home like going to an art gallery or hanging out at the skate shop but then in the evening we had to drive off and find somewhere in the woods to sleep.
J – It could get pretty desperate, especially when we were close to a city. Often there was nowhere nice nearby. We definitely camped in some desperate locations.
What were some memorable camping-related incidents?
J – We camped at Stonehenge. That was a really spontaneous idea. We didn't know about the little lane close to the visitor centre. It's like Slab City or something: full of new age travellers and druids that live there. They were pretty welcoming to us. It was fun.
Z – You got a tick, Henry.
I'd been winding everyone up about ticks and the dangers of Lyme disease, then I was the first and only person to get one. That was pretty stressful. It was really difficult to get out, even with the tool. Anything else?
T – About four nights into the Wales trip, James mislaid his tent somehow. Rich West had a spare, but it wasn't even remotely waterproof. We woke up in the middle of a cloud and James had left his phone in an inside pocket of the tent, which was full of water. There was also a Christian pilgrimage run through our campsite.
I was woken by a car pulling up next to our tents at 2am. We were really in the middle of nowhere, so it was quite scary. In the morning we woke up to these stewards, who were giving out tea to the pilgrims running this trail through the mountains. They were not happy we were there lowering the tone.
T – They didn't even offer any of us a hot drink or a biscuit.
Never did a group of people need a cup of tea like we did at that moment, but they wouldn't give us one. Speaking of hardship, we should talk about transport, in particular 'the buggy'.
T – Last year when we did Land, we used my two-seater van, usually squeezing a few people in the back. That seemed a bit risky this time around as we were travelling much further, so I borrowed my dad's car, which is like a 4×4 smart car. It is tiny.
It didn't really have a boot.
Z – Me and Henry always had a nice stack of bags and kettles and stuff between us in the back. It collapsed on us constantly.
Packing the van became a ritual.
J – I found it quite therapeutic. Once we'd finally nailed the configuration and what went in first, it was quite satisfying.
Z – It definitely got better. We would get really stoked when there was one less item in the back to fall on our heads.
T – I hated everything about it. We'd pack it all away, then we'd drive five minutes down the road and someone would realise they had left their wallet in their bag, which was in the back, behind everything. Once you unhooked one bit, the whole thing fell apart.
Another problem with the buggy was that the cigarette lighter didn't work. We were relying on Google Maps to navigate, which kills your phone battery.
Z – That's why we went to Wetherspoons every two days.
J – We did try to use proper Ordnance Survey-style maps, but it never worked that well.
T – They were never detailed enough to find the small lane into the reservoir.
I should mention that Tom drove the full length of the UK. No one else drives. How was that, Tom?
T – It was tiring. There were times I wished I could have tagged out, but it was what it was. I still enjoyed myself, but I didn't have much time to relax. That's why I tried to stay in my tent as long as possible each morning, just to have some time to myself.
Can we talk about music?
J – The buggy only had a tape deck, so we were very limited in terms of what we could listen to. We went to a couple of charity shops in Manchester before the first trip and bought literally every tape they had. What we ended up with was an amalgamation of shit music that no one actually liked. We pretty much ended up listening to Chumbawamba's TubThumper album on repeat.
We discovered that even charity shops don't sell tapes any more.
T – It's an obsolete format.
Before the second trip we found a load of mixtapes in a record shop in Manchester.
J – The titles we bought them for were lies. They'd have one song from TLC's CrazySexyCool and the rest was just weird, obscure, sassy R&B from the late '90s.
T – I actually thought that tape was awesome. It was played a lot.
Z – The sassy mixtape definitely helped us get through the trips.
What about the music in Island? Tell us about that, James.
J – We hit Mat Fowler up. We used his music for Land. Lots of people told me they really enjoyed the music in that first film, how it came in for a minute or so, then dipped back out again, how it was really minimal and actually quite tranquil… I didn't want to change that for Island, so we contacted Mat, who happened to have just made two albums with two different bands. We've used the same music pretty much, well the same style of music. It's all made on four track recorders, so it's quite basic and never too intrusive on the skating. I'm fucking stoked we're using Mat Fowler's music.
Can you talk a little about how you shot the film, James?
J – My main aim was to get a good mixture of shots – different focal lengths and angles, depending on the characteristics of different spots. I wanted to keep fisheye stuff to a minimum unless it was really justified for lines and stuff. I usually have a massive aversion to run-up shots, but in these locations it was the best way to do justice to tricks, while also showing the beautiful settings.
What about editing?
J – As mentioned above, Land was very well received, so I didn't want to mess with the formula too much, but obviously still wanted Island to feel unique. Having the journey and the camping stuff to use as the backbone helped.
I focused on pacing and sound a lot, really trying to replicate the atmosphere we experienced in the countryside. We showed a really rough cut at the Vladimir Film Festival in Croatia in September and lots of the assembled skaters, filmers and editors there gave me their thoughts. It was helpful to know which ideas I pursued were well received and which weren't.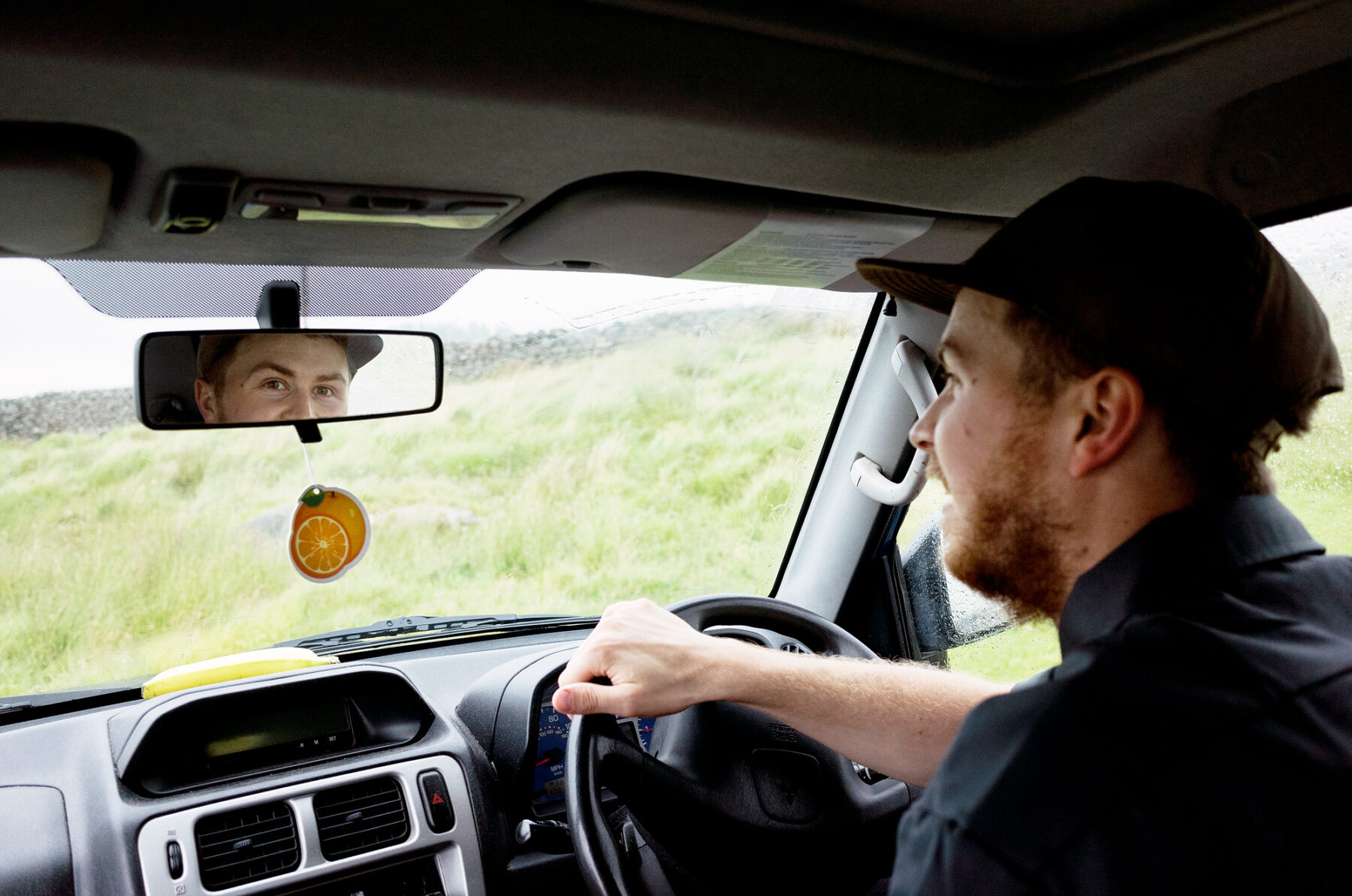 For the Welsh section, we experimented with a carload of guests. Who joined us and how did that work out?
J – Having extra people took the pressure off Tom and Zach. If they weren't feeling a spot, we could just bully Conor (Charleson) into doing something, which was quite handy. In Wales we had Will Creswick and Conor, who came as a little double act – Will actually announced on the first night that he fucking hates nature, which I thought was pretty funny – then we had Rich West and Josh Arnott also came along for a few days.
T – Having more people meant you could explore different ways of skating each spot.
Why did we only bring guests along on one trip?
J – We had Keanu (Robson) in Scotland and also Joe O'Donnell joined us for some day missions, but in terms of having a second car, we couldn't really afford it after the first trip. I wanted people to not lose out financially by being on these trips, so we tried to cover guests' food where possible.
This project was realised on a small budget. Our sponsors were very generous, but the project was epic in scale.
T – A large chunk was taken up by fuel and camping equipment. What was left was used for food.
J – It was really cheap anyway. Everyone came out of the shop each morning with food for the day, having spent only £6 or something. We were all being pretty frugal.
But no one seemed particularly miserable because of that.
J – You don't really need any of that stuff when you're out in these places. Everyone was quite happy to slum it properly.
James, you worked on this project without taking a fee. Can you talk about that?
J – I just felt strongly enough about the project, that it was worth doing. It's not like I was being asked to sit editing in a windowless dungeon for two months for free or to make a corporate video for a fucking pharmaceutical company or something. I was going camping with my best mates and skating incredible ditches most people have never seen. It was a pretty unique thing to do and the financial side of it wasn't really a huge factor in the end. I don't know if you felt the same way.
Yes definitely. I felt like I was away on holiday the whole summer. James, we should mention your anxiety. This was mainly related to a constant fear of getting caught wild camping illegally, but also that the next spot would be shit.
J – Often getting to a new spot involved a two-hour drive, then an hour's walk. If the spot was shit, in my head it was my fault. I felt like I was dragging people along the whole time. I had to constantly remind myself that everyone wanted to be there.
You were having nightmares about this stuff.
J – Yes I was having really bad dreams about everyone hating me when we arrived at a spot. That was mixed with a weird, irrational fear about where we camped. Sometimes I'd hear a noise or see a light in the trees. I think that was to do with never really switching off, because we were so busy. It was a mixture of tiredness and pressure and just wanting it all to go so well.
Z – You hated fishermen.
That was a bit of a theme. Often we were camping by private fishing lakes. James was worried fishermen who were paying to be there would grass us up.
Z – Do you remember that guy who walked into the water at that lake near Northampton?
T – The poacher.
That was fucking weird. A guy in waders marched through us at 1am without saying a word and just walked into the lake.
J – It was terrifying.
Back to spots, the hit rate felt roughly 50 per cent to me. This time around it felt like we made the call to move on quite quickly if something wasn't right with a spot, whereas with Land, you guys tried to get something – anything – at every spot.
T – We had such an extensive list of spots and only had two months to get the whole project done, so we tried to use our time wisely. We wanted to include every single mythical, Animal Chin-type spot in the UK, but we soon realised we really had to pick and choose.
J – I think sometimes we were almost glad when a spot was really wet, because it meant we could get three extra hours to go to the shop, buy some beer and set up camp in daylight for a change.
Can you remember which spot caused the biggest disappointment in terms of not getting to skate it?
J – Yes. There was one spot we stumbled upon completely out of the blue, a wind turbine on its side. It was in three sections and one was an incredible full pipe. We tried to skate it but the guy working there – it was a motocross place – was having none of it. We had to make this really frustrating decision either to try to make it to the spot we were heading for before dark or wait for the guy to leave and try to skate the full pipe. We decided to drive an hour to the other spot and it was knee-deep in water. We made the wrong decision. It's haunted me ever since.
Generally speaking though, we didn't get kicked out much.
Z – I think we got really lucky with that actually, especially that huge spillway in Wales. I'm surprised we didn't get kicked out of there straight away.
T – That walker came past and told us about people going down it in kayaks.
It felt like most members of the public we encountered were into what we were doing.
J – We didn't have any trouble. Even at spots where I thought someone would be offended by what we were doing, no one ever was. They were just quite baffled by us at first, then really into it.
T – We did encounter lots of people whose hobby was cycling or kayaking or climbing and they would relate that in a roundabout way to what we were doing.
What's next? Is Island the end of this or do you have any similar projects planned for the future?
J – I think I'd like to draw a line under this series after Island. I'm definitely not going to stop going to these spots any time soon. For example there are spots that were being built this summer that next summer are going to be absolutely good to go, spots that I can't wait to go and skate. So I'm not going to stop doing it, but I don't have any intention of working on any more big, elaborate projects.
T – When we finished Land we were like: "Right, if we're going to do this again, we've got one more chance". After that it's like Jurassic Park 5. We can't just keep recycling the same concept.