Setting Sail – Forecast at home & on the road
26.08.2022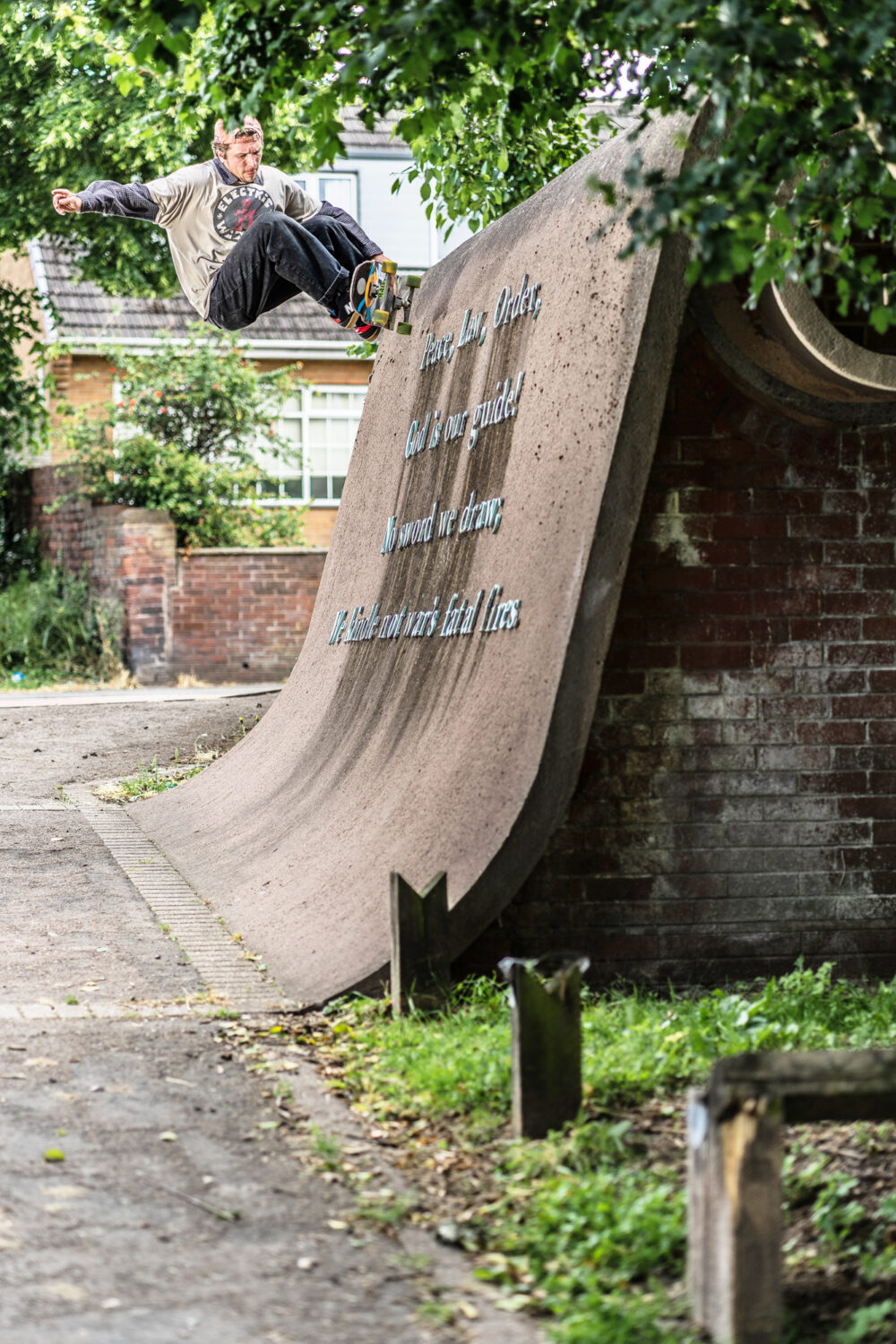 Photography & captions: Collins
Interview: Kingsford
An interview with Forecast founder 'Tidy' Mike Pearson.

You worked on some important Bristol videos back in the early 2000s. Which project from
that time are you most proud of?
The (Fifty Fifty) Jus Foolin years were great. I guess I'm most proud of that one really, being a part of the process with those guys. It felt good working on something together. I'm also proud of Work in Progress and Still in Progress, two VHS videos I made before and after Foolin.
What are some favourite memories from that period?
The freedom and the discovery of youth. It felt like I hit the ground running when I moved to Bristol, being neighbours with Flynn (Trotman), Tom (Moore), Chris (Moore) and Fraser (Moultrie). Buying a (Sony) TRV900 and a death lens…
Who were your favourite people to work with?
I liked hanging out and filming with Matt Davies, Carl Vance, (Danny) Wainwright, Flynn, Paul Alexander, Josh Perret, (Dave) Mackey and Will Ainley to name a few. Will was incredible. James Hacker too. All the Fifty fam through to this day.
Were you making a living from filming?
I wasn't making a living from pressing record. I'd get support and make a quid here and there but it was always for the fun of it.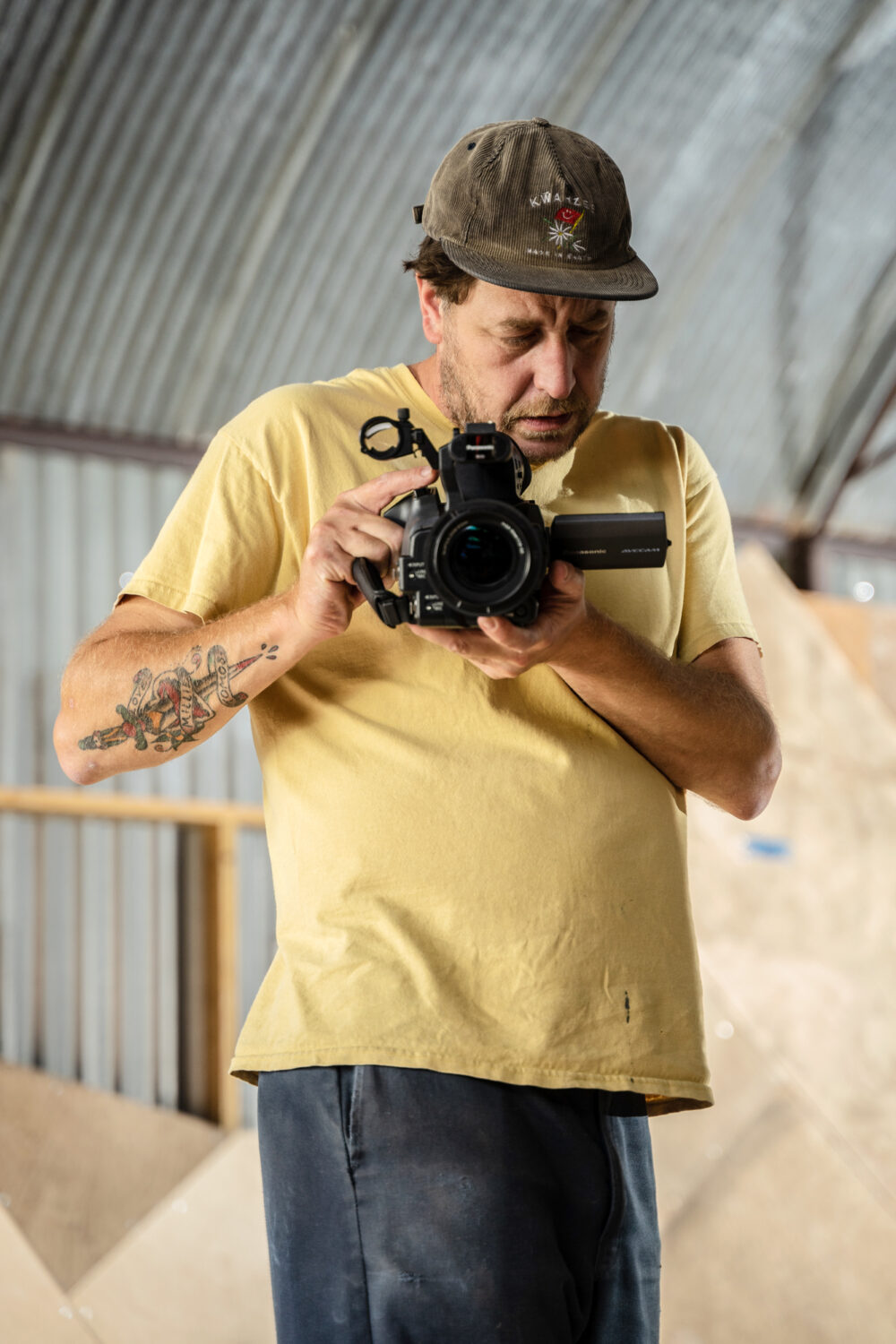 What made you step away from filming skating?
Sarah and I had our son Tom and my focus was directed more towards our home life and work.
I was coming up to 30 and it felt like it was done.
And you left Bristol around the same time?
We left for west Wales just before Tom was three. I was offered a job over there in Cardigan. We lived in a cottage with a stream out the front, five minutes from an amazing beach (Poppit Sands).
Tell us about your screen-printing business, Simple Print Studio.
Our time in west Wales came to an end and we moved back to Bristol. We missed it. I started Simple Print Studio a month after we got back. We're eight years in and it's doing good. We've had good support and we're lucky to print a lot of cool jobs.
What / who got you interested in filming skating again.
I did a weekend trip with Lost Art and Crayon to north Wales around 10 years ago. Charlie (Birch) was 13. That got me hyped up again, but I was still living in the country with no skate scene going on. After being back in Bristol for a bit the buzz came back. I bought a VX, met Clever Ryan (Price) and started to film with him. Clev and the Carve (Wicked) crew… that was what I wanted to be around.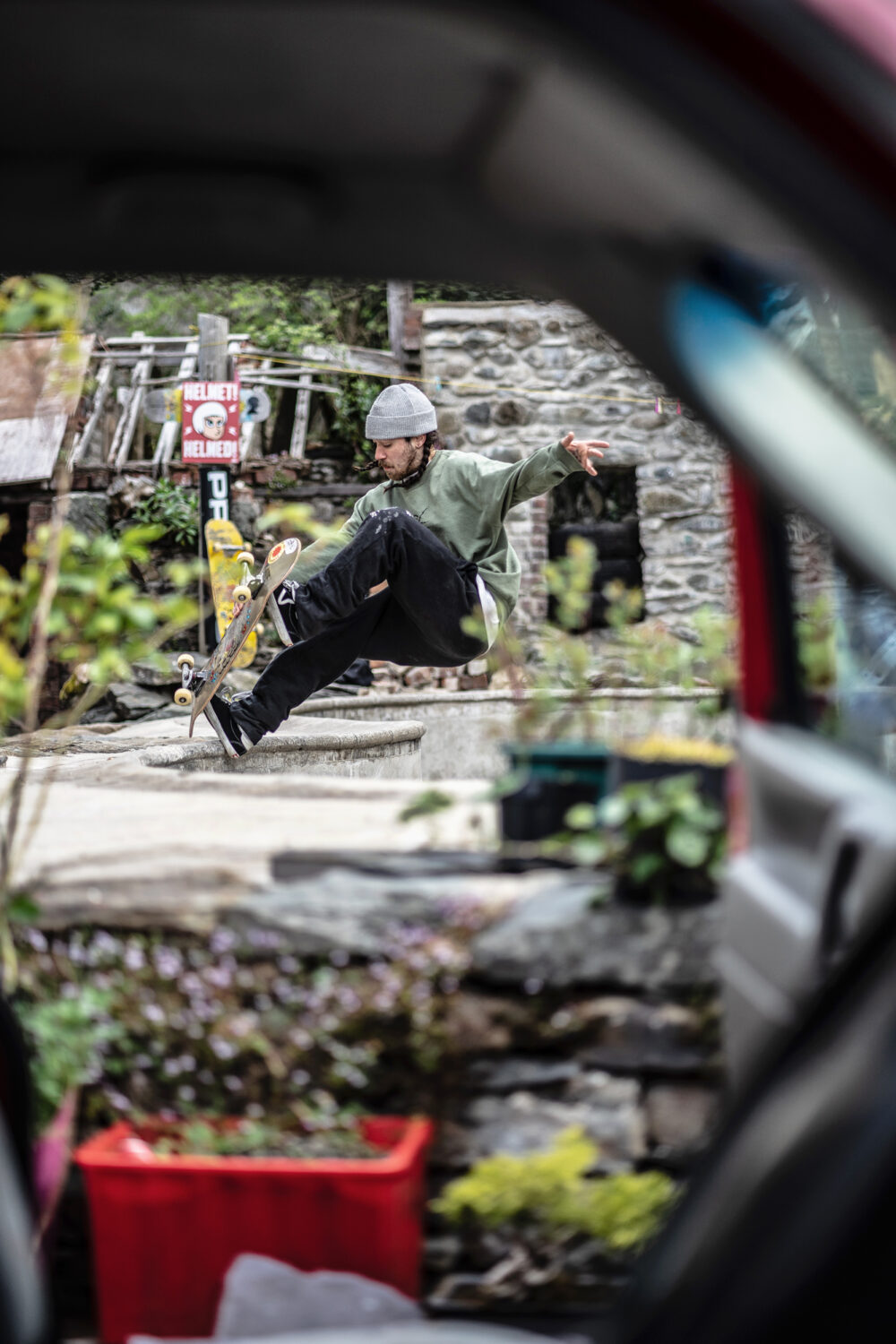 How long were you away from filming?
I didn't get out much with a camera from 2006 until 2016. I have no memorable skate clips from this time apart from the Lost Art / Crayon trip. That was the DSLR era – weird kit!
How does the skate scene in Bristol compare now to back in the Jus Foolin days?
It's bigger, more spread out and lots of industry is based here now. There are so many talented people and projects going on. It's kind of the same vibe to be honest, just more open in terms of opportunity. The stream splits through many channels now, which is healthy. Bristol had always been an interesting and creative city.
How did Forecast come about?
When I got the bug to hang out and film again I wanted a platform for the footage. I can make tees, so that was part of it. The weekend trips became infectious and it grew from there really. I wanted to make mixtape edits of whoever I was hanging out with. P-Stone (Preston Maigetter) edits were always an influence, from his VHS videos like Justice through to the Bru-Ray stuff. I loved how he mixed things up. I basically wanted a slice of that with what was going on over here.
Where did the name come from?
My dad was a keen sailor. He'd be away for months at a time. When he was home he'd always want to know the weather forecast for sailing conditions. Thankfully that one sprung to mind when I was brainstorming. It works for me and it's a nod to his adventurous spirit.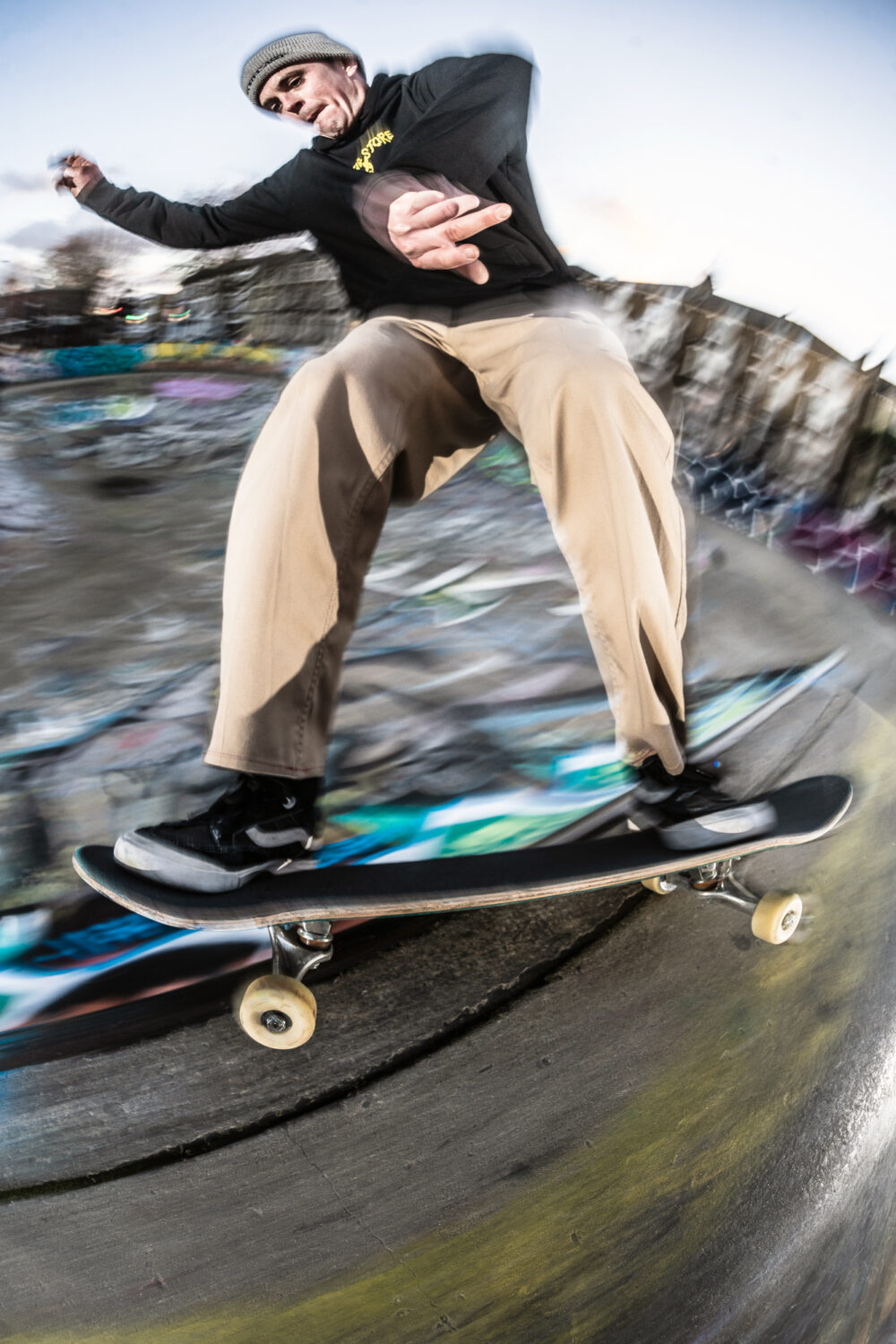 I noticed you were doing lots of camping skate trips during the pandemic.
None of us wanted to stop doing stuff. The world was on hold. There was all this free time and sunny weather and the streets were empty. The trips just stem from an idea of a place and take form. Normally somewhere on the coast with good countryside – that's important to the trip. I decided to keep all the best stuff from 2020 and I made Shoot the Moon. I was inspired by a lot of other UK crews getting out and doing it in 2020.
James (Collins) mentioned that some of these trips took place close to where you grew up in west Wales.
It's always nice to get back there and it's cool to have my mates check it out too. The spots are few and far between but when it works it's golden. Jordan Thackeray and Sox (Owen Watkins) skated this really tight flowerpot transition in the town where I went to school. I remember them being built in the '80s. Things like that are cool to me.
What is special about camping skate trips?
The crew, the places and the time shared together. The quotes, the people you meet and new things experienced. The footage and photos are just cool by-products of having a good time.
So many skaters in Bristol – Bear Myles, Jordan Lightowler, and Mike Arnold for example – seem to have a strong connection to the outdoors. Why do you think that is?
Bristol is quite a green city. It's close to the coast in a few directions and countryside in all directions, so that could be a part of it. It's healthy to have something else to do outdoors. A lot of the skaters here know how to live their best life in the great outdoors!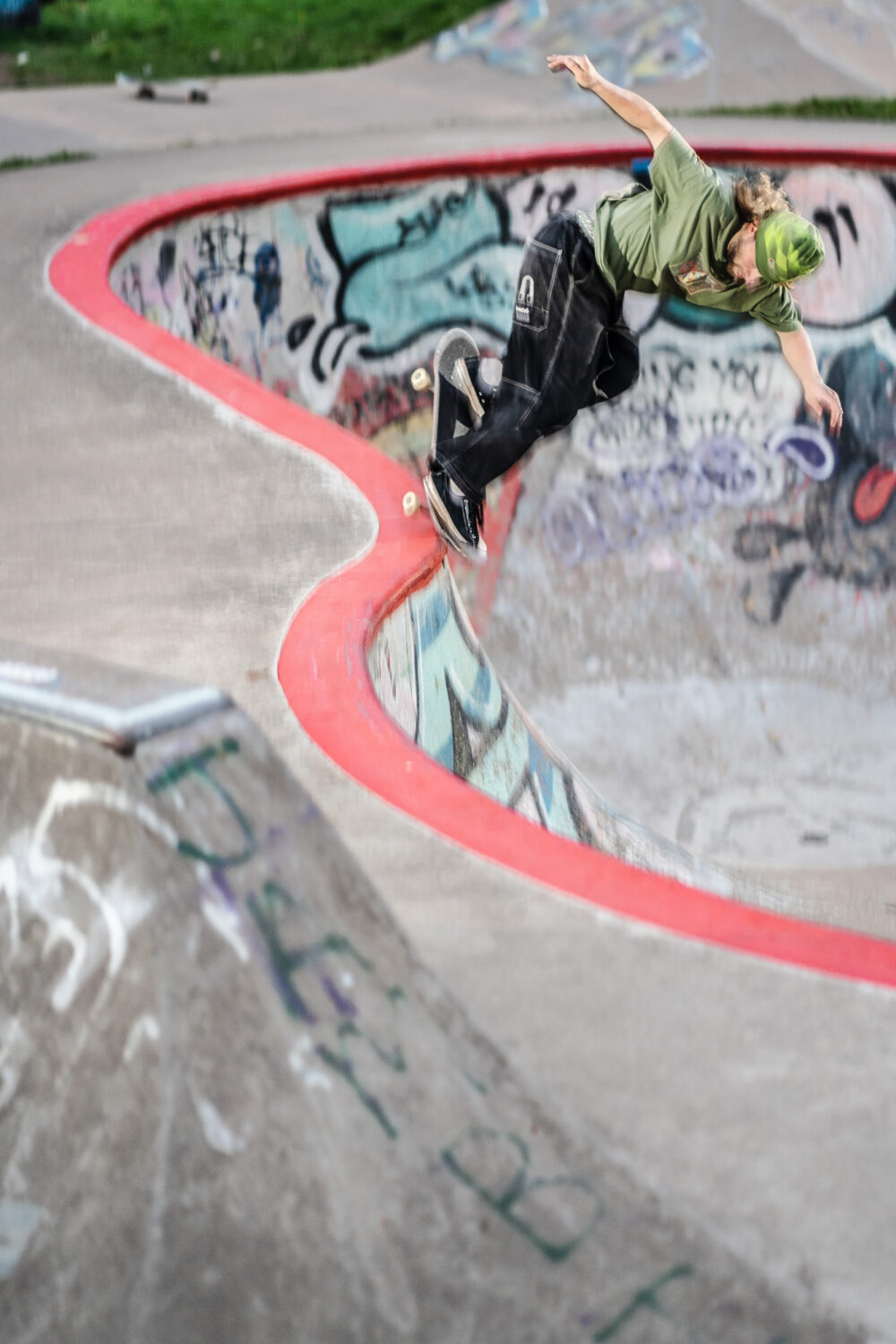 It seemed like Forecast was initially a crew that hung out and went camping together. More recently it has become a team and you are making boards. Talk us through that change.
I wanted a slightly different focus. If felt like it got to the point where our thing had enough integrity that we could do boards and it would make sense. I chatted to the boys to see what they thought and everyone was keen, so off we went. Give it a try and set sail.
Do you do the artwork for Forecast? What inspires you?
I do some and I ask for stuff and some perfect stuff just turns up. Inspiration comes from RaD and the '80s magazines, Mo' Wax records artwork… the 1990-95 lo-fi era is a big influence.
How did you pick the team?
It was organic and the choices were obvious. Some people had things going on already and some didn't. I thought: "Let's see if we can all work on something together, a creative project that's ours."
What are you plans for the future with Forecast?
I want to make and do things that are worth it within our ability and reach… make nice art for boards and tees and let it do what it does. It will work itself out. Ultimately it would be good to get to a point where Forecast sustains itself for travelling and work opportunities.