The Byrrrh x Skate Project
12.05.2017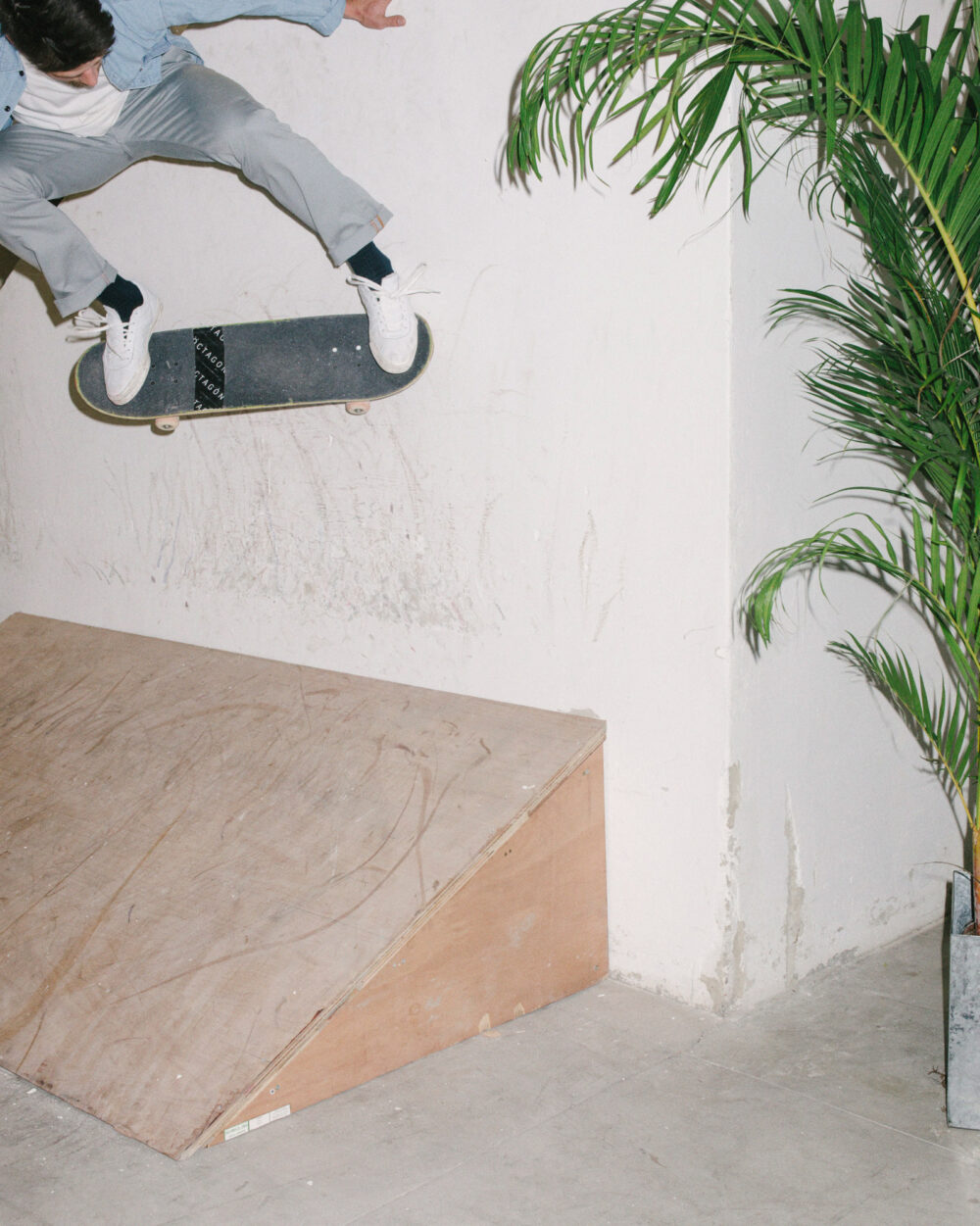 Levi's recently supported a build project in an old factory in Brussels. Last week they put on a competition to mark the opening of the new park. More information in the press release below. All photos: Al_Bo
"First started 3 years ago, following the closure of the infamous Roller Park in Anderlecht, Belgium, skateboarders were left with nowhere to go when the weather turned bleak. Trying to find an empty, sheltered spaced space without security guards was tough, and skateboarders were shunned everywhere they went. Because of this, Youssef started collecting scraps of wood, waste materials as well as old skate ramps and built a number of pop up DIY ramps in old abandoned buildings to enable him and his friends to skate during the winter months.
This was around the time that local skateboarders found themselves having to build places outside of the city so that they wouldn't get caught by the local authorities. Not long after the Roller Park closed, some skateboarders built a DIY spot under a motorway with cement which was a cool idea but was hard to skate and even harder to get to if you didn't drive. Throughout this time there were many DIY attempts around the city where local skateboarders would assemble miniramps in their favourite spots but you had to know the right people, in the right space, at the right time to drop in.
One day whilst on a job in Laeken, Youssef came across an abandoned warehouse that he used to work in. It was empty, dry, lit-up, had smooth floors and was vacant until further notice. Over a number of weeks, Youssef and his friends set up some ramps and as word started to spread, more and more people were eager to visit and lend a helping hand. This was the start of The Byrrrh: a name that was founded from a sign that hung over the doorway of the warehouse; a popular French aperitif.
The Brrryh was a space open to all and all that was asked for in return was a couple of euros to keep the ramps in shape and the fridge stocked. For two winters The Byrrrh was going strong until the property had a change in ownership and everyone had to vacate the premises.
The second phase of The Byrrrh took place further afield in Evere; a quiet suburb more commonly known by the skaters as a place to skate marble forecourts and curbs of local businesses on weekends. Here, Youssef and his friends came across an old, expansive television studio where there was space to build bigger and better obstacles like a corner quarterpipe. The old fridge found a new home in one of the small rooms where a bar was set up to serve food and drinks to all who visited. One of the small adjoining rooms was also used as an art studio where old boards were used as a blank canvas and exhibited within the space. Everything seemed to be falling into place nicely until unfortunately the building was needed once again and so everyone packed up and moved out.
Since then, Youssef and his friends set out on a mission to create a permanent community based indoor skate park where all skaters from Brussels and beyond could visit throughout the year. Made up of donated wood, confiscated skate obstacles, recycled waste and concrete, the 945m2 park underneath the railway arches is an open space otherwise known as a 'Byrrrh', that offers itself to all skaters: any age, any level, 7 days a week.
On Saturday 6th May, Levi's Skateboarding supported the launch of The Byrrrh & Skate Project by hosting The Byrrrh Jam: an event that officially opened the park to locals and skateboarders from across Europe. Throughout the day, Levi's skateboarding held a number of small events and activities including; an under 18 skate competition, live music by La Jungle, a photography exhibition about Youssef's work to date and The Byrrrh story and a 18+ cash prize skate competition as well as food, drinks and good times!"