The Dili Skatepark interview
07.01.2020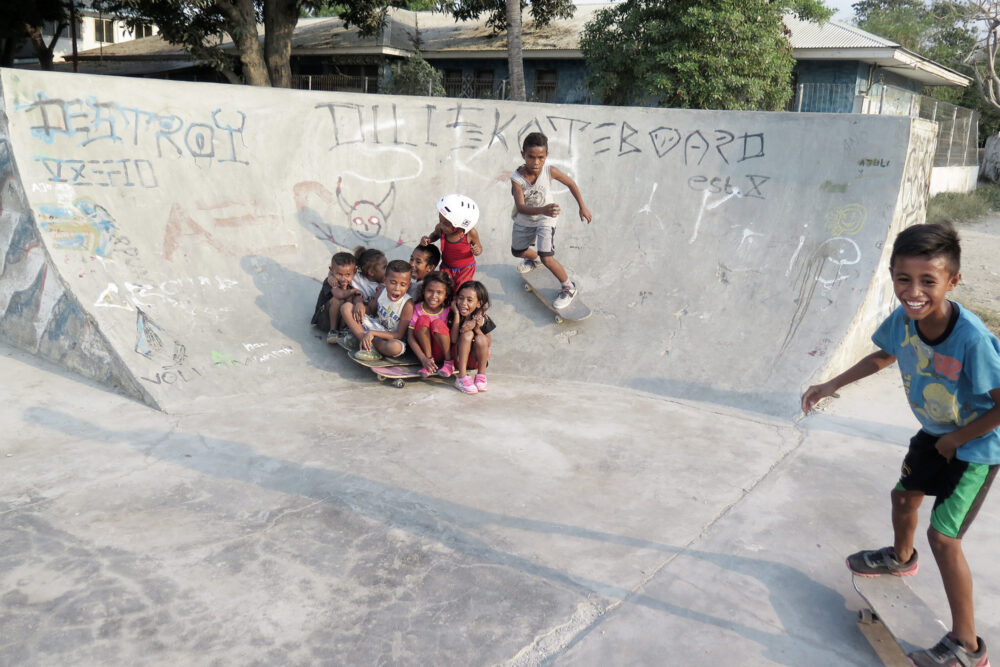 Jono Coote caught up with skatepark designer Wade Trevean, Nick Oats (Timor Skate) and Kirby Clark (Decks for Change) for a chat about a planned skatepark build in Dili, East Timor and a wider discussion about the charity skatepark building sector and its impact on communities.
Photography: Trevean (unless otherwise stated)
The phenomenon of the skateboarding charity is a relatively new one; with Olympic inclusion looming on the horizon next year, a ramped-up interest from the mainstream has reared its head and many are the negative voices bemoaning the potential paths down which our culture may be headed. Yet in the midst of this cultural upheaval, where focus can too often be directed at our supposed helplessness in the face of large scale capitalist interest – calling the coroner when the culture vultures begin circling but before the last breaths are even close to drawn – a few intrepid souls have been demonstrating the positive ways in which skateboarding can have just as much impact on the outside world. With great enthusiasm they have helped make skateboarding available in many parts of the world where it was previously inaccessible and their impact is already being felt. Afghanistan, Iraq, Cambodia, Nepal and more have all benefited from these projects and are now recognised destinations on the international map of skateboarding, all because people with the necessary drive recognised how the simple act of having fun on a four wheeled plank of wood can help to address wider societal issues.
The Democratic Republic of Timor-Leste, located in the Indian Ocean somewhere around the mid point between northern Australia and southern Indonesia, is a country with a tumultuous history. Colonised by the Portuguese from the 16th century until November 1975, it enjoyed a brief nine days of independence before invasion by the Indonesian military saw the country struggle under a frequently violent occupation from its northern neighbour until 1999, when international outcry saw Indonesia relinquish control. The country became the first new sovereign state of the millenium in 2002, but 17 years on the scars are still visible, poverty levels are high and activities for young people are not exactly broad in scope. Enter Timor Skate, an organisation whose members have a solid history of working in some of the previously mentioned countries and a strong understanding of the ways in which skateboarding can be used as a tool for social reform.
My frankly sketchy knowledge of Southern Hemisphere geography meant that the first time I discovered any of the history of East Timor was when Decks for Change organised a fundraising art exhibition in Melbourne, Australia. Proceeds were going towards a skatepark build in Dili, the nation's capital, and a few Google searches later I had a better idea of why a skatepark was so necessary for the city. The exhibition was incredible and further research only increased my respect for those involved, so I decided to hit some of them up – skatepark designer Wade Trevean, Timor Skate catalyst Nick Oats and Decks for Change founder Kirby Clark – for an insight into how the project came about. Their goal is to rejuvenate the current (and only) park in the country, a skatepark resembling a DIY spot, which is showing its age and exposure to the elements. Wade, the man responsible for the new park's design, describes some of the issues facing those who might want to learn to skate there:
"Some of it's pretty gnarly for the locals, there's a spine ramp that looks pretty cool but it's all deteriorated and you can't use it now. It was built by someone who knows what they're doing but it's just got some odd stuff in it, the central fun box is four foot high and has 40 degree banks on it. It probably just wasn't built as well as it could have been – which is hard in an environment like that, with the materials they probably had – but there are ways around these things to make them last a little bit longer."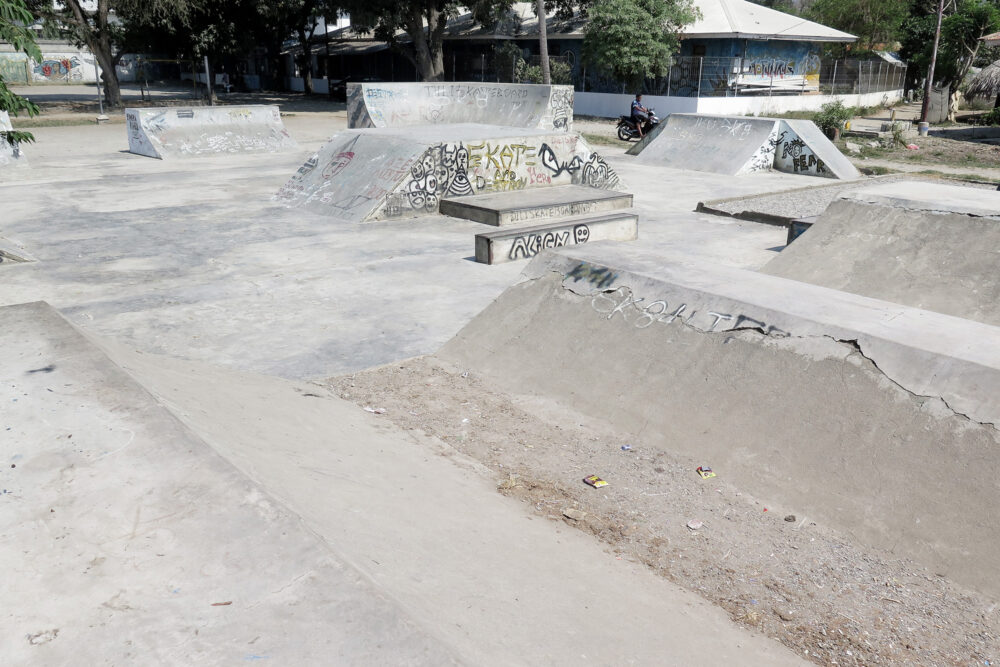 Nick, who came across the park on a visit to Dili unrelated to skateboarding notes that: "the volunteers and locals who built the current park did an amazing job with the knowledge and resources at hand, but you can see a lack of understanding what the angles involved are, the transitions, even the space needed between obstacles to properly flow around it." After some back and forth with Ba Futuru, the adjoining youth group who made the original park happen, Nick began to put a plan in place:
"Seeing the state of the park, and how much it gets used in spite of that, I started to imagine what it could be with a fresh build. I started chatting informally with Ba-Futuru to see what appetite there would be for the park and they were really keen, then I started connecting with a few people back here to see if it would be feasible."
The need for an updated layout was clear, something which the group has worked with local skaters and Ba-Futuru to design. Wade made the trip over last October to see the site and meet the locals: "to find out what they want; which is important, as it's their skatepark and getting them involved is vital." Young people don't always have the experience or knowledge to design a useable skatepark, but with the help of a portfolio of other parks Wade has been involved with and a questionnaire translated into Tetum (the local language) for them to fill out, progress was quickly made: "When they saw some of the skateparks we showed them they were stoked and they came up with some good ideas too." A design that can cater to all is integral in a country where the next closest skatepark may well be a plane ride and an international border away. Wade has developed such designs over the course of various build projects. Speaking to him just before he returned to Sulaymaniyah in Iraqi Kurdistan to extend the park there, this goal of combining a user-friendly design with a wide range of obstacles for all ability levels was evident;
"What's going to be cool about going back to Suli on Sunday, is that we've concentrated on the beginner area. Some people are like: "Let's build something gnarly," but some of these people have never skated before! So we definitely wanted to put in some beginner stuff – a ledge, a quarter at one end and a bank at the other end – and that's become so popular now that they want to extend it. There are even kids from a nearby Syrian refugee camp in Iraq who are going out and using the skatepark. Even when designing parks in Australia, I think about how skateboarding can be pretty intimidating. Kids want to drop in, they get to the top of a massive quarterpipe, freak out and think: "Well, that's skateboarding done." So we really want to include those opportunities for progression. You put a slappy curb in and that's great for a beginner, but also who isn't going to have fun with that?"
Even local folklore is taken into account when planning the layout: "The park in Dili, we've got a hubba ledge that's a crocodile as the mythical story behind Dili is that it was created by a crocodile. So we put that kind of thing in to give it a local connection, and also so people can see it around the world and immediately recognise it."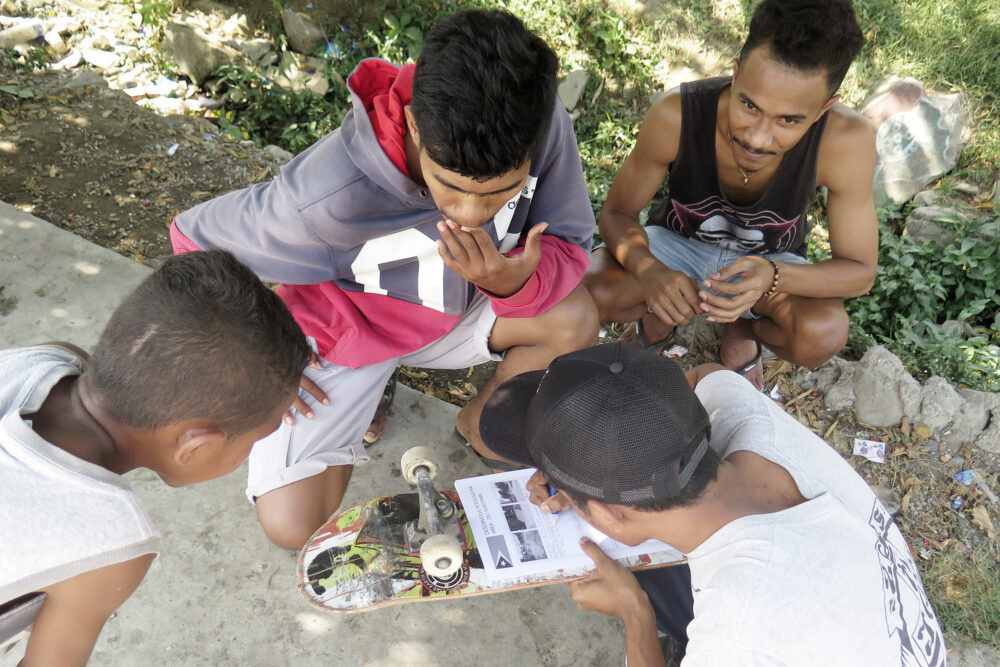 While the skatepark itself is the main focus of the group's fundraising efforts, equipment is also an issue in a country with no skate shop and so heavily reliant on imports. Nick describes the problems inherent when infrastructure doesn't offer the levels of consumer freedom available to skateboarders in more economically advanced nations:
"Everything is really expensive in Timor-Leste, I've yet to see anywhere that you can buy a skateboard over there. I've heard rumours that you can, but it's about $300 US. If you're lucky enough to get a job, minimum wage is $7.50 a day so you can imagine how many people can afford a skateboard."
This feeds into only recently emerging discussions around sustainability in the skateboard industry. I notice at the exhibition that more than one of the artworks available are made using used or snapped boards and ask whether this was a conscious decision. Kirby affirms that, citing the amount of waste created during the first Decks for Change project:
"Skateboarding is something I'm so addicted to but also get so guilty about, because it does have such a linear process of "take, make, waste". I'm not that great so I don't get through a deck a week, but people do and there's so much out there that just goes to landfill. So that was definitely one of the things: repurposing boards and the whole DIY aspect of it. It's nice to think that it's an art form when you skate, it's so creative how you use your board and such a subjective manner in which you skate, and then it turns into another form of art. It's like a precious resource – there's seven layers of ply in that shit, so many chemicals, so much vinyl and plastic, it gets transported so far – it kind of seems like a waste for it just to get skated for a couple of weeks and then chucked."
Decks for Change is one of the unsung heroes of the skateboarding world, raising funds for a wide array of charity projects over the last few years via art exhibitions and auctions after a successful first run of five shows over five cities ("It nearly fucking killed me!") raised over $6,500 for Skateistan. Since then the organisation has worked on Annapurna Skatepark in Nepal and Suli in Iraq with Make Life, Skate Life, with Timor being the current project towards which their donations go alongside the next step of building in Iraq. This grassroots network of those working on skatepark charity builds across the globe is incredibly important when looking at how these things come about; if it wasn't for volunteers willing to give up their time and spend their own money making it out to these remote corners of the globe, skateboarding would be a poorer place. As Kirby says when laying out the ethos behind Decks for Change: "It's all about a picture or graphic being able to explain a complex issue in a positive light so we're not all so overwhelmed by negativity about what is wrong with the world." Skateboarding may not be the solution to many of the world's problems, but these small steps can help make the world a better place for many. It is this creed which Wade, Nick and Kirby live by, so I feel like it is relevant not to paraphrase but to lay out in full their respective answers to the question, "How do you feel that skateboarding can affect social change?"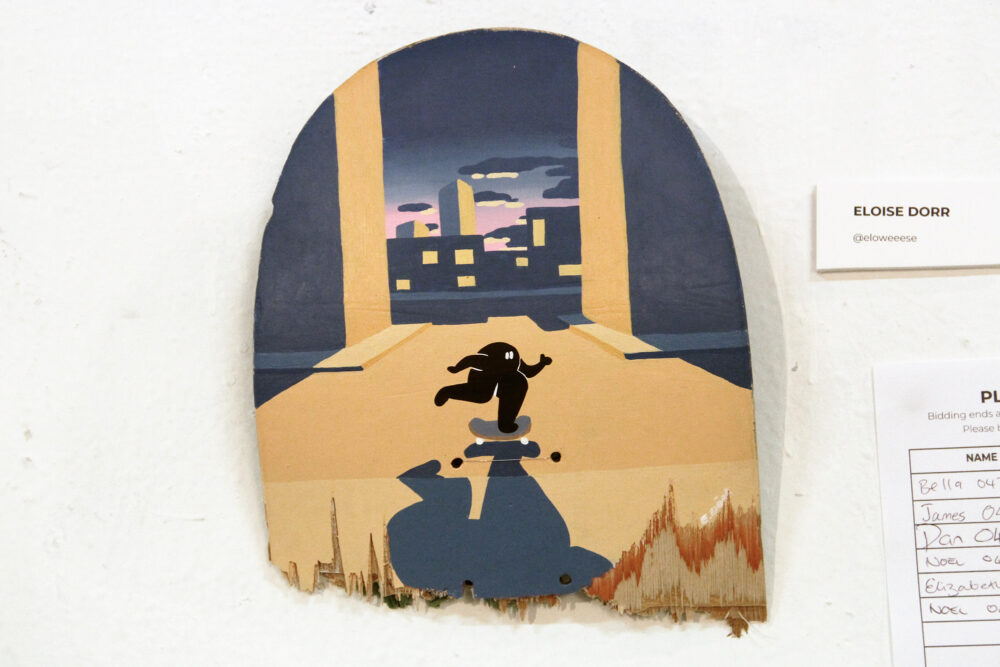 Wade: "From my perspective, it brings spaces that aren't prescribed. It's not like putting in a basketball course and saying: "Here's how you play basketball, these are the rules, these are the lines," people can go to a skatepark and interpret it in their own way, whether that be rolling around on their stomachs, standing up or learning to kickflip. And it doesn't discriminate; Sunni or Shi'ite, boy or girl, young or old, rich or poor, it doesn't matter, everyone can go and be a part of the skatepark. That extends on from the people who want to use it in an active way to the people who just want to hang out – it's a social space too. With each space we try and make sure there are available areas at the side of the park where people can do that. Over time they might be encouraged to use it in a more active way but they might not, and that's okay because they still have a space to hang out. That was really evident in Palestine when we built there, overlooking the border and not terribly safe in regards to the conflict that goes on there. Now these kids have a space of their own, which is amazing – they can use it how they want to. How skateboarders are meant to dress, what tricks you're meant to do, the culture you have, that's up for them to decide – which is pretty exciting."
Nick: "I think anyone who has skated knows the personal skills it can bring in terms of determination, that commitment to something that you will so bloody-mindedly put your body on the line for hours trying the same thing, punishing yourself to finally land that trick. That dedication, but also the community; you're helping your friends to learn things, they're helping you, you're building these relationships through mutual support with people you might not meet through normal connections. Personal skills, the relationships it can inspire, the DIY sense of it, creativity in how you see the world, engaging with physical space and in a way bending that physical space to your will. Some of these things are unique to the sport in that all you need is a skateboard to be a part of it – there are no rules, it's what you make of it whether you want to enter competitions or just get a couple of square metres of concrete to yourself and try to land things all day. I guess that makes it very different in approach to some activities, you're not relying on organisations to run things in a way that means you have to follow their rules or their timeline. There's a self reliance about it."
Kirby: "I mean we all see skateboarding differently, but I see skateboarding as being a catalyst for change in some of these communities because it's such a new thing, it's really something for the youth who are building their future to take and reinterpret as their own. That's something that's really special – in Iraq for instance, the generation skating now are a generation who aren't living under Sadam Hussein, their future is going to be so different to what has been in the past. There are so many different cultures coming together and I think skateboarding is one of those things that not only makes them see things differently but also pushes them together and helps them to learn a bunch of different languages through skateboarding. I kind of see it as a tool for uprising. It also connects them, through Instagram, to skateboarders across the world. I'm able to chat to them all the time which is really nice, but then they're following my friends on Instagram and my friends are following them, which creates this whole conversation which connects everyone and also opens up the diversity and lessens that idea of 'the other'.
For some it's also an opportunity to play. For girls there, we went to a remote village in Kurdistan and for the girls there to be able to jump on a skateboard with the boys and shred is pretty empowering. The girls aren't as intimidated as they maybe would be here in Australia, because it is such a new thing – it's a clean slate, it's not determined that this is just for the boys."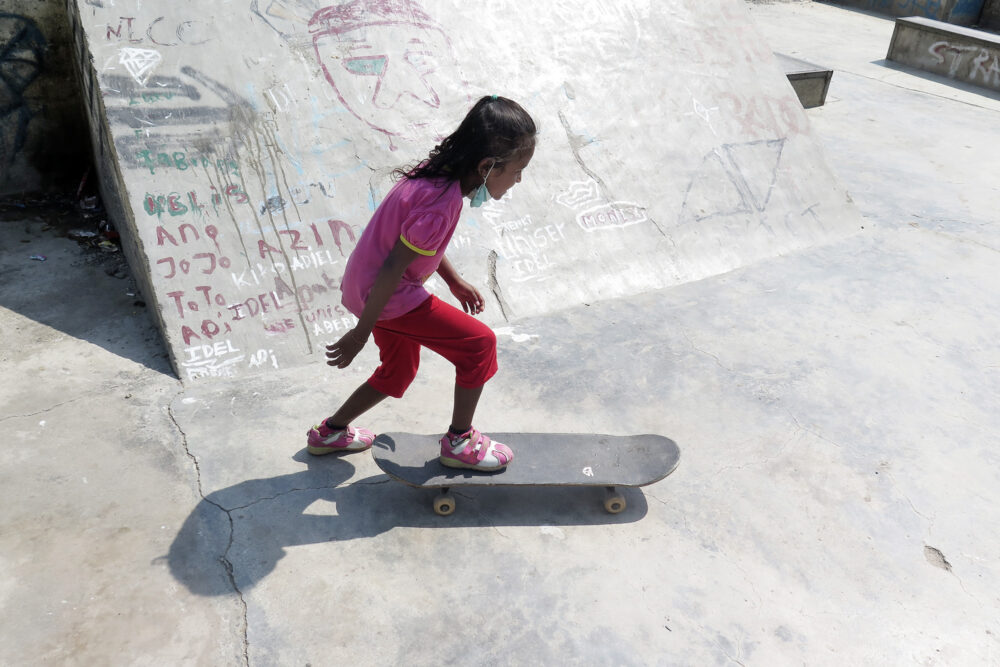 In order to help push these positive forces to the fore in Timor Leste, further fundraising efforts are still being looked at by the group, while the original build start date in June or July has been pushed back to October. Efforts are being made to get some corporations involved in order to secure larger sums of money, with Kirby raising the possibility of companies sponsoring a specific obstacle in the park and Wade discussing how much easier it would be for the volunteer force on which they rely if there as some kind of corporate assistance with attached costs:
"I'm going to Iraq on Sunday and I'm paying for my own flights to go there, but it would be rad for a company to get on board who would sponsor all that stuff. The people involved in these projects are selfless, they're taking three weeks off of work and paying for flights which aren't cheap, then there are costs associated with other things as well, it would be great to cover some of those costs for people.
Saying that, even if we can't, I know people will be going anyway. It's interesting, some people just love building skateparks in foreign countries and some people are looking at the wider impact on the country, but whatever their reasons, they're still really dedicated to going and doing it."
That isn't to say that personal fundraising efforts aren't just as important, with these being welcomed by the group: Kirby cites a new skate shop opening in Newcastle (Australia) the day I interview her combining their launch with a Decks for Change event, while Nick tells me about a transition-shy friend who is raising money for the build with a sponsored first ever vert drop-in. All three emphasize how helpful these events are in terms of easing their stress and workload, being volunteers on the project themselves, with Kirby's plans including the creation of: "resources so if people want to put on their own exhibitions and fundraise for this cause then they can do that, because I just don't have the time to." I'm sure I don't need to highlight the fact that if you want to get involved in some way, you shouldn't hesitate to contact them via the emails included at the bottom of this article.
As mentioned before equipment is similarly vital, with Timor Skate doing a call-up whenever one of them is heading to the country. Nick gives an insight into the process of how the group gets hold of gear:
"Ba Futuru has been accumulating second hand equipment over the years, some left by skaters who've passed through town, some shipped over by people like Marc Godfrey and the MOSS (Melbourne Old School Skaters) crew. I've been adding to that stockpile whenever I go over, MOSS continues helping to draw gear from their connections, Globe has helped out in donating some boards and things. Just recently we got an email from an American woman travelling to Dili whose son happens to work at a skate shop in Austin, so on very short notice they started getting some things together to send over. Building it is great, but making sure that kids can get their hands on skateboards to use it is just as critical."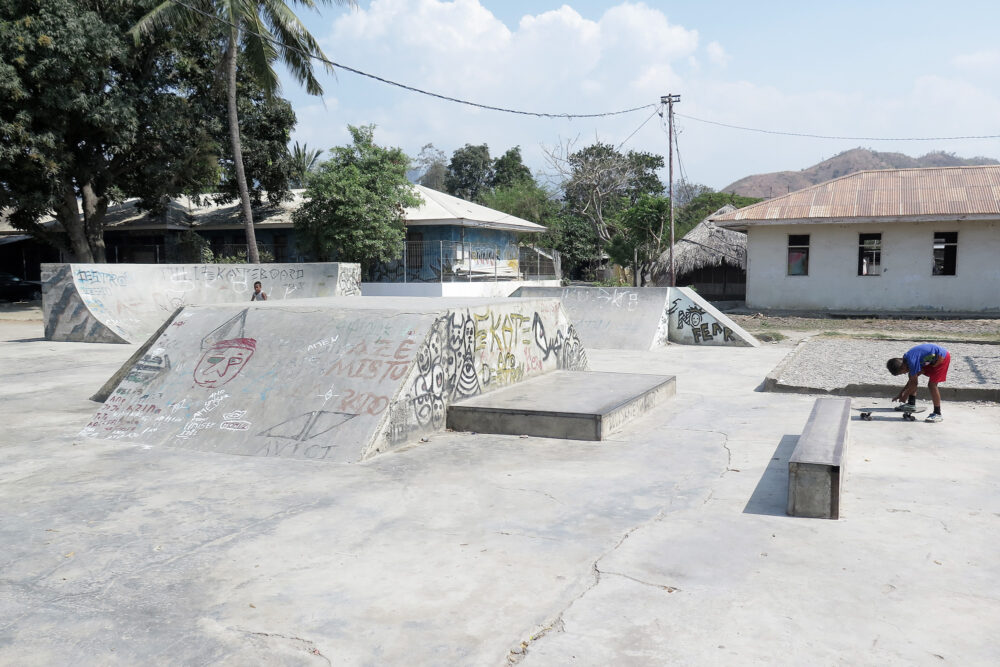 Also critical is a focus on creating programmes for the local youths once the build itself is finished.
"That stuff is vital," says Wade, "there's no point in us going over there and saying: "Here's your skatepark," and then walking away from it. You need to empower the locals too – advance their knowledge of teaching and mentoring. My ideal world is going to, let's say Dili, we build the skatepark and then we show them enough skills to build the next one. The next one might not be perfect, it might have some blemishes, but that doesn't matter and over time they're going to get better and better at it. That's dependent on other people and with that comes skills, but also the fact that it's theirs."
The fact that Ba-Futuru has already created some sort of infrastructure in the area is definitely going to make that process easier, as Nick confirms:
"They really want the skatepark to be something, not just for skateboarding's sake but to act as a gateway into their other programmes, building the skateboarding community but also that broader issue of youth empowerment and youth engagement. We would love to employ a local skatepark manager to drive those actual skate-focused programmes, also just managing the equipment."
"The youth building is amazing," confirms Wade, "they're really supportive of it and we've had words of endorsement from them. They'll be involved once it's finished, and also during the build." And, with regards to getting that build underway: "You can only try and keep fundraising. As long as you're still at it and still passionate, which we are, you'll get it done."
For more info on the project check out Timor Skate.
If you're wanting to get involved in some way, you can contact Timor Skate at i[email protected] and Decks for Change at [email protected]