Up: Seb Batty
19.10.2017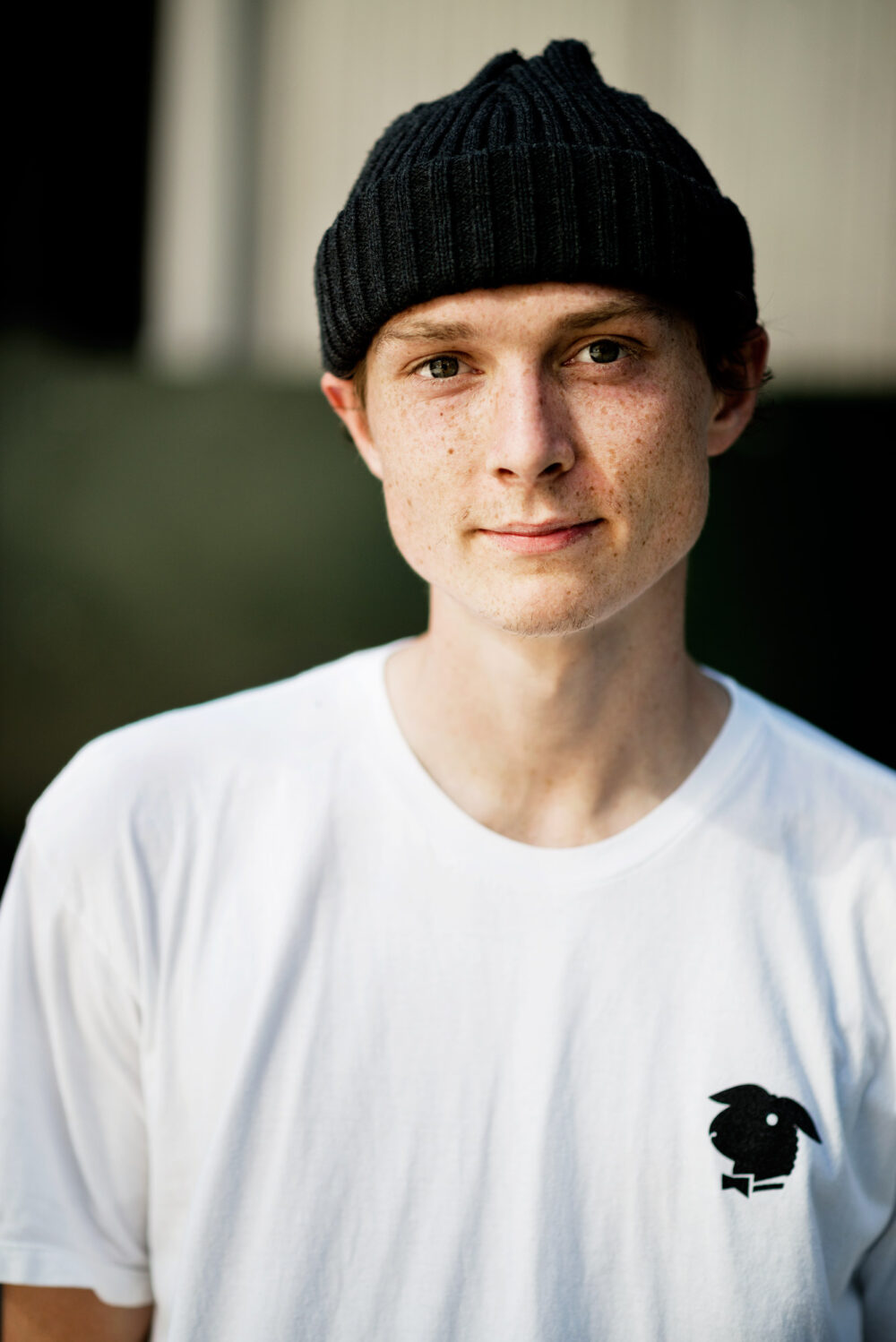 Watch Seb's Grey video part here.
Interview and photography: Henry Kingsford.
Who are your sponsors?
Black Sheep Store, New Balance Numeric and Enjoi.
Tell us about your move from Hong Kong to Wigan.
I moved to Hong Kong from Australia with my parents when I was 11. They moved back here a year before I did. My visa in Hong Kong ran out so I had to go somewhere. I moved here in 2013.
Tell us about living in Hong Kong.
There's a complete sense of security wherever you are. You always feel safe in Hong Kong. The skating was amazing. It was fucking sick, marble everywhere…
How did you find it when you first moved there? Did you experience a big culture shock?
We had lived in Singapore prior, which I guess was my first major Asian city. It was pretty crazy at first but the people at my school really helped me get into the swing of things pretty quickly.
How is the skate scene there?
At the moment I'm pretty detached from it, but when I was there, it was amazing. It was fully a scene, you know? There were people to skate with everywhere and spots to skate every day. There was no segregation at all. Everybody skated with everybody. If you skated, you were one of the homies.
You had close ties to 8Five2 skate shop. Tell us about that place.
They gave me a job just working here and there when I was 15 and they were my family since then. The first shop opened in 1999. It's run by Brian Siswojo. Any person in the skate industry who has been to Asia will have needed his help at some point.
So he helps tours coming through Hong Kong?
Yes, for sure. That's where me and the other guys who worked in the shop came in. If there were people in town, he would ask us to show them the spots.
I'm guessing lots of people passed through Hong Kong on their way into mainland China.
Yes, if people were going to mainland China, sometimes they would get their visas in Hong Kong first and would have to wait four or five days, so they would just skate around. One guy who stayed a while was Flo Marfaing. His visa didn't go through, so he had to chill with us for two weeks in Hong Kong whilst all the other guys got to go skate. But he was down, he came skating every day and loved it. It was sick to have that guy around.
Did you travel elsewhere in the Far East to skate?
Yes, I've been to the main skate cities in China, like: Shenzhen, Dongguan, Guangzhou, Shanghai. My first time going to China was crazy. It was two or three years into living in Hong Kong, but it was the next level of culture shock, like being in an absolute ghost town and being so insecure about where you are. It's a completely different place to Hong Kong. If you're there with your friends, and not lost then you're having a good time. The spots are just crazy.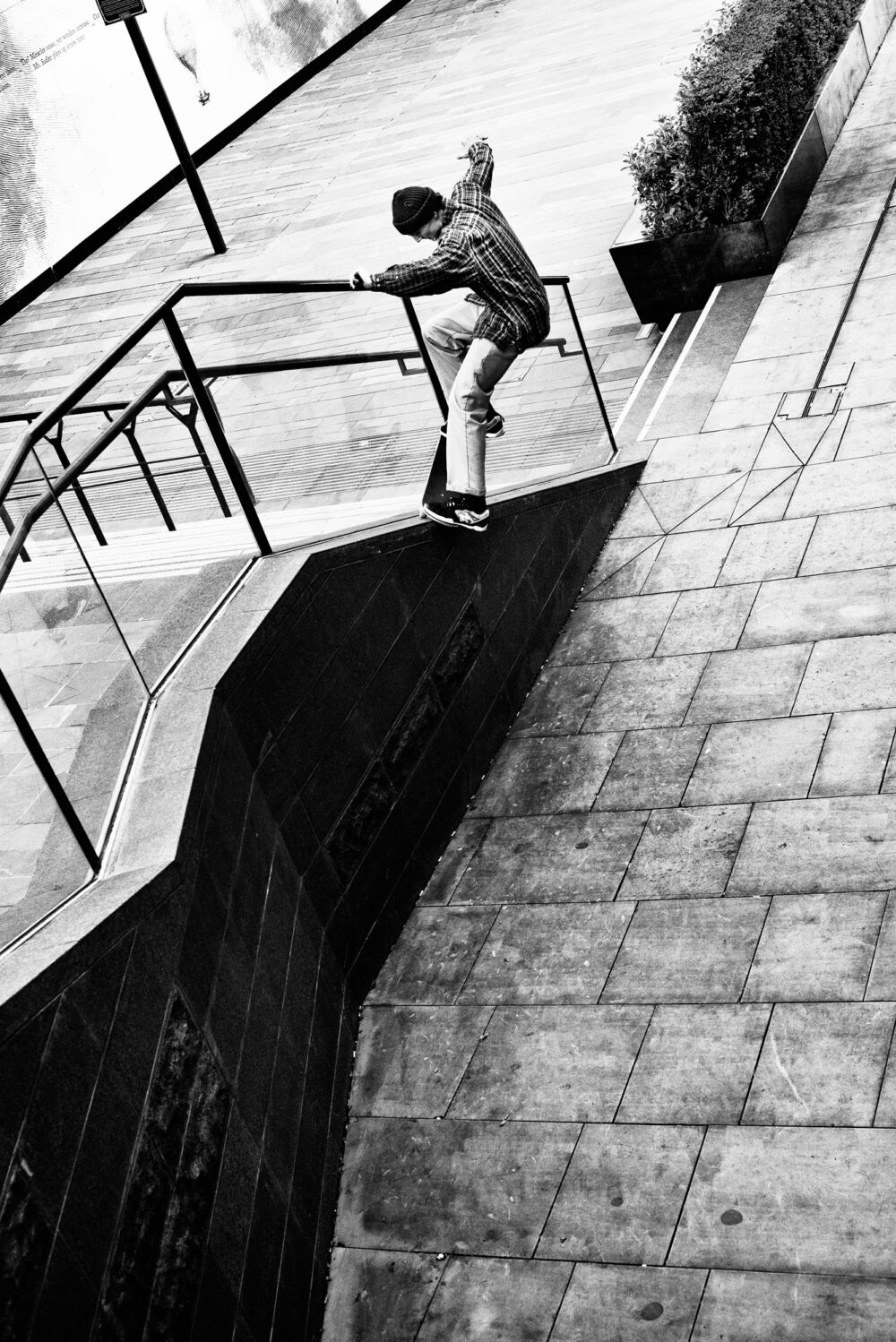 Slappy nosegrind, CIS.
So after all that, how did you find moving to Wigan?
It was hard. I'd never lived here before. I'd only been to the north of England for family vacations or whatever. It was the hardest move I've ever made.
A difficult adjustment I guess.
Yes it was. Still is.
Did you find it easy getting involved in the Wigan and Manchester scenes?
Yes, those scenes are definitely one of the reasons I'm still here. Everyone was just so welcoming and down to go skate. Everyone was cool.
Did you know anyone before moving there?
A couple of times I had come back with my family for Christmas and I met me oldest friend here Kayed (Bouffler) at the skate shop in Wigan and from there I met Rikk Fields, who skates for Black Sheep. So that's kind of how that all happened.
How do the skate scenes in Hong Kong and Manchester compare?
Both are pretty welcoming and friendly. There's just no bullshit. If you're down to skate, everyone's down to skate and you're going to have a good time.
Are their any up-and-coming kids in Manchester people should look out for?
Yes. There is Leo Turner. He's always skating down the Cage. He's one of those kids who has learned everything before they have gone to secondary school. And my friend Tylar Mccaffrey.
Favourite skate spot?
One I'd love to got to is Love Park, because of Photosynthesis and stuff. One that I've been to would be the Morrison Hill racetrack in Hong Kong. It's the one with the blue bumps going around it. It's the
most fun just to do ollies around.
What do you do when you're not out skating?
Think about skating (laughs). I work in Black Sheep and skate.
What are your longer-term plans?
Just keep skating until the wheels fall off.
Do you think you'll stay in Wigan for a while?
I mean I want to end up back in Asia at some point, but I'm in no rush at the moment.
So skating is your main focus.
Yes, I could say that.
Is there anywhere in particular you'd like to live in Asia, or will you just return to Hong Kong?
My initial thought is to go back to Hong Kong but obviously it's like the shipping point – from there
you can go anywhere.