Vladimir 2016 programme
14.09.2016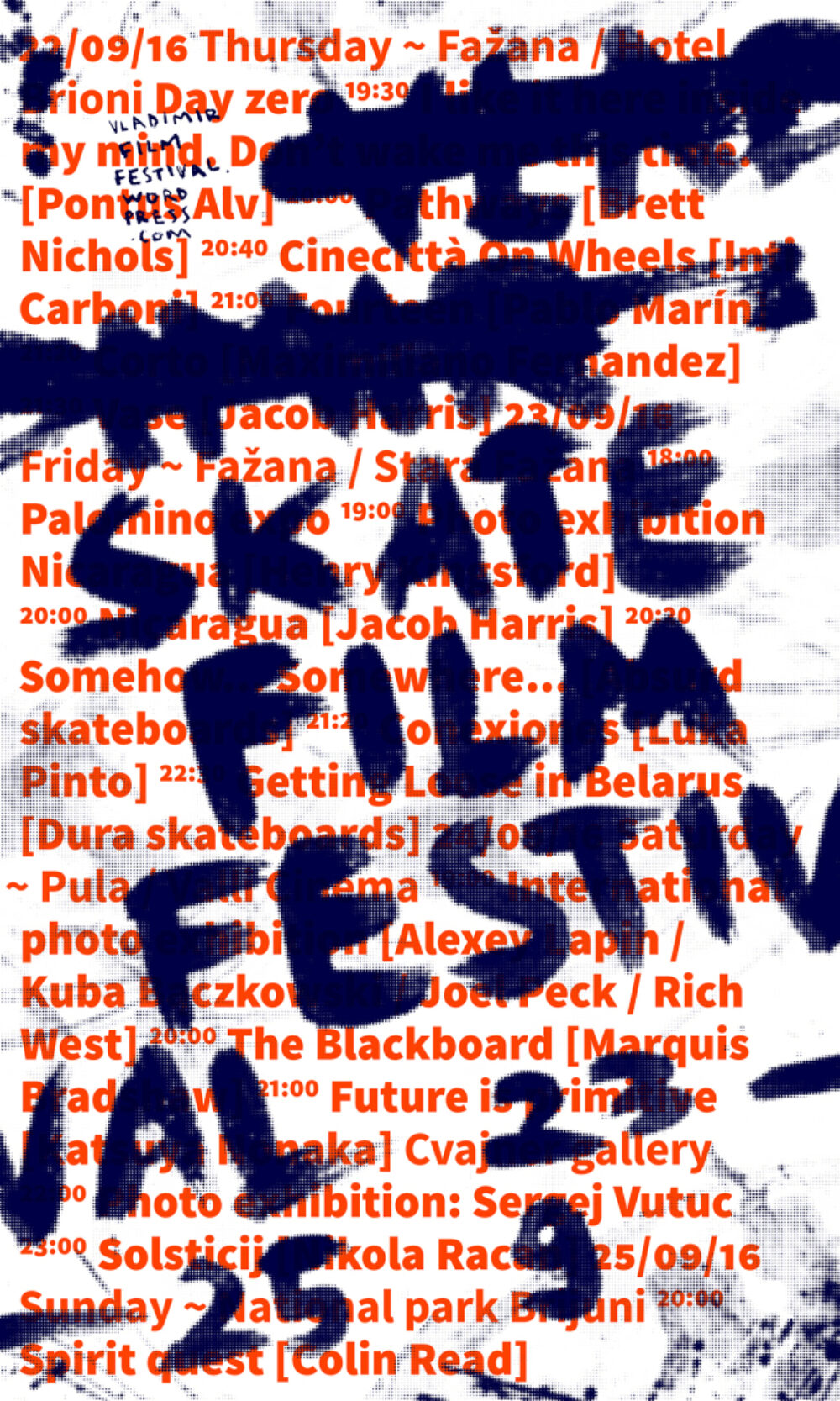 Our friends behind the annual Vladimir Film Festival in and around Pula, Croatia, just announced the programme for this year's festival, taking place September 22-25th. If you happen to be nearby, or are considering making the trip, we strongly advise it. Last year's festival was a great success. See below for programme details. For more information, head to the Vladimir site.
"This year we're extending it for one day in comparison to previous editions of the festival so the dates are September 23rd till 25th, 2016. With that in mind, we are also announcing an exciting off-program on Thursday 22nd – Day zero. Because of the great amount of submissions, on Day zero we will be having additional skate video projections with Brett Nichols Pathways, Polar's I like it here inside my mind… and a few short edits from Slovenia, Italy, Spain, Chile…
On Friday 23rd in Stara Fažana this year we are bringing you Palomino outlet store expo from London, a photo exhibition by Henry Kingsford followed by a short film Nicaragua by Jacob Harris, Russian guests from Absurd and Dura crew presenting their edits, Luka Pinto from Pillo Wheels gang with Conexiones and a few surprise videos.
On Saturday 24th at the cinema Kino Valli in Pula we are screening two documentaries reflecting views of two opposing cultures. From Japan comes Future is primitive by Katsuya Nonaka and from USA The Blackboard by Marquis Bradshaw. Also, packed with a lot of photos from Alexey Lapin, Kuba Bączkowski, Joel Peck and Richard West we had to extend the photo exhibition to the Cvajner gallery where we situated the works of Sergej Vutuc. At this location we will close the day with the premier, and we couldn't be more proud, of Solsticij by our very own Nikola Racan!
Last but not least we bring you Colin Read straight from New York City for the screening of his latest project Spirit Quest that will be held at the National Park Brijuni Island on Sunday 25th."