Bear Myles Up interview
17.05.2021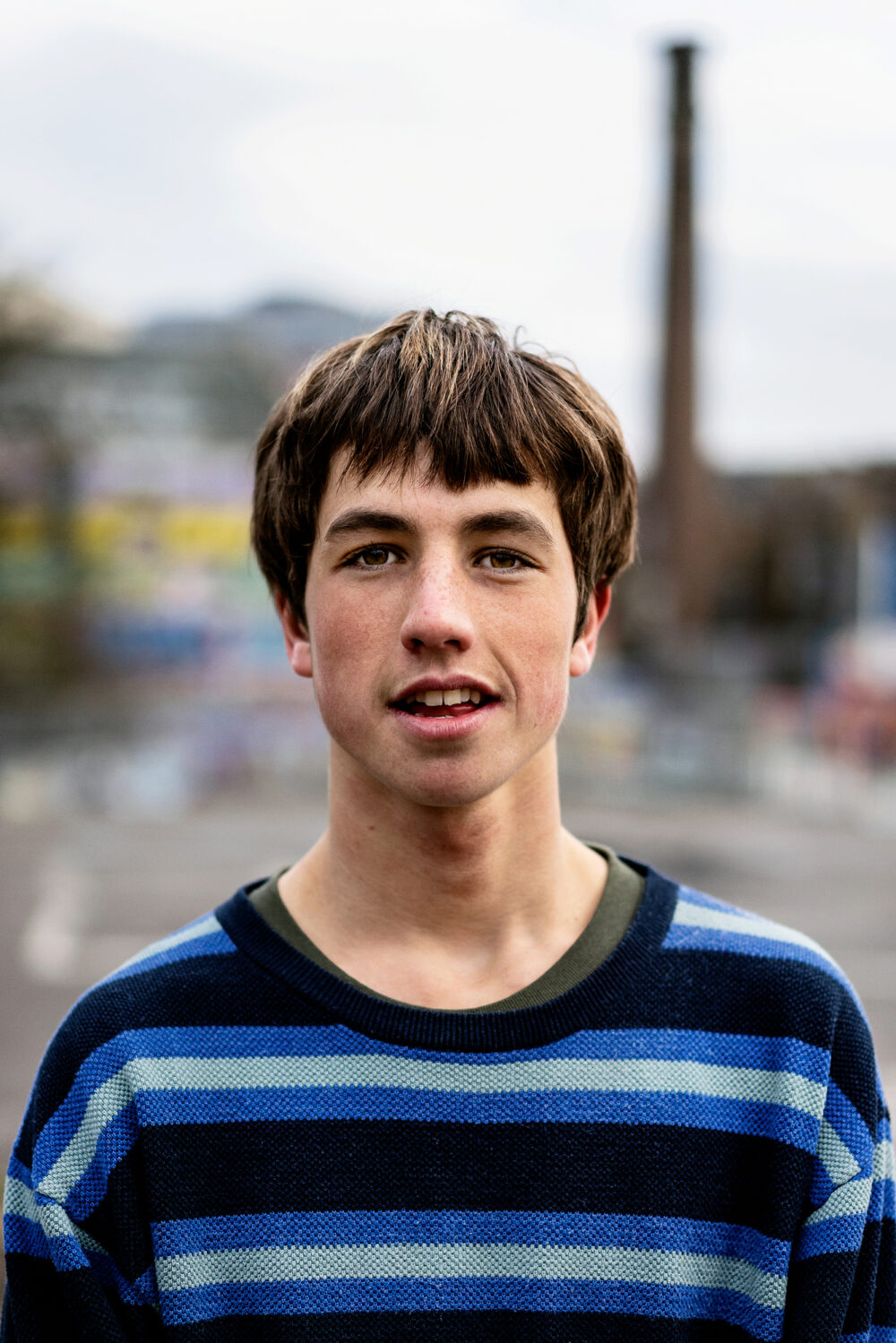 Photography: Collins
Interview: Kingsford
Who are your sponsors?
Yardsale, Converse, Sml. Wheels, Ace Trucks, Fifty Fifty, Rock Solid and ReRun Streetwear.
By coincidence I just saw a photo of your dad (Spex) skating Dean Lane in 1988 that Science Versus Life posted on Instagram this morning.
It's sick to see old photos of him skating the Deaner. From the stories I've heard it was a lot rougher back then. You'd get a lot more shit for skating. I think people thought it was a bit stupid and childish. He said he used to get shouted at, but I think it's changed a lot since then. Skating is a little bit trendy. A lot of people like it. Whenever we go out for a walk or something, people are always coming up to my dad and chatting to him about skating. I always get asked about him. He has definitely inspired me to skate the Deaner.
Does your dad still skate?
He doesn't roll around as much. He knocked himself out badly twice. I saw both times. It's knocked his confidence. He's more of a surfer now. He said he's done too much smashing himself up. One of my mates has got a mini ramp and he skates there sometimes. He's still got the best frontside grinds ever. He doesn't skate for three or four months and he gets straight back on it.
Did he get you and your brother into skating?
We were surrounded by skating when we were born. Our house was full of skateboards. He used to push us on his skateboard – we'd sit on the front. Ghill (Bear's brother) definitely started young, but my dad never tried that hard to get us into skating. He didn't force us. He let me do whatever I wanted to do. (Joe) Habgood still laughs at me now because I used to say to my dad that I would never start skating. I think he knew I would though. I think that's the best way; he just let me do what I wanted to do.

Your brother Ghill has a unique approach to skating.
Yes, he's definitely got one of my favourite styles. He's one of my favourite skaters to watch. If you watch him skating the Deaner, he gets away with everything – I don't know how he makes it. He just has a good laugh, but he's got a unique style that no one really has, which definitely influences my style a little bit. I think everyone gets pretty blown away watching him skate. In Bristol a lot of people think Ghill is their favourite skater.
You're a Dean Lane local. What is special about the place to you?
It's definitely because my dad used to skate there but also because I live pretty close. My whole family goes there. My cousins lived near and they skated. We all just grew up there going to the play park when we were younger. I remember watching my dad skate down there quite a bit. It's just where everyone in our friendship group goes because everyone grew up there. There are a lot of good memories there. It's also a sick place because you can kind of get away with everything there. It's like a free-for-all zone. You can have massive fires and people are just like: "Oh, it's just the Deaner. It doesn't really matter." It's definitely a unique place because there aren't many skateparks on a hill are there?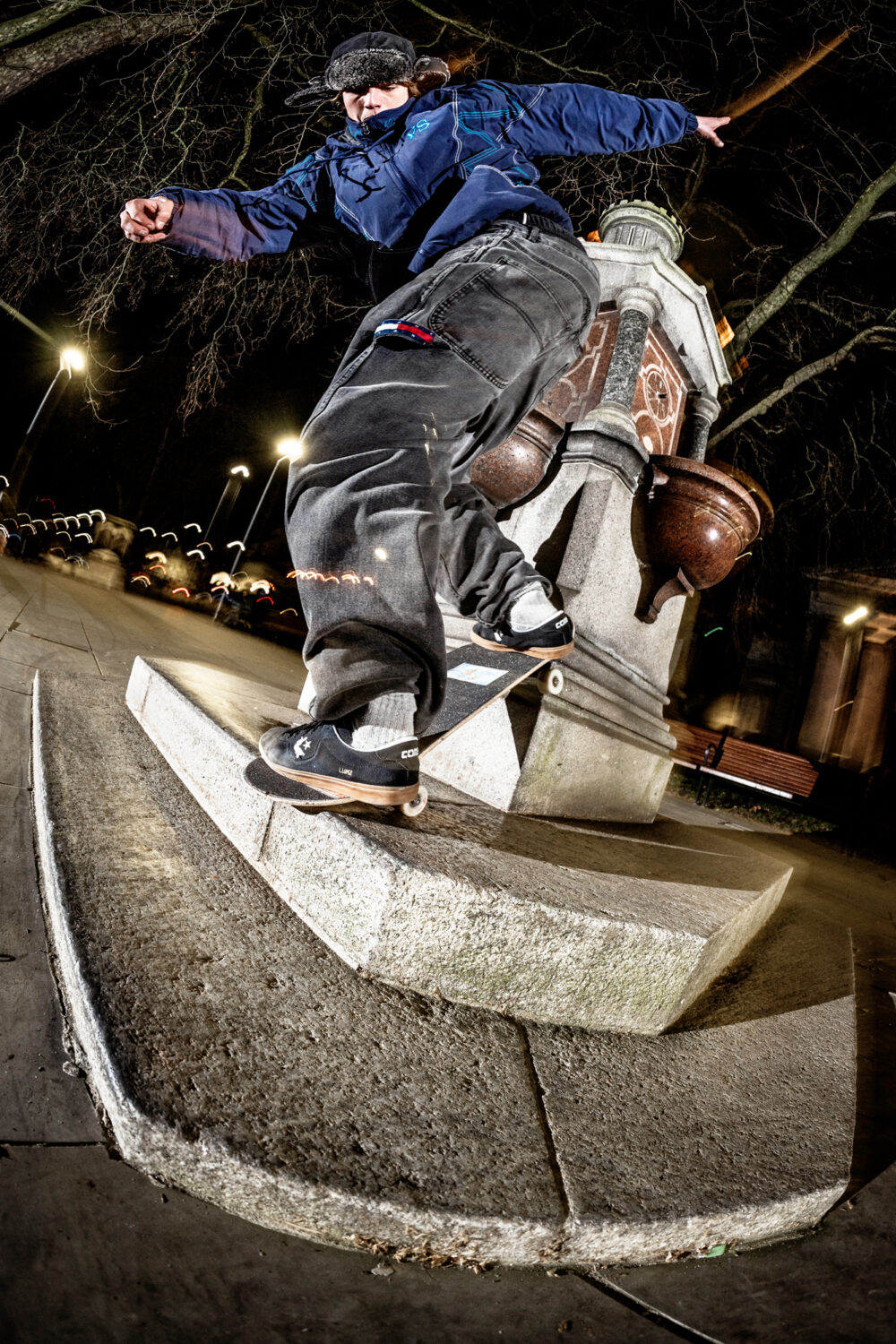 No.
And it's just the crust and how janky it is. I've never got bored of it and I've been skating it for so many years. You can always find new things to do, especially when you're having a bit of a session.
I wanted to ask about surfing, as I know it's a big part of your life. Which came first for you, skateboarding or surfing?
Definitely the surfing. Our family has a caravan in Cornwall and I've been going since I could first walk. I think being surrounded by surfing – my dad loves it, it's a big part of his life as well – and getting smashed around in the surf at a young age made me see how sick it is. It took me a few years to fully get into it, but surfing definitely came first.
Do you feel like surfing influences your skating?
Yes, for sure. It's really helpful with skating because it gives you balance in some ways and it makes you enjoy and see skating a different way. Skating the Deaner is quite similar to surfing because you're going downhill, you've got a lot of banks to hit and you can carve around. I reckon surfing helps your style.
Can you think of any examples?
One of our friends Toby (Thorpe). He surfs quite a lot and if you watch him skate, you can just tell he surfs. I think that's the same for a lot of skaters. If I'm skating in Cornwall, I'll get people coming up to me going: "Do you surf?" You can tell if someone's flowing around and has that sort of specific style.
Do you surf all year round?
Yes. I've been surfing the most I've ever surfed this winter, probably twice a week. It's cold but there's a lot more swell around in the winter. I haven't been surfing that much in lockdown, but last year I surfed loads. I need to get away from the city every month or every couple of weeks. The city's overwhelming.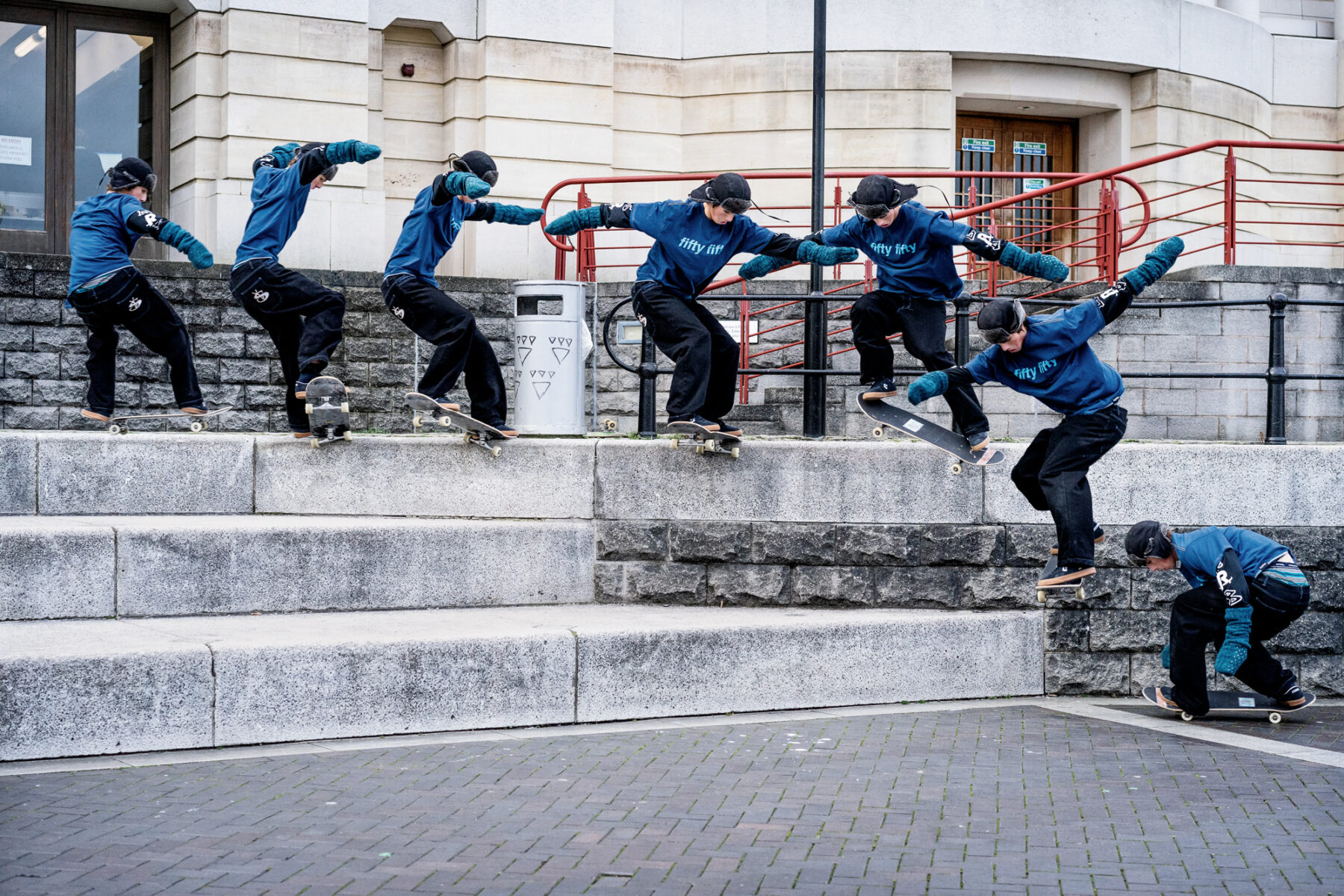 Where do you go?
I go to Wales a little bit but mainly Devon and Cornwall. I've got a few older mates like Toby and Laurie (Greenland) who drive me around. It's sick to have a little posse of people who love going surfing. They're just clucking for it. Normally the three of us will stay in a little Berlingo (van), get freezing cold, wake up in the morning feeling all ropey with the roof dripping wet all cramped up in the back on small roll mats and just jump straight in. It's so cold though. We get ill after, because we always overdo it. We can't surf all the time, so when we go down there we can't stop. I've been surfing in a ripped second hand £20 wetsuit off Gumtree, which is bloody Baltic. I just made do. I've finally got a new suit now, but I like making use of old stuff.
Tell us about Rerun. That's Toby's thing, right?
Yeah. He sells a lot of vintage and old clothes and he makes new clothes out of old vintage materials or old Carhartt. He gets a lot of huge Carhartt trousers in and he'll fix them up to fit smaller waists. He sells vintage clothes for a good price. He sells trousers to a lot of the Bristol skaters.You always see everyone wearing Tobes' trousers. It's a sick brand because he gets all his friends involved and always has a laugh. He's not too serious with it.
I heard it's doing well.
Yes, it's so popular. Everyone shops there. He sells out quickly. He's on it. He's just a pretty sick lad he is, a funny guy.
Tell us about Dirty Rat.
Two of my best mates, Billy Lincoln and Lucien Parsons – the best lads ever – talked about making a little brand for quite a while. It's doing really well at the moment. The new sweatshirts they put out a month ago are so sick. Lucien has been getting into photography and filming loads and he's picked it up so quickly. He's always got new ideas and he gets us lads out of the Deaner because we always get stuck there.
I'm interviewing George Reilly for this issue too.
George Reilly the best man ever!

Griff mentioned you were good friends and that there was a strong link between the Bristol and Brighton scenes.
Yes. I think it's because Ghill and a lot of his mates went to uni at Brighton. I think they clicked straight away. They all lived their best lives over there and I think they're all a bit of a family now.
Who are your favourite skaters to watch in Bristol?
That's a hard one. There are quite a few. I love watching Ghill skate. He doesn't skate all the time, but when he does it's unreal. Definitely Jordolight (Jordan Lightowler). I love watching Josh Arnott skate and some of my mates like Lucien, Bill, Jay Lentern, Raff (MK) and Hamish (Anderson), Baz we call him… I love watching them skate. They just go for it. Also Jordan Thackeray – watching him skate the Deaner blows my mind. I love watching the Deaner lot skate, like Charlie Purse. He is an inspiration to me.

What are your plans for the rest of the year after lockdown restrictions hopefully ease?
I want to get away for a bit. I'm going to go on a few trips around the UK with Yardsale, which will be so sick. Also I want to live down in Cornwall for a few months. I'm going to get a job surf instructing in the summer. I'm also going to try to go on a Bali trip with a few mates in October. I'm going to save up for that.