Dougie George interview
22.06.2021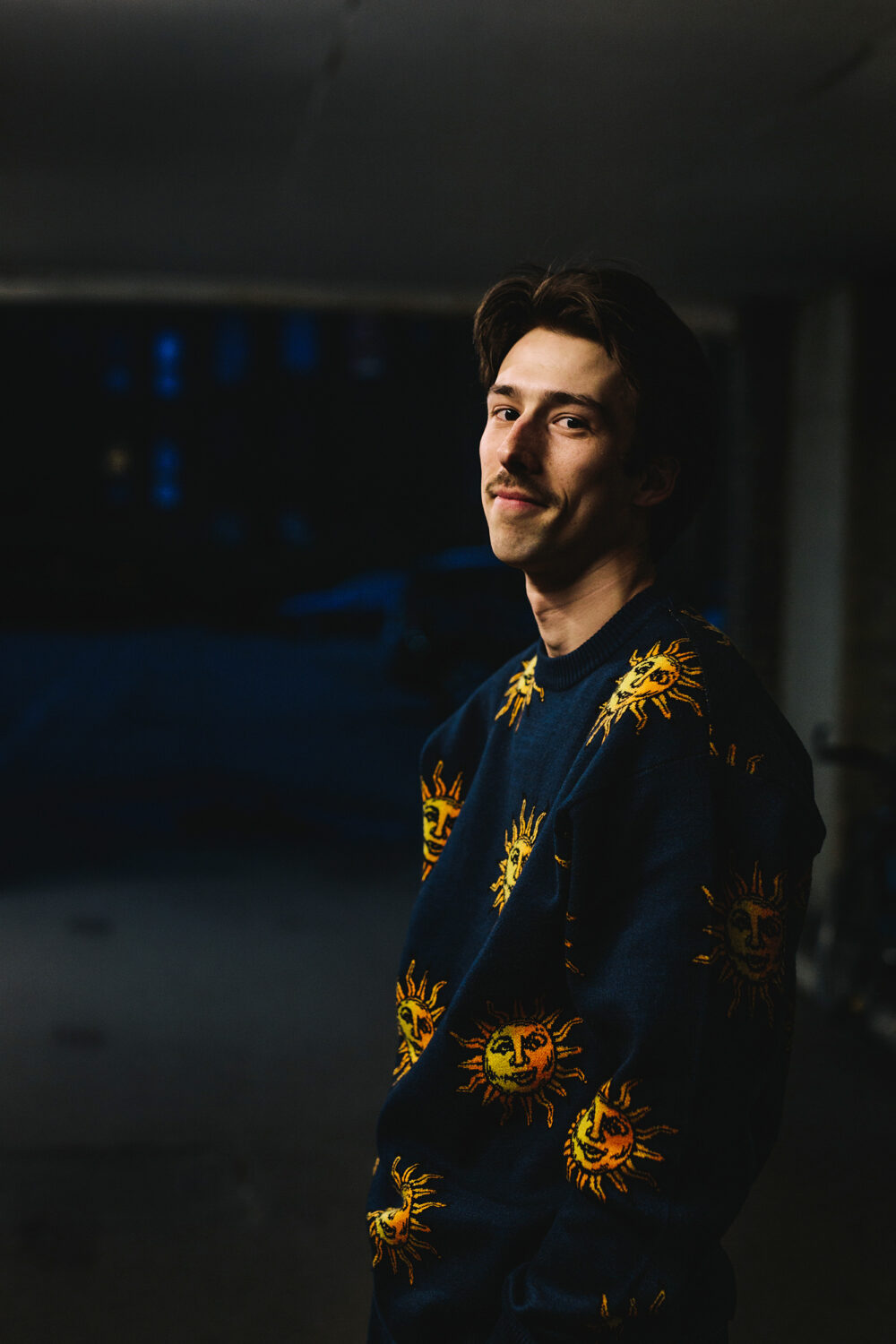 Photography: Griffiths
Interview: Kingsford
When I last interviewed you back in September 2019 you were living in Brighton and had just transferred from Sussex University to the Open University. Now you're living in London. What made you decide to transfer and leave Brighton?
It was a mixture of things really. I was doing pure mathematics at Sussex, which I kind of stopped enjoying after two years. It became quite abstract and didn't feel very applicable. I wanted to mix it with more applicable learning like business and economics, which is what I'm doing now, but it took a lot of figuring out. I was originally going to stay in Brighton, then I figured out I wanted to come up here. Skating up here is nice… not better, but it felt like the next stage I guess.
It seemed like you were immersed in the scene down there.
Brighton is amazing. It fully sparked me on skating because I started being around people all the time and skating street and filming street stuff. It's quite a small place so I got to know everyone. It's quite tight knit. But I was getting over uni down there. I was trying to figure out options and Open Uni came about, which worked out really nicely. I was able to transfer credits from all the exams I'd done in Brighton. They do a thing called an Open Degree where you can mix modules with a load of different subjects and build it towards a degree in whatever you want really, whatever works for you. So that worked out pretty well. I was able to mix maths with some business and make it a bit more applicable.
That was a lucky decision. Because of the pandemic, lots of students in the UK are studying remotely anyway now while paying full fees.
They're not getting what they are paying for. The Open University has everything set up to be just online the whole time so it (the pandemic) hasn't really changed anything with my uni experience because it's always been like this. Now I guess other unis are having to copy Open Uni and do that stuff.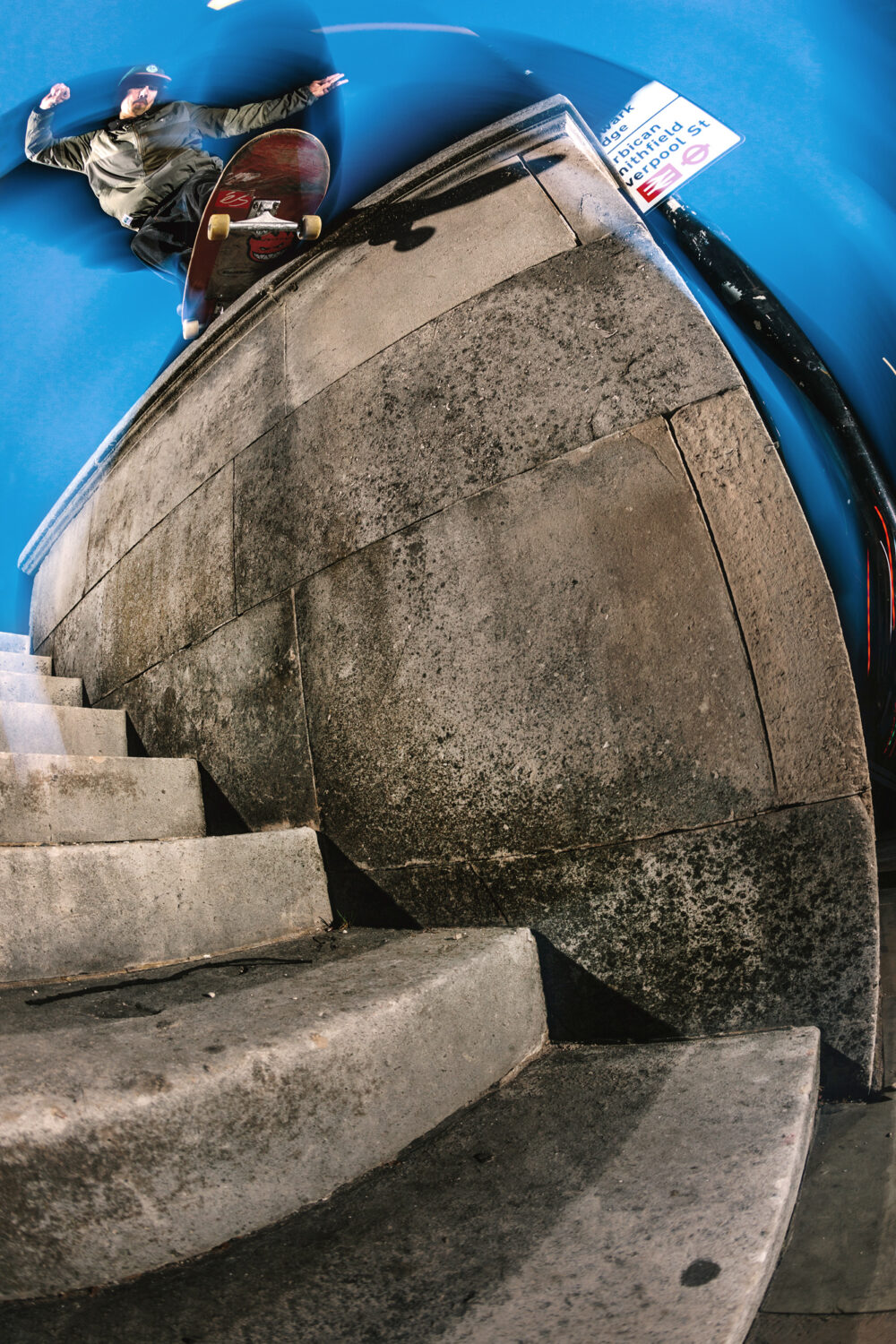 The pandemic seems to be forcing a lot of people to reassess what they are doing with their lives and their careers. Have you gone through that process yourself and have you changed direction with your studies? Your degree sounds flexible in that way.
All my plans are ever changing with corona and everything. Originally I was planning on moving back to Santa Cruz for four months last summer. Before the whole thing hit I'd just been living at home saving money. I wanted to live out there for a while and see what paths I could go down. Then corona hit and everything changed, but it's been kind of a blessing because I used all that money I'd saved to get up to London sooner. I wanted to do that anyway, but I'd prioritized getting back to the States and seeing mates.
Would you have carried on with your studies in Santa Cruz?
Yes, Open Uni is nice – especially if you're dong it part-time – because I can just study from wherever as long as I've got a laptop.

Do you have an idea of what you want to do for work after university?
Not really. It's kind of ever changing. I've always wanted to find some work within the skate industry somehow because skating is what I love to do and it's not like everything is going to work for you if you just skate, if you know what I mean.
You mean it's not easy to make a living as a sponsored skater?
Yes. Getting work within the industry is what I'm really keen on.
What was your connection with the O'Neill family when you were living in Santa Cruz?
I got to know Jack O'Neill's (founder of the O'Neill brand) grandsons really well when I was over there. I met them through surfing. They are still some of my best mates. I got to take Connor around London, Brighton and Barcelona a couple of summers ago. It feels good to see childhood friends after being apart for so long and to be able to just pick up where you left off. Seeing him pursuing his art and creativity has been a big inspiration to me.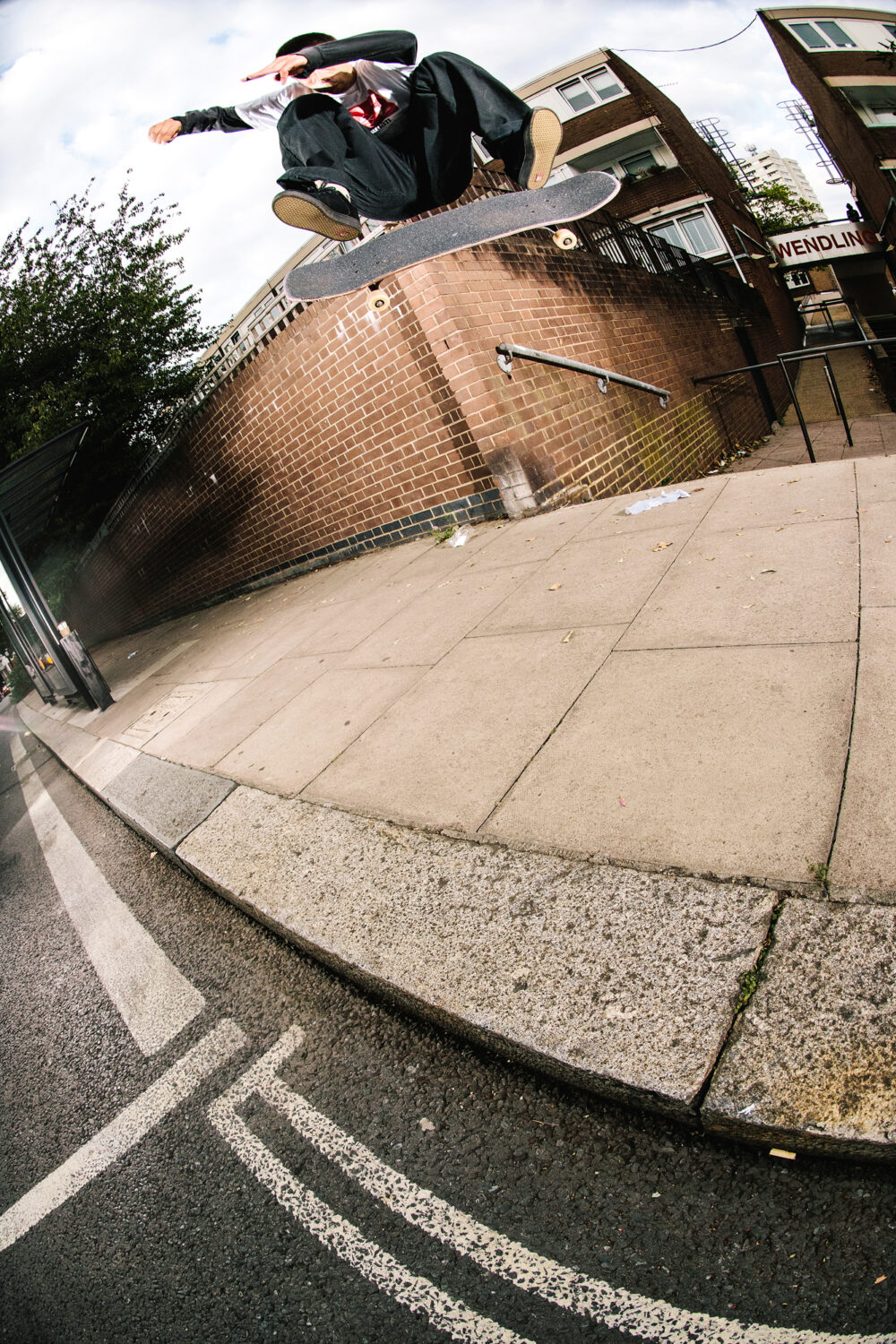 Have you managed to surf at all during the pandemic? I feel like surfing pops up in every interview I do lately.
I don't think I have. I haven't been surfing in a long time. It's not something I stress about not being able to do. I guess I was always more of a skater and it's harder in England. I feel a bit spoiled because I grew up around good waves so it almost doesn't seem worth it to me to make the effort in England to go and get some waves that just aren't that great. It's so much easier and more fun to surf a good wave, whereas you can skate anywhere. If you've got a good wave you can surf it better. So I don't bother loads in England. I think the last time I surfed was in Morocco maybe a couple of years ago.
Going back to Brighton, it seems like you are still pretty connected to that scene. I notice you regularly pop up in Al Hodgson's edits.
Yes I try to get down as much as I can. I haven't been down for a while now because of corona and everything, which is annoying. I love Brighton. Al always has plans for the next video or the next thing he's working on. He always wants to have me, Dan (Fisher-Eustance) and Ellis (Gardiner) involved. We've got a little Brighton house up here, so it feels quite connected. I met Dan and Ellis down there when I first went for uni three years ago and now we've got a place here. I think Al's planning a little thing for this summer around south coast beachfront spots, so I'm definitely going to get back down there and explore. Al's a good spot searcher.
Tell us about your place in London. It's a long-term skate house, right?
It has been for a while, yes. Dan moved up here maybe three or four years ago. He moved in when Casey (Brown) moved out. Dan was skating for 1401 at the time, which was a little Portsmouth thing we had going and Casey was involved with that, so I think that's how Dan ended up here. It's always been skaters here, so he fit in well. Then last summer me and Ellis were looking for places to live with Dan and it all worked out with people in this house moving out and us moving in. So we've kept the skate house alive for now.
You live in quite a well-known building, right? What the Bow Quarter? Yes, it was
a match factory in the mid nineteenth century so it does look pretty cool in here. They did a load of work in the '80s to make it housing. I think they set up anti-aircraft missiles on the roof here during the Olympics.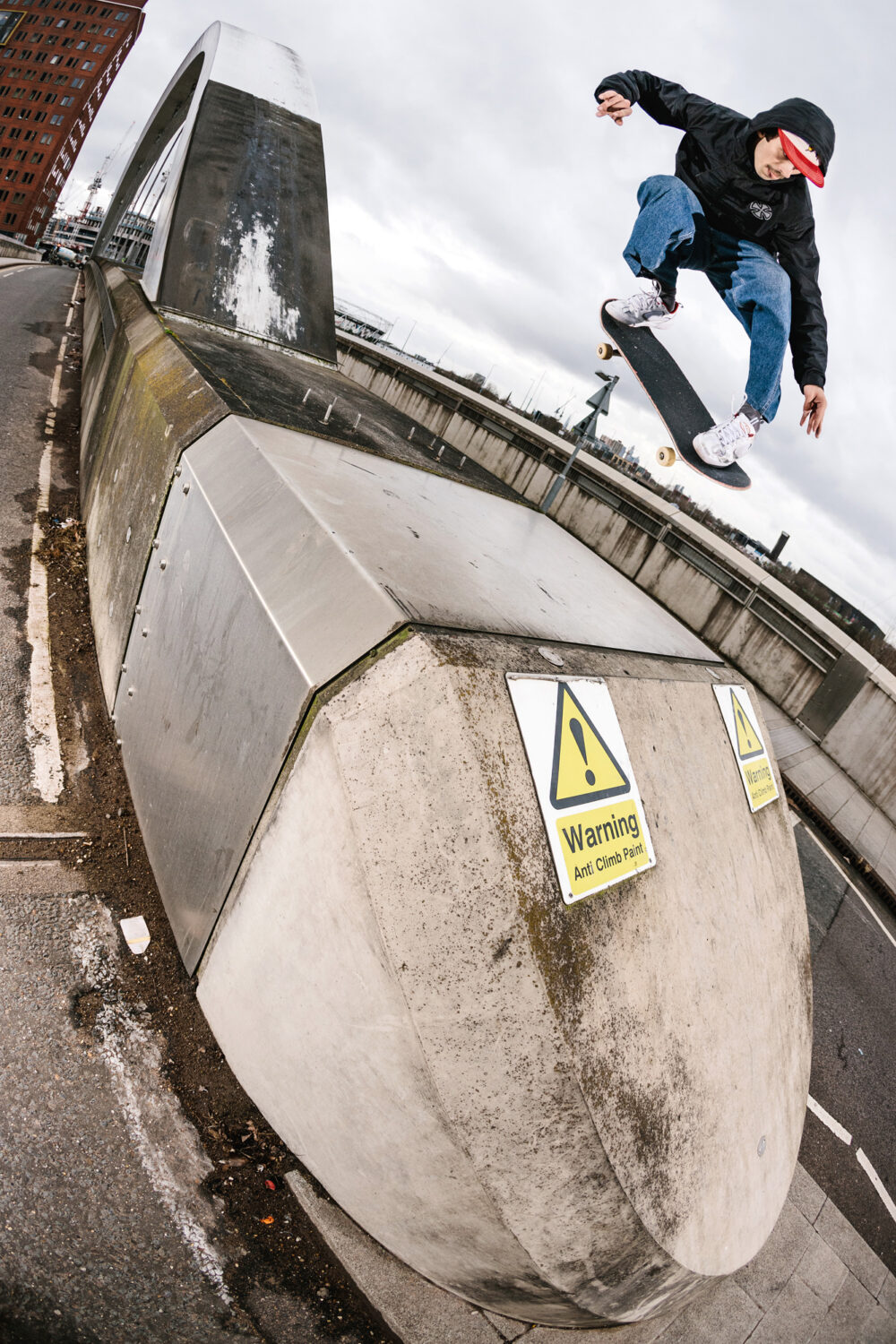 Who are some of your favourite skaters to watch in London?
One of my favourites is definitely Ellis who I live with. He's just got power and speed and aggression on a skateboard and always looks good. Then Dennis Roberts at Mile End – he's really good – Kyle Wilson, Conor Charleson, Joel Banner and Kai Etheridge.

What about some younger, up-and-coming skaters people should look out for?
It's hard because I've only been in London for a little while. The up-and-coming skaters I know are from different places. After moving to Brighton my favourite skaters were always Harrison Woolgar and Zane Crowther. Those guys always had a lot of creativity, which I guess I hadn't experienced as much before I moved there. I think that's really important in European skateboarding because we don't have the spots the States does. So creativity and doing some weird stuff is always nice.

Where is your favourite place to skate in London for fun?
That new Cann Hall skatepark. That volcano manny pad is the sickest obstacle ever. And Hackney Bumps. Those are the spots. East has loads of great areas for skating.

It's really blown up in the last year. Who do you skate with in London?
Dan Fisher, Ellis Gardiner… I get out with Quentin (Guthrie) a lot. When I moved up here, he and Dan were working on a video (Dan Fisher-Eustance's Free Part), so I got to know Quentin through skating with Dan and he's become one of my best mates up here. I like skating with Griff (James Griffiths). I get out with Kev Parrott a lot and it's been nice getting to skate with people like Charlie Munro more and Manny (Lopez) when he was over here.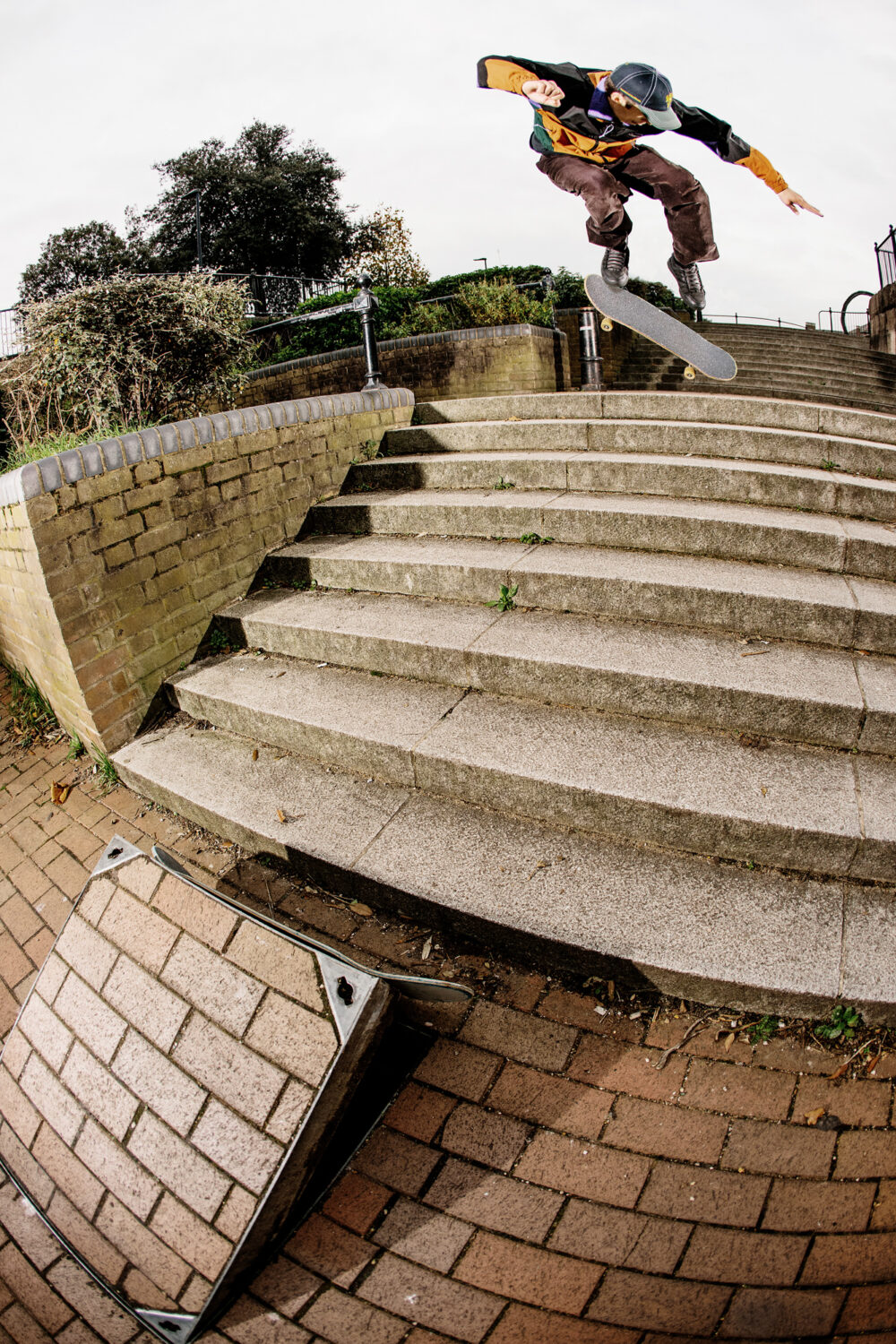 You mentioned recently that you had bought a sewing machine and had started making trousers. Tell us more about this.
Ellis has his own sewing machine. He's been sewing for two years now, just teaching himself things. When we moved in I instantly became interested in how he makes things and how they are put together because he makes really cool things. He's made a lot of trousers and shirts. I've been learning from him recently and I managed to get sparked up enough on it that I needed to get my own machine. It's been really fun. I've just been trying to make a pair of trousers today actually.

Is this something you'd like to explore as a way to make a living in the future?
Yes, I guess so. At the moment I'm just really interested in figuring out the right shape of whatever I want to wear or create. I want to know how to chop it up and make it… like patchwork. It's something other than skating that I can pour time into. It's not really difficult; it's just a lot of doing the right thing and not making silly mistakes, which then ruin the whole thing. It's just fun. I guess having more time in lockdown made me want to figure out more things and have more things to do.

On the subject of trousers you started riding for Butter Goods recently. How did that come about?
It came about through skating with Quentin. He's from Perth (Australia), which is where the brand is based, so he's kind of introduced me to the dudes and managed to get me a few things. They're stoked on the footage I guess, so… I'm really stoked on it man, it makes me really happy to skate. The trousers I want to be making, they send me now (laughs). I'm stoked on everything they do.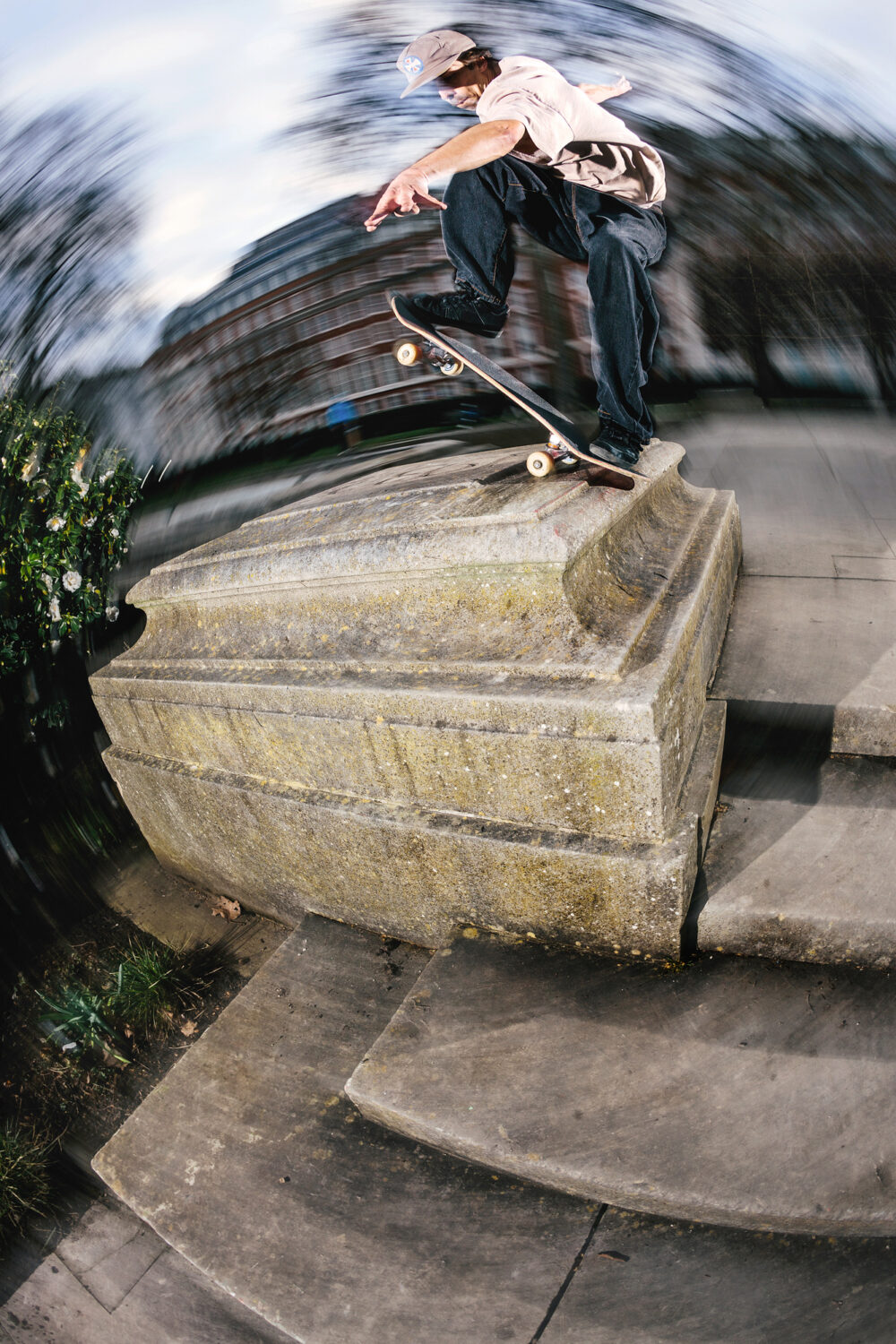 I heard you just started getting Chocolate boards too.
Yes, it's me and Dan together. We're really stoked. Will Harmon sent Dan's Free part – which I had some tricks in – around. He was really looking out for us. We're always skating together so it's nice to feel like we're part of the same thing. They make some really good shapes too. It feels good to get Raven (Tershy)'s boards that say "Santa Cruz" on them!
What are you looking forward to most when lockdown hopefully eases in the UK?
I'm just looking forward to travelling a bit more, being able to go back down to Brighton and see more of my friends, going up to Manchester and seeing Zane, who I haven't been able to see for a while and my little brother is up in Liverpool at uni. It would be nice just to get around the country a bit more, let alone going to other countries. I still want to get back to Santa Cruz eventually. I'll get back out there when I can.