Chris Oliver interview
12.08.2021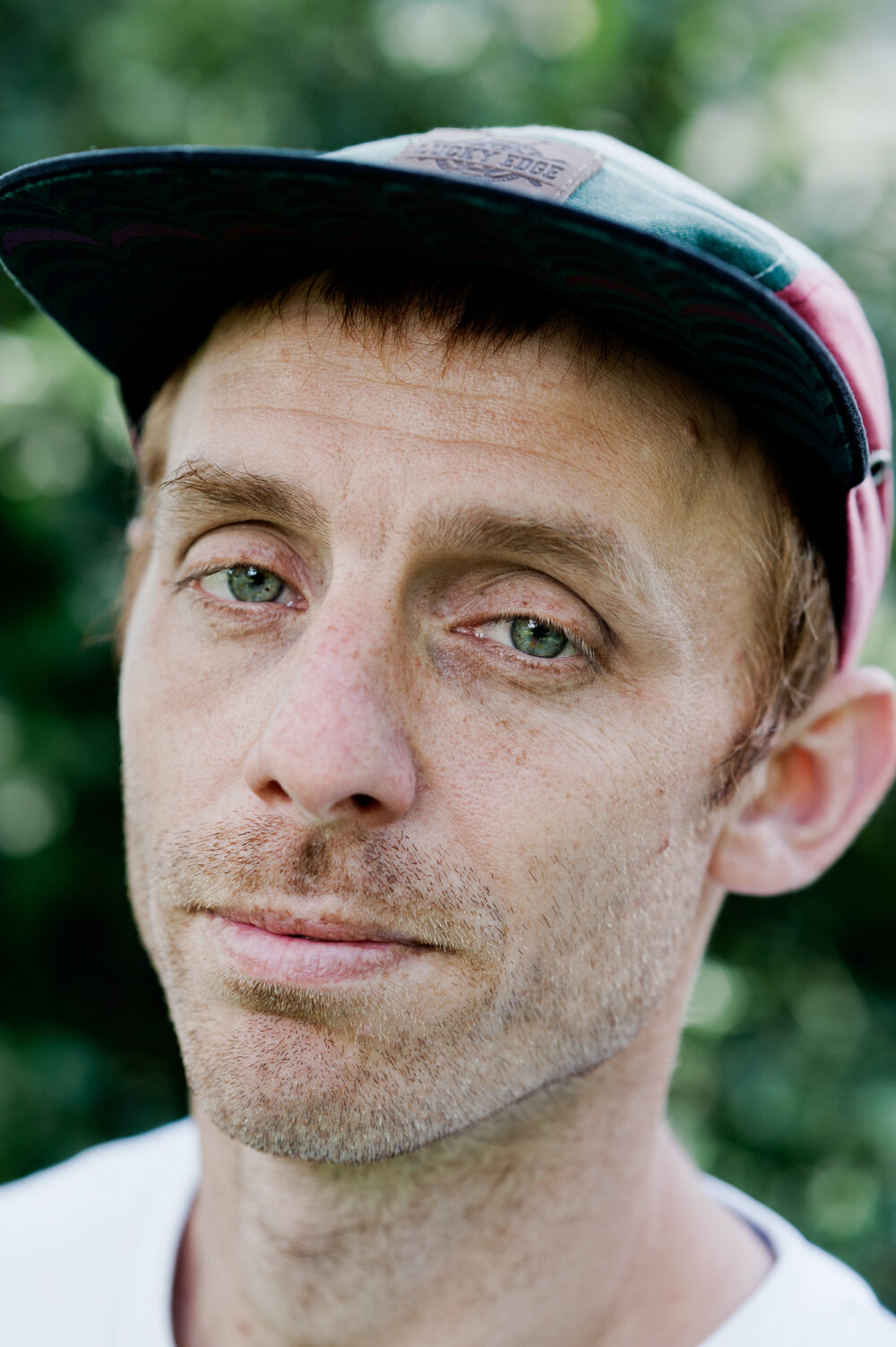 Photography: Wojnowksi
Portrait & interview: Kingsford
You and Tom Lock, who also has an interview in this issue, are both turning 40 around the same time the magazine will arrive in shops. How do you feel about that?
Somehow I got here without therapy (laughs). I'd say I feel equally blessed and stunned that I'm able to still skate at all to be honest.
I turned 40 last month and I have definitely been thinking a lot about the future, specifically moving away from London. You recently mentioned plans to move to Oxford.
Moving to Oxford was a distant plan for the future perhaps. I mean there are great skateparks, plenty of wild swimming and nature and it's not too far from London. We'll have to see, but for now a lot of my business is still in London, a lot of work, a lot of friends and I'm skating a lot more these days, so it's hard to leave.
You just moved into a new place didn't you?
Yes to New Cross Gate, which is pretty nice actually. South is a bit more chill. I moved in with my girlfriend, which has been nice.
You two were in Oxford for the first lockdown, right?
Yes. Originally it was going to be for two to four weeks – you know at the start no one knew what was going to happen – then four months later I was still there. We were at my girlfriend's parents' house. It turned out all right because they have a garden and there are a lot of nice lakes to go swimming and stuff. It was actually quite nice.
What about work?
I had a few big jobs before it happened so I saved a bit of money. Then we just moved out of my place and basically lived in Oxford for that period so I didn't have any rent worries.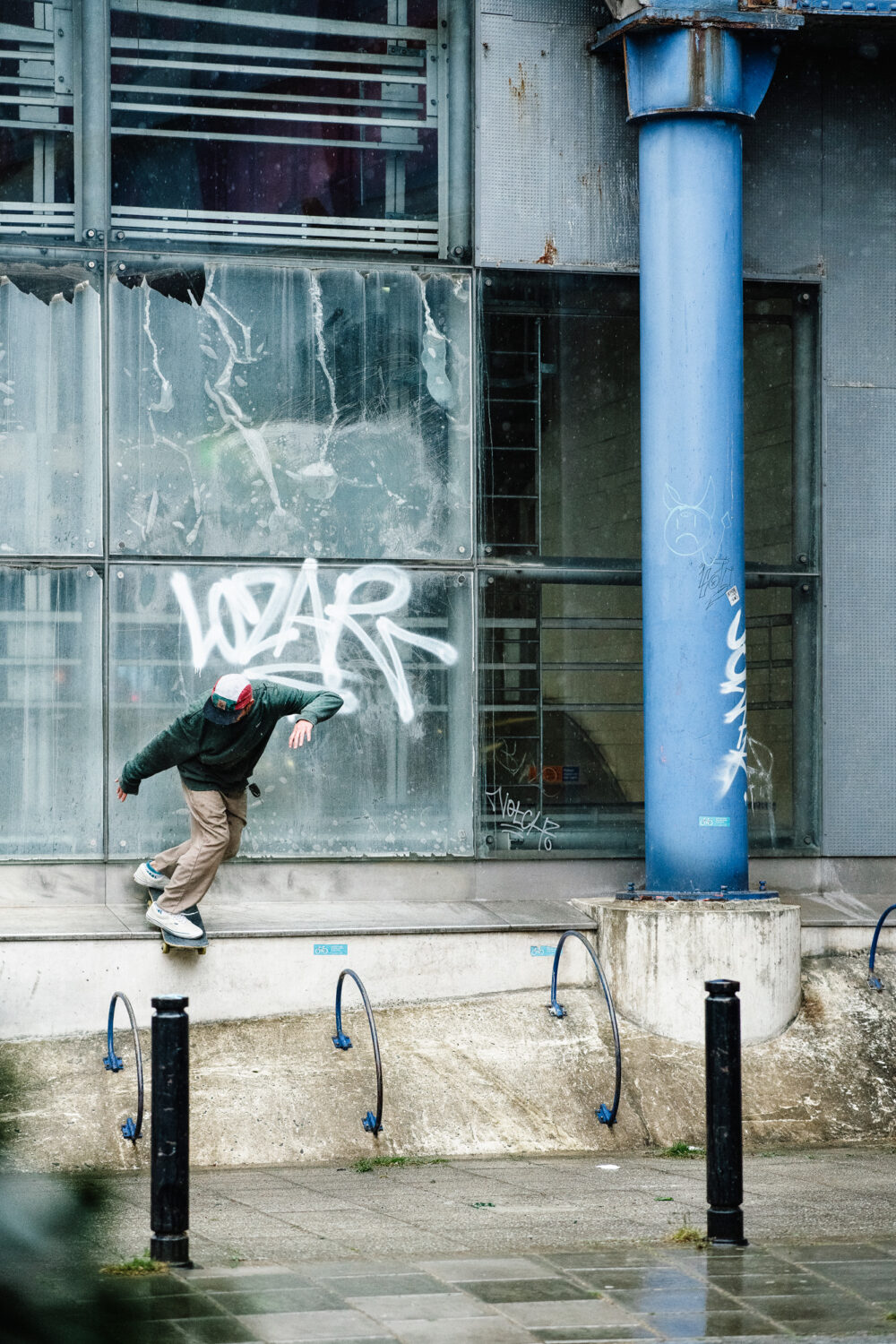 You fitted a kitchen and bathroom in my place earlier this year and we spent lots of time chatting. I got the impression you're quite happy with where you are in life in terms of work and your career. Is that fair to say?
Yes. Sometimes it's quite stressful if I've got a lot on and I can't skate when I want, but now I've got a good flow and a good balance with work and skating. It helps being freelance. I'm very lucky to be my own boss – I know a lot of people don't have that. I'm just trying to fit it all in. I can't skate every day with my knees anyway.
How would you describe what you do for a living?
First and foremost carpentry – that's my main love. Through that I've learnt a lot of other trades – secondary trades – which have been handy to do things like kitchens and bathrooms and take on the whole thing. And also having good links to friends who do other trades who I can reel in. I get a lot of work directed at me knowing a lot of people in skating. It's all in the recommendations. All my work now comes from people who have recommended me. Money from skating comes now and again from certain things, which is a bonus I suppose.
Do you prefer working for people you know?
It's a lot more laid-back. I feel like I can get a lot more room for my design to come into the equation. It's quite nice if I can do that because it helps my portfolio and it's more satisfying to do a job that you designed.
Back to turning 40. How are you feeling physically? You seem to be skating better than ever lately.
In 2019 I had the new ACL put in after 10 years not having one. I think that has made the knee a bit more stable, even though there's still a lot of nerve pain because there has been no meniscus – it's ground down to nothing. I'm mentally and physically completely off balance – couldn't be more out of balance. My mind is very young and still wants to go skate and my body is like: "Fucking hell mate, chill out."
How was skating without the ACL? You skated during those 10 years, right?
Yes. You just learn to limit what you can do with certain tricks. Heavy impact is pretty gnarly but skating transition and things like that, you just learn how to cope with it. I can't bend my right knee all the way back, so sometimes I'll land on it and it really does hurt, but then it just fades off.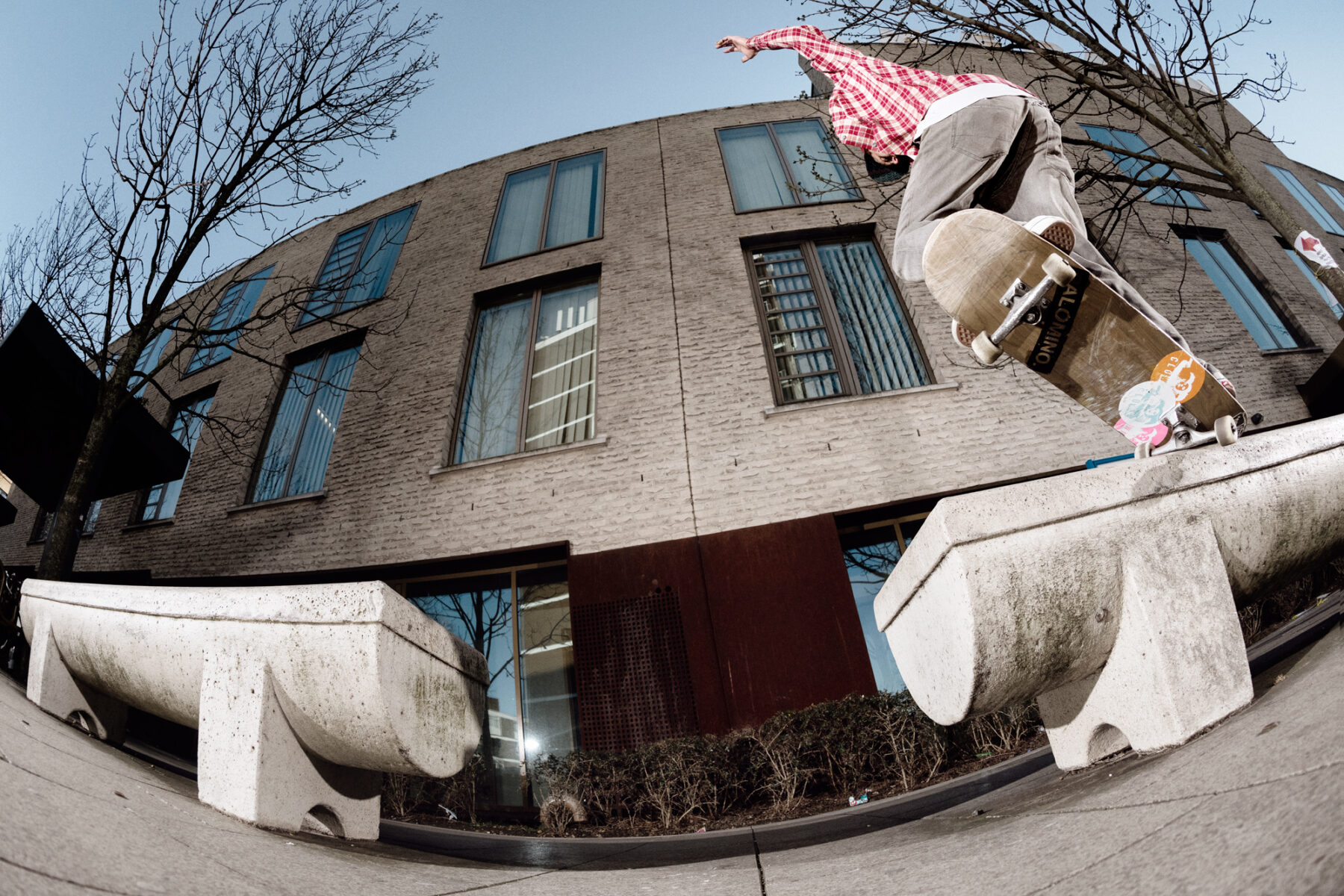 You mentioned you're having more surgery soon. Is that to do with your meniscus?
Yes the meniscus should have happened before Covid but got delayed. So I'm just waiting for this meniscus transplant now. Then my knee should be all right, fingers crossed.

How long do you see yourself skating?
Until I literally can't walk. I literally can't put it down. I think most people with this pain would probably have stopped but I'm just adamant to skate.
Do you feel like people are skating later in life these days?
Yes it seems so. It seems the older generations are skating a lot more because it's just more fun now. There's less of a danger element these days. It's more quirky.
It's fine to skate curbs or something low impact when you're older. It feels like there is less judgement about that sort of thing now.
Yes, I think curbs have come back with a vengeance.
Do you think another reason people are skating later in life is because they are looking after themselves better?
Yes. There's a lot more out there in terms of suggestions of what to do with your body and how to treat it, which I'm pretty slack on to be honest, but somehow my body is OK.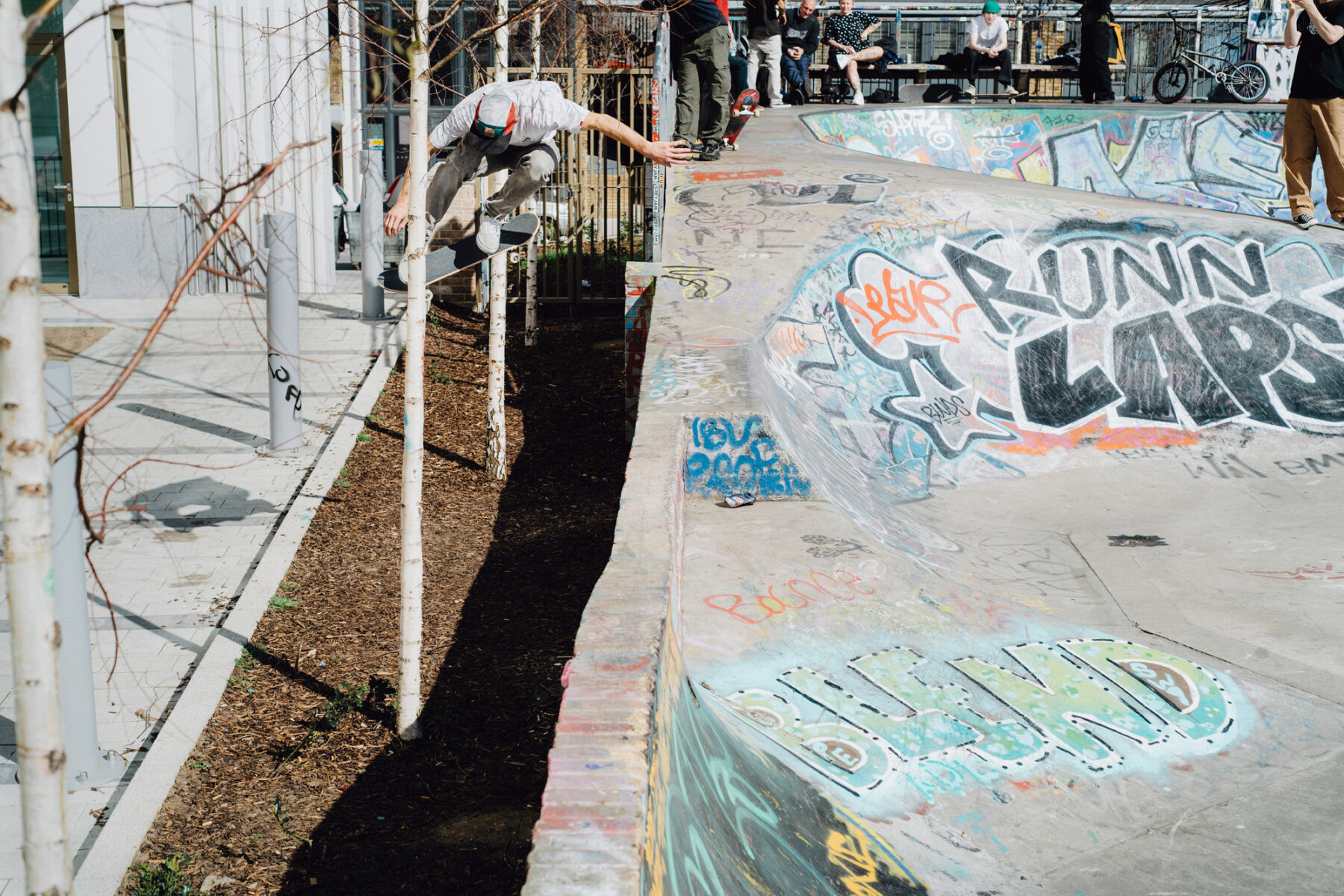 Have you ever worked with Korahn (Gayle)?
Now and again if I'm in pain I'll be like: "Korahn you need to sort me out." I keep meaning to go round and do these sessions with him but I just never get round to it. I'm always either too busy or out skating. I don't really do anything to take care of my body. Just a lot of awkward lifting, plenty of skating, plenty of water and also I don't drink much alcohol, which is probably a big part of it. A lot of skaters do drink a lot.
You're really active when you're working though.
I think that's a big part of it. Lifting tools a lot and sheets of wood keeps you active, keeps your body strong, but I don't really stretch much at all. I should. I'm just lucky I've got a good metabolism and a good frame I suppose.
I hope this is OK to say, but you're really well-respected for your skating but at the same time quite underground / out of the limelight. When you were working in my flat you mentioned making a decision to stop getting paid for skating and focus on your carpentry instead. Can you talk about that?
Yes. I think because I do have a fallback and I do work a lot I'm generally not that bothered about being in the limelight. If anything happens like that I'm super stoked to have any sort of coverage. I've been on Vans for a long time so I'm stoked to do anything to do with them.
Do you remember when you made that decision?
It wasn't really a definite point. I never really decided it in my head. I think I just skated less. I think the knee held me back a little bit in my mind from trying to really push it. But I'm just generally happy to keep skating casually. There's a lot less pressure.
And I guess you don't have to do anything for brands, but you seem happy to get involved in stuff here and there when opportunities come up.
Yes exactly. Now and again a Vans trip will pop up and I'm super hyped to jump on that, but in terms of energy drink sponsors I've been there. I used to ride for Relentless back in the day and that was so weird, the demands. I was completely over it. They did pay me but it was a bit demeaning all that stuff. It didn't really suit me. There are a lot of people in the same boat as me I suppose, who just love skating and have got other stuff going on. And the music as well, I make a lot of music in my spare time.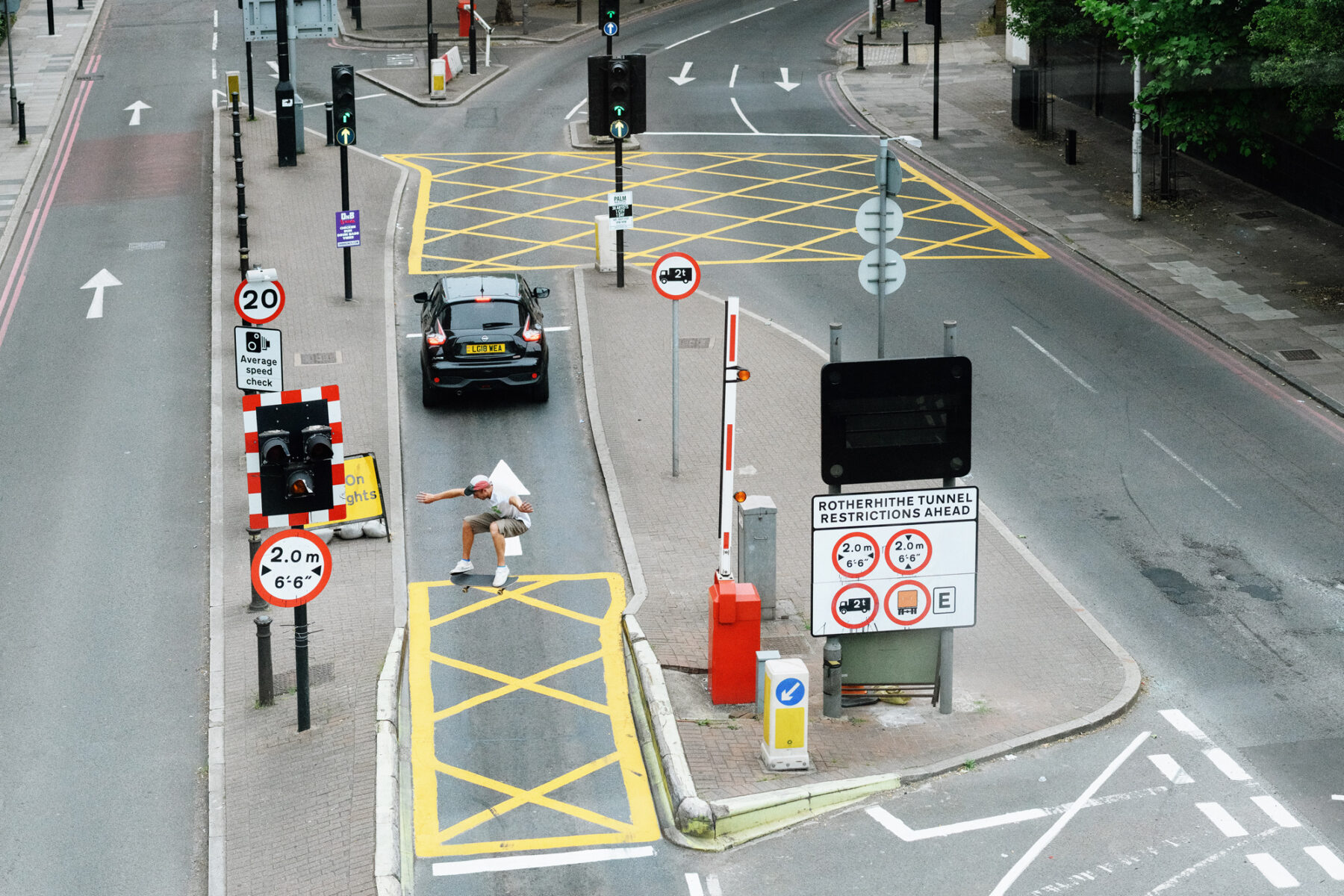 Tell us about that.
I'm not doing it as much now because I'm skating more. It's basically a hobby. About four or five years ago me and Bryce (Campbell) from Parlour (Skate Store) would do a lot of festival gigs and a lot of parties, mates' parties and things like that. So I'd make a few tunes or I'd make a set for a gig. It wasn't very big time – it was more about having free entry to festivals – but there was a point where I thought: "OK maybe we're just going to be DJs." But then Bryce had the skate shop and he had a kid so we sort of dispersed from that DJ scene. He still does it in New Zealand actually.
Skateboarding has changed a lot over the years, particularly the last couple of years. So many beginners have taken it up recently, especially women and girls. Skateboarders are everywhere and skateboarding is undeniably in the mainstream now. How do you feel about skateboarding today compared to back when you started?
There's a lot more inclusivity for everyone to get involved, which is really good and it's a bit late but better late than never. There's a lot more acceptance and understanding of people's personal lives and what they choose to do. I'm super hyped on skateboarding at the moment. It seems like everyone is super positive. There's a lot more awareness about mental health as well, about helping each other out. All in all I think it's in a good place.
Do you look at skateboarding back then differently now?
There were always a couple of girls in the scene who did used to skate but now there are so many girls that are killing it, which is really rad to see. I was young back then so you didn't really pay attention to it – you just thought that's what it was. Looking back with what I know now, yes it was very male-dominated. I'm just super hyped everyone is involved. That era was a good era but it could have been more inclusive for sure.

Who do you skate with in London?
Generally people like (Charlie) Munro and the Zol boys, the Vans squad, Josh Cox and the Clown squad, (Kevin) Parrott and his missions, west crew like Ross (McGouran) and basically anyone who wants to hang with the old man.
Where are your favourite places to skate for fun?
Hackney Bumps, Stockwell and Mile End HQ.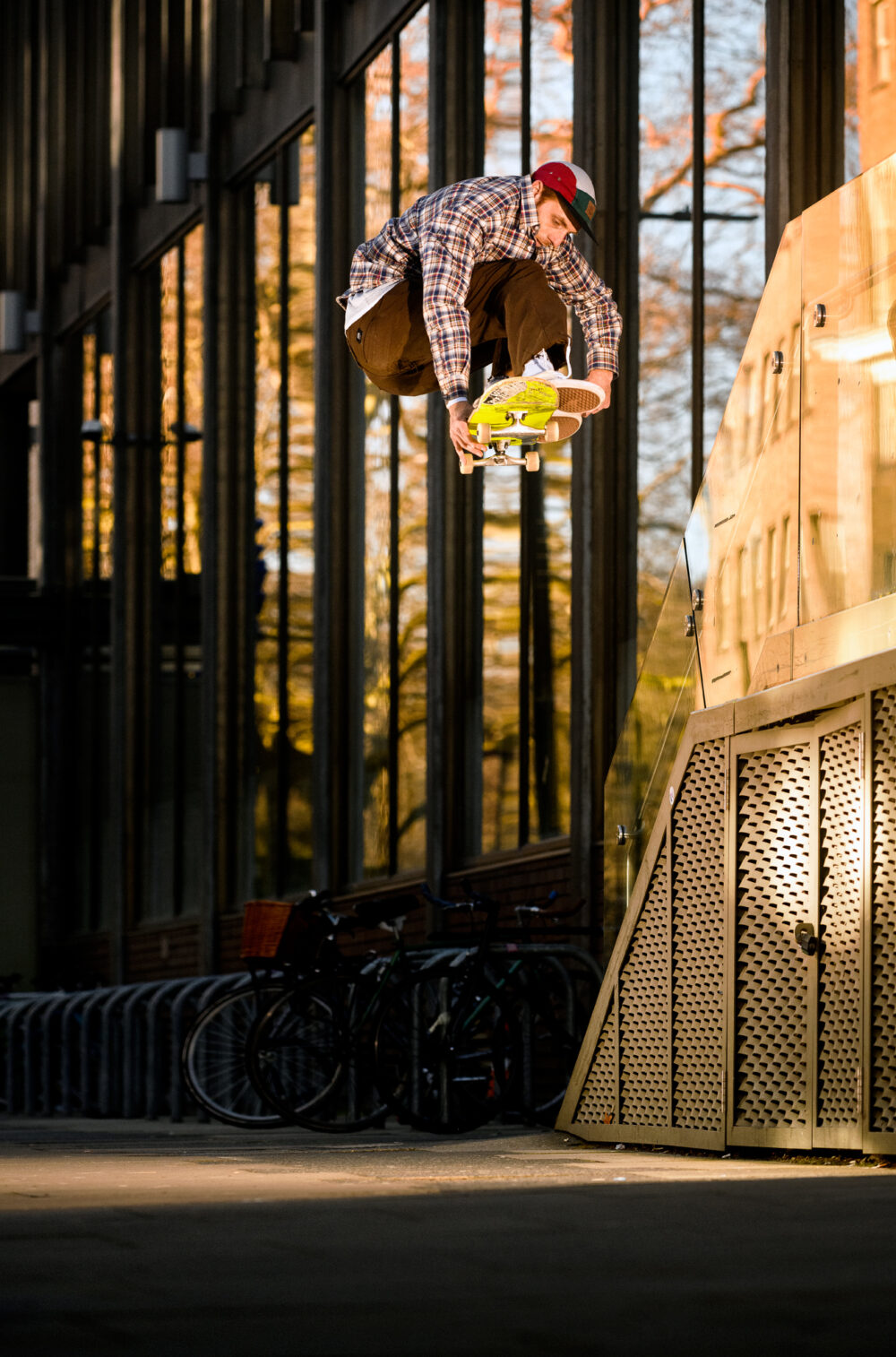 And who are your favourite skaters to watch?
So many. Kyron Davis, Dougie George, Kyle Wilson, Korahn, Munro, (Harry) Lintell, Nick Remon and Greg Nowik. Greg is absolutely on fire and he's 50 years old. He's so inspiring man. I learnt a lot from Greg, I used to skate a lot with him back in the Southampton days. I grew up skating with him, Jules (Julian Molyneux), Jason Short, people like that. I always looked up to Greg. Lovely guy.
And who are some up-and-coming younger skaters people should look out for?
Kai Etheridge (teammate), Jordan Lightowler (also teammate) and again Dougie.
You recently started riding for Clown Skateboards again after riding for the brand back in the early '00s. How did that come about and what can you tell us about the relaunch of the brand?
It was completely out of the blue. I just got a call from (Simon) Skipp saying: "Jeff is going to fire up Clown again," Jeff Boardman who ran Clown in the first place. I wasn't really sure at first because I didn't know how much they were going to put into it. I was still riding for Yes Fam! But then I had a big chat with Jeff and he was really positive. He told me he was going to put a lot of money back into it, do lots of guest art projects and charity work… and they're my old friends as well, you know? Skipp's always been a good mate and it felt more of a team vibe to come together and try something new.

Who's on the team now?
It's me, Josh Cox, Kai Etheridge, Jordan Lightowler, Si Skipp and Jack Wallbridge.It looks like it's doing really well. There's a lot of interest. There's scope for a good future in Clown I think.