Levi Hinkley & Bill Emmanouilidis Up interview
18.08.2021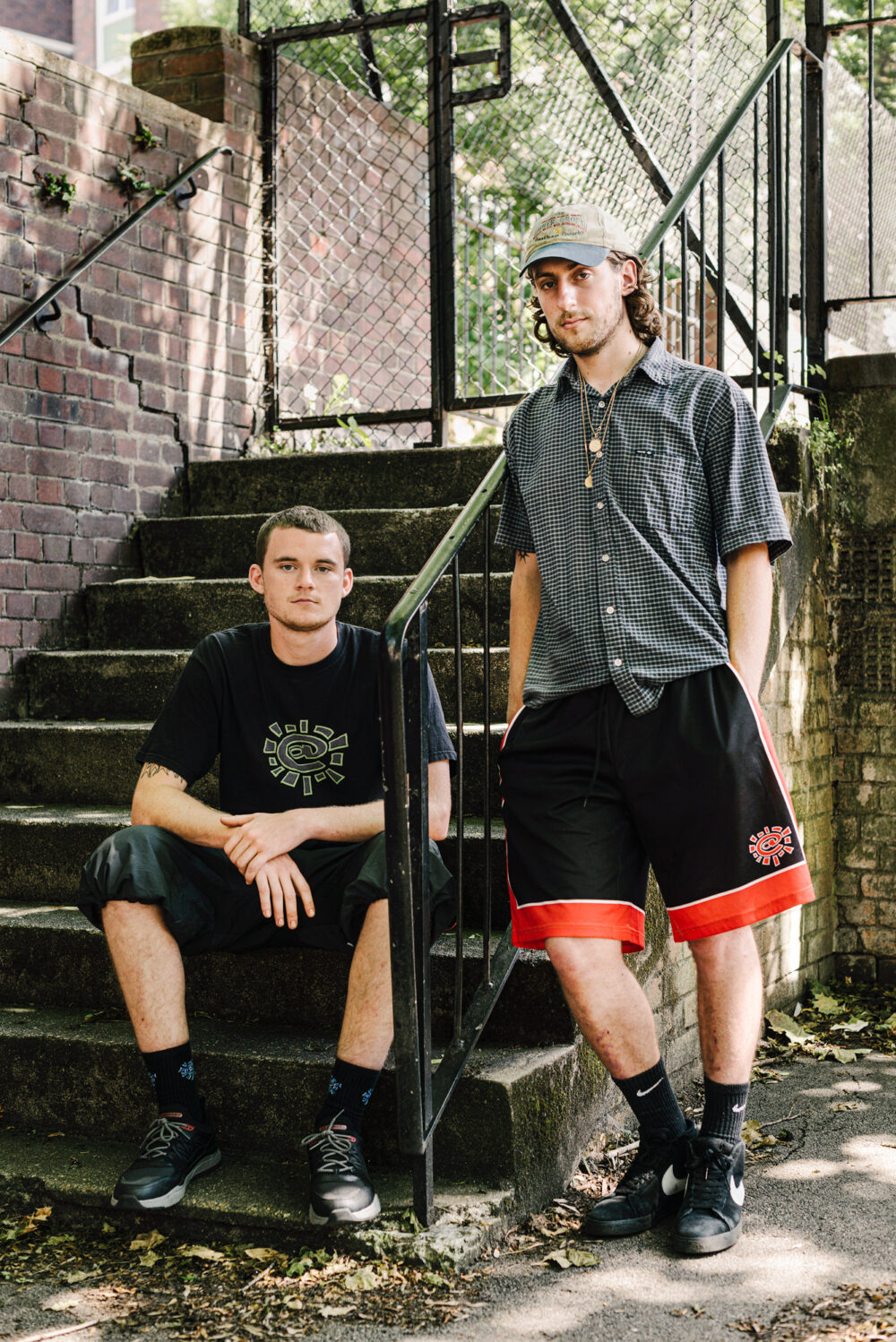 Portrait: West
Interview: Kingsford
Who are your sponsors?
L – We don't really have any.
B – I don't get anything apart from Always (Do What You Should Do) but that's just our friend (Nick Mason). That's our boy so we're backing him. It's more like a friendship really.
L – A family affair.
Where did you two grow up?
B – I grew up in Rayleigh. I used to live in Greece a bit as well. I used to go back and forth until I was five or six.
I can't go there any more. I think if I went to the embassy I could go and sort it out.

Is that to do with military service?
B – Yes but you can get out of it. If you've lived here for more than 15 years or something then you don't have to do it. It's just shit I have to sort out, which I'm being long about.
L – I grew up in Great Wakering, which is a tiny little countryside village in Essex. The local skatepark was Leigh (-on-Sea) for me, but it used to take over 45 minutes for me to get to. I used to have to walk across a field and there was only one bus an hour. I couldn't even really skate (in Great Wakering) because there was just one road – the rest were unmade roads. There was nowhere to skate.
How was the skate scene in Leigh and Southend?
B – It was banging for years.
L – Always has been.
B – We used to skate with a lot of older people.
L – There was a crew called Lik Down. They were the older lot who we started skating with.
B – They had VXs and they made videos. We'd go out skating with them and it was a good community. We had people our age that we skated with, but they kind of fell off skating. That's part of why I moved up here (London) – I was skating with a lot of people up here, with Kyle (Wilson) and that.
Would you just come into London for the day?
B – I work in the outskirts of London, so I would just bring my board to work and skate after work then get the train back. I used to get home at 2am, then wake up at 5.30am to go back to work. I was doing that a lot then I moved into a place in Shoreditch.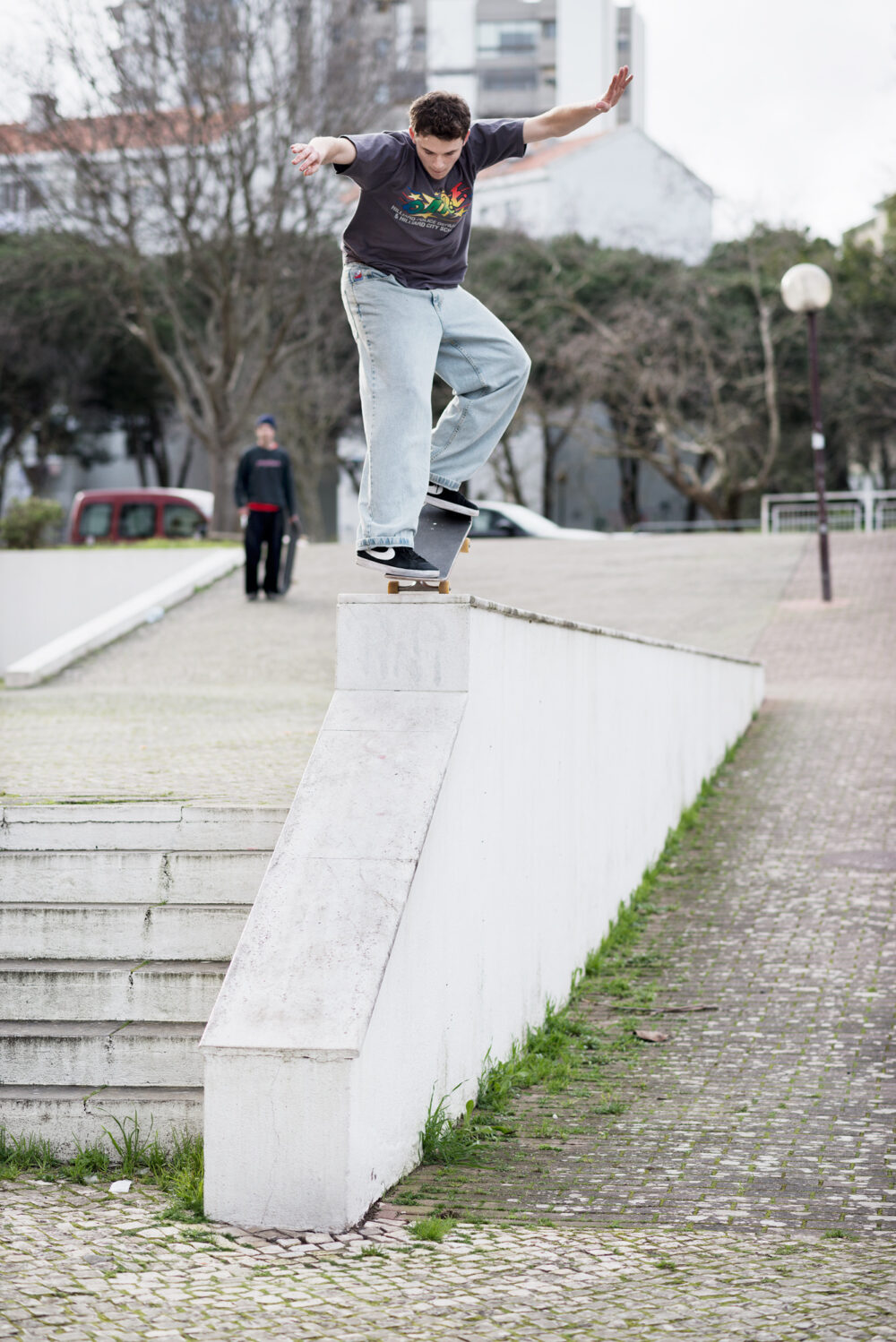 Did you move together?
B – I moved here first. He was living in Copenhagen.
L – I was living with my parents. We went to Copenhagen Open and I met this girl. We had a long distance thing for a year then finally I just decided to move. So I lived in Copenhagen for a year and a half and then we went to New York.
B – I hadn't seen him for a year and a bit and I knew how much he wanted to go to New York. Some of our close friends were going so we all decided to pay for his flight. Then he came and lost his job while he was out there.
L – It was a two-week trip and a week into it I lost my job in Copenhagen. I was working in this this Irish pub with this guy called Freddie Lusk. It was fucking great. We had such a good time, all these skaters used to come in. I didn't have a job before that for like six months and I was really struggling out there.
B – We kind of fucked it for him.
L – But then he was living in Shoreditch with our friend at the time who just said: "Fuck it, move back and you've got a spot here." I just lived in the mezzanine above the kitchen. No door, just a curtain. It was pretty chill though. We were all pretty stoked on it because it was this big house in the middle of Shoreditch.
So how did you meet people in London? Was it through Mile End?
B – I used to go to Mile End whenI was like 15 and I met Hammy (Jack Hamilton) when they used to do the Sludge Brain videos. So I used to skate with Hammy, Louis Woodhead, Seb (Tabe) and that. Then I must have started skating with Zach and Adam (Delarue) a lot more. That was it – Kyle got on June (Store, skate shop in Leigh-on-Sea).
L – The first person to hook him up was Dave (Watson) at June. He always said: "It's a joke that he's not getting given anything." So we knew who Kyle was.
B – That kind of connected us a little bit more.
L – The thing is, we used to come up (to London) skating then, but for a long time me and Bill didn't even like each other. We were not friends. We would still say hello to each other but clearly we weren't friends.
Why was that?
B – You were part of a different crew. The punk group. Concrete Killers.
L – I had knee-high socks. Yes we used to have a crew called Concrete Killers. I remember just being obsessed with '80s skating for a very long time and all these lot were not into that.
B – You were like: "If you don't like this shit or you're not skating like that, you don't know anything about skating."
L – I'd sit at home and watch Danny Sargent videos and be like: "This is real skateboarding. Nyjah Huston isn't a real skateboarder, this is real skateboarding." We kind of got caught up in our own little world of street punks.
B – I'd say college was when we got close. Well, I wasn't at college but that time. That's when we met the people I live with now.
L – That's when the tube socks were put to bed.
What do you both do for work in London?
B – I'm a plasterer. I've been doing that for eight years. I work with my dad. We work together but at this point now he basically just gives me the work and I go and do it. Most of the time I'm on my own but he's pretty calm if I want to take time off, so I don't think I could work for anyone else. It does get fucking long working all week and then trying to skate. It's so tiring.
L – I'm gardening, like garden maintenance. I work for a company on a salary. We maintain private gardens, real one-percenters, absolutely minted. Crazy houses, insanely expensive houses. I love it. It's a great job.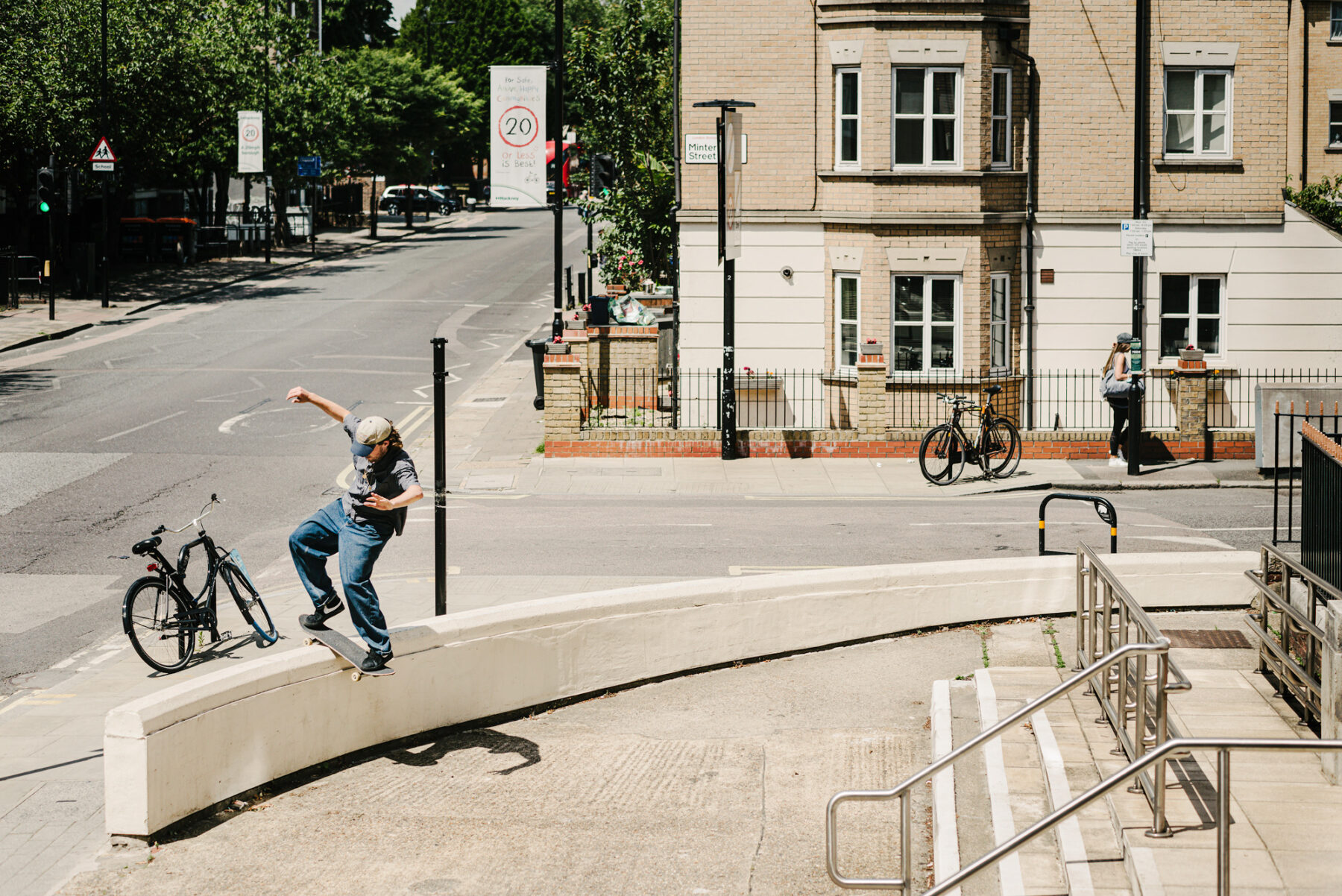 Do you have to have a lot of knowledge of botany and stuff?
L – It definitely helps. I've always been around it. My family's all Gypsy, Romani and Irish Gypsy. My mum's side is probably heavier Romani Gypsy and from that my grandad has always been landscaping, gardening and my uncle used to do it. From a young age I used to go and work with them for the six-week holidays. I've probably been doing that since I was like 13 or 14.
Will (Miles) mentioned that you'd started a brand.
L – Not a brand particularly, but I do a lot of painting and I'm doing this thing at the moment called Groovermon.
I just do paintings of this character I've created and I've made T-shirts and stuff like that. I don't really know what it is particularly, I'm still figuring it out, but it's a good outlet because I'm not skating at the moment and I like to paint anyway and I do sculpting as well on the side.
B – We'd bring him home plaster and he'd carve shit out of that.
L – I'd get them to fill up boxes – one of them was a Vans box. I'd wait for it to dry, then you can sculpt it using a blade. I did a few of them. I did this 420 guy for Nick for Always.
Tell us about your injury.
L – I've torn the ACL and meniscus in my right leg and also in the process chipped the bone, so I will have to have reconstruction on the knee. A few years ago I tore the ACL in my left leg and never had surgery on that, just because at the time I couldn't really afford any time off. Once I have had surgery on the right leg and I'm at a comfortable spot physio-wise, I'm going to have to have surgery on the left leg. So I'm looking at a couple of years.
You seem quite calm about that.
L – I think I'm just at peace with it. It's something I can't avoid.
B – He definitely wasn't at peace at first.
L – No it took a while. It bummed me out a lot. I was probably being as productive as I've ever been running up to this injury. Being able to film and confidently feel comfortable trying tricks and most of the time landing tricks… Then this happened and threw a massive spanner in the works. At the same time I think I'm at peace with it because I'm 23.
B – It's kind of good. I feel like skating takes over your life so much that you forget that there are so many other things to do. Obviously it's so addictive.
L – I say I'm at peace with it mostly because I don't have a choice, but at the same time I think it's good that I'm getting slapped by reality to tell me I'm not sponsored, I'm not getting paid to do this. I have a job and I almost jeopardised my job and all of this. It's all well and good to film – and I'm not taking that from anybody – but at the same time, what am I trying to do? Am I trying to be a professional skateboarder? I'm not really. I don't even know if I'd want that and the fact that I'm destroying myself for it is… I don't want it to seem like I'm not backing skating but at the same time you remember it's just actually about having fun. I'm looking forward to getting back to just being able to cruise with my friends and just skate flat ground but I'm not particularly missing standing up at this spot tearing my hair out trying this trick.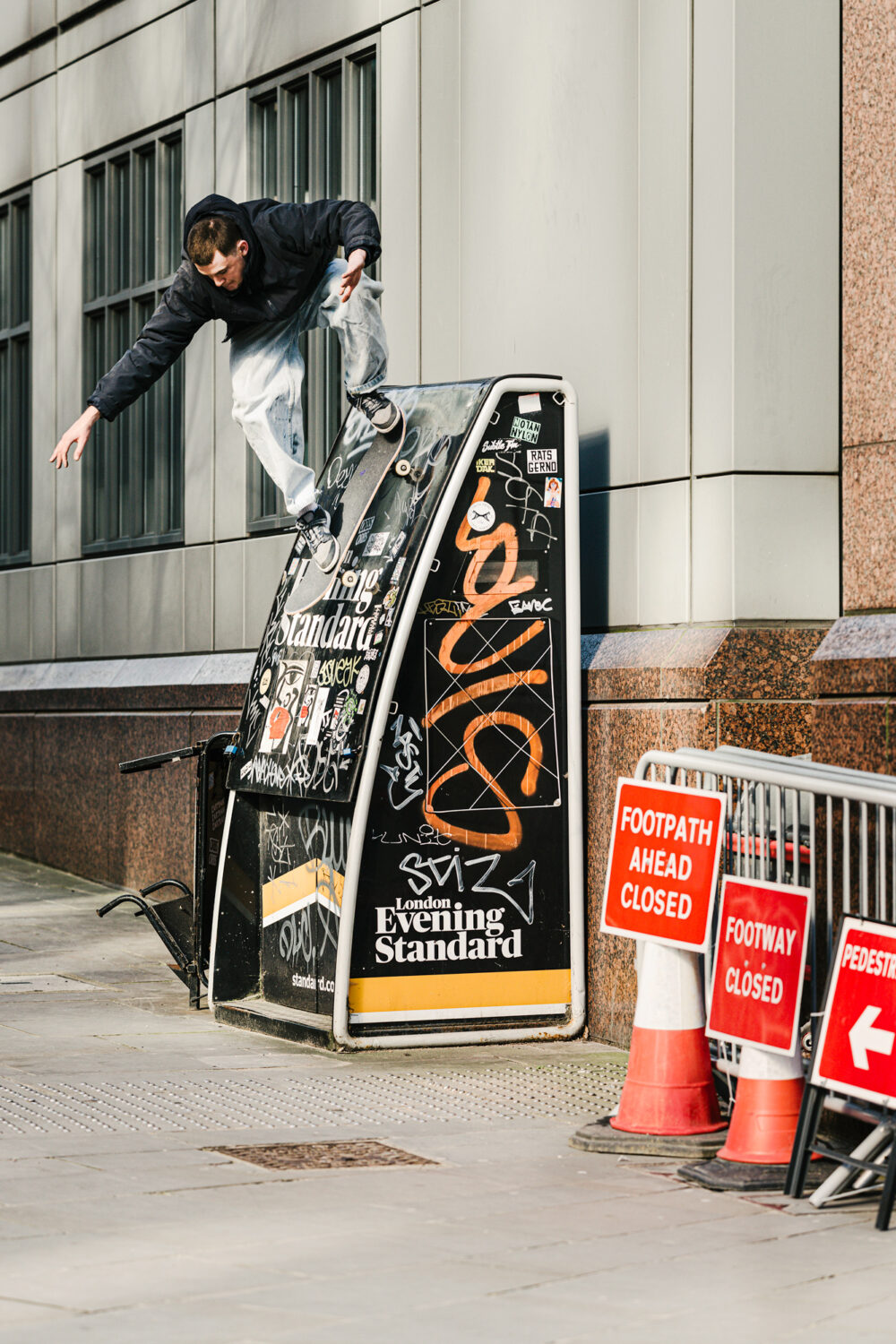 Which of each other's tricks would you most like to be able to do, but can't?
B – Nollie flips and switch flips. I mean I can just about do them but they roll on the floor. I've been trying them for years and I still can't work out the flick and then he comes along doing nollie flips, switch flips, all the variations.
L – I'd probably say back tails. Every time he does a back tail it pisses me off. I think that's where our hatred began.
B – We were very competitive.
What are your favourite and least favourite things about each other?
L – He takes forever to leave the house every time.
B – The most annoying thing you do is you try to talk to him and he'll be sitting next to you and he'll completely ignore you.
What about good things?
B – We've never fallen out.
L – Even when we've had full on fights… We can always rely on each other.
B – Yes if he was stranded somewhere or whatever or needed my help…
I know I could always count on him.
L – We always just come as a package deal at this point.
Who do you guys skate with on a regular basis?
B – I've got two different groups I'd say. It's either Kyle, Zach and Adam, Josh (Smith), Joe (McAlone), but then I skate with Mac (Christie), Jarrad (Carlin) and Nick but he's in New Zealand at the moment. Actually there are few different groups.
L – Yes, we get around.
B – I hang out with Billy (Trick) a lot, Will, Korahn (Gayle). That Lisbon trip (February 2020) opened the door for a lot of people. I'm open to skating with anyone really. Anyone that's got a good vibe.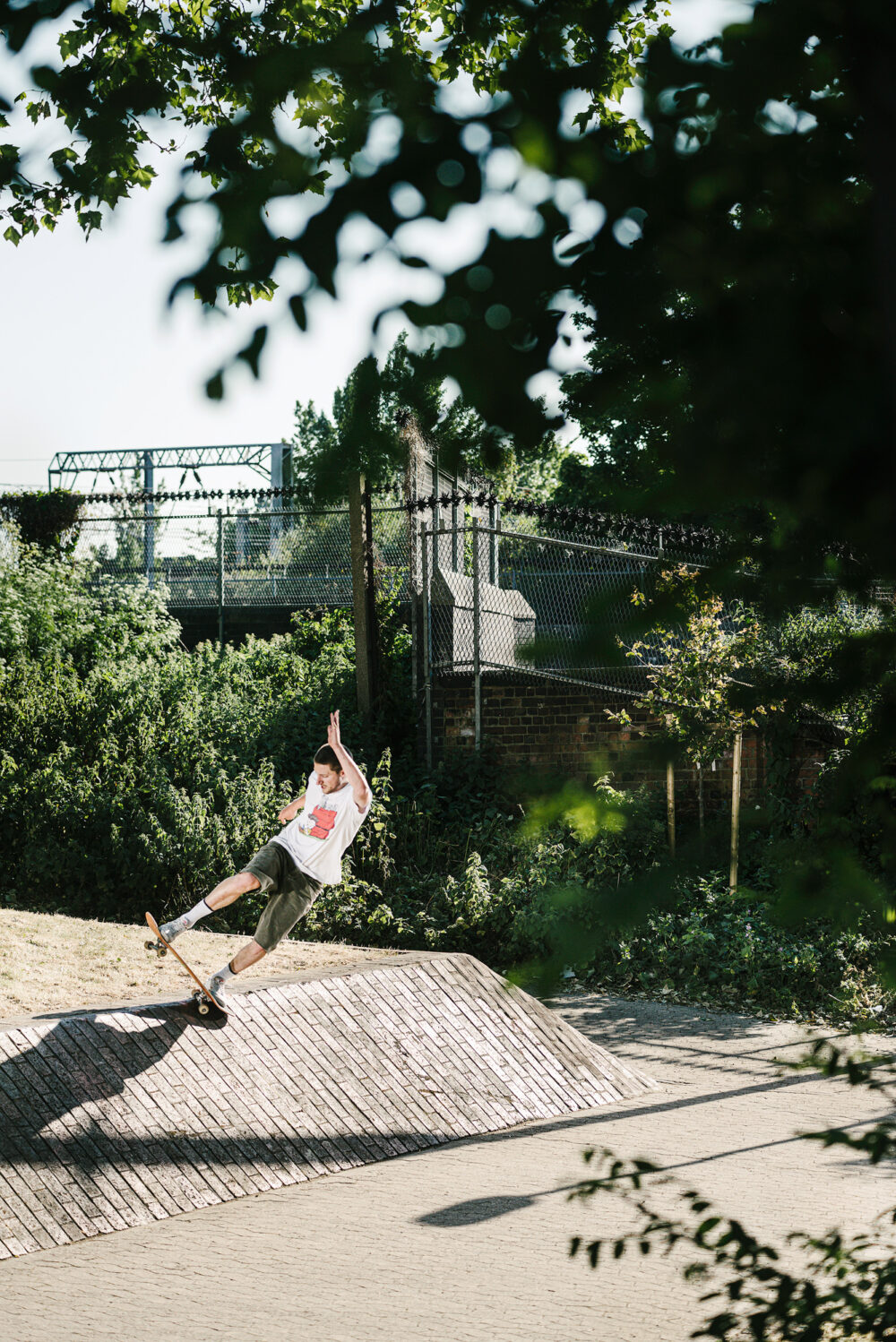 Who are your favourite skaters to watch?
B – Obviously Kyle.
I feel like everyone I ever ask that question says Kyle.
B – We skate with him so much and everything he does, I'm just gobsmacked.
L – It still amazes you.
B – Another one is definitely Alex Hatfield. He brings the same presence. If I'm skating at Mile, those two are the people I'll be watching.
L – Kelvinas (Litvinas).
B – Kelvinas, yes. I love watching George (Reilly) skate because he'll take the gnarliest slams and just get back up.
L – And smile. He'll eat shit and smile afterwards. I have no idea how. I love watching Jarrad skate. Chris Jones is my favourite person to watch skate.
What about some younger, up-and-coming skaters that people might not have heard of?
B – Isaac Gale. He's up-and-coming. He's from Leigh as well, but he's moved up to London for uni.
L – Kai Etheridge.
B – Kai Etheridge, he is the fucking best. He's from Essex as well.
L – I'd say one person is Sol (Gregory Cundy). He's so much fun to watch and he is progressing. I love that.

What are your plans for the rest of the year?
B – Trying to go away with my girlfriend somewhere nice. I was going to go to Madeira with her but Portugal's amber now so it's long.
L – I think this year I'll be focusing on my knee but also on my gardening, getting a degree in horticulture, get something behind me. While I'm not skating I'd like to be able to come out and be like: "Well I've gone further in my career."