Feature: Briberies – Vans in & around Cape Town
13.04.2023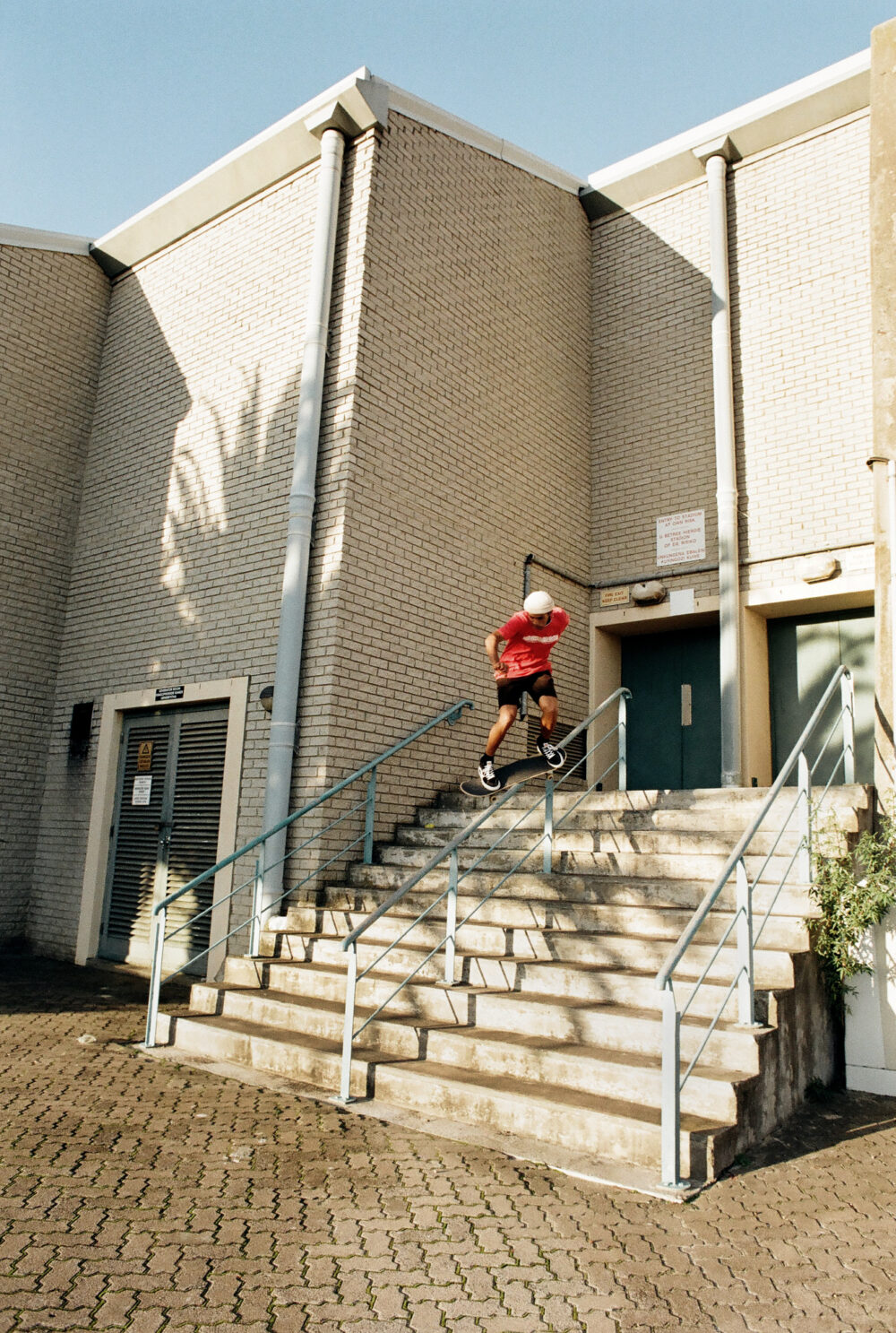 Photography: Mclachlan & Shiffman
Interview: Kingsford
Captions: van Staden
An interview with Vans South Africa riders Ethan Cairns, Devandre Galant & Alex Williams.

Tell us a little about where you grew up.
E – I grew up in Muizenberg, which is in the southern suburbs of Cape Town. It's a small town filled with surfers and skaters; it's a cool place to live. There are lots of interesting spots to skate around Muizenberg.
D – I grew up in Kleinvlei, Eerste River, close to Strand Beach.
A – I'm from a place called Strandfontein. It's away from the city (Cape Town), but close to the ocean. There's a skatepark here so there are homies that skate.
How did you start skating?
E – I started skating when I was around eight or nine. I remember seeing one of my friends do an ollie and I was hooked. I asked if I could try his board that same day and I just kept trying to do ollies for the rest of the day (laughs). After that day all I wanted to do was skate every day and learn tricks. A couple of days later I met another skater in my area and he gave me two full-length videos: Osiris Feed the Need and Real Roll Forever. I would watch those videos every day after school while eating a bowl of cereal to get amped to go skate.
D – I started skating through a skate programme called Indigo Youth Movement. There was this person Charl Jensel, who always used to take me to Cape Town to skate.
A – My brother and cousin – who are both older – used to skate, but I didn't get into it until later, when I was 12 years old. I started skateboarding with my friends I grew up with in my area. We were four laaitjies taking turns on one skateboard. Once I really tried it, something clicked. Every day after that first day, all we did was skateboard. Later that year our parents managed to get us set ups of our own.
Do you remember the first time you met the others?
E – I met Alex and Devandre when I was about 12. I met Alex at Salesian Skatepark. He was doing hardflip back tails on the tallest ledge in the park after having only skated for two years. I met Devandre at a skate contest around the same age. He was just a beast, man. You never knew what was coming next when he was on a skateboard.
D – I met Alex at the opening of Mill Street Skate-park and I met Ethan at a skate contest in the city.
A – I met Ethan at a skate crew session. The weekend before, the 'general' of the crew invited me to join them at the Cape Town Carnival. Before the Carnival the crew had a session at Salesians, where I met Ethan. When I first met Devandre I remember him as this aggressive laaitjie, always ripping. The more we all skate and hang out, the more our relationships grow.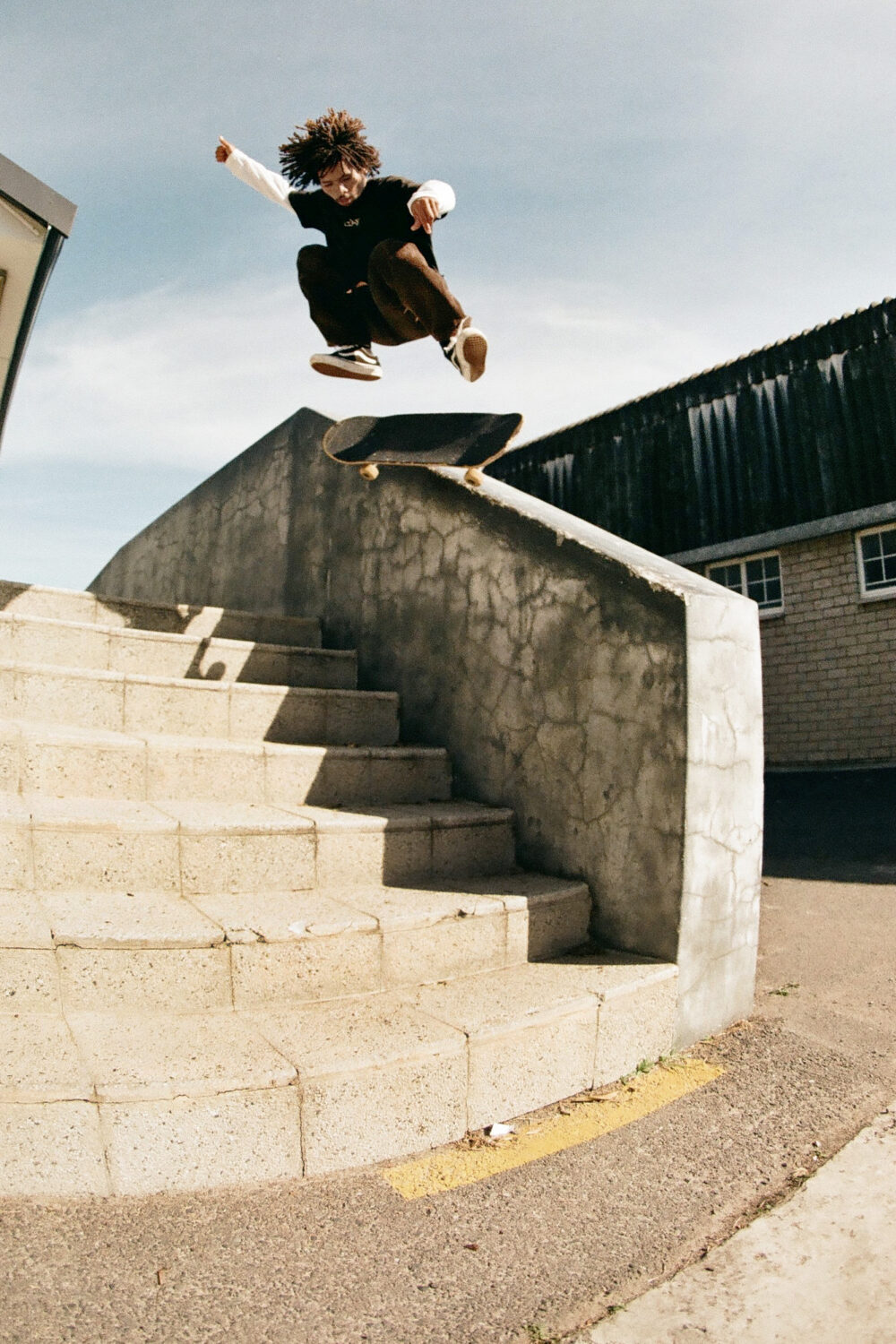 How is the skate scene in Cape Town?
E – For my first four years skateboarding, I didn't even know there was a proper scene in Cape Town. Then Ad Henderson moved to Muizenberg. He gave us Session skate magazines and told us about the scene in the city. Everybody goes filming on Sundays in big crews around different areas of the city. It's the best!
D – The scene in Cape Town is very welcoming and it's a very pretty place.
A – I think if you're relevant and / or contributing in any way, you belong there and will always be welcomed.
Where is your favourite place to skate for a relaxed session?
E – Definitely Mill Street Skatepark. It's a skatepark under a bridge in the city. It has everything you need to keep you busy for a full day (laughs).
D – My favourite place to skate is my own home town skatepark, Kleinvlei, because it makes me feel at home.
A – At the moment my local (Strandfontein). It's got decent transition.
Ethan, Daniel (Miltiadou) told me you regularly cycle long distances to skate in the city.
E – Those cycle journeys were a big mission, man. I didn't have cash at the time, so taking the bicycle to town was the only way I could get there. It was a 24km cycle from Muizenberg to Cape Town. I'm definitely never doing that again (laughs).
Which South African skaters have influenced your skating / inspired you?
E – Dlamini Dlamini is one of my favourite SA skateboarders. He has quite a few parts with just SA spots, which get me amped to try to skate them. The spots in SA are super crusty but they are skateable. Alex Williams is also one of my favourites. I grew up skating with him. He gets me amped, man.
D – Moses Adams, Ethan, Alex, Chris (Nderitu) and Justus Kotze. These are the people that make me want to skate every day.
A – Ethan, Yann (Horowitz), Joubert (van Staden), Justus, Chenai (Gwandure), Dlamini, Luke Jackson, Kyle (Keshwa), Daniel (Miltiadou), Tkay (Modise), Grant (McLachlan), Trae (Rice), Pieter (Retief), Tooth (Wesley Schroeder)…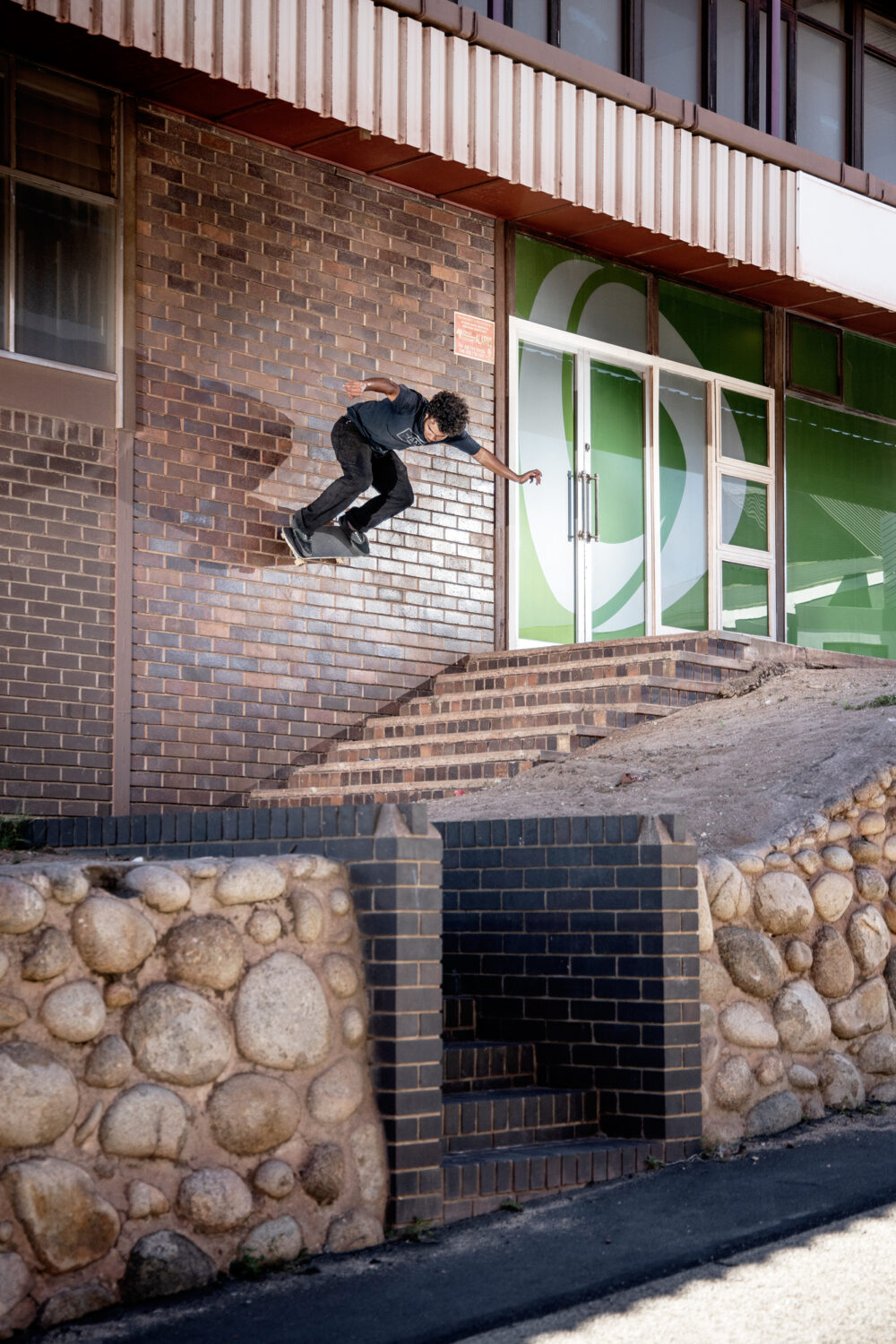 Ethan and Alex, your trip to Berlin for the Vans Shop Riot finals last October was your first time leaving South Africa. Tell us about that experience.
E – The trip to Berlin was the best, man. I couldn't believe how big the scene was and how many spots were over there. It felt like I was in a movie (laughs). I would definitely move to Berlin if I could.
A – Berlin is amazing! It's convenient; there'saccess to everything. It's so different to South Africa. There are so many spots and so many locals rip.
And Devandre, your trip to Amsterdam for Damn Am last July was your first trip to Europe. Tell us about that experience.
D – The trip to Amsterdam was the best experience of my life. It was just so nice to see how people move and the way they skate is amazing.
Tell us about working on the Briberies project from your perspective.
E – Joubert asked Alex, Devandre and I if we wanted to work on a project for Vans. We were amped to do it and it started from there. Filming for this project was really sick. It kept us motivated and helped us push ourselves to land things we never though we could roll away from.
A – Shortly after the Facetious edit dropped I remember Joubert showing me fresh footage of Ethan and Devandre. He said it would be sick to have a video with the three of us and we took it from there. At the beginning, filming for Briberies was somewhat traumatic. I fucked up my ankle towards the end of filming for Facetious, so my approach to skateboarding changed.
Tell us about the name, Briberies.
E – We decided on the name Briberies because on so many occasions someone would be struggling to get a trick and one of the homies would say: "100 rand on the next try," and another homie would say: "I'll add on 50 rand…" then you might stand a chance to walk away with a clip and some cash.
A – The name came from the homies hyping you with cash to get the clip, like a bribe (laughs).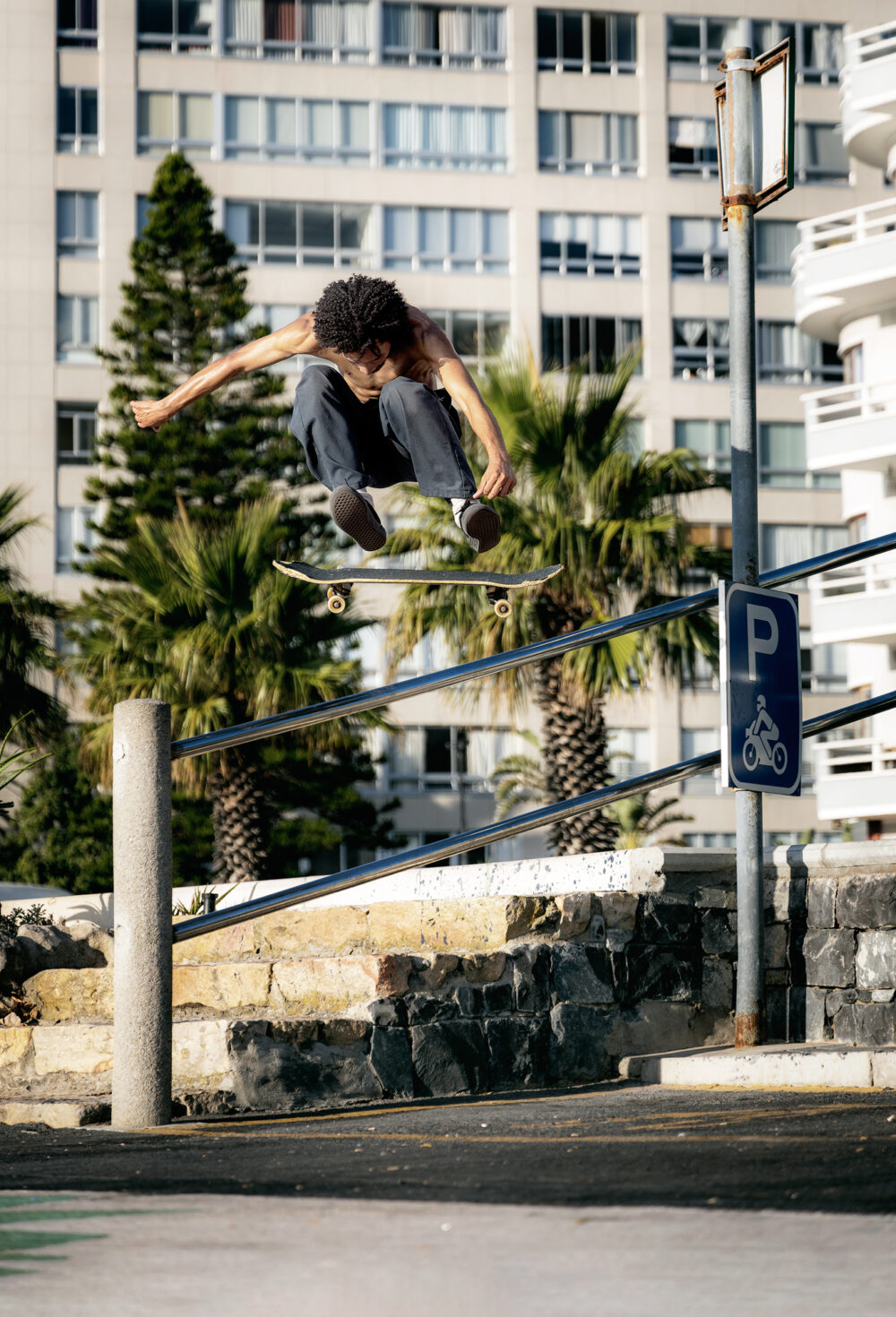 What are some memories from working on the project that stand out?
E – There was this one day in a town called Malmesbury. We went to skate this rail but it had been raining earlier in the day, so the ground was still wet. Devandre asked Alex if he could push him down the run-up to the rail so he could skate it without his shoes and grip getting wet. That was pretty gnarly. He feebled the rail first try.
A – Our weekend to Hermanus was so good. It's a nice holiday town on the ocean with mountains all around.
Ethan, you recently started an internship with Joubert at Session (Skateboard Magazine). How is that going?
E – Yeah I'm interning with him doing filming and editing. He's helping me navigate the different features of Adobe Premiere Pro. We've being doing that for about a year now. Joubert's a smart guy; he reads lots of books. He even has a decent-sized bookcase at his place. Sometimes he lends me books. I would love to learn how to support myself financially (laughs).
Devandre, you skate a lot of contests. How do you enjoy that side of skating compared to filming in the streets for a project like Briberies?
D – Skating in contests is nice. It's fun and all that, but filming and skating with the homies in the streets and getting clips with Joubert is the best feeling.
Tell us about Get Your Shit Together.
D – GYST Skateboarding is a skate programme that helps me and a few other skaters in South Africa to grow our skateboarding.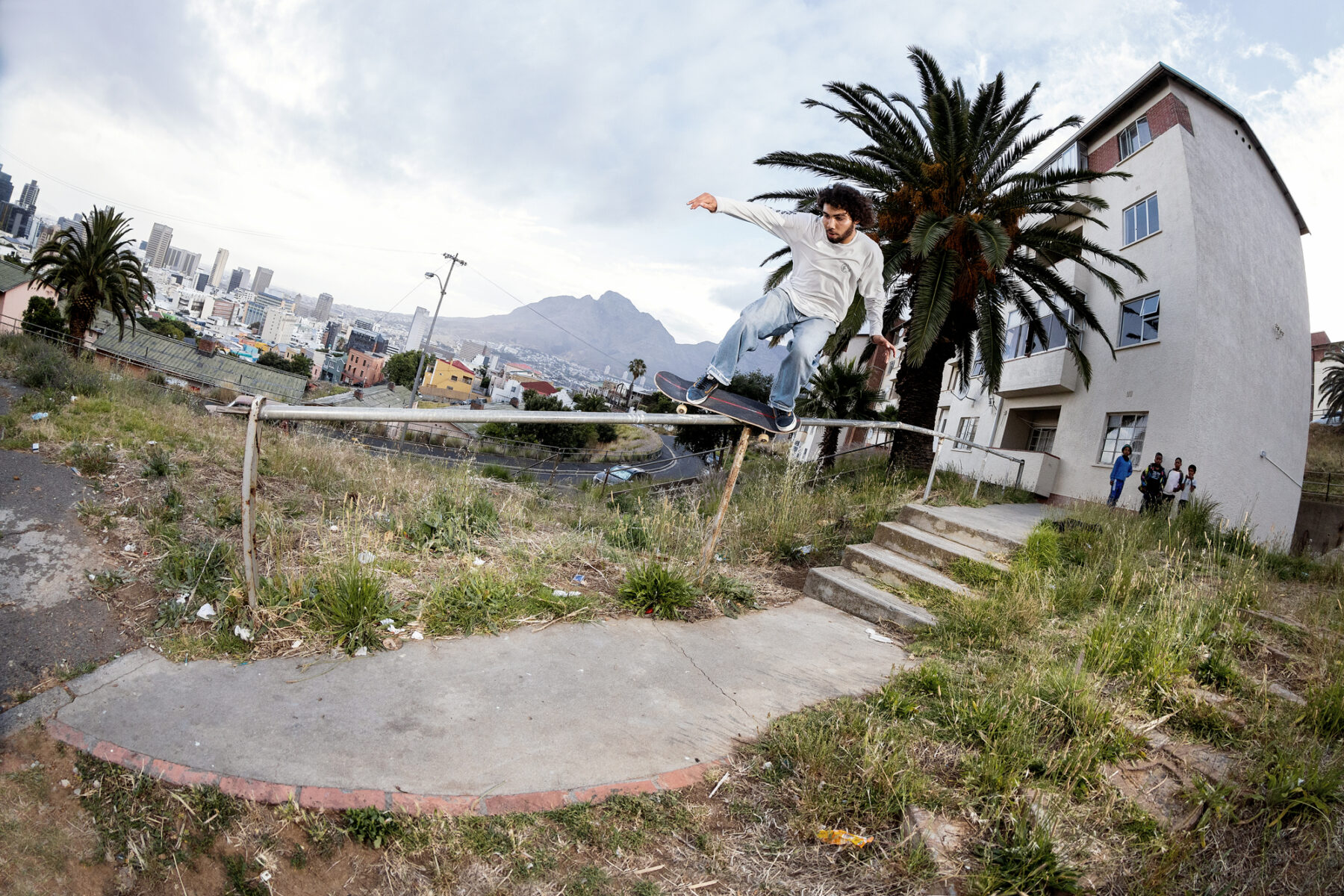 Alex, tell us about the NGOs you are involved with.
A – I'm involved with two NPOs. Both are fresh and both cater to one's wellbeing. I'm the chairman of 393 Skateboarding Academy, where we use skateboarding as the tool to achieve wellness. Growing up as a skateboarder, I saw how the act of skateboarding attracted many. It also helps one understand perseverance; if you want to learn a new trick you try it until you land it. At the Academy we want to use skateboarding to push this mentality / mindset to guide individuals.
The other organisation I'm involved with is called the Fresh Start Foundation, which encourages a more natural approach to achieving wellness. My dad is on the board. At the moment we are busy with a pilot regeneration programme where we interact with participants and offer self-management tools, which heal and allow people to access peace. We have had about seven participants so far. I'm being mentored through this organisation.
What are your goals for the future?
E – My goals for the future are to skate, film, edit and go back to Berlin!
D – My goals for the future are to travel more and to work on new projects.
A – To continue with the skateboarding and community work and find peace along the way!
Watch Briberies, the video by Joubert van Staden, here.