Feature: UK Boardwalk Tour
31.10.2019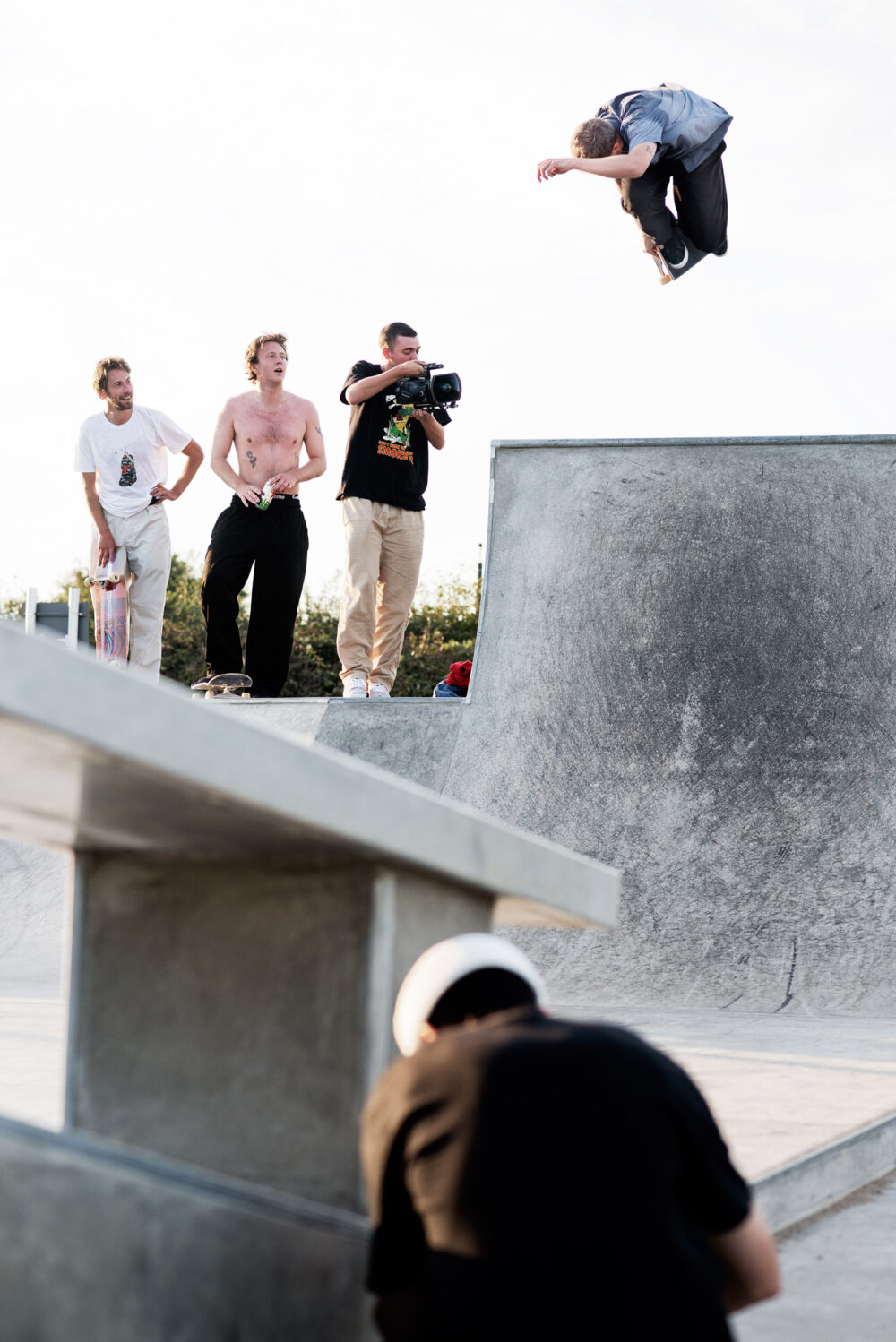 Words: Jones
Photography & captions: Kingsford
Watch UK Boardwalk Tour, the accompanying clip by Will Miles, here.
We came, we slammed and we 'grammed
At the start of the Nike SB UK Boardwalk Tour, a friend asked me: "What actually is a boardwalk anyway?" I realised I did not know. Wikipedia told me one is: "an elevated footpath, walkway or causeway built with wooden planks that enables pedestrians to cross wet, fragile or marshy land. They are also in effect a low type of bridge," and "have existed since at least Neolithic times." Still not quite picturing one in my head, I tried The Oxford English Dictionary: "a wooden walkway across sand or marshy ground," before going on to state that in N.Amer. a boardwalk is: "a promenade along a beach or waterfront, typically made of wood." "Finally!" I thought, after wasting approximately three minutes researching boardwalks, "now I get it."
The trip went ahead as scheduled. Harry Lintell, Francis Peters and Jamie Platt from Converse joined myself, Karsten Kleppan, Casper Brooker, Kyron Davis, Sarah Meurle and Kyle Wilson for a tour around southern England. We travelled from Bristol down through Cornwall – where we surfed – to Plymouth and then across to Bournemouth, Southampton and Portsmouth before finishing in London, stopping for sessions with local skate shops along the way. "We came, we slammed and we 'grammed," as Francis quite accurately put it. Pints were drunk and Meal Deals were consumed, as well as many glorious barbecues care of Vaughan. Our trip along the south coast of England was how you might expect it to be: beautiful countryside coupled with an almost constant fear of getting punched in the face.
On the way back to London I was struck by the realisation that I hadn't actually stepped foot on a single boardwalk during the UK Boardwalk Tour. While the others enjoyed the experience more than once, boardwalks managed to evade me. I was overcome by disappointment, but not for long. I decided to cheer myself up by looking at some Tripadvisor reviews of a bad hotel we stayed at in Bournemouth called The Royal Bath Hotel, described by Jamie (who is from Bourne-mouth) beforehand as: "The best place to stay in town." I should say here that we stayed in some amazing places on this trip, especially the campsite in Cornwall and the house on the cliffs outside Plymouth with the Shetland pony and the chickens. The Royal was the exception. Anyway, on Tripadvisor I read the story of Margarett from Manchester:
Disgusting, never ever again!!!!!!
My God what a shocking hotel, never ever again will we stay here. Rooms were filthy dirty, toothpaste still all over the sink area, dirty towels!!! Coffee cups with coffee rings inside and the milk was curdled. Dont pay for breakfast!!! Disgusting. Scaffolding by the room, painters painting around the room. Had a guest knocking on the door to say we were in wrong room. My daughters room her curtains fell down. My room had no windows. My sisters had to be moved as her bed linen was marked, stained, the curtains were in the same state. Rooms required a good hoover, thick dust on the lampshades, vile old coffee Mark's all over the side tables. Absolutely disgraceful. Evening staff God damn rude… they didn't give one care about customer service!! Very bad news and the place is a death trap just waiting for something to happen. I would have never got out of the room I was in, if there was a fire as no windows and could hardly get out of the jammed door. Really shocking it will take me a good few days to get over the nightmare we had staying in this dump!!!
I was sad to hear that Margarett had had an even worse time at The Royal Bath Hotel than we had. After reading her story I thought to myself how boring and pedantic my obsession with boardwalks had become. Instead of focusing on unimportant matters, I realised I should instead be grateful that my room at The Royal had a window, even if it did overlook a car park.