Francis Peters Up
11.07.2019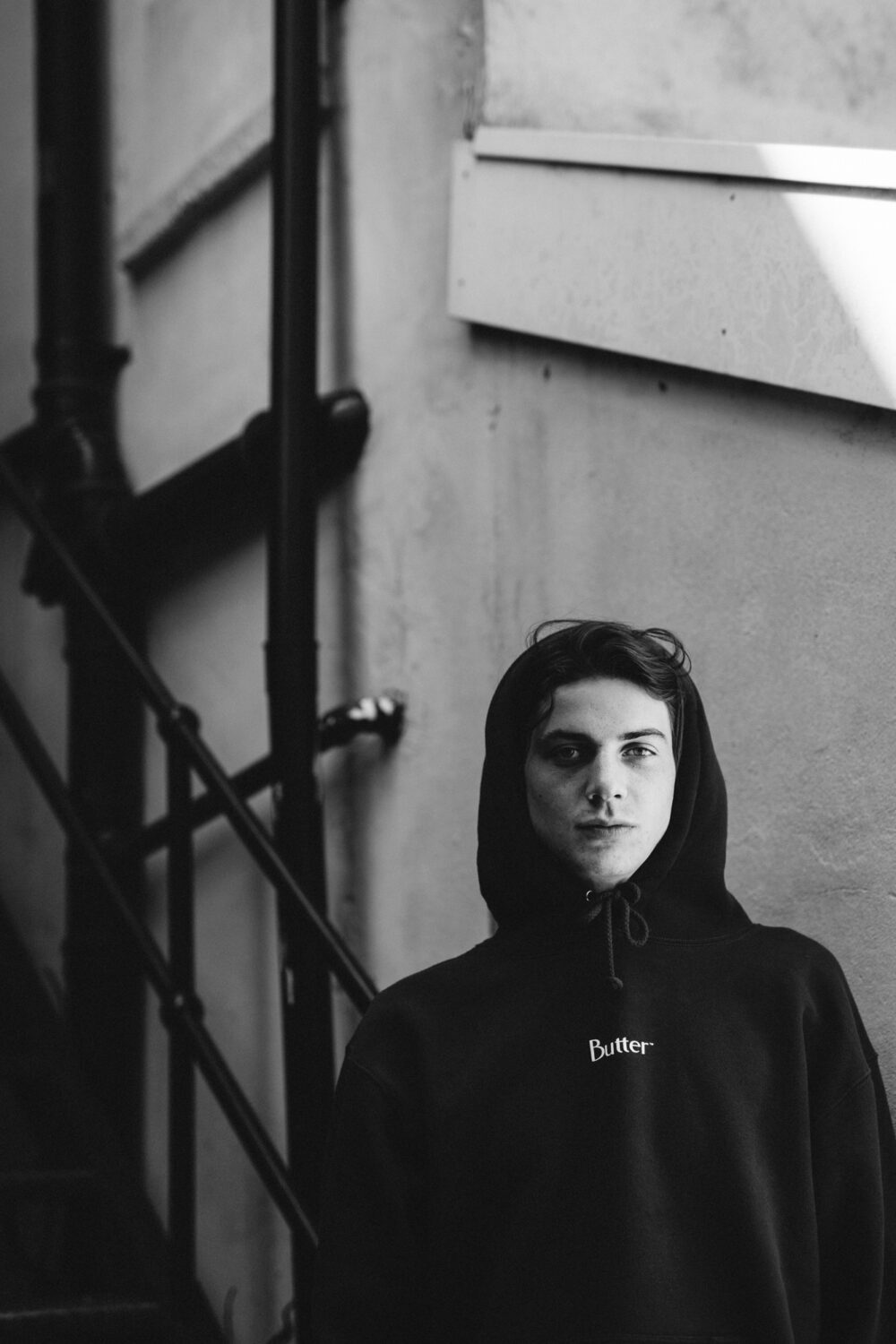 Interview: Kingsford
Watch Francis' Skateboard Cafe welcome clip here.
Who are your sponsors?
Butter Goods, Skateboard Cafe, Converse, Rock Solid, Fifty Fifty and Ace Trucks.
Where did you grow up?
I grew up in Bristol until I was about 10, then my family moved just outside, to a place called Yatton. I was already skating, but there's a really good park there, which was lucky.
Tell us about the park.
It's really sick actually. It's quiet and there's a really solid ledge there that was designed by Paul Carter and some other guy. It's really easy to skate. I particularly like the location, because it's in a field in the middle of nowhere. There's a small crew of really sound guys.
What's Mike Arnold's link to that skatepark?
Well Mike is from a town just over, so he used to skate there sometimes when I was young, which was cool to see.
I guess that's where he got so good at ledge skating.
No, he used to do late flips on the bank (laughs).
Do you know Mike from back then?
He's a lot older than me, so we weren't homies, but I know him a little bit now.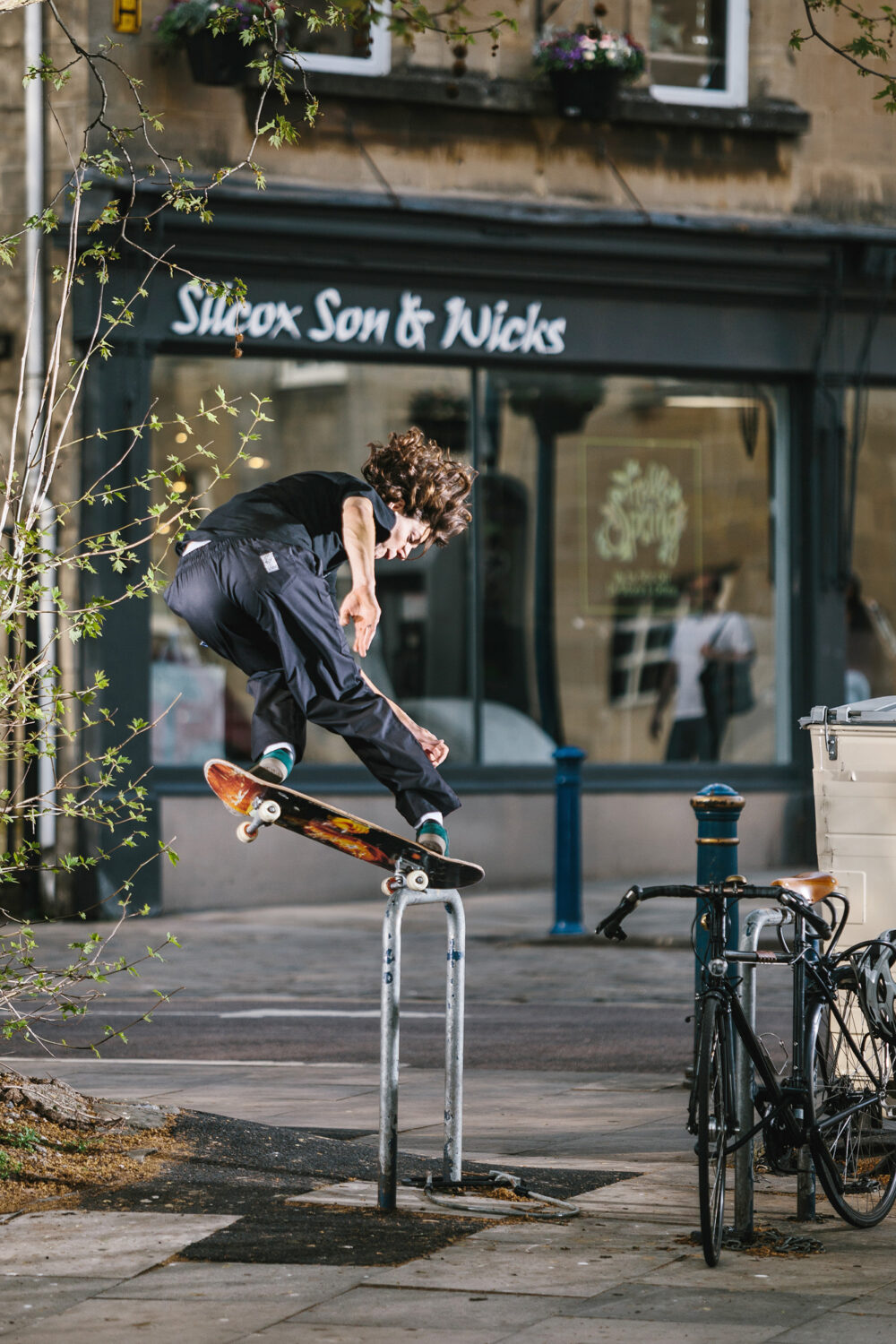 So you're living back in Yatton now.
Yes, I live back in the countryside now. I lived in Bath for a year – I'm at uni there – and I lived in Bristol for another year in a couple of different places. A few weeks ago I was living in the same room as Griff (James Griffiths) in Bristol. We got along and it was cheap, but I was just over it, man. It was getting too claustrophobic. It was weird. So I'm back here for now, just chilling out, skating that park, taking it easy. I've been moving around a bit more than I want to, but I'll find somewhere solid one day.
Do you like living in the countryside?
Yes, because there is more of a quiet space and you can focus on your own stuff more, but there's also a charm to living in a city when you're young. I do spend most days in the city. It's only a 10-minute train from Yatton to Bristol. It's not a suburb, but it's very close.
Do you think being close friends with a skate photographer has helped you get noticed?
No, Griff's been a huge hindrance (laughs). I don't know… yes, for sure. He's helped me out shooting stuff and he makes me look way better and he knows what he's doing. If you don't have any links like that, it's not going to happen because the way your media is distributed is through the viewpoint of someone else a lot of the time and if their viewpoint sucks, then everyone is going to see it from that angle… unless they're skating with you in person. So I'm very glad to have Griff and Rich (Smith), people who have a really good view and make me look good. It definitely helps.
How is the scene in Bristol at the moment?
The skate scene in Bristol is really sick at the minute. It's really, really connected. Everyone knows everyone. There are still crews, but they are all very intertwined and friendly with each other. There's this new Cenotaph spot that got built a couple of years ago. That's been huge for the skate scene because it's really well lit, there's really good ground and there are some ledges. It's in the dead centre of the city, so everyone skates there every night. It's a big part of the scene.
I saw a story in the newspaper in London a couple of days ago about some skaters breaking a bench there.
Yeah, that was a bit weird. I don't really know what's going on with that. It just isn't good.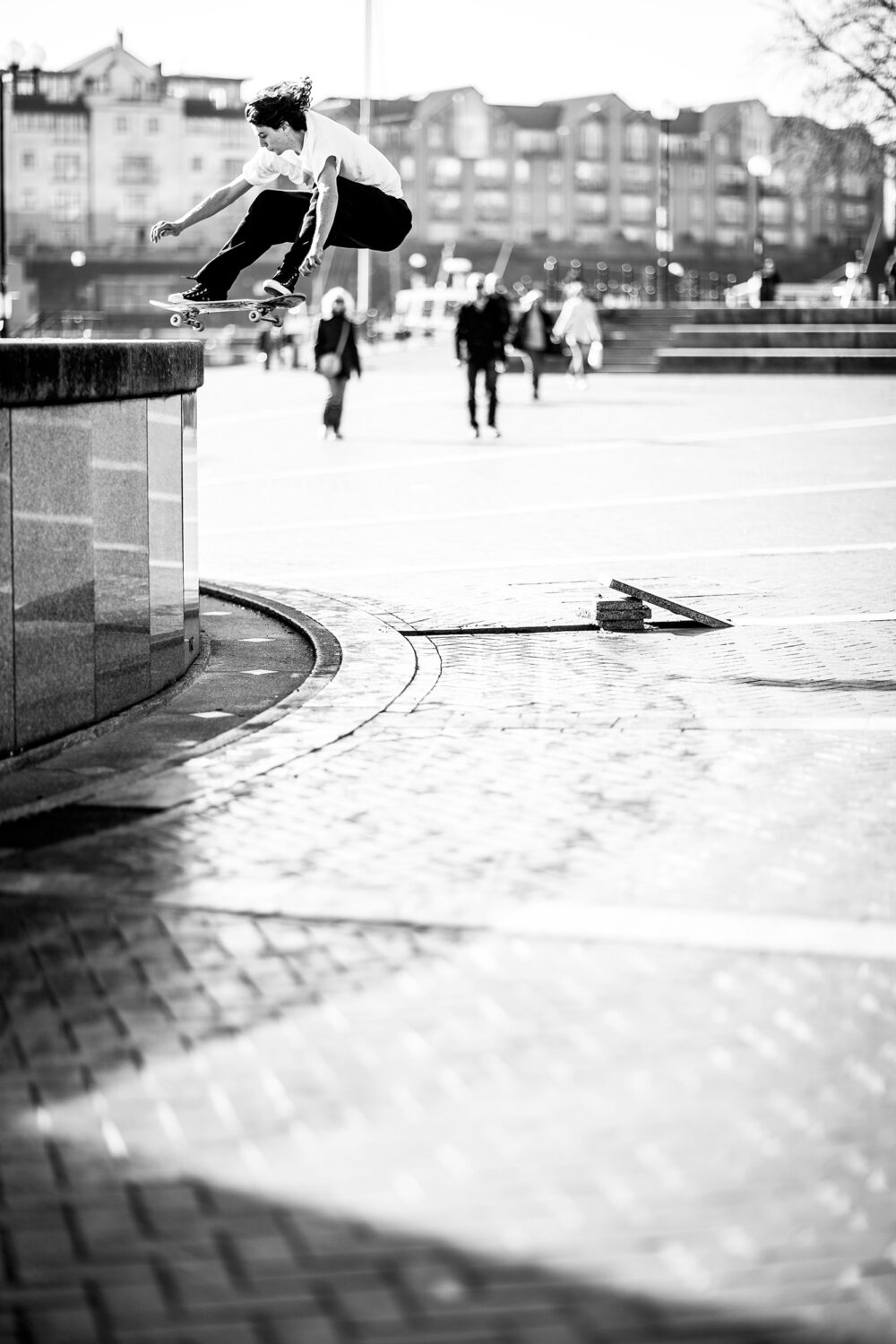 Tell us about Dragon Slayers.
It's a video project my friend Henry (Gibbs) has been working on for the past six months and we're just facing our fear (laughs). It has George Hill, who's really good, Henry is really good at skating – he's the filmer and he's got the best footage – Jordan Lightowler is in it. It's basically our crew, the guys we're skating with at the minute.
What is the story behind the name?
Well me and George were at this spot and I was trying to give him a pep talk to do this rail that was really scary and I said: "You've got to face the dragon, man." I was telling him to face the dragon basically, to get the gold, because you have to push yourself to the limit (laughs). I was just being a bit weird, but it kind of stuck and now we use that mythological terminology to motivate each other to land tricks. It's pretty neeky but it's all right.
Who are some up-and-coming skaters in Bristol people should look out for?
Let me think. Sam Nobbs is amazing. George Hill has got the biggest pop ever and has amazing tricks. Jordan Lightowler has the best style. Bear Myles is killing it. He's amazing. Who else? Chris Carr, he's really good. Cosmo Conway is a massive up-and-coming skater in the scene right now.

You started riding for Skateboard Cafe recently. How did that come about?
I was just living in the city at that time, skating and filming all the time and me and Rich filmed a few bits kind of out of the blue. He just asked basically, when we were filming.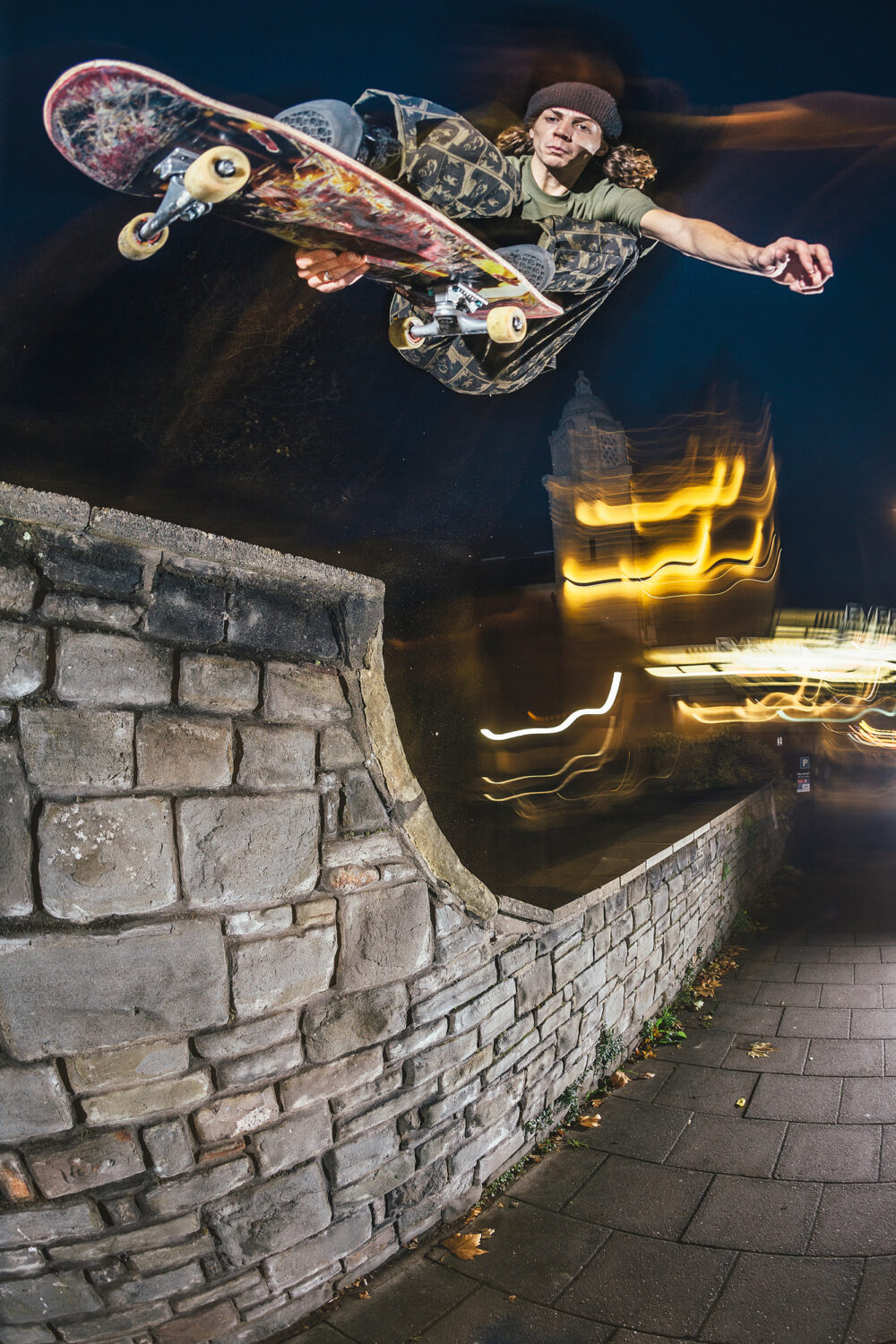 Are you working on anything with Cafe at the moment?
Yes, we're making a video. It might be out at the end of this month (June), or next month. We've been filming in Bristol and London.
You're studying music in Bath. Tell us about your course and why you chose it.
I'm studying creative music technology, which is a bit different to a normal music course. I chose the course because I was writing a lot of music and I didn't really do that much at school. I kind of gave up on school.
What type of music do you make?
That's a really hard question. It's very experimental but it has a lot of influences from Boards of Canada, but a bit more modern. It's really hard to explain.
Are you finding the course useful?
The course is actually amazing. The lecturers and the tutors and everyone absolutely kill it. It's really interesting, but it's hard to talk about without going on about loads of random, niche stuff.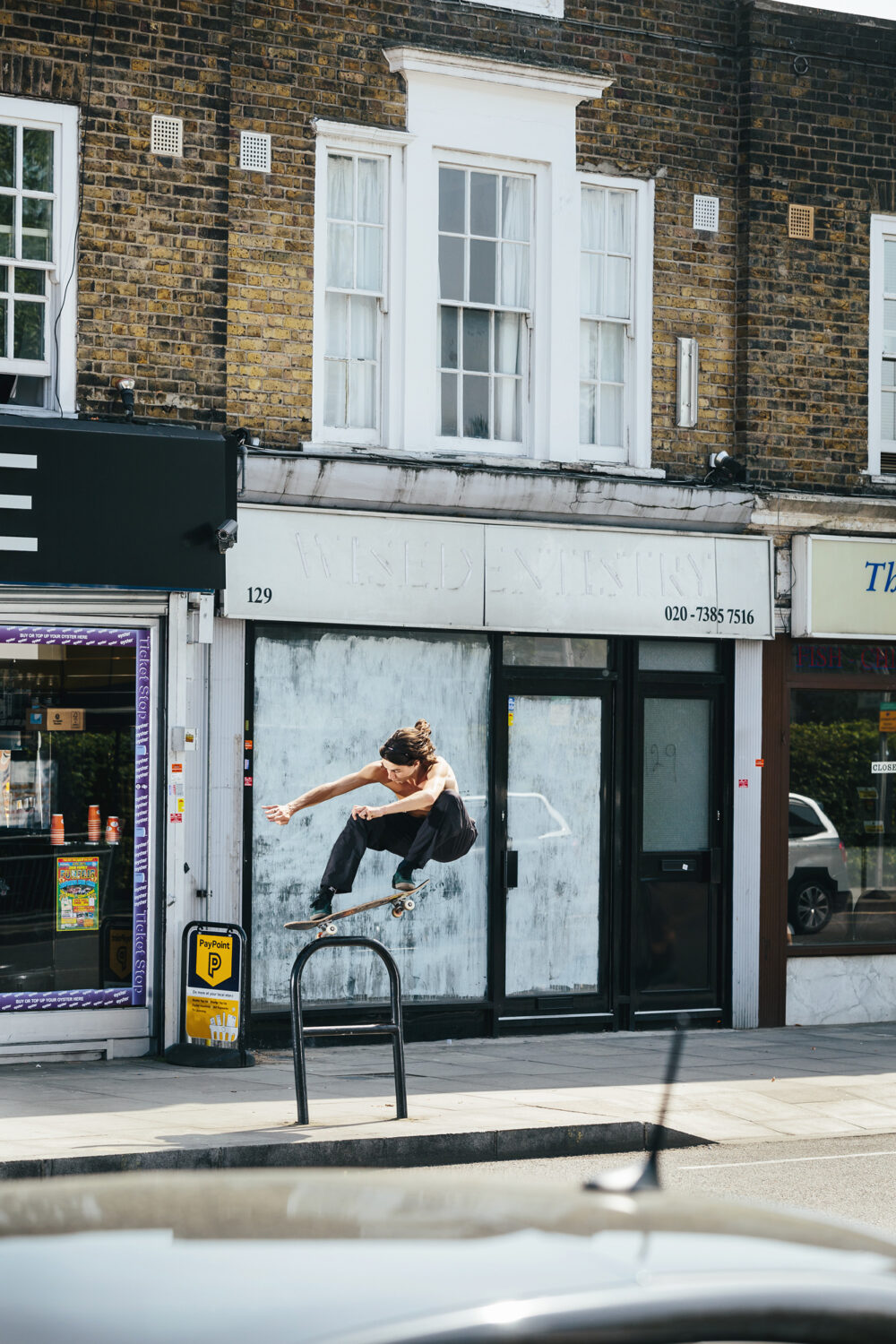 Would you like to make music for a living?
Yes, I guess so because the avenues of digital sound are really growing. The digital era needs a lot more sound. It is something I want to do, especially sound for media and sound for film. It's a weird part of the field to get into, but it's fun to work with.
Have you ever made music for skate videos?
No, not really. I did one once, but it was kind of lame. I wouldn't want to do one for a video I was in for some reason.
That makes sense.
But I'm doing some sound for a documentary that Sirus (F Gahan) is making at the moment. It's not a skate documentary, it's just something about Nepal.
Griff told me that you're a big reader. What's the best thing you've read recently and your all-time favourite book?
The best book I've read recently… Maybe The Sisters Brothers by Patrick deWitt. Steppenwolf by Herman Hesse is the best book I've ever read, for sure.