Nick Jensen interview
16.07.2013

Nick Jensen shares the latest trailer for Eleventh Hour with Lakai and Isle teammate Sylvain Tognelli. We caught up with Nick to find out more about the video.

Interview and photography: Henry Kingsford

What have you been up to lately?
I have been organising the book launch for Interference Pattern, a compendium of exhibitions held at Twelve Around One gallery from 2012-13. I am exhibiting some work alongside other artists at the venue, so I have been working on two new paintings. I have also been trying to film some last bits for the Eleventh Hour video.

It's been a few months since Isle launched and the boards are now in shops. How would you evaluate the response from skateboarders?
The response has been better than expected. Skaters seem to really like how reductive the boards are. A lot of people are really keen on the studio series; I remember a few people even wondering if they were actually 3D.

Tell us about Eleventh Hour.
Eleventh Hour is the name given to the video formerly known as The Grey Video. Yourself and Jake (Harris) decided that in order to prevent problems with music rights, the video should go independent. Jake chose the name because obviously the switch from Grey to a new project had to have some self-reference, the eleventh hour being the last possible opportunity to change something before a deadline.

How does filming for an independent video compare to working on a part for a company video (Blueprint, Lakai)?
Filming for an independent video involves a lot more freedom because the expectation is different. In a way, working on an independent project is less about proving yourself and more about presenting different elements of your skateboarding in a more natural, less preconceived way. Also I have found myself feeling guilty on a tour when you're with a whole team filming for a company video and you take up half a day trying to film something.

Have these differences had an impact on the part itself?
Yes, this comes through in my new section. I skate a lot of different areas of London, which was due to having more time. I felt like I could explore more and let new things come about. I guess I also chose to make a part that has a lot of lines in it. I really like discovering little things here and there and connecting them together through filming lines. This approach is very apparent in (Tom) Knox's part too. I like how he kind of gives you a tour of other aspects of a spot you never knew were there. This is especially clear from his footage skating around estates.

What about the death of the DVD as a format? Is the physical object of a skate video still important?
I love having a physical object and I think more people are returning to this attitude. I suppose it's just not a commercially viable practice anymore, which is a shame. It's great that this video will be given away free, it gives the audience the best of both worlds. This is definitely the way forward.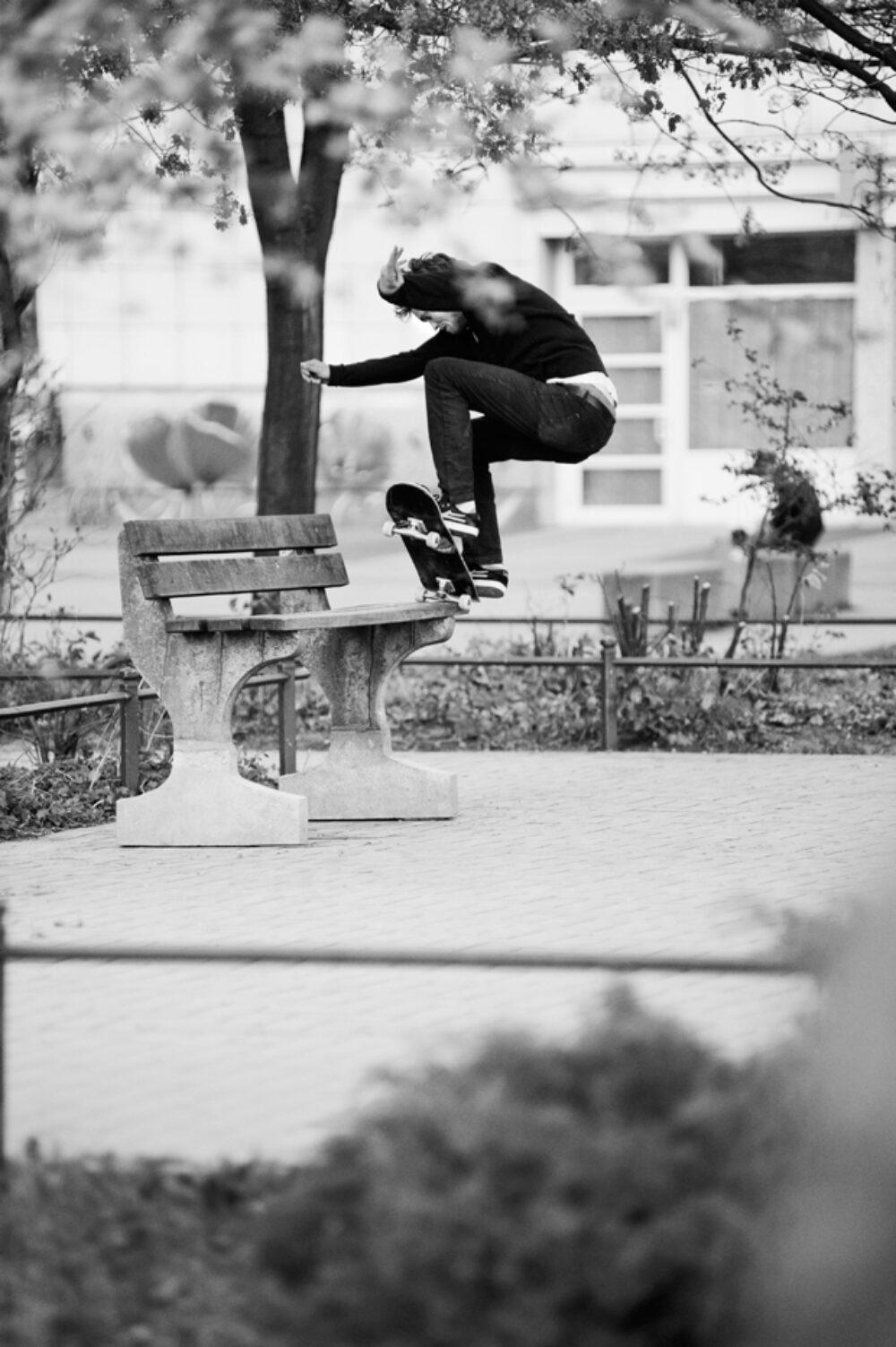 Switch nosegrind, Berlin.
How does filming with Jacob Harris compare to filming with the likes of Dan Magee and Ty Evans?
I really like filming with Jake. He is discerning enough to push you at times when you start talking yourself out of landing tricks and understanding and happy even when nothing is achieved in a week. This makes for a more organic assemblage of footage. Filmers like Magee and Ty are later in their careers, so they can be more determined to keep to tight deadlines and come home with footage.
As well as including some of your Isle teammates and former Blueprint rider Kevin Lowry, Eleventh Hour features parts from three lesser-known skaters (Dan Clarke, Arthur Derrien and Luka Pinto). Can you tell us anything about them?
This is what I really like about the video, these dudes are killing it on the quiet. Not many people have seen that much from them and they have been putting every inch of time between their jobs and other commitments into forming banging parts. And it's rad that this video has a wide variety of interesting skaters. Dan, Arthur and Luka could not look less alike if they tried!
Tell us about the filming trip to Berlin in April. That ended up being quite productive, right?
Yeah it was a great opportunity for Sylvain (Tognelli) to have six days to film the last bits for his part. He hasn't had much time to film – he came into the equation quite late – but he smashed it nevertheless. Everyone really likes Sylvain's spots – he always makes a lot of effort to search far and wide – so we had a great time. Having said that, I filmed my only tricks from the trip at the most tramline spots: Waschauer Str. benches and the Potsdam bank-to-ledge.
It must have been surreal finding yourself in a hotel room with Brady and Magee again.
It was so rad. Magee was pissed and Brady stone cold sober. You had to be there. Banter!
What's next? Any plans for an Isle video?
I am actually in the process of designing a colourway for Lakai. I was in LA the other week and looking at all of the shoes, considering the possibilities – it was very exciting. So keep your eyes peeled for my design. I am also starting work on an Isle edit with the whole team, so watch out for that soon too.