Reflections on a DIY Skate Play
17.10.2022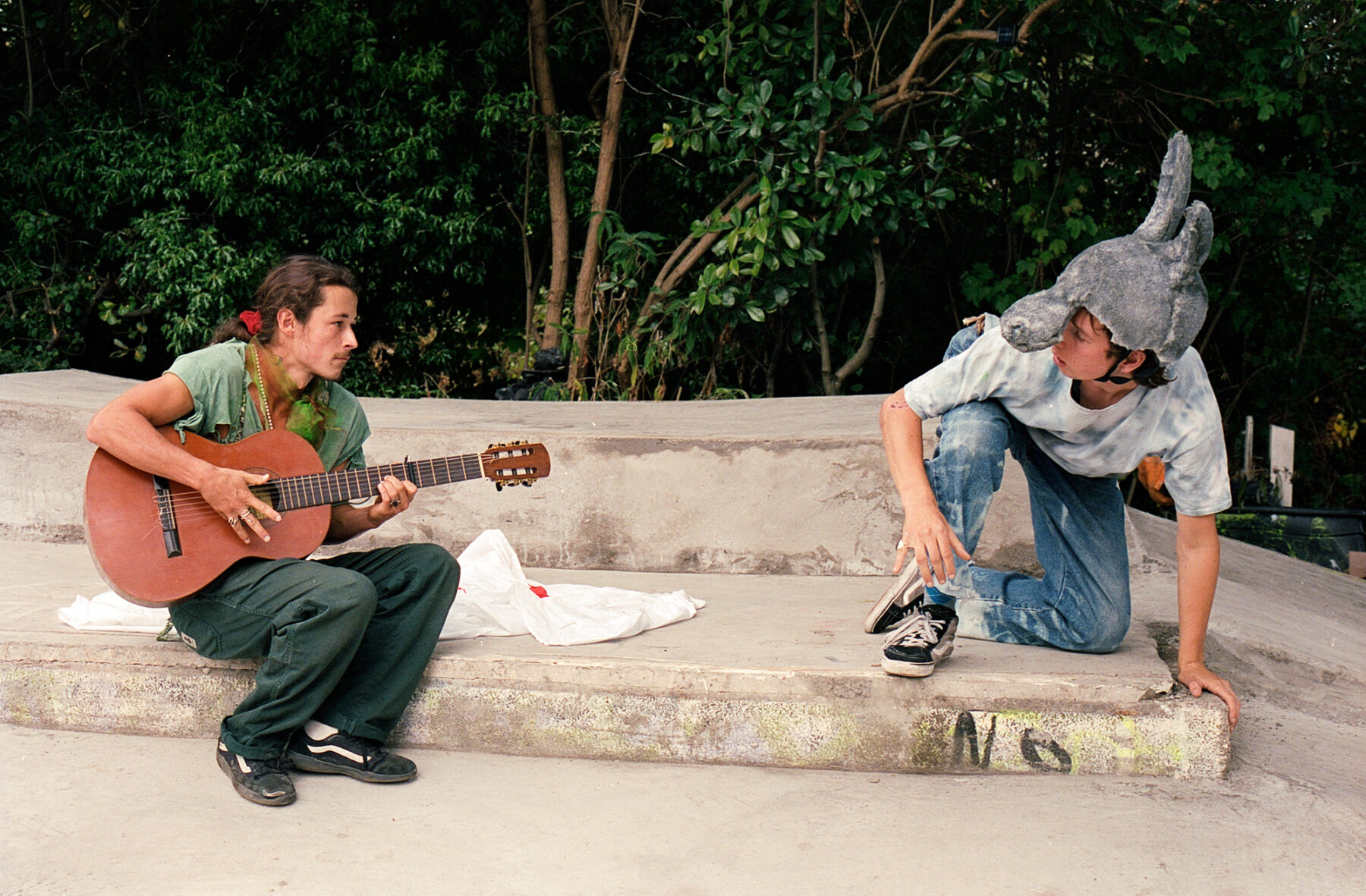 We published an article by Tom Critchley about the then upcoming production of Shakespeare's A Midsummer Night's Dream at The Grove DIY skatepark in south London back in August. Since then the people behind the project put on five sold-out performances over two days in early September, each very well-received. To accompany Dorothy Dee's stills from those performances, Tom wrote a second article for us, this time reflecting on the process of putting on the play and measuring its successes against the goals detailed in the original funding application. We also embedded Jude Harrison's film A Midsummer Skate Dream below, which beautifully documents the performances.
Words: Tom Critchley
Photography: Dorothy Dee
Anyone who has ever written funding applications can probably relate when I say that they are an art of translation. By this I mean that while you may have a good idea that makes sense to yourself and your immediate circle, those who have the money to fund such a project need it written in a language that is familiar to them. A DIY Midsummer Skate Dream being the first time Shakespeare set foot on a skateboard, our patrons took some convincing. Thankfully we had some legendary organisations and platforms more than willing to back the project, and our first article with Grey was met with unrivalled positivity. This was not only nerve settling as we coincided ticket release with the publication of the article (the tickets sold out in just a few hours!), but it also reaffirmed one of the core principles that guided the project: we wanted to play with the idea of what core skateboarding meant and what skateparks can be.
A DIY Midsummer Skate Play was funded by Arts Council England, a government-funded body underpinned by the idea that art permeates from grassroots communities. Once such communities acquire funding, the idea is that they are left to enact their vision and organically produce the social benefits of artistic production. Considering recent economic trends, I find it remarkable that this fundamentally socialist approach to grassroots artistic and cultural production remains and can be pretty successful, as the example of the skate play shows. Because funding for the project came from public money, I am currently working with the directors of the play to measure this notion of success against the goals of the project detailed in our original application. It is through this process that I have been weighing up the relationship between skateboarding, theatre and grassroots community art that unfolded during the short two months in which the play happened.
One such goal was something along the lines of: "bringing fine arts and DIY skateboarding together in a collaborative project to develop and learn in a mutually constitutive project." That is, bringing those involved in theatre, dance, and music – which is broadly described as "fine art" – into the context of a DIY community skatepark project with all the expected add-ons and misdemeanours… a fine art but just in a different way. The utilisation of Shakespeare bridged this gap nicely as the themes of A Midsummer Night's Dream coincided with the story of The Grove DIY. Presenting the project on these terms appealed to the Arts Council and its desire to expose more young people to theatre and fine art, while creating the potential for an exchange in practice and knowledge between the two distant cousins of theatre and skateboarding. Yet in truth I did not think too much about what may happen when these two came together until it started happening in real time…
… and in truth it was a beautiful and touching experience. A large reason for this was that the theatre professionals and local skateboarders who took part were not only well placed to take this challenge on, but also some of the most inspiring people I have ever worked with. The directors were the dynamic duo of Nell Hardy and Imy Wyatt-Corner. Whereas Nell draws from her experiences of homelessness and social trauma for a situated theatre practice that was well-suited to the community she was working with and themes we wished to portray, Imy specialises in theatre within found spaces, making the context of The Grove an ideal place for her to work.
I have the utmost respect for these two; from entering an entirely unfamiliar and daunting space as outsiders to becoming firmly ingrained in the community is testament to them being incredibly passionate, loving and caring people as well as their talent as directors.
When bringing theatre and skateboarding together, Dani Abulhawa is an obvious choice. Dani is an artist, dancer and researcher, whose work and practice encompass performance, movement and skateboarding (among a whole host of other practices, which are just as uniquely inspiring!). Despite expecting her first child, Dani enthusiastically accepted our invite and hosted our first choreography workshop while pregnant. After this workshop Dani had to take on more of an advisory role due to the birth of her daughter, leaving the door open for Theo Ray, who, after recently finishing university, took on the role of organising the skateboarding choreography of the play like a seasoned professional. Nevertheless, this was his first project with such responsibilities, which ticked a couple more boxes of our original Arts Council funding application. The skate play provided a platform to apply movement and dance theory to skateboarding and a paid opportunity for early-career practitioners (Theo, our stage managers and our first-time performers to name a few) to develop their craft.
Having been involved with community-based activism largely through arts-centred projects for a few years now, one thing that I am quite a believer in is bringing together a team full of people who I respect a lot, do cool stuff, have good morals, then let the rest work itself out. This project followed that formula to a certain degree and I do not have enough room to do justice to all the incredible people who participated in this project. Rather, beyond an exchange of practice that took place encapsulated nicely by the skateboarding choreography shaped by Theo, the bringing together of skateboarding and the fine arts also created a cast of people with different backgrounds, experiences, and standings. What funding applications and subsequent reviews will usually present is a picture perfect model of a seamlessly run project, but in reality such a collection of people will bring frictions and conflict, which I found truly encapsulated the beauty of this project and its intended goals.
If you came to see one of the five performances you would have watched a surprisingly professional-looking adaption of A Midsummer Night's Dream at The Grove DIY skatepark, put on by a largely amateur cast of local skateboarders. What you would have missed was the two-month growth of a group of people that genuinely loved and cared for each other to the extent that we were able to collectively approach some of society's most difficult conversations based around mental health, homelessness, social class, gender, sexual orientation, drug use and more, while providing networks of support that have continued to blossom after the final curtain went down. To say the project was enriching in this way would be an understatement and I can only say "thank you" to anyone and everyone who made the creation of these experiences possible within a wider societal climate where such things are becoming few and far between.
Thank you to Grey, thank you to The Grove DIY, The Grove Community Garden, Betongpark, Susie (Chrome) from The Ben Raemers Foundation, Skateboard GB, Tilly Yoyo, everyone who came to see the play, and above all, thank you to the 30 or so people who believed in the vision and created something that can now only be best described as a true midsummer's dream.