Slacker & Friends Vans takeover – Mia Gurary interview
18.07.2023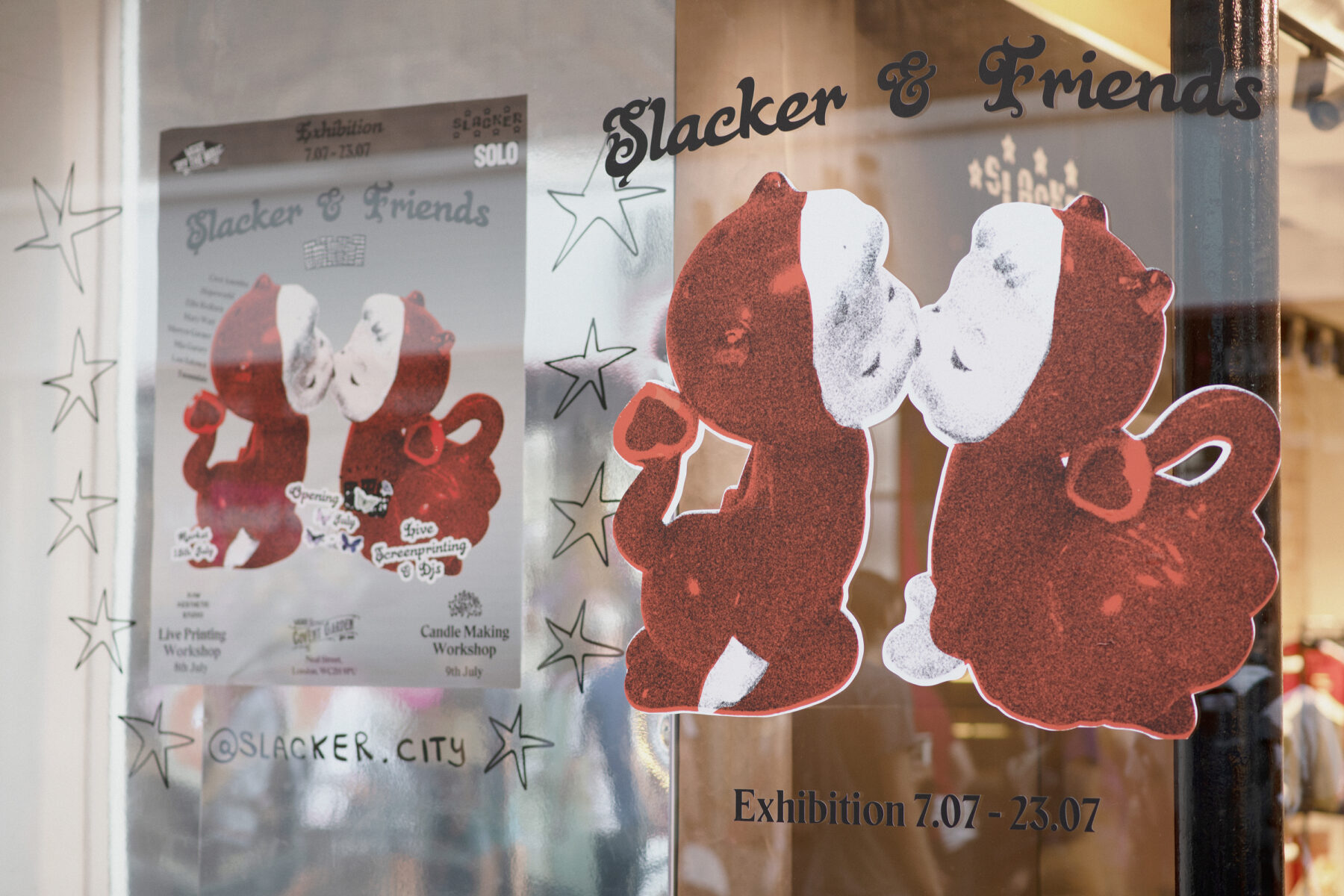 Interview & photography: Kingsford
London-based skateboarder Mia Gurary's Slacker project is currently in residence at the Vans Covent shop for a two-week takeover comprising a group exhibition with work from Mia & seven other women artists who skate, screen printing and candle making workshops and much more. We caught up with Mia for a chat about the takeover and all things Slacker.
What is Slacker?
I actually find it kind of hard to define what Slacker is. It started as an alias that I posted my art through in 2018, and over the years has evolved into a sort of creative skate collective and clothing brand that does events, creative collaborations and community projects. I guess I'm trying to create a platform or network for creatives, something that everyone can get involved in and that isn't hierarchical or inaccessible to anyone. I really believe in the power of community and collaboration and I want the platforms I give through Slacker to be something that motivates creatives and misfits to come together and feel strong and to feel like: "Hey, we can make it, we're going somewhere". It's so easy to get lost and question the unconventional lifestyle that we choose. We're working towards a skate video too but are currently just playing around with our new (Panasonic) HPX and making little edits of our friends to get the hang of it and have fun with it.
I make a lot of the decisions and organise a lot for Slacker, but it wouldn't be anything without my friends. Merryn (Garner), Lou (Salasca), Alice (Oldacre), Mia (Tommasoli) and so many other homies have been so involved with it from day one and have had so much faith in it from the start that I always feel like it's a collective thing rather than my thing. It wouldn't be anything without everyone.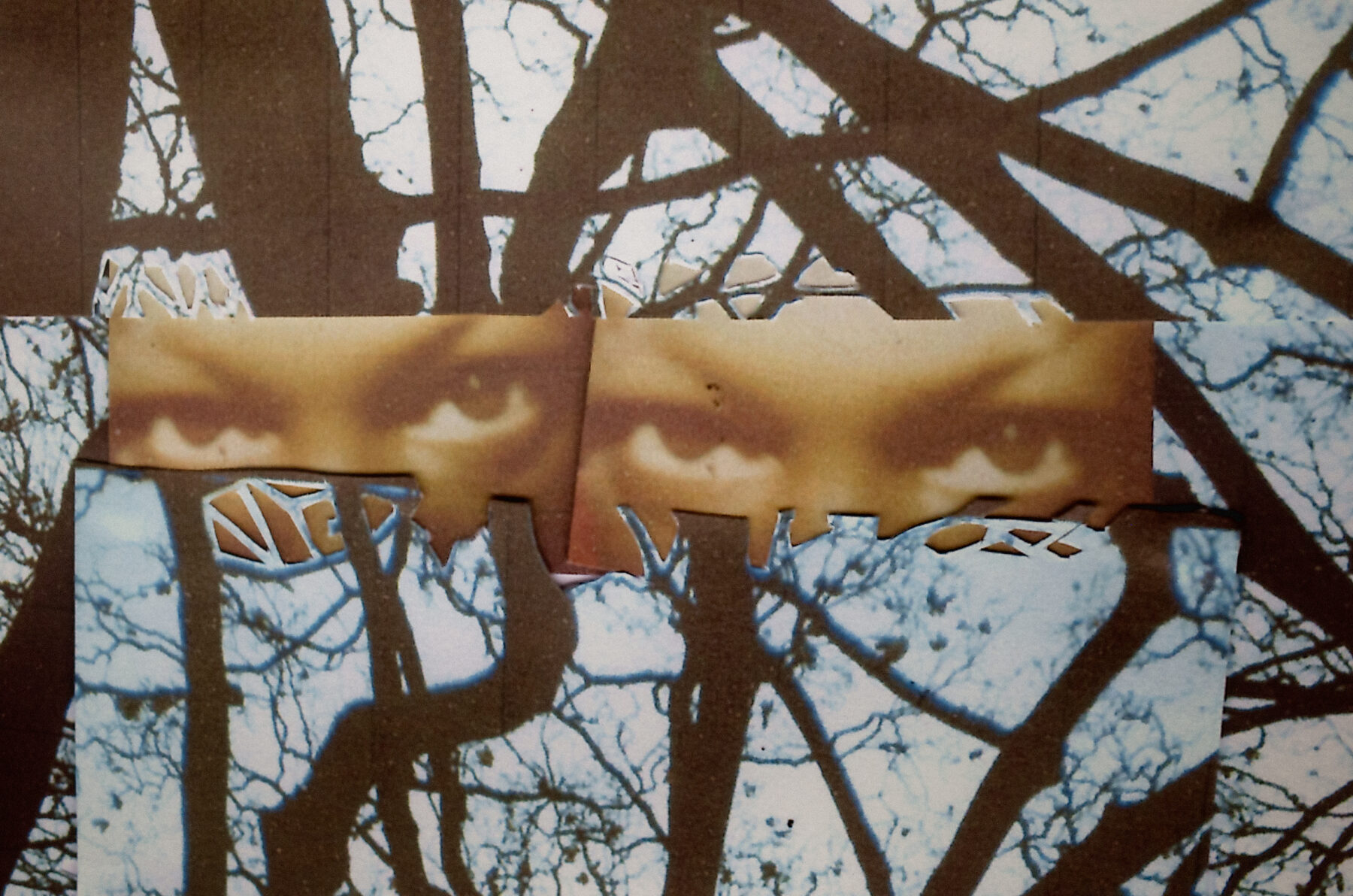 Can you explain the name?
It was inspired by the 1990 film Slacker by Richard Linklater, which is one of my favourite films. The film is described as a "97-minute stream of soul-searching characters" (Dana Thomas, Washington Post, 1991). It follows conversations between a bunch of misfits, anarchists, artists, philosophers, and weirdos in 1990s Austin, Texas, who were I guess negatively labelled as 'slackers' for not doing what they were societally programmed to do. The first character in the film says: "Withdrawing in disgust is not the same as apathy", which I thought was a really cool way to summarise the slacker philosophy. It's a philosophical commentary on American capitalism and on challenging the status quo and opting out of consumer society. At the time in America, anyone who opted out of the army or of a corporate job was labelled a 'slacker' and when Richard Linklater was asked if he thinks slackers are lazy he said: "Lazy? No, no, no! Not at all! That's a total misconception. Slackers, in one way, are on a track to something much better" (Philosophy Now, 2006). I'm rambling about this film, but I just really loved analysing it for one of my university essays back in 2018. It really resonated with me because that's always been my philosophy; my mom is a doctor, my family is quite traditional and has always tried to force me into their idea of success, which caused a lot of grief for me growing up and a lot of chaos and bad times. My childhood was kind of like JB's in Tenacious D in the Pick of Destiny (laughs). I didn't know what I wanted at all; all I knew was that I didn't believe in that way of living. Then I found skateboarding, and then when I started doing my brand and giving myself the space to create and believe in myself, it just made so much sense to call it Slacker and to spend my time doing this. I've always been called a Slacker, and anyone who doesn't fit that corporate status quo is often labelled as one, but I wholeheartedly believe that us misfits and creatives and skateboarders work harder than anyone else. So I guess calling it Slacker is in line with Linklater's philosophy and a bit of a play on words, where we're labelled as slackers for what we do, but we don't actually slack at all when it comes to things that really matter.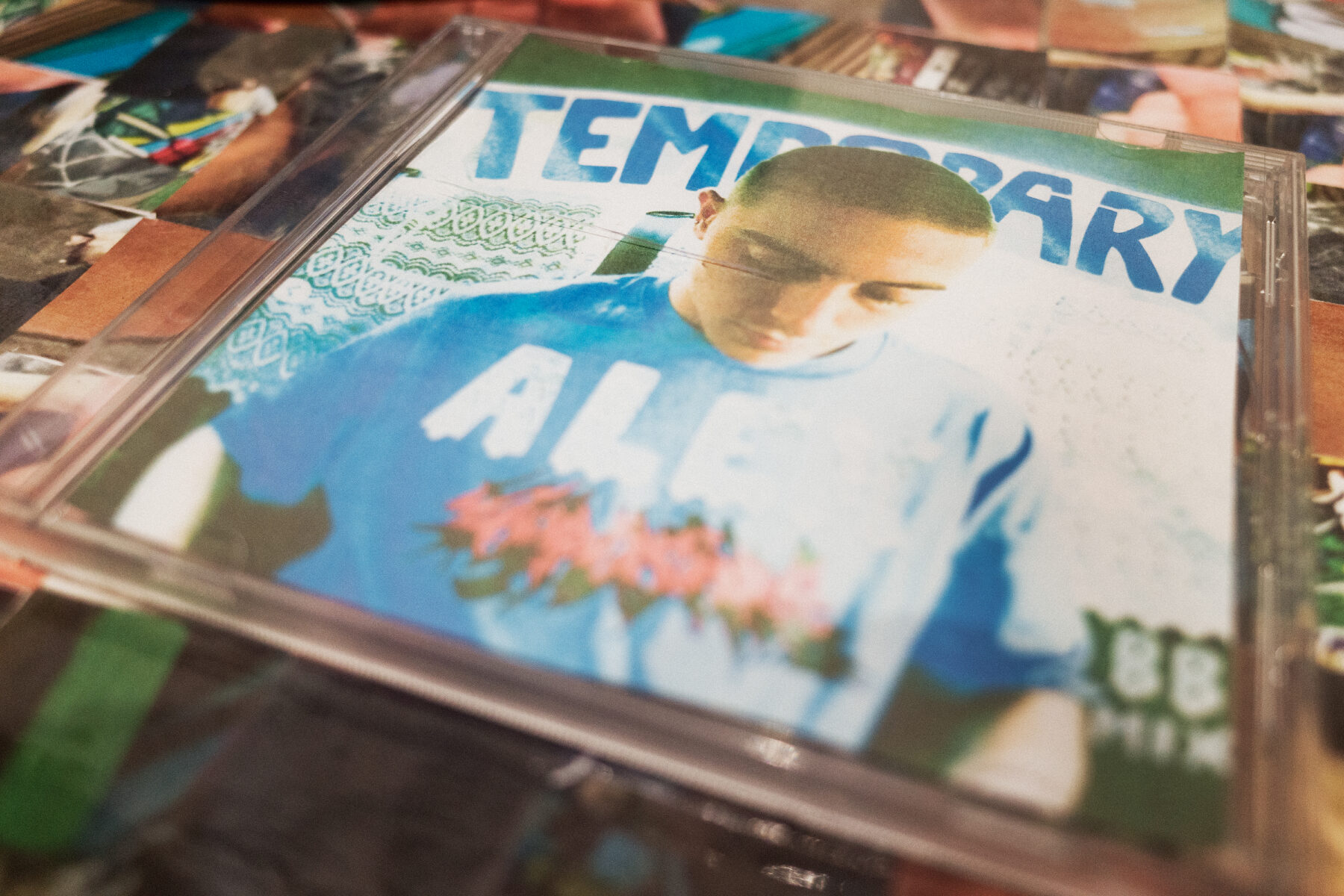 Were you inspired by any other movements or collectives to start Slacker?
I was actually really inspired by a DIY arts and music collective called NiNE8, run by Musician Lava La Rue. I met Lava skating Cantelowes back in 2018 and the same day they invited us to a barbecue with their collective and involved us in a bunch of projects. As my friendship with them developed I really admired the DIY ethos of what they do and how collaboration-inclined they were, how they would be so stoked on anyone's talent and would involve people from all walks of life in their videos and projects. They'd literally meet someone walking down the street and be like: "Hey do you want to come be in our music video, I love your outfit?" I thought that was so sick. That friendship really showed me the power of collaboration and community and how bringing people together and loving, uplifting, and supporting each other is the only way up.
What are your goals with Slacker?
I guess right now my main goals are to keep finding venues and opportunities like this Vans one, to eventually make a skate video, to keep working with new people, brands, and collectives and I guess to keep doing what I've been doing.
How did the current pop-up at the Vans Covent Garden shop come about?
Mary (Watt), Ellie (Redfern), Hope (Roalfe) and I travelled to Paris back in March to see Liisa Chisolm's work in Au Bout du Compte, an adidas exhibition in a skate shop there featuring the work of Liisa, Nour De Bary, Nora Vasconcellos and Margaux Saingolet. I thought it was so dope. We ended up hanging out with the people who organized it, and I was so inspired, so when I got back to London, I messaged Josh (Young) and Amanda (Perez, who both work at Vans) and suggested we do an exhibition at the Vans exhibition space. They told me to send them a pitch, so I gathered the homies and asked them for information and photos of their work and managed to create a pitch with my vision and idea. I'd never done anything like that before. The pitch got accepted and Amanda has been such a legend; she's the reason any of this was possible.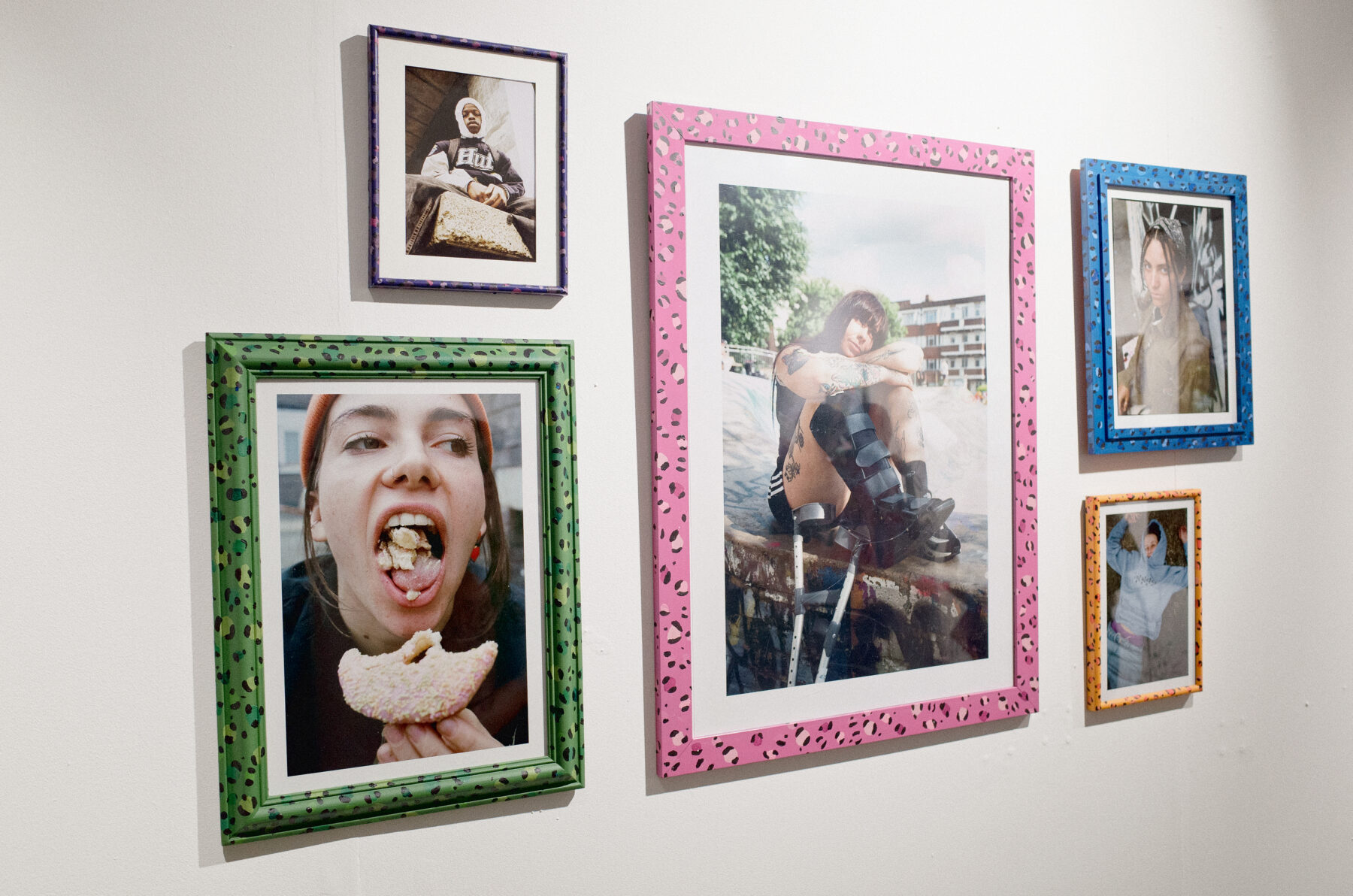 Tell us about the pop-up / exhibition motif.
Hope Roalfe designed the devils kissing logo and combined that with our new Slacker star logo designed by myself and Lou Salasca. We agreed on these kissing devils as I thought they really embodied the theme of loving your friends and coming together to uplift each other, which I think is what Slacker is about.
For the pop-up you curated an exhibition. in the basement. Talk us through how you approached this.
I actually would love to talk about the artists. All my friends are so talented and I'm so honoured to have been able to curate this exhibition. Lou or – Raw Aesthetic Studio – makes incredible trousers and is a professional screen printer. She also knits and does ceramics and so much other stuff. She's kind of a master of all creative trades and one of the hardest workers I've ever met. She also rips. I find Merryn's photography incredible, I think the way she captures people in her portraits is so sick; she really captures people's character. She's my go-to skate friend and one of my favourite people of all time, so that was an obvious choice. Mary (Watt) is a tattoo artist who also makes insane ceramics and whose drawings I find magical. I've always looked up to her work so much and she's become one of my closest friends this year. We skate the curbs together almost every day because we're basically neighbours and live on opposite sides of Queens.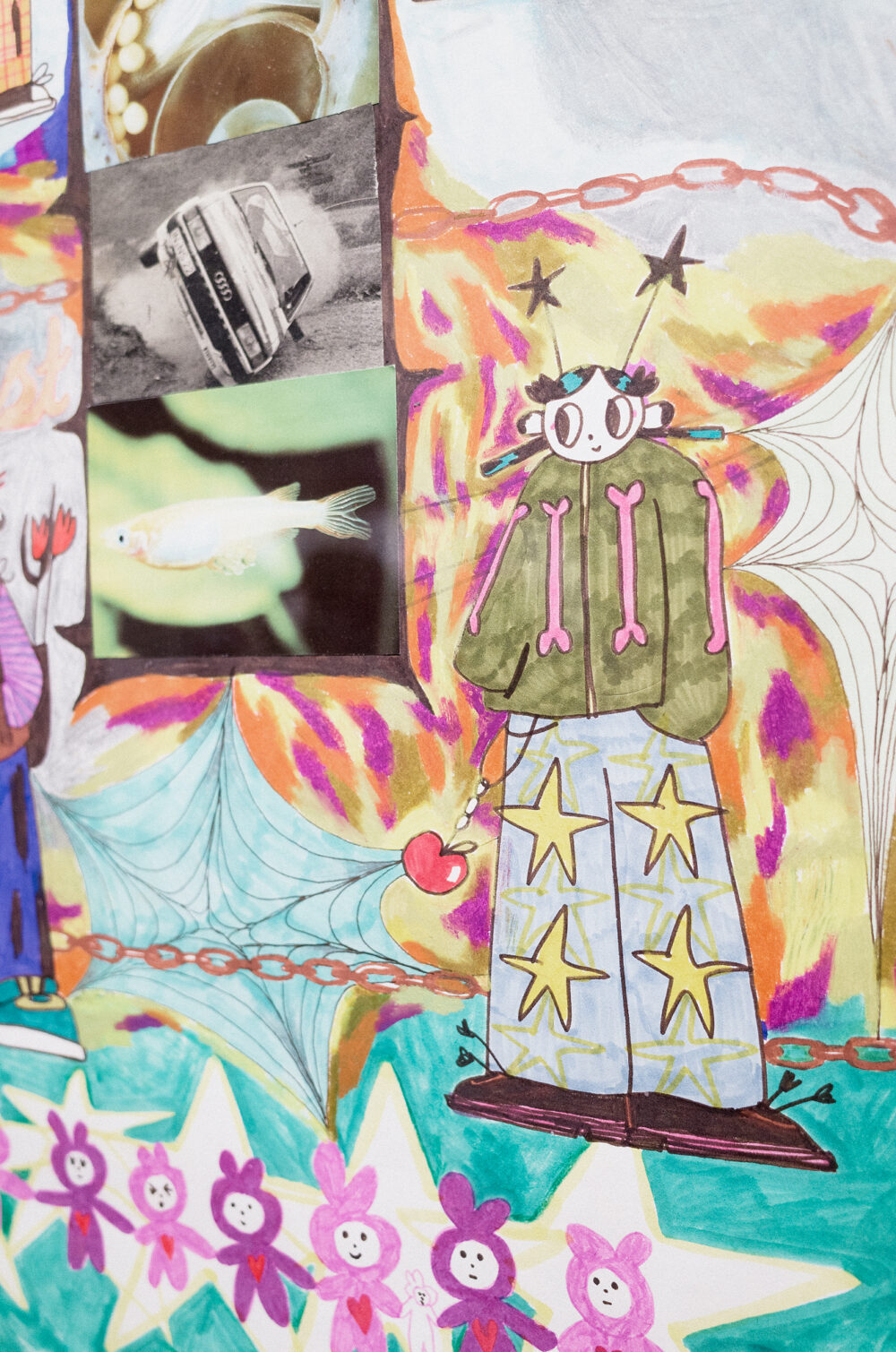 Hope Roalfe (Hopeworld) is also one of my closest friends and I've never seen anyone make candles the way she does, so I really wanted them to be a part of the show and for her to do the candle making workshop because the process that she's refined is so fascinating. It was actually her first time doing a workshop and she said that it's really inspired her to start doing them more often – people loved it. She's so creative and magical and her work is 100 per cent worth checking out. Hope also gathered some drawings from everyone involved in the show, digitised them and got them printed as big vinyl stickers, so all the little doodles and drawings all over the space is a mix of everyone's expression. The whole exhibition was a collaboration between us, it wasn't just my vision we had a few meetings where everyone helped decide what to do.
Cece Asembo rides for (Brixton's) Baddest and rips. She also makes really steeze collages for people's album covers and for friends. She's also designed some sick mixtape covers for Baddest. Mia (Tommasoli) and I organized one of the Slacker events at AMP Studios together. She's also been with Slacker since the start. She's such a talented animator, and she's done some really great work for slacker over the years. She's also one of my favourite skaters. And finally Ellie (Redfern)… Ellie went to Camberwell art school with Hope and Mary. I met her through Mary this year, but it wasn't until Paris this March that I really got to know her and start noticing how crazy their ceramics and drawings are. They also tattoo and I love all the stuff they do.
I guess I just chose a lot of the good homies who I skate with and who I admire.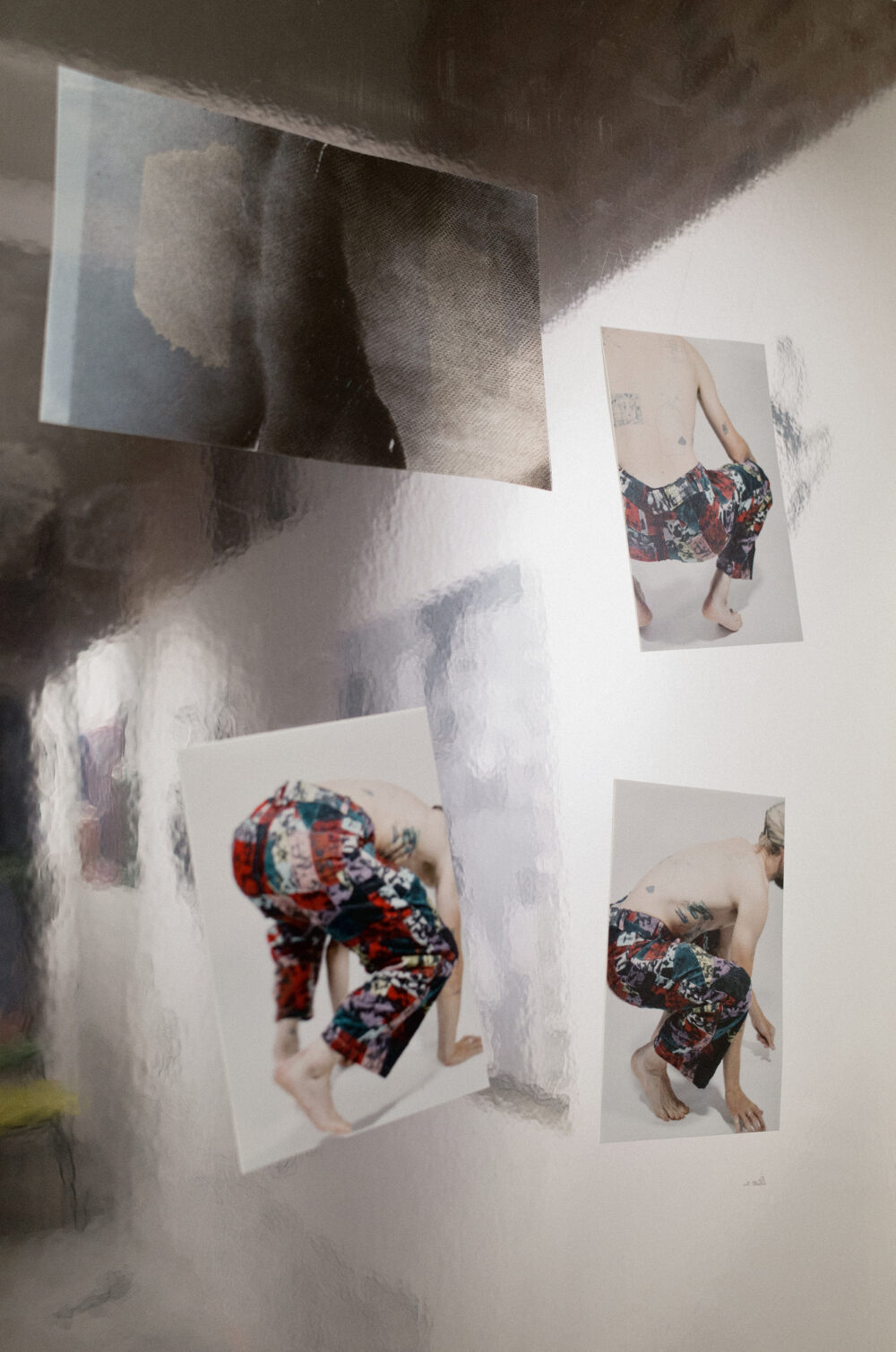 How long did it take to plan and what challenges did you run into?
Honestly, I've been so busy that I can't even remember when the pitch was approved or when we started working on this. I think it was like a month and a half ago? I could be wrong. The challenge was definitely the rush, and trying to organise myself and a group of eight people who all have a lot of other things to do. It was really weird to be in that position of having to hit my homies up being like: "Guys I'm setting a deadline for this", and following up so professionally – this was all really new to me and was definitely weird. Navigating that personal / professional space in friendship was new and it's not an easy thing to do. I feel like in skateboarding you work with your friends a lot, so it's been a really good experience to learn from. I think I also underestimated how draining it would be, It's definitely been one of the most tiring months of my life.
Did the artists make work specifically for the exhibition?
Most of the artists did make work specifically for the exhibition. Some used a mix of old and new, but I think everyone made something for it. I'm the only one who used an old painting.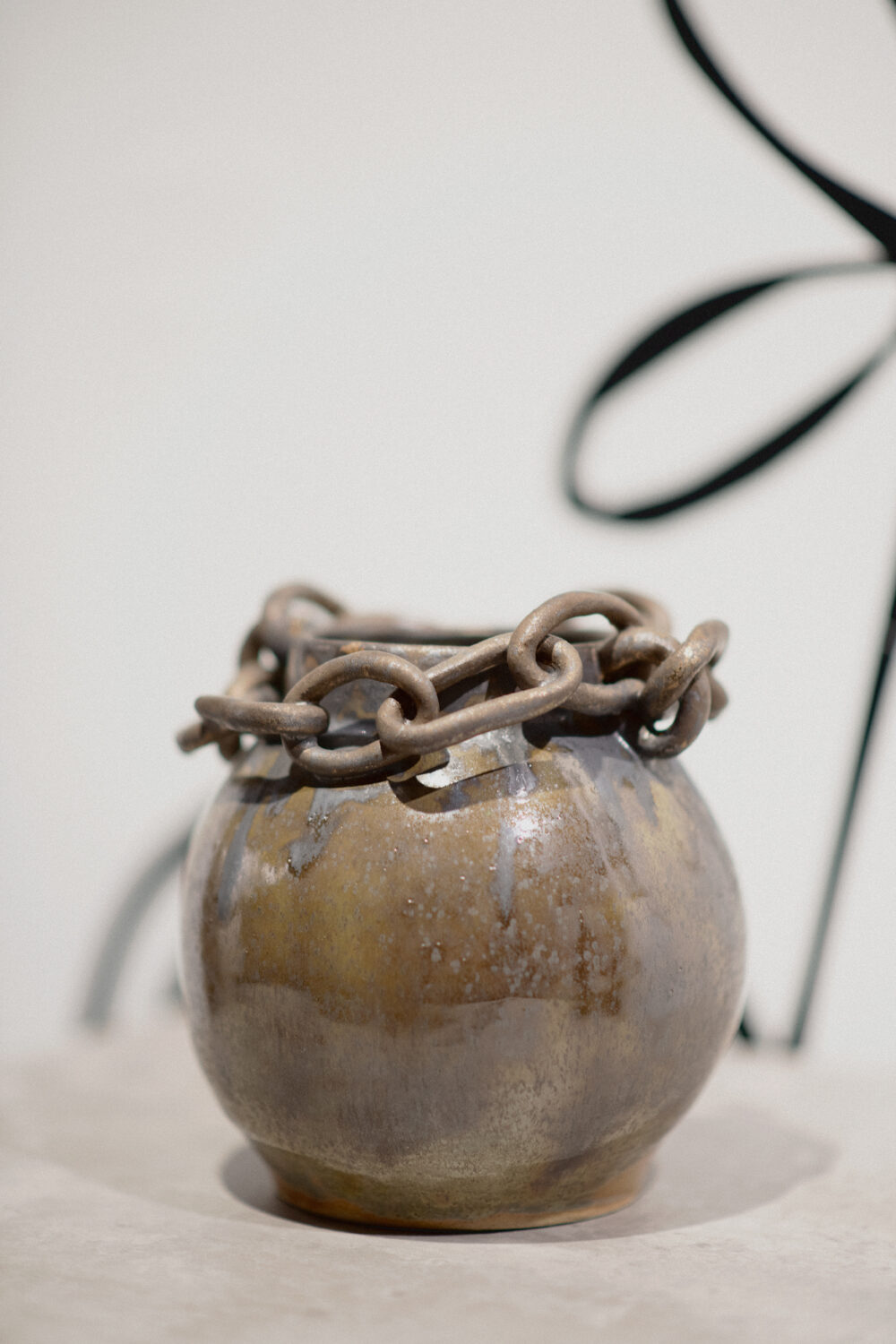 Was there a theme / brief?
I would say that the original theme of the exhibition is women who skate and make art and the idea of DIY creation and that everyone can make their own clothes. That's why everyone who comes down to the space is offered a little screen-printing tutorial and is encouraged to do some art.
Which are some of your favourite pieces?
That's a really hard question. I think the process I most enjoyed watching was Lou's. She made these patchwork jeans out of hundreds of pieces of denim and then screen printed over the patchwork to make probably the dopest pair of jeans I have ever seen (laughs). Ellie's ceramic work is also crazy; I don't know how she made a chain out of clay. Hope's Devil candles… obviously wow! And Merryn's photos as I mentioned earlier really are so beautiful. Mary's drawing / collage is also one of my favorite things she's made. The background unintentionally ended up looking like a blurry mountain and waterfall, which is my favorite place to be.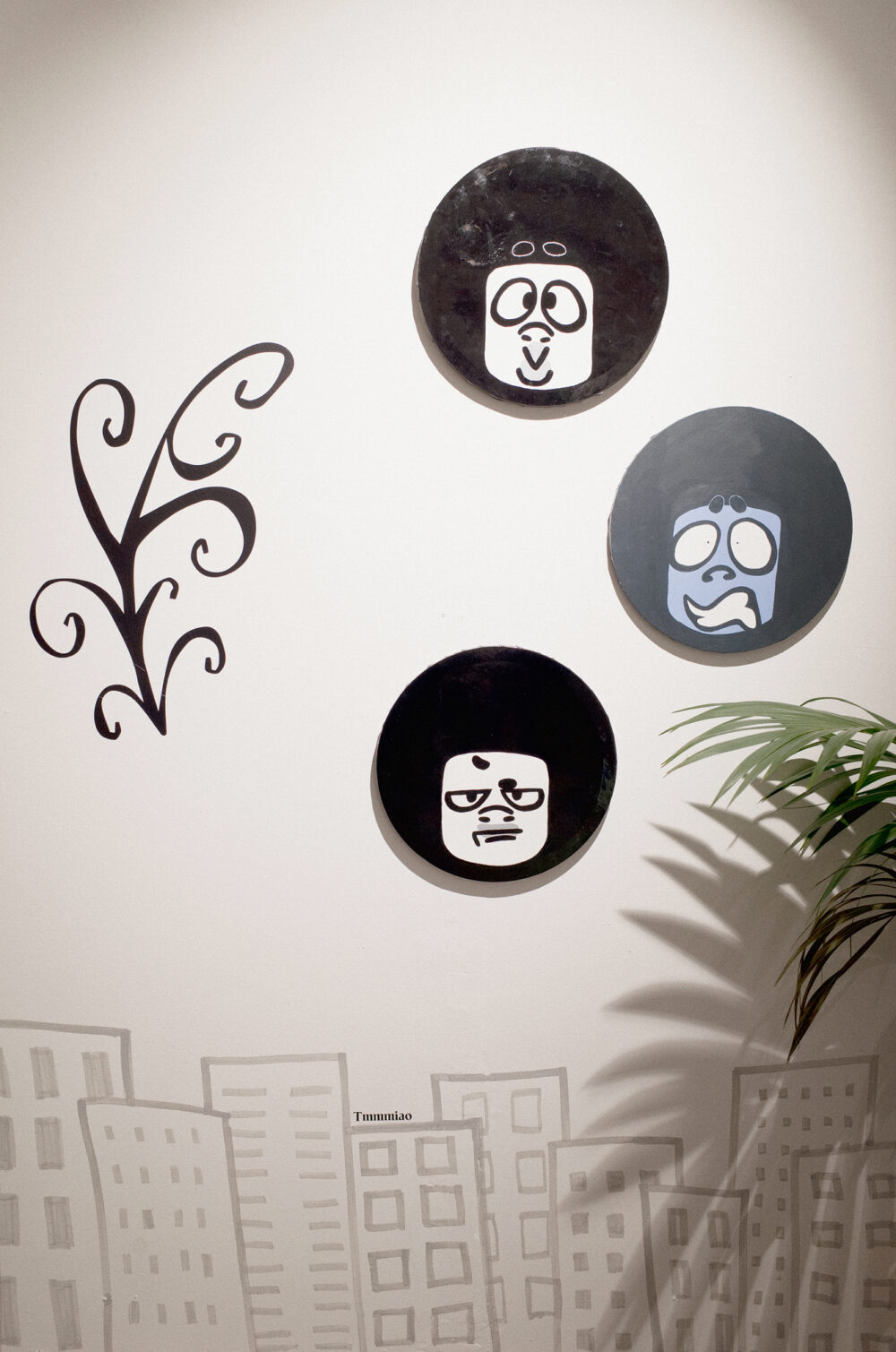 Tell us about your painting. Queens Road is depicted and I know from chatting to you that that place has been a big part of you coming back to skating after your second ACL surgery back in December 2021.
Ah that painting… Yeah the painting is two bros being honest with each other about feeling sad, sharing a look and then hugging. Real talk: I've had a really rough year mentally. I moved back to London in September and was going through a myriad of mental health stuff, feeling pretty horrible and trying to readjust to the London pace. It's so easy to feel really alone in a city like London, and I'd go down to Queens most nights and all the locals could tell that I wasn't feeling great and showed me so much kindness and love and I felt so grateful for that. I think it's so important for us to learn as a community to be vulnerable and to learn to share those vulnerabilities with our friends. It's so easy to get lost in feeling alone; you forget that the people around you really do want to help and sometimes a hug from a bro really sorts you out. I was also trying to come back from my second ACL surgery and yeah the curbs all I was comfortable skating at the time. The mental recovery from this one was so much harder than the first. I couldn't really skate without that intense fear of re-injury and feeling like I'd never be able to feel that freedom and fun that skating gives you when you're not scared and are just having fun with your friends. Mary and I skated queens almost every day and turned it into something so wholesome and fun where there was no pressure on the skating. We also got really into indoor bouldering, which helped me gain confidence in my body again too. Over time I definitely think the curbs helped heal me mentally and physically this year not just as a spot, but as a community thing. I love that place and the people who skate it (laughs).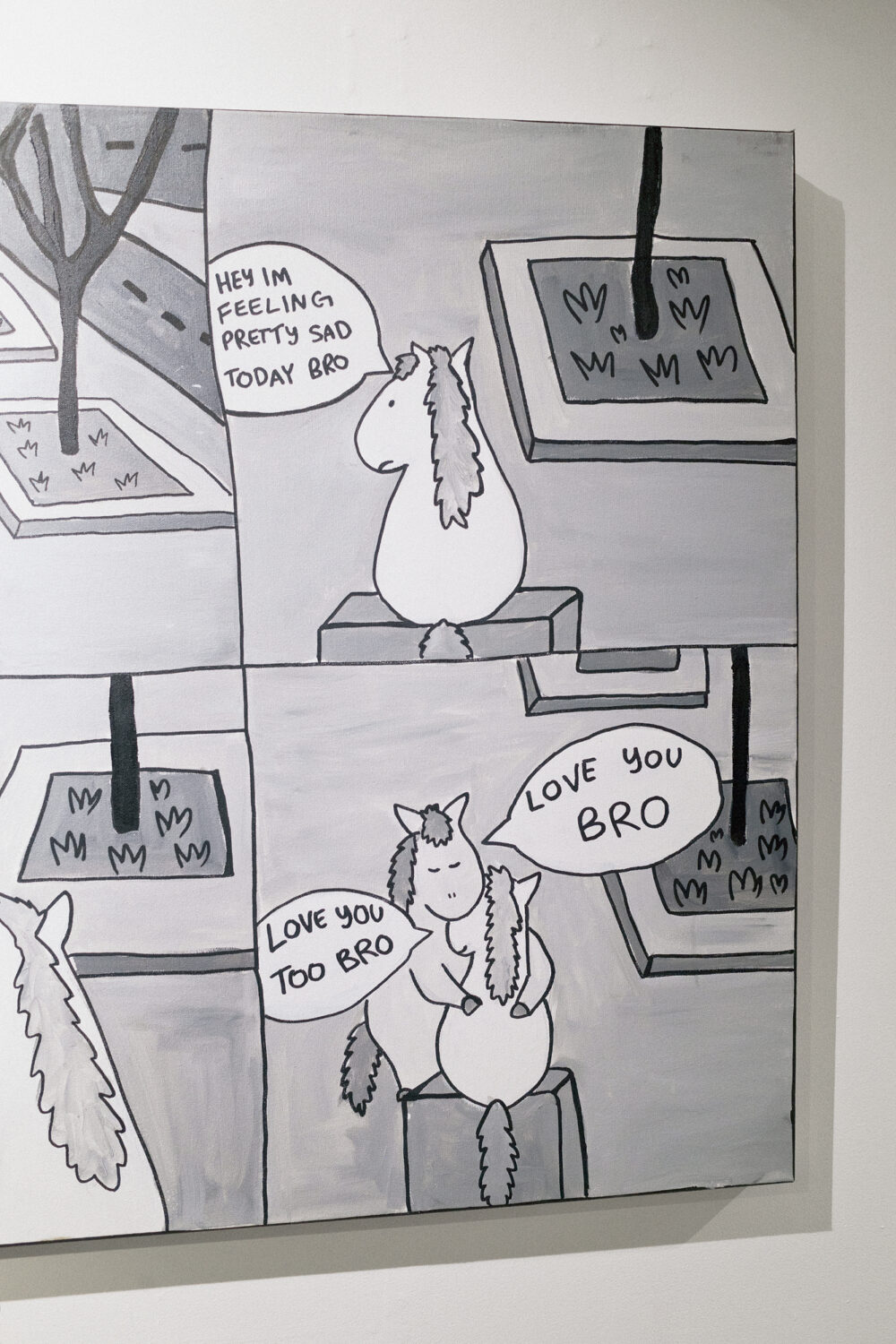 I don't want to dwell too much on your most recent surgery, but I wondered to what extent recent Slacker events are a result of you having time on your hands not skating in recent years, to think but also to plan.
Slacker started during / thanks to my first ACL injury. I was so bored and restless and depressed while waiting for my first surgery back in 2018, so I started taking screen printing and art a lot more seriously and spent a lot more time doing it. It's also why I started filming Merryn skating in the clothes I make and I guess that naturally grew into what I'm doing. It sparked a love for filming and for creating that were all linked to skating, but didn't involve risking my knees. I think not skating definitely gave me a lot more time to plan the events I do, but Slacker has also become something I really care about. I love being able to put the homies up and to create these spaces where everyone is bigging each other up and spreading so much positive energy. I think it's a bit reminiscent of how events used to be before the world became so isolated and overstimulated and it's definitely a space I want to keep creating. I think the second ACL surgery was really something that made me think: "Wait, no I can't skate forever, I can't put too many eggs in that basket because a re-tear of my ACL means losing everything". Last time I lost my visa and my job and it was pretty traumatic, so I definitely think that's why I put so much more time into investing into the community and filming side of skating. I've had two knee surgeries now and that means I can't skate every day. I've had to learn to balance skating with my physio and yoga and general health and it just can't be that one thing I do anymore. That said, I am feeling as close to recovered as it gets and have the best time when I do skate now.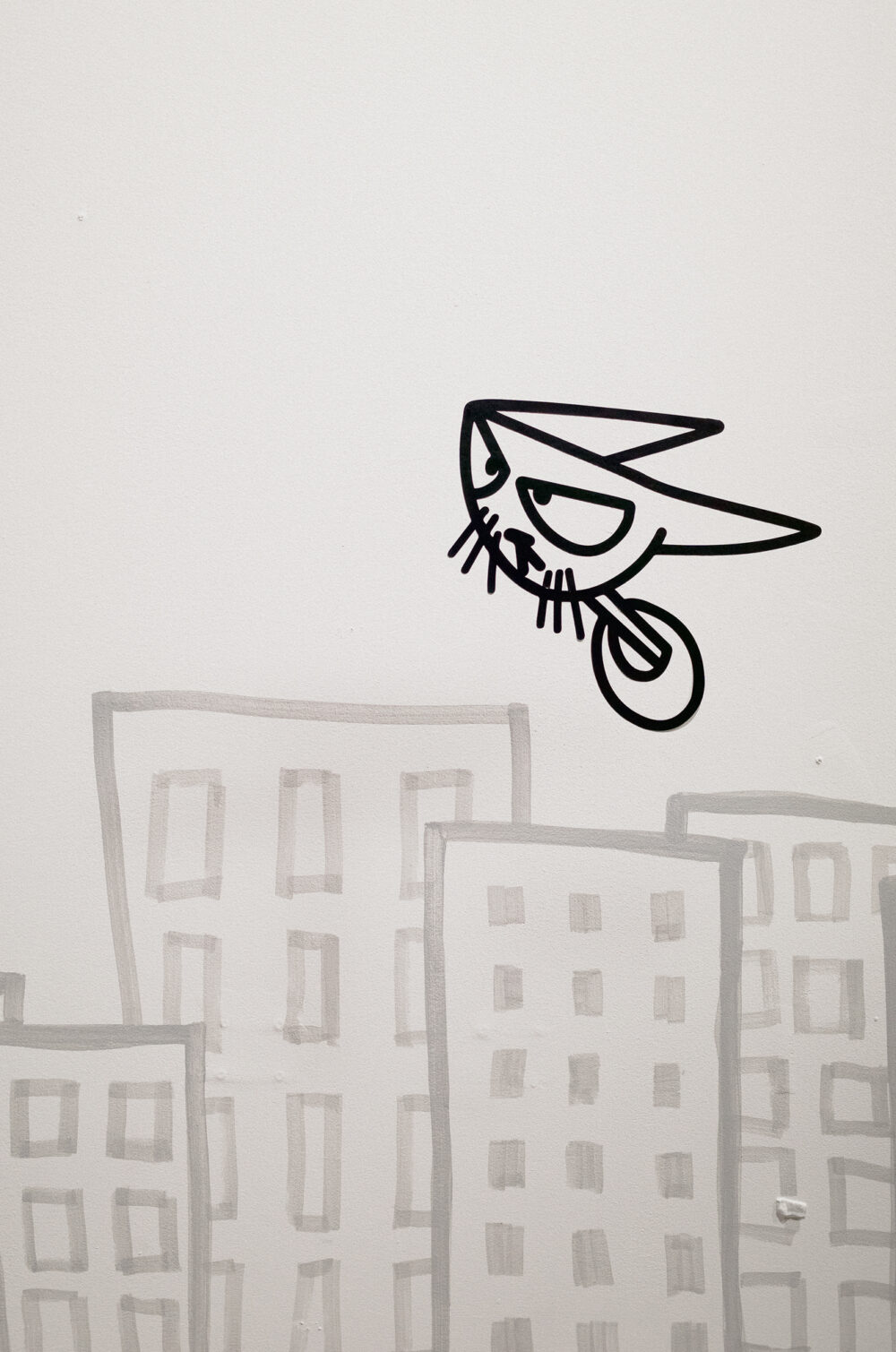 What else has happened / is happening at the takeover?
So we had opening night, then a whole day of free screen printing workshops with Lou, we've had two candle-making workshops and an art market. This week we've got three takeovers. I wanted to share this opportunity with as many people as possible so my friend CJ is doing a takeover on Thursday the 20th. She does insane bleach painting on T-shirts and has made a whole Slacker collection for it. On Friday the 21st we've got a Baglady exhibition and takeover and the 22nd Ethan (Smith) and Connor (Stewart-Piper) are doing a takeover. Ethan makes really crazy toys, tattoos and art, and Connor does some insane airbrush stuff. I'm really stoked to see everyone's stuff.
Tell us more about the candle-making workshops.
Hope started making candles in lockdown and has refined a really cool process. She finds vintage toys on eBay, makes moulds out of them, gets sustainable plant-based wax and eco-friendly scents and turns that into really good looking and smelling candles. It's something she learned how to do at home and on YouTube – like how we all learned our methods – and we thought it would be really cool to provide people an opportunity to come and make a candle from scratch. It was really dope to see people get inspired being like: "Woah, wait I could just make this in my living room?" I think finding out about how accessible creating actually kind of liberated me when I was stuck at home recovering. It's something that in our society isn't highlighted enough. We're encouraged to buy so much factory-made stuff and we forget about all the cool stuff we can make ourselves and together. Creating, like skating, provides this network and community where you can collaborate with anyone and make so much cool stuff together.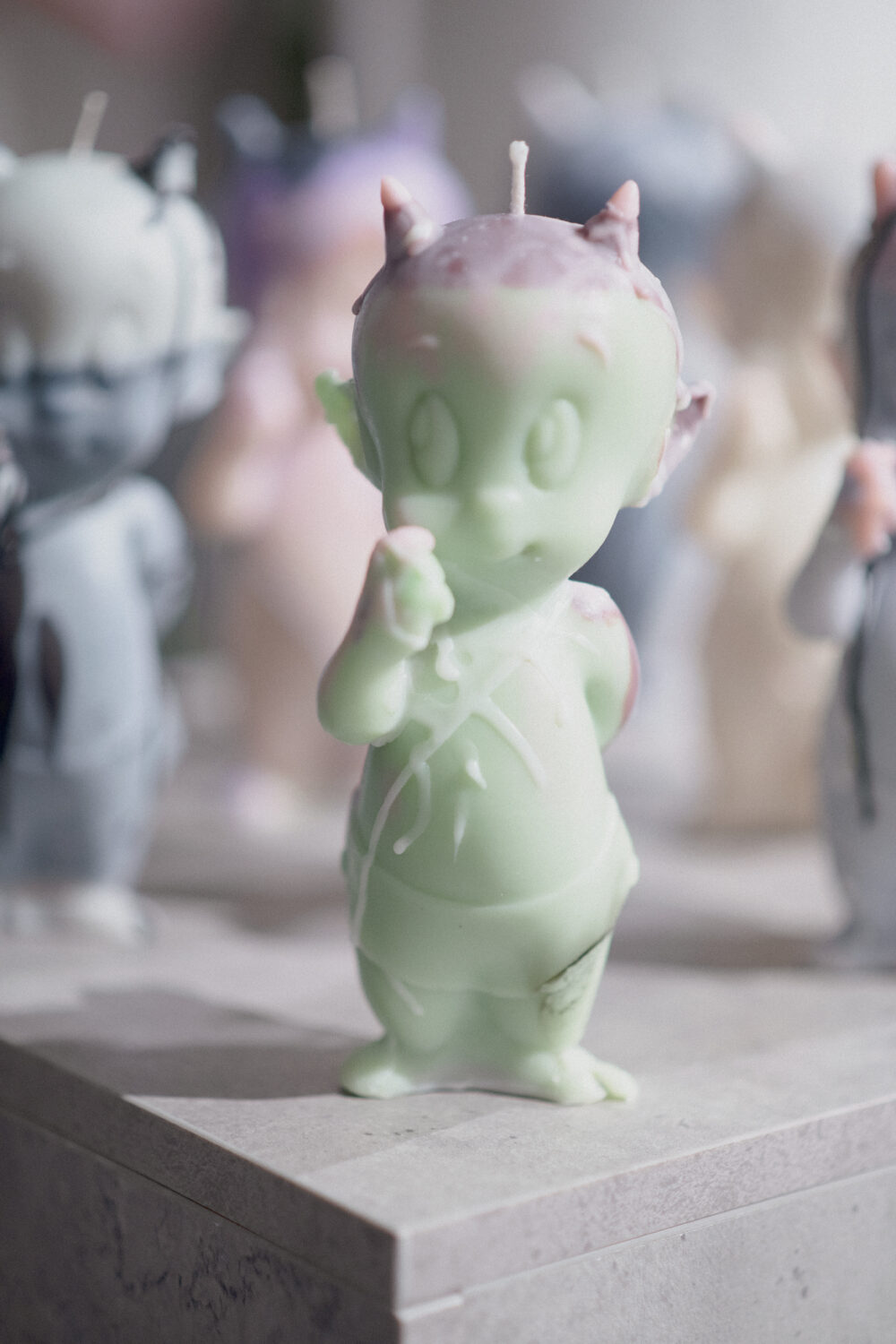 When I interviewed you for Grey back in 2021, you talked about music being an important part of Slacker. Is music part of the pop-up?
Music is definitely vital to Slacker. I love live music and I think it really brings people together. It's another form of creating and skateboarding gives us this network of so many different types of creative people so yeah, I definitely try to have live performances at all of our events. Unfortunately it was hard to do a live performance in this current space in due to limitations on equipment and budget, so we had a few DJs for opening night, but that's all. Cece and Dani (KM) killed it on the decks though.
What else do you have planned for Slacker in the near future?
I think we're just going to try and keep doing what we've already been doing: finding venues, organizing events and workshops… hopefully film that skate video too! I've never really planned ahead with Slacker and just kind of embraced ideas and opportunities as they come, kind of the ethos of Slacker (laughs). It's all quite last minute and messy.
How do you see Slacker evolving longer-term?
My dream and vision for slacker would be to eventually have a permanent space with a skate section, a concert venue, a bar, a cafe and a shop. When I imagine the space it looks a bit like House of Vans, but with more of an outdoor area and with the cityscape painted all over it. I would have the homies' work constantly exhibited, changing the exhibition every few months. The shop would stock everyone's work and we'd run skate jams, gigs, workshops, panel talks… basically do what I've done quarterly, but on a daily basis. I'd want to create a space that people can come to whenever they want to come draw, network, collaborate, plan ideas and learn something new… our own little society (laughs). That's really big-picture thinking though. I guess right now it's just about continuing to do this, filming our video, collaborating and networking, maybe doing some events in New York or Paris and just kind of growing the ethos and community. I definitely want to keep reinvesting profits into building obstacles and giving back to skateboarding.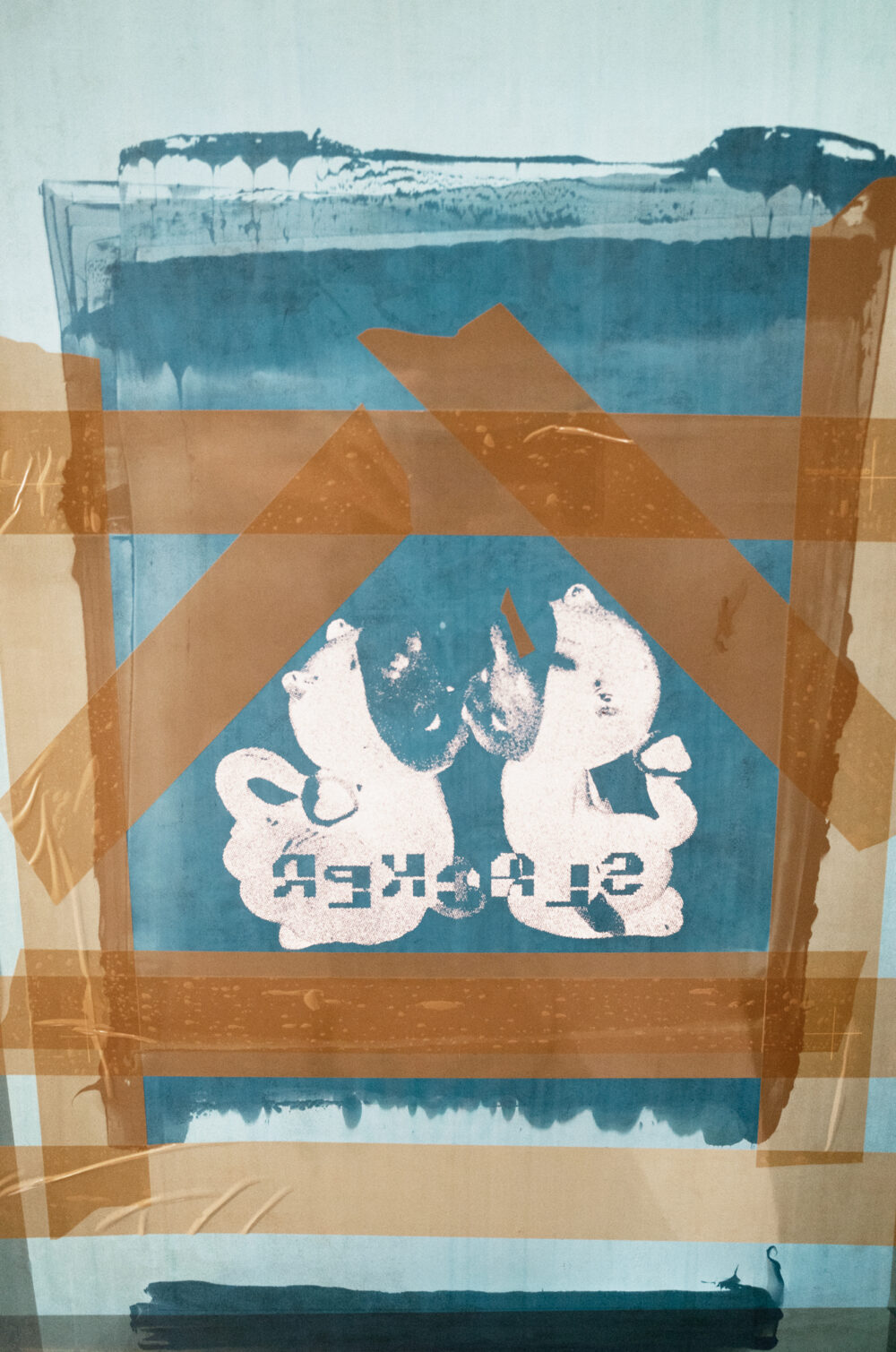 Would you like to thank anyone?
Everyone! Big thank you to Amanda and Josh for helping us get this venue and helping the process. Amanda really believed in us and that meant so much to me. Thank you to all the homies in the exhibition – Merryn, Lou, Mary, Ellie, Cece, Mia and Hope – for bearing with the process while all having jobs and their own lives to manage. Thank you to Delphino (Productions) for the video he made. He made a really great video of the last three events and I'm stoked to keep working with him. Thank you to everyone who has supported Slacker and come to our events and to Lovenskate for lending us the screen printing press. Thank you to Solo Coffee for sponsoring the drinks at the opening night and for the iced coffee we've been able to give away for free. I'm definitely forgetting people to thank but I am so grateful to everyone in my life right now.