Up: Tom Day
11.08.2014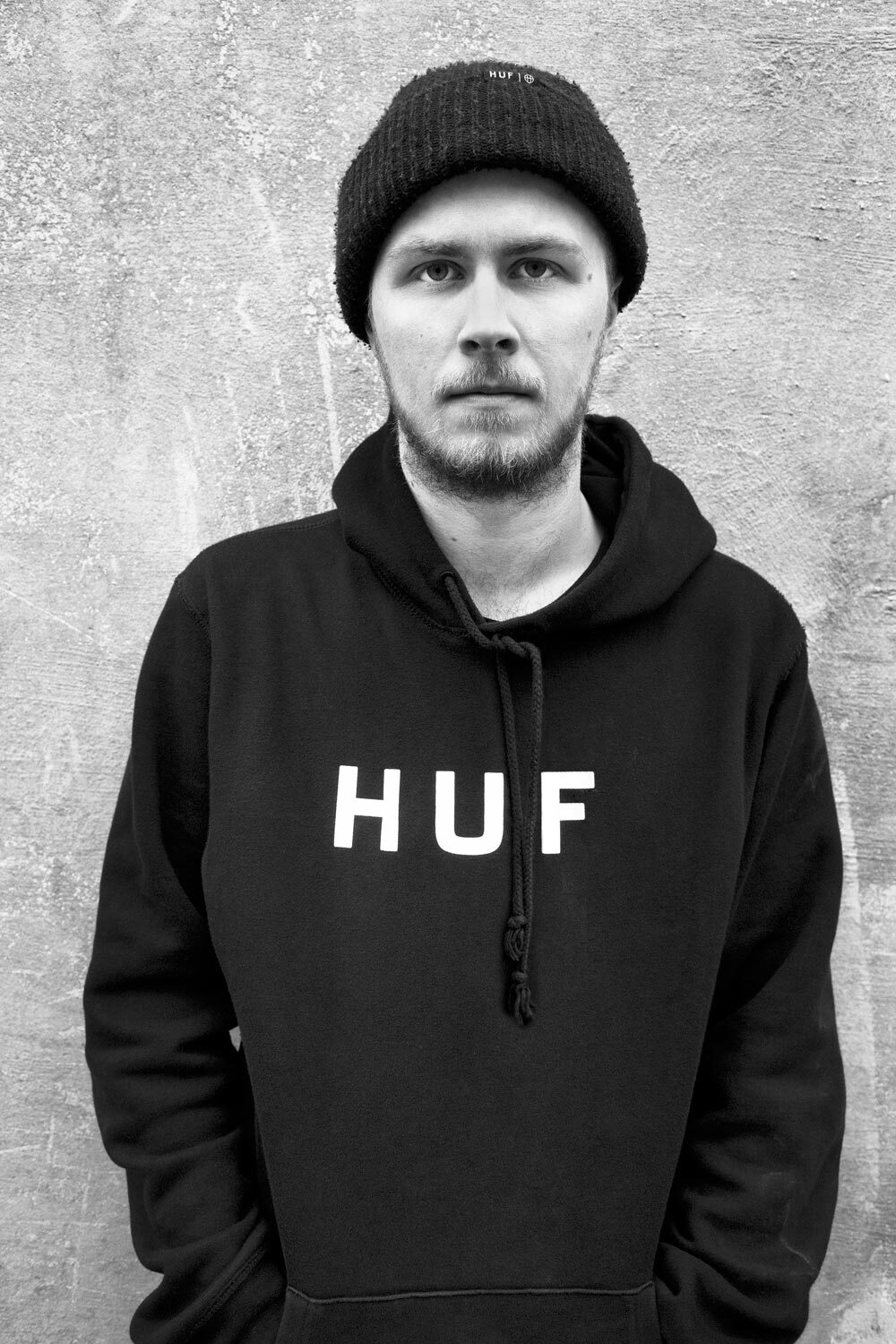 Interview and photography: Henry Kingsford
Who are your sponsors?
Heroin Skateboards, HUF footwear and Note skate shop.
It seems like a lot of guys on Heroin looked up to Fos (Mark Foster, Heroin owner) as a kid. Did you?
Yes, definitely. The first UK video I got was Everything's Going To Be Alright and his part in that was rad. That was my introduction to Tom Waits and patchwork trousers.
Tell us about where you're from.
I'm from a small village in Lincolnshire called Heckington. I lived a couple of miles out of the village itself, down a country lane. I had a pretty sick ramp in a barn that me and my dad built. I skated that every day for a few years.
What made you choose to move to Manchester to study?
I had seen sections from Joe (Gavin) and Tony (Da Silva) in The Harmony videos and was always stoked on how the spots looked – everything looked crusty and horrible. Then I visited Manchester to have a look around the university and discovered the building my course was in was actually the BBC banks spot. I didn't need any convincing after that.
Why did you stay on after university?
Manchester in the summer is rad. There was a really tight crew of us who all finished university at the same time and stuck around to skate. Also my girlfriend had another year of her course left and Splodge (Paul Rogers) at Note offered me a job, so it just made sense to stick around.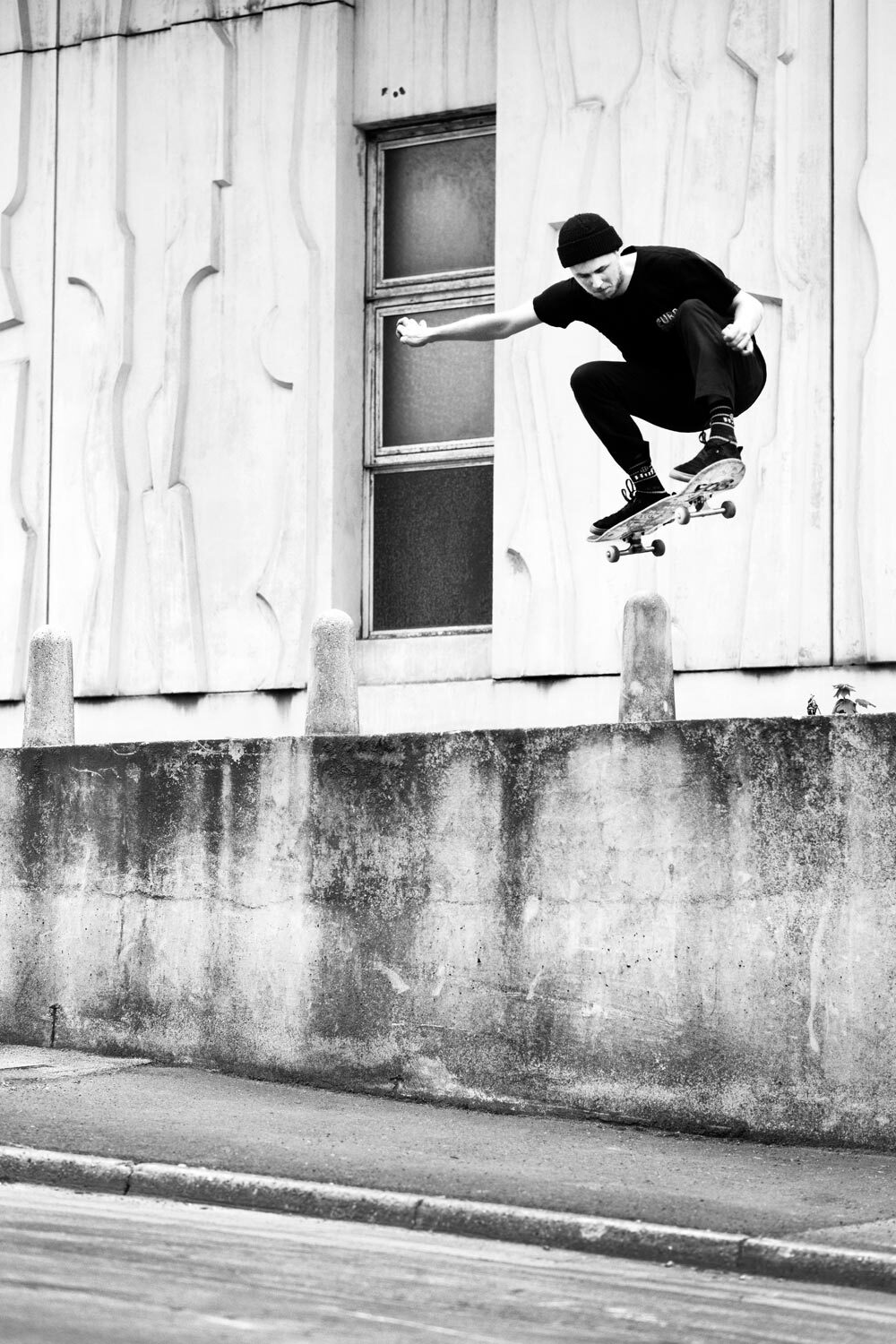 Wallie, Manchester.
Who is someone people should look out for in Manchester?
James Gell is my favourite skateboarder out there. He is actually from York, but has been living here for the last few years. When someone says, "Imagine if you could skate that," James probably has already, alone, at 2am, smiling in the rain. He's rad. Keanu Robson and Jacob Johnson too, they're the two newest kids to join the Note team.
You mentioned that you might be leaving Manchester soon to move back to Lincolnshire. Tell us about your plans.
I'm moving back at the end of June. My parents are selling their house, but I've been able to keep a small field where I'm planning to live in a static caravan until I can build something a bit more substantial. I actually just got back from a building course about using cob, a traditional building method using a mixture of clay, sand and straw. So the plan is to build somewhere to live using cob and to never have to pay rent again. I should be able to source the majority of materials for free.
Why does it feel like time to leave the city?
I've been here for five years now. It just feels like I need a change. I've missed being out in the countryside and every month my bank account ends up back at zero. I'm over that.
Where will you skate when you live in the countryside?
There are spots everywhere you go. Lincolnshire actually has some really rad ones that have hardly been touched. Lincoln, Grantham, Nottingham and Skegness are all within an hour's drive. I'll hopefully have a backyard ramp set up pretty fast too.
What are your longer term plans for the future?
I guess sort this house out and try to live as cheaply as possible. Apart from that, take it as it comes.