Zander Ritchie interview
13.03.2015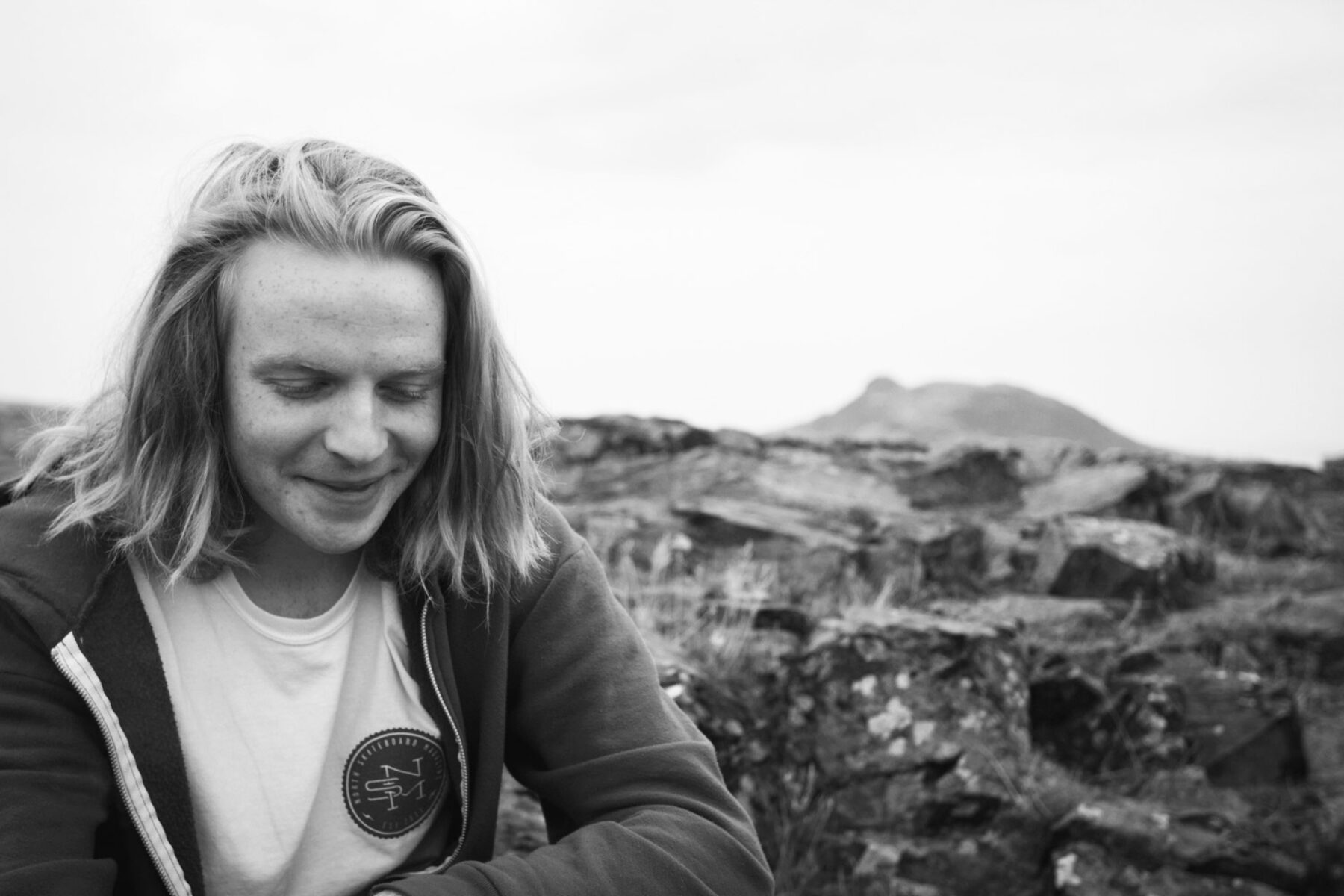 Portrait: Seb Singh
Scottish filmmaker Zander Ritchie recently finished Weather Permitting, Focus Skate Store's new full-length video featuring full parts from the likes of Miles Kondracki and Scott 'Dunder' Anderson, a Harvest Skateboards section and appearances from many more from the Edinburgh scene and further afield.
Weather Permitting is available now on DVD from Focus. Click here to order a copy.
Interview: Brian Barnes, Kieron Forbes and Sam Paterson.
Photography: Seb Singh, Henry Kingsford and Crawford Paris.
Knowing you for such a long time and watching you grow up from being a little kid who used to do my head in hanging around the shop (Focus) all day, into a well-respected filmer, it's exciting to see all your hard work come together in Weather Permitting. What made you approach Sibs (Roberts, Focus owner) about going ahead with this project?
At first I was approached by Graham Tait, the Focus team manager, to film a two-minute welcome clip with Miles (Kondracki). We started work on that in January 2012 and I can still remember Miles saying, "Aye, we can bash the filming out for this clip in a couple of days". Over three years later this welcome clip hasn't surfaced yet! It was around February 2012 when I had decided I was going to expand on Miles' footage and work on a short film for Focus. I didn't actually ever approach Sibs about it; it was pretty much Miles' idea: "Since this welcome clip isn't working out maybe you should make a new Focus video". Everything just fell into place to be honest.
I was only meant to film for one year then release a short film, but as time went on, lots of things changed. The skateboarders I had been filming were progressing quickly and a few people didn't quite have enough footage for full sections after one year. I also wanted to try to include everyone from the local scene. Actually, I wouldn't even really count the first year (2012) as only about five clips from that period made the cut. Things started picking up at the end of 2012 and now here we are with a short film that evolved into a full-length skate video.
Can you explain how you came up with the title, Weather Permitting?
The title for the video came about after Bobby (Baillie) messaged me one day saying, "Lets skate tomorrow, weather permitting". I had a think about the words, asked a few friends who are part of the film and they all agreed it was a very fitting title. It's simple and easy to understand, but I do see meanings other than the obvious, for example how the weather affects people's feelings and also how it can cause things to grow and die. I think skateboarding in Scotland kind of dies out in the winter and then grows again in the summer.
Which older or more recent skate videos have influenced Weather Permitting?
I'm not sure which skate videos have influenced me. I watch so many. When I met Megan (Convery), she influenced me and inspired me a lot through her drawing and artwork. Megan has a very unique style of drawing and it's all to do with her feelings and what looks good to her. That really made me want to approach filming in a different way and do it the way I felt was right.
It's kind of weird: I get hyped or inspired from seeing random things out and about. I could be walking down a street and see a puddle with a nice reflection and be like, "Ah wow, I want to film that." I'm not sure why. Maybe this type of footage represents how I was feeling at a particular point in time.
What camera set-up did you use to film Weather Permitting?
I used a Panasonic HVX200 with a Century Xtreme fisheye to film most of the video and I recently got a DJI Phantom drone with a GoPro, which I used for the aerial shots.
You have a reputation for being a perfectionist, particularly in terms of how your footage looks (grading, white balance etc.) Considering lots of skate filmers are still resisting HD, holding onto their VXs for dear life or seeking out lo-fi ways of filming, how do you explain your love for high definition?
VX is dead. Sorry to say it but it's done. It's been played out for too long. The fisheye and the mic are the only good things about it. Who wants glitches and to have to go through tapes? Not me. I much prefer HD. The image quality is amazing and it just keeps progressing. It's also pushed me to learn how to grade. I bought my Panasonic camera from Alex Craig – who made H'min Bam – and he explained how he set it to a flat image mode, which means the raw footage is lifeless: dull with no contrast. Grading is a lot of work, but it means you can make the footage look how you want it to and match everything so it has a similar feel and looks consistent.
In the terms of being a perfectionist I wouldn't say anything I make is near perfect but I try my best to get things to look the way I want them to. I try to do everything the way I envision it and this gets me really stressed out at times. But I think doing things your own way is one of the most important things I've learned during my years of filming.
I know that it's been a struggle to finish Weather Permitting. You've put in a serious amount of work. Can you tell us about the process and explain why it's taken so long to finish?
I don't even know where to start. Choosing to film the entire video myself made things tough, mainly because it made the whole process a lot longer. Most full-length skateboard films have a second filmer or at least other filmers contributing footage but I wanted to film everything myself so that I could fulfil my vision.
When I started filming for the project back in 2012 I had a part-time job, but around May or June that year I quit. At that point I had enough freelance work to see me through plus Focus helped me out a lot too. This allowed me to film every day, which was a great situation to be in for a while, but by the middle of summer 2013 I got really burnt out from filming so much. I had creative block plus I hadn't really spent any time with my family and Megan was leaving to spend three months in California with her auntie. I had other things on my mind and I felt like I needed to get away from the film for a while. So I ended up flying out to California for just under three months to spend time with Megan and just chill out. I also got the chance to skate places I had always dreamed of visiting and filmed some clips with a couple of friends out there too.
After I got back from California, I had no money, no freelance work and Focus was going through a hard time and couldn't really help me out as much as before. I had to resort to the Job Centre and support from my parents and friends. The past year has been a struggle. There were days when I only had enough for a single fare into Edinburgh and didn't know how I was going to get back home or eat. Looking back, it was my fault for not being on top of my finances, but I really wanted to give the last bit of this film my all and not let work get in the way.
The past three years have been amazing and hold memories that I'll never forget. I've had the chance to document the most amazing skateboarding I have ever filmed. I also got to see my friends progress throughout the whole process, while having fun along the way and seeing some of the world.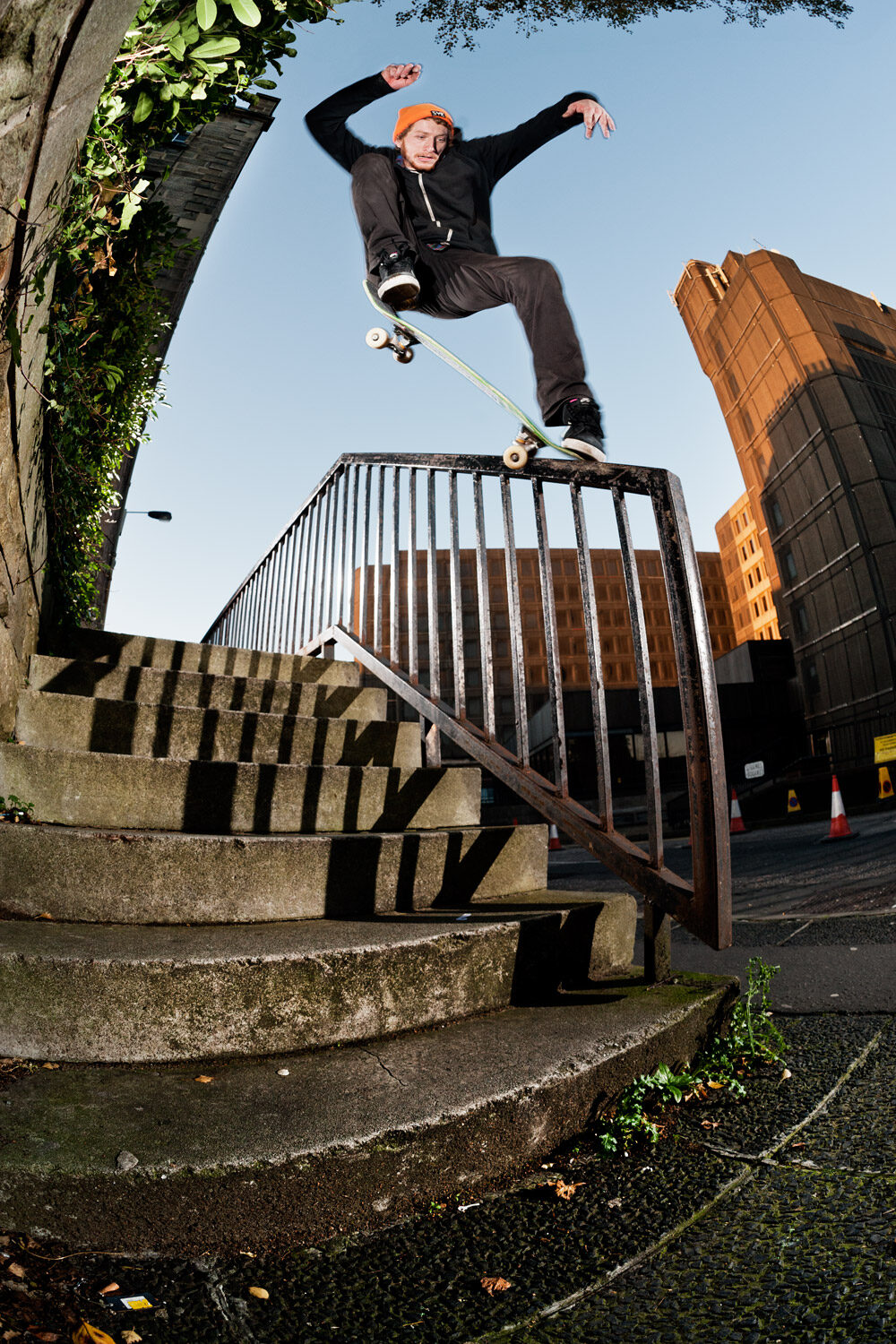 Ross 'Shezz' McSherry, crooked grind, Edinburgh. Photo: Henry Kingsford.
Before Christmas you freaked out due to pressure and the first premiere in Edinburgh was a bit of a fuck up. What happened?
It's a long story. The filming deadline was the start of October and the Edinburgh premiere was meant to be the end of November. So I was meant to have nearly two months to edit. It got to the deadline and I thought, "Ah, I should just keep filming, get these last few tricks, lines and lifestyle shots and edit as I go". That was kind of a bad decision. Me and Sibs decided to postpone the premiere until December 19th, but at the start of December I was still filming and hadn't yet got the drone footage I wanted. As the premiere approached, I still thought I could finish in time; I'd just have to stay awake for days. On the eve of the premiere, I hadn't slept in three days and I was still filming shots of trees and clouds! I had most of the video done but I still had to finish Miles' section plus sort the audio and then colour grade the whole video.
I ended up freaking out around 6am the day of the premiere due to stress and lack of sleep. I wasted hours freaking out. I was shivering like mad and anxiety had taken over. It got to the point where I didn't even know what I was doing and I had to just stop and render the video without colour grading or titles, just so I had something to show. I started rendering at around 5pm on the 19th and Final Cut Pro said it would take seven hours. The premiere was at 9pm. I didn't know what to do.
I ended up taking my iMac to the cinema and setting it all up and playing parts of the video through Final Cut Pro. That day was the most stressful day in my whole life. It was that bad. In a way I'm glad it happened because I got extra time to finish it.
There have been a lot of ups and downs for you over the last couple of years. What kept you motivated to keep going and finish Weather Permitting?
I would go through phases of being really motivated and being out there filming every dry day for hours on end. Then I would go through a kind of depression phase of not wanting to film or even skate. I would sit in my house drinking cups of tea and chain smoking rollies for days on end.
The main motivation to finish Weather Permitting was to make my parents proud because for years they thought I was going to be a doctor or a fire fighter and not a skint skateboarder with a camera flying about the streets. I just wanted to show them that I could actually do something. I also got a lot of motivation from all my friends who are part of Weather Permitting. And last but not least, Megan always believed in me, which was really sweet of her. I think she was the only one who really believed the project would ever be finished.
Photo: Crawford Paris
Which Scottish skateboard filmer's work do you respect most?
I respect all the Scottish filmers past and present, but probably Alex Craig most of all. I can watch H'min Bam over and over without getting bored, raw skateboarding with a great soundtrack. Alex produced a skate film that stands out from any other that has come out of Scotland.
The irony of dedicating so much time to documenting skateboarding is that you don't get to spend a lot of time actually skateboarding yourself. Do you think the guys in the video sometimes forget you are a skateboarder before everything else?
Definitely not. I usually skate with whoever I'm filming beforehand, while they are warming up, even if it's just flatground. I think this makes the whole situation a lot more comfortable for the person being filmed.
Is it a relief to be finished? What's next for you?
Yes, I feel a lot more relaxed now that it's all over. I did lose my mind for a while and forgot what was actually happening. I got obsessed with the video. It was pretty scary.
I've got real life stuff to sort out so that's what's next for me. Here's the list: get a real job, show Megan that I'm not actually crazy, that I'm normal again and hang out with my family. Once all that stuff is sorted out, I will bring the camera back out to play.