Yann Horowitz interview
03.03.2015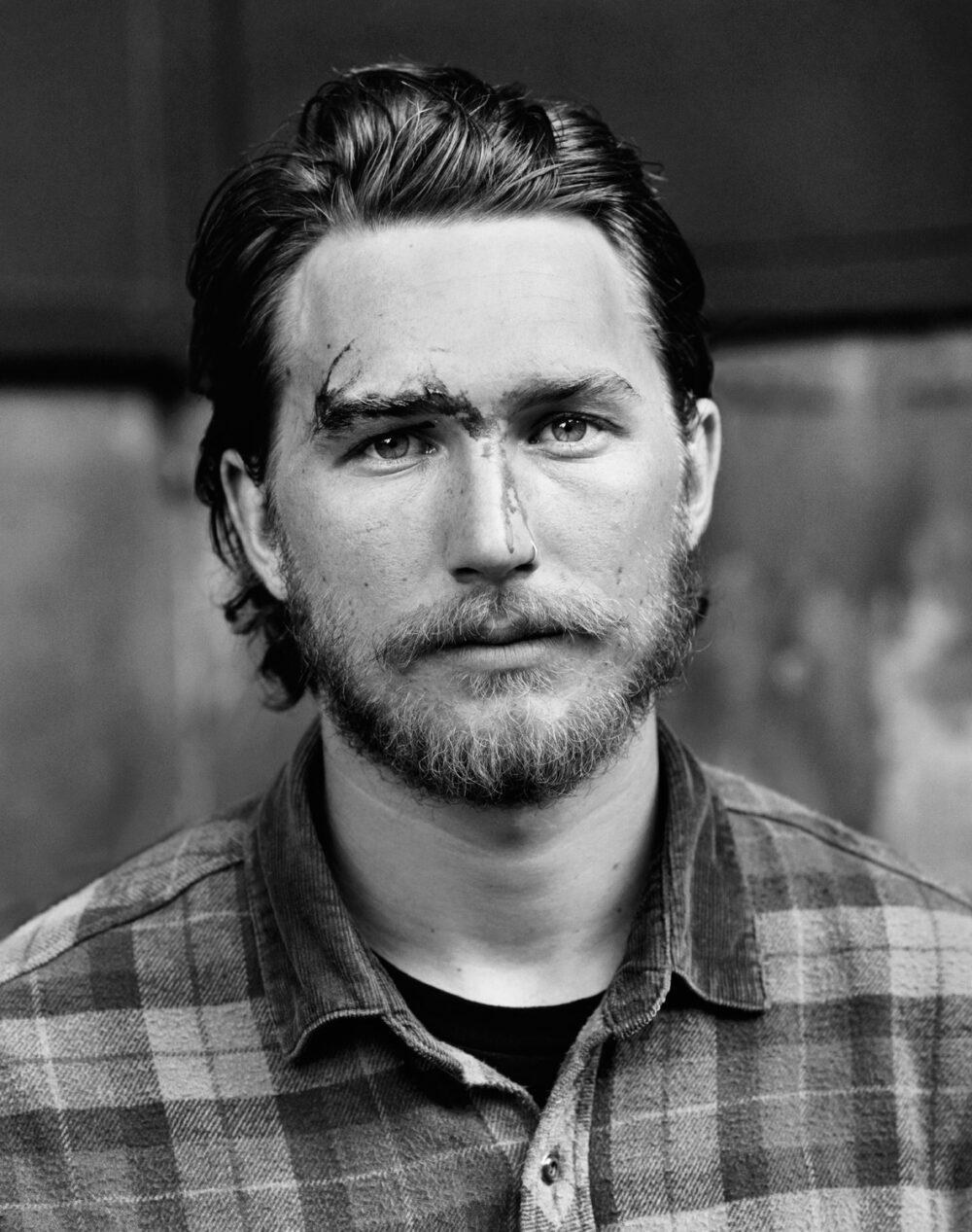 Photography: Lex Kembery
Interview: Henry Kingsford
Who are your sponsors?
adidas, Baseline skate shop, Familia, RVCA and Stance.
Tell us about your portrait.
I was trying to backside 180 over that kicker to wall that (Danny) Brady killed a while back, the one with the super-narrow brick run-up. On my last attempt I ran full speed onto my board, clipped the wall behind me with my foot, ran back off my board and then CRACK! I ran head-first into the bank, breaking the fall with my eyebrow. It made for good footage though, so I wasn't that upset.
What's a regular day for you at home in Cape Town?
It's easy living out here. I go to the beach or go on a hike in the morning to wake up and get the day going. Then I grab some breakfast with friends and go filming around the City Bowl. Cape Town is tiny compared to London, so it's really easy to link up with friends and get around on foot. Some evenings I work from 5pm until 11pm, then meet more friends for drinks until I waddle home and pass out. If I'm not working, then we go back to the beach after skating, then the bar.
Tell us about your heart scare.
There was a Quiksilver Bowlriders competition in Durban in the middle of summer. After quite a wild night out, I skated the whole day and made it into the finals, by which point my legs were cramping up. There was a second finals heat, between me and this guy Dallas (Oberholzer), and 15 minutes after that my legs started up again and suddenly it felt like someone was grabbing my heart and squeezing it as hard as they could. I stopped breathing and my heart just kept getting tighter. I woke up on the way to hospital. My dad has had three open-heart surgeries, so I was expecting the worst and started calling friends and family, balling my eyes out. It turned out that I had just overexerted myself, got dehydrated and because my legs were cramping, my heart was pumping all my blood to my legs, resulting in a very minor heart attack. I was told I was fit and healthy and left the hospital that night. I had to make some embarrassing phone calls.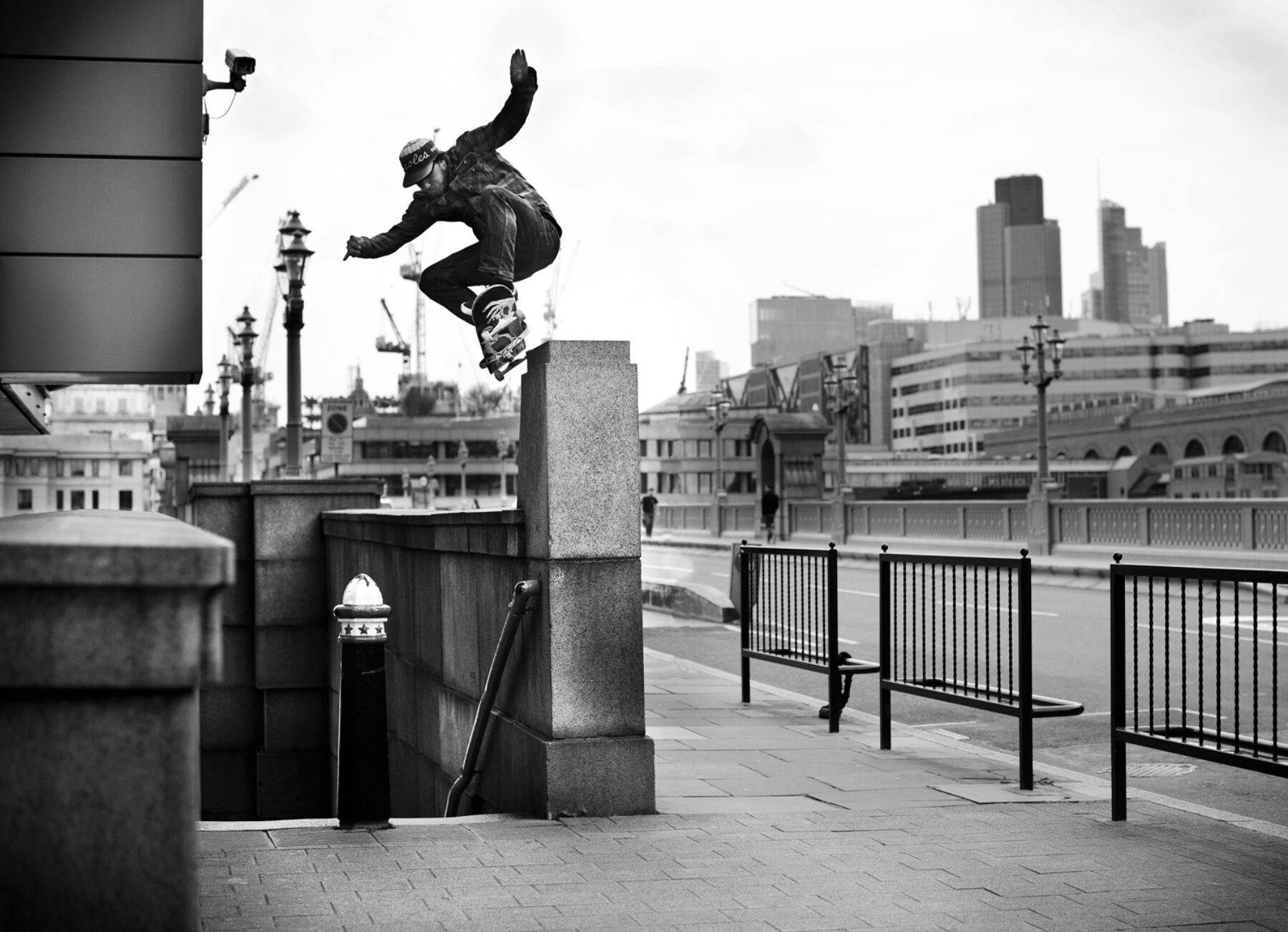 Wallie over stairwell, Southwark.
Earlier this year you were part of a Familia tour of South Africa. Tell us about this trip.
It was the first time in many years that all of the London-based Familia guys had been back to South Africa. Gavin Morgan (Familia owner) wanted to try to cover all the major cities and most of South Africa in under two weeks. The plan was to drive from Johannesburg to Durban, then down to Cape Town, the southernmost point of South Africa, stopping in any skateable towns along the way. We mainly filmed in big cities, but it was the time spent between in the van that was best: travelling through the Transkei with a van full of beers and friends, swimming in rivers (that we later found out were crocodile-infested) and just skating with the crew.
You lived in London for a while in 2011. What brought you here and what made you leave?
I moved to London to get a job and try to save up some cash to travel. This was after seven months in Barcelona, which nearly killed me. I soon realised that London is one of the hardest and most draining cities in terms of making a living. I was working dead-end jobs and when I wasn't working, I was broke after rent and bills. The Morgans (Andy, Gavin and Steph), Jay Besaans and Juice (Justin Biddle) were all a big part of my London stay and made things easier with good laughs and skate missions, but it just got too much so I left to study sound engineering in Cape Town.
How is the Familia video progressing?
It's coming along nicely. With two riders from London (Steph Morgan and Shaun Witherup) and two from Cape Town (Loucas Polydorou and myself) all having parts, I think it's going to be the perfect mix to bridge the gap between South African skating and the UK scene.