Palomino – Nick Sharratt interview
25.02.2013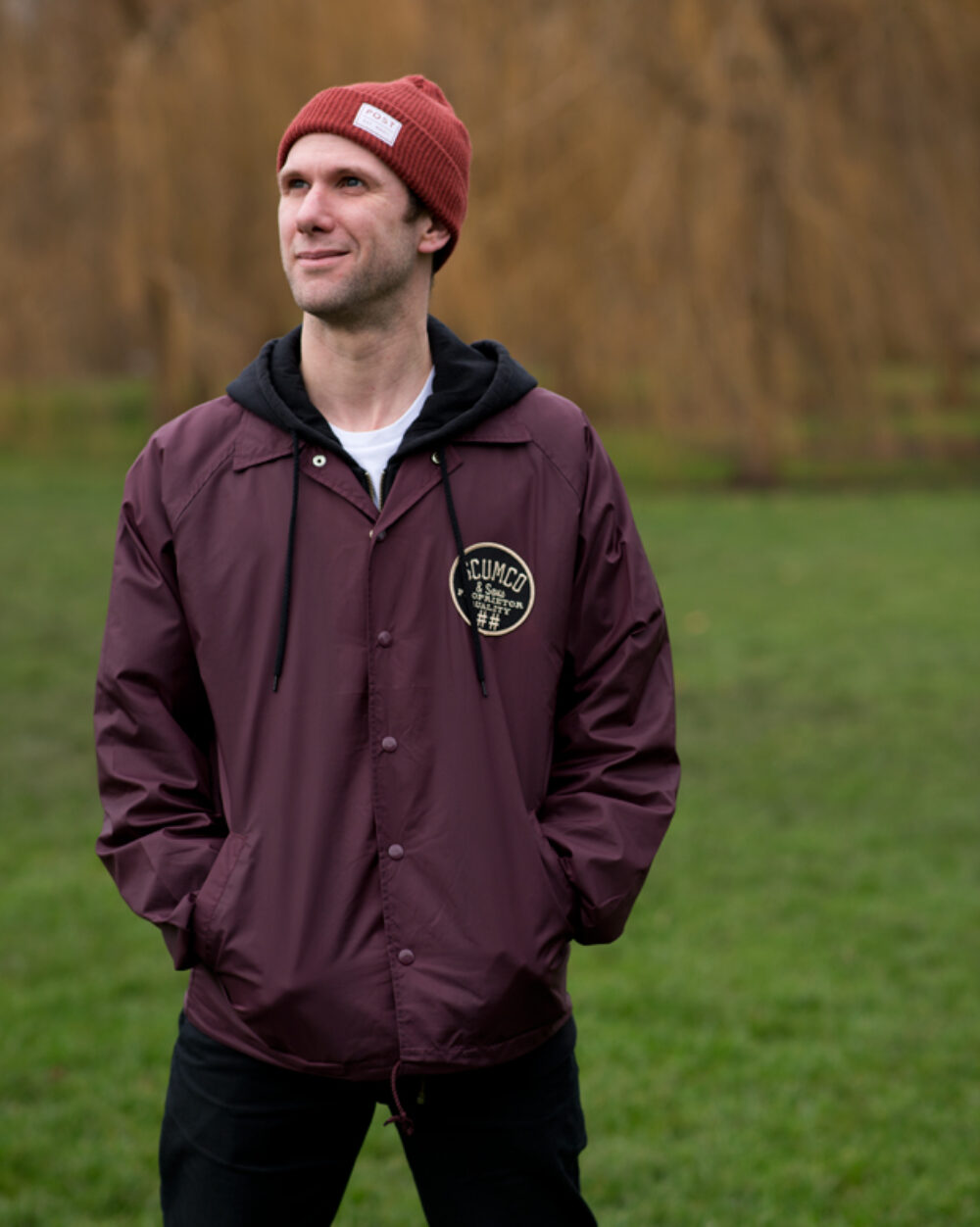 Portrait Henry Kingsford
I first became of aware of Nick Sharratt's online shop Palomino when trying to track down a copy of Slap magazine's special 20th anniversary print issue. Shipping from San Francisco was too much, so I tried some UK web shops and the only place I could find copies was Palomino. Nick's shop specialises in hard to come by independent skateboard products, so if you want the latest scene DVD from Philadelphia, or a Scumco & Sons board, you need look no further. I caught up with Nick to learn more about his company and his love of the independent skateboarding movement.
– Henry Kingsford
Where does the name Palomino come from?
Growing up I went to my mum's house every other weekend. There was an old VHS tape there with the Burt Reynolds film Hooper on it, taped from TV. Burt Reynolds is this ageing stunt guy trying to keep up with the young guns with pills and booze. I loved that film so much – I'd watch it then spend the rest of the time jumping out of trees and riding a Raleigh Burner making motorbike noises. Anyway, in the film all the stunt guys drink in a bar called The Palomino. There's such a rad bar brawl scene in there. Seriously, it's a classic.
I don't remember exactly when I put two and two together when I was trying to think of a name for the shop, but as soon as I did it was a no brainer.
What made you start an online shop?
It was pretty much just a sitting on the sofa "somebody should…" situation. I had been buying various things from different countries direct from the people making them, constantly getting stung with shipping and customs. There seemed to be this incredible movement of independent companies, films, and magazines from around the world and there just wasn't one place based in the UK where you could get at them all.
I spent a year slowly getting the initial stock together as and when I could afford it and built the site with the help of Rob Brawn in the Midlands (for which I am eternally grateful), took a deep breath, and launched the site in August 2012.
Are skate shops in the traditional sense still important?

I think now more than ever. 
Within skateboarding there will always be the purists that will continue the traditions of print magazines, and videos on DVD, but the reality is that for each new generation that comes through, these things will become less and less relevant in the digital era. But there will never be any replacement for the physical shop and the community that it provides. We are so lucky in the UK to have so many stores with such heritage run by amazing people. Lost Art, Fifty Fifty, Ideal, Slam and so many more constantly support and push their local scenes by organising contests, jams, and film screenings. Even just being there as a hub, somewhere to escape the rain during the winter… Local scenes should, and always will centre around the skate shop, and will always be indebted to the guys that often struggle to keep them alive.
I understand that this might all sound hypocritical coming from someone running an internet-only shop. The truth is that I am not in the position to be able to afford to open a physical shop, and by not having leases, rent, and bills to pay, I have the luxury of being able to take a risk on smaller companies that might not sell so fast to start with. Also, most cities already have a well-established skater-owned shop, and I would hate to open a physical shop and be in direct competition with people I have lots of respect for. It feels like the internet is where Palomino belongs.
What's a good example of something someone could buy from you that might be hard to find elsewhere?
Scumco & Sons is a brand from Pittsburgh, Pennslyvania (PA) run by Nick Teodori and Ben Smith that is available exclusively in Europe through the shop. Their boards are made in Pennswood woodshop in Oil City, PA. It's hard to get across just how amazing their wood is. As soon as you get one in your hands you can feel the difference in quality to so many other boards. Everything just seems so considered with Scumco & Sons products, even down to the swing tags on the clothing. And the Road To The Riches edit, which just dropped online is seriously good – amazing fast, strong, stylish lines at the shittiest spots. They have such a tight team. I still find it hard to understand how the company is not so much bigger than it is. I really hope that changes this year, they deserve it.
I'm really proud of the films I carry too. I'm pretty sure there's no one else in Europe that has such a range of independent DVDs available. Finding these, speaking to the guys that make them, and getting them listed on the site is one of my favourite parts of running Palomino. The underground is producing so much amazing skateboarding at the moment and there are so many talented filmers and editors out there with the passion to document it. You still need a pretty tight filter though. It was really interesting to read what Josh Stewart had to say on this subject a couple of weeks ago.
What is your best-selling brand?


Probably Polar. When Palomino was first conceived it was still pretty hard to get hold of Polar gear, but it has been so satisfying to see what Pontus Alv has achieved through his inhuman amounts of hard work. The company he has built, and the constant enthusiasm he brings to skateboarding… it's a massive breath of fresh air. I just love how it's all about aesthetic. And to see the worldwide skateboard community start to take notice is a testament to all of Pontus' efforts. Inspirational is word that gets banded about maybe a little too much these days, but I think it's fitting when talking about Pontus Alv and what he has built with Polar.
Where do you see the business in five years' time?
If Palomino is still supporting itself, and people are still into it I will be so happy. But I hope that the site and the shop will have progressed and evolved to be able to do much more than that by then. Going back to the importance of skate shops, I would love to be able to put something back into our community. Obviously I don't have a local scene to support, but I want Palomino to be in a position to have a small team of like-minded, talented skateboarders to supply with some gear, maybe put out some clips. To be in a financial position to dedicate more of my time to the shop would be amazing, and maybe to have time to actually go skateboarding more too!
Hopefully the companies Palomino represents will continue to grow and get the attention they so clearly deserve. It's an exciting time to be watching the independents at the moment, 2013 is going to be a really interesting year for skateboarding.
You keep the site updated with fairly underground video content, do you see Palomino moving towards more of an online magazine format, with exclusive content?
The blog section of Palomino is something that is very important to me. From the start I have always wanted the site to be somewhere people will want to go not just for retail reasons. I am going to open up the comments option on the blog posts in the near future, and hopefully get a little community of people together who are into the same kind of skateboarding that I am. I do gravitate towards the more underground aspect. This is not Palomino being pretentious, it's just what I'm into, so that's what I'm going to post.
Exclusive, original content is very much something that is in the pipeline for 2013. We're working on a couple of really interesting interviews at the moment.
What advice would you offer someone looking to start a new business in these challenging economic times?
Genuinely, just fucking go for it. If it is something you are truly passionate about – that you believe in – then it is the right thing to do. It's totally cliched, but that is what's going to keep the fire burning. I understand that people have less disposable income these days, but if profit is the only driving force behind what you are doing, then I believe that's going to damage your chances of success. Of course I hope Palomino can get to a point where it generates enough income for me to start taking a proper wage from it, but my love for these smaller skateboard companies, films, and everything else we sell is the reason I decided to do this. I'm not making a penny from this at the moment – it all just goes straight back into the shop – but you've got to keep grinding these things out to form that solid foundation and then move forward.
Find Palomino online at thepalomino.com and @thepalominoclub on Twitter and Instagram.