Skate the Strand – Helena Long interview & opening photos
10.09.2021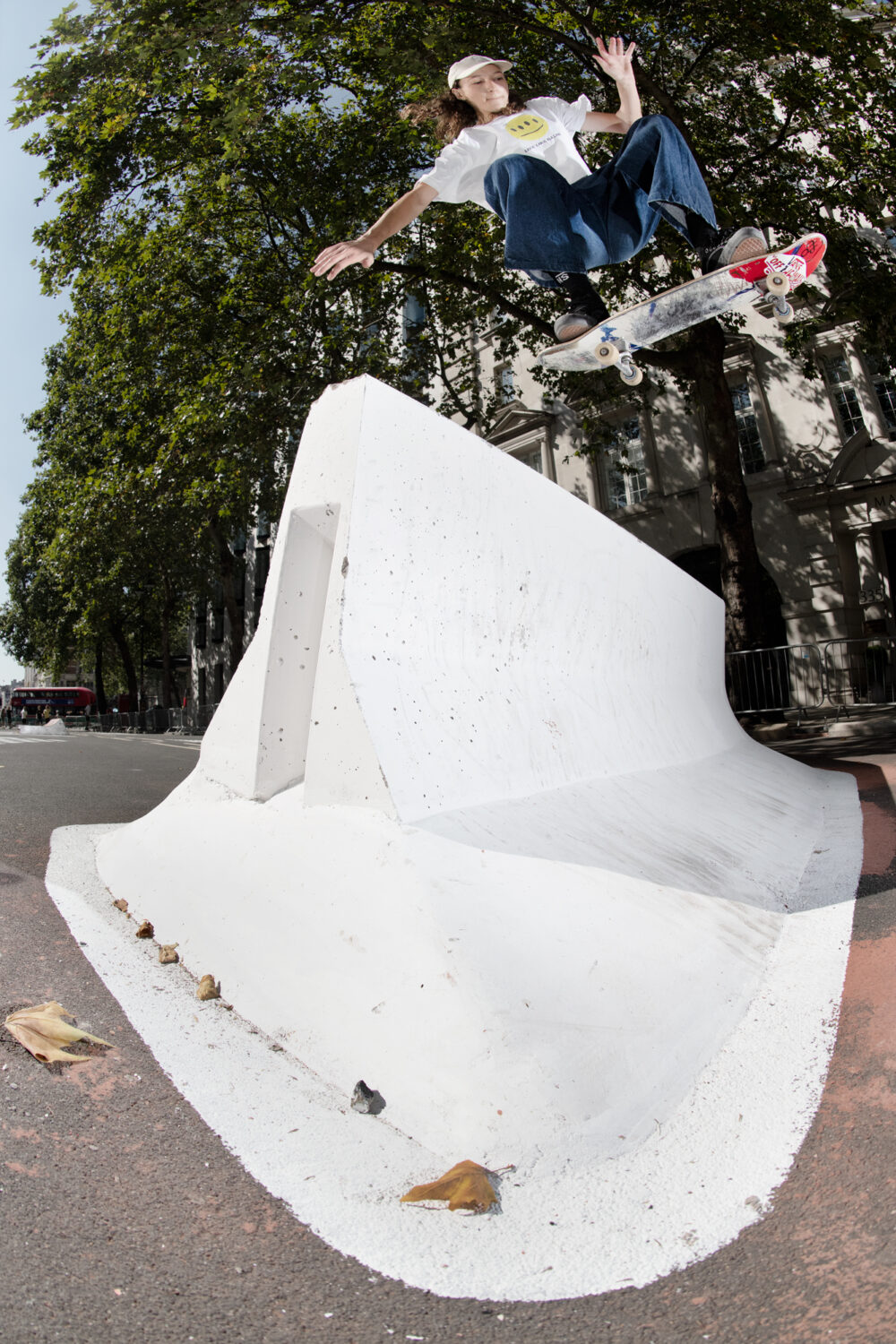 Skate the Strand is a new, temporary skatepark on the recently pedestrianised Strand in central London. We caught up for a quick chat with Helena Long, who worked on the project through her role at Somerset House. Photos from the opening session below.
Interview & photography: Kingsford
We covered this in your Grey interview last year, but to start could you briefly summarise your involvement in the No Comply exhibition at Somerset House and how you got involved?
Sure. I did an interview for the Evening Standard to promote Street League, which I didn't go to. They asked me where I worked and I said: "Somerset House when I'm not skateboarding" – I work in a part time role as a gallery supervisor or a duty manager, looking after the site and exhibitions when they're open and up and running. The interview came up on the Somerset House press team's radar so when I came into the office that evening they all had grins on their faces – they'd all seen the interview. Then my line manager from the visitor experience department forwarded the interview email around the whole office and it ended up in the inbox of the senior curator at Somerset House. She'd been talking to someone about a skateboarding exhibition, we had a chat in her room for a couple of hours over coffee and it happened. They kept me on to help as a consultant.
Tell us about that role.
The exhibition was planned for July 2020 originally, so we started in 2019 actually. There were quite a few meetings and lots of emails. Tory Turk, the lead curator, was amazing to work with. I would throw lots of names at her in random emails and she'd come up with ideas of things she wanted to include. Originally it was basically just trying to narrow everything down to fit into three rooms, so we came up with the idea to focus on the UK scene predominantly. At one point I was a bit like: "I don't really want to," because of Brexit. I was like: "I don't really want to wave the flag," but skateboarding is different, obviously. You've got organisations like SkatePal, Free Movement and The Ben Raemers Foundation that have come from the UK and spread across – all sorts of amazing things to include that do have roots in the UK. That made it easier. And then a theme for each room to help narrow it down… So yeah lots of emails, a few meetings, lots of running through archives of the old mags at the Palomino office.
How has the exhibition been received?
Well, being a duty manager, I have to write reports every day I'm in and we have to include visitor figures for all the exhibitions and visitor comments. I'm not being biased but I type up all the visitor comments and I overhear what people say and I've obviously taken a sneak peak at the visitor figures for each day and it's really, really popular. I think about 800 people come through on a Saturday; a couple of hundred (a day) through the week.
Skateboarding's debut at the Olympics happened during the exhibition's run. Did you notice a surge in interest in the exhibition after?
Definitely. So many people that came through mentioned: "Have you seen the Olympics?"
I saw your Instagram story saying: "Sorry there's nothing about the Olympics in the exhibition."
Yeah. The exhibition didn't feature the Olympics and people didn't know that until they got there and they hopefully got to see the whole other side of skateboarding and understand there's more to it. I think that's really cool.
On to the new skatepark on The Strand. How did that come about?
I heard about the pedestrianisation of The Strand a long time ago – maybe 2018 – and I remember having that in the back of my mind. With Somerset House being situated where it is, they got a say in what was included and what could happen. Covid delaying the exhibition was lucky in a way, because it happened the same time as the pedestrianisation and they (Somerset House) wanted to do something in keeping with the exhibition. What we all wanted was something actually skateable here too. We wondered what the chances were that we could convince Westminster City Council to do something like this and bizarrely, they were really excited about it.
That is surprising. London isn't the most progressive city in terms of attitudes towards street skating and integrating skateboarding into public spaces.
That's exactly what I thought. When we had the first meeting I had in my head examples from Malmö and Copenhagen – all the skateable structures they make – sculptures almost, I guess – just to show that you don't have to do a skatepark; you don't have to make it so obviously skateable. And what's amazing is showing how you can integrate something in the city and people can use the space in a different way and bring communities together.
What was your role in the project?
Essentially I just pulled all the right strings into the middle and I would join in on the meetings. With the exhibition and working with Somerset House and riding for Vans, I connected the three. I just brought the parties together a little bit, and brought suggestions and examples to the table every meeting. And constantly hammering at Westminster City Council to say: "Look at what other countries do for public space! Why can't we do this?"
So the council took some convincing?
They were actually really receptive. Maybe they were quite sceptical to begin with because they didn't really understand what we could do with the space, but we had a Zoom meeting and Ollie (Wright) from Vans and everyone brought some examples: the green skatepark in the centre of Paris (rue Léon Cladel)… That's the one they loved the most actually; they were like: "Big colour! Vibrant!" So I think seeing examples of other cities as big as London that had done such amazing, inviting things changed the perception. The combination of it tying in with the exhibition, Somerset House having a say, Vans funding it all (laughs)… I think that helped.
How did Vans get involved?
In the beginning I was trying to help get key sponsors for the exhibition. I said to Vans that there might be the opportunity for skate-related stuff. I think they really wanted to get an event happening. House of Vans was closed and that really put a halt on the kind of stuff they used to do.
Can you tell us any more about the pedestrianisation of The Strand? Is that permanent?
The pedestrianisation will be permanent. At the moment it's like an interim; I think they are going to pave over and things like that. They're going to change the surface of the road. I saw the original plans before this happened and there are benches, more trees; it's going to be greener. During the meetings I was asking if we could have skateable obstacles that remain. I'm not sure. I'm still asking; there's a possibility. I think if this is successful, if people respect the space, the neighbours, the offices around, the passers-by that might not be skaters, we might have a chance.
I heard a rumour that the council might be interested in placing some of these obstacles elsewhere in Westminster after the park closes.
Yeah, I heard that rumour as well, which is crazy. I think they did say something about placing them round town. Apparently one of the big bosses at Westminster City Council just loves skating, so we got quite lucky with that.
Tell us about Betongpark's involvement. As I understood it, their exhibit at No Comply was all about placing skateable objects in public spaces in a seamless, harmonious way.
They've got Daryl (Nobbs), who has learned the tricks of the trade from working in Norway making amazing Scandinavian-designed perfectly smooth things and then you've got Stu Maclure who joined them from Long Live Southbank… We know after Cann Hall and some of the stuff they've built here that they build some of the most fun, skateable stuff. They made that kicker for the (Somerset House) courtyard and they tried to replicate that cobble floor so it was seamless… They talked about how public spaces are up for interpretation by skateboarders and that they try to build things in line with that. It was a no brainer to have them involved.
How did the design process work?
Betong drew up ideas of obstacles, but they were open to suggestion. So they had some of them already mocked up and then we could just send them an email saying: "Yeah that would be sick, maybe if you made this a bit more accessible with a lip or something," – a few tweaks.
Did City Mill Skate come up while you working on this project?
Definitely. I brought them up a lot in the meetings as an example of a project that happened in lockdown, giving people the opportunity to make models of what they want to skate and what they'd like to see, but also keeping in mind that that whole project was to help bring conversations up about how to make space more than just skateable, but integrating it with the public. That whole project was really fun in lockdown and one of the models made it into the exhibition. Everything they are doing in East London is essentially what we're doing here: just trying to get more skateable spaces and more interesting public obstacles and sculptures built. They were really useful because they had so many great examples of stuff they had done already; I think that helped convince Westminster.
So the skatepark is open for one month and it's open to everyone.
Yeah it's here for a month. There are definitely going to be some skate lessons with City Lions, which is a local community group that helps young people engage with and access culture and creativity. Dave Chesson and Vans riders will be running skate lessons. But really it is just open to the public for everyone to skate. You can go on to Somerset House's website to book tickets for the sessions (all sessions are sold out at the time of writing, but hopefully more will be available). Due to the fact there are residents nearby there is security, so after a certain time you won't be able to skate. I hope that doesn't ask too much from everyone. I think we can respect that. But to be fair if I saw this I'd probably want to jump the fence at some point.
But don't.
But don't, please. If we are nice for the duration of this, and we show that we're not just idiots on planks of wood with four wheels causing chaos and noise, we might be able to keep some of it, and we might have some more skateable parts of our city – who knows?