Sylvain Tognelli interview
27.09.2013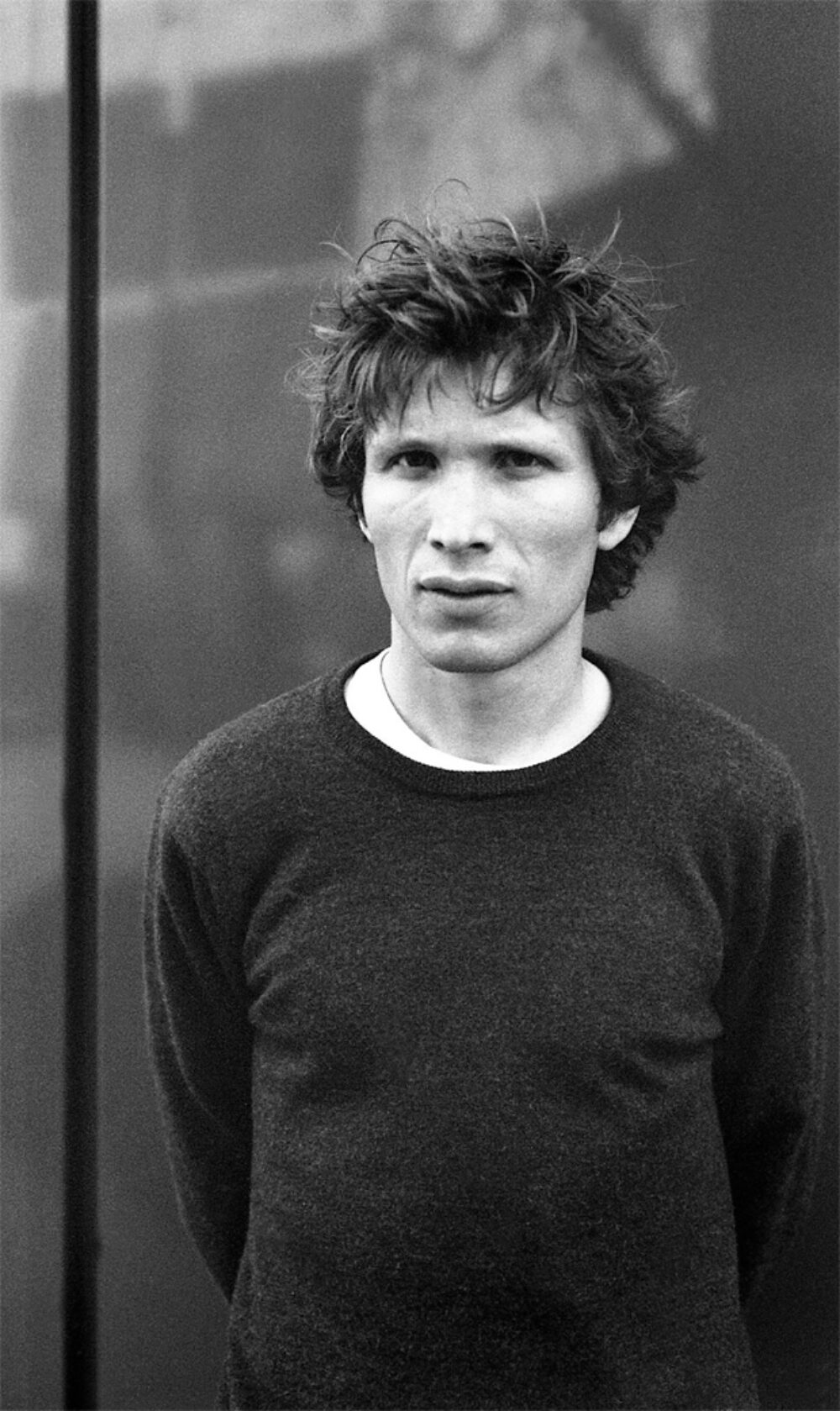 Portrait Henry Kingsford
The third in our Eleventh Hour interview series features Isle, Lakai and Carhartt rider Sylvain Tognelli. The DVD is due October 5th and is currently available as a pre-order from Slam City Skates. Eleventh Hour is supported by Lakai, Fourstar, Isle and Slam City Skates.
Interview Henry Kingsford
Your experience filming for the video was a little different to everyone else's. Can you explain?
I had few clips stacked for the video from earlier Blueprint filming with Jake (Harris). Then Lakai became involved in the project and it was suggested that I start working on a section. It didn't feel too forced since I hang around with all the guys involved when I'm in London anyway. At the time I was trying to finish a Lakai section too, so it was easier taking one-week trips to film VX for The Grey Video. We did four of them. A month to film a section was a real challenge, especially while going through some personal stuff, but I think it's going to come out OK. I've never had a filmer at home for an extended period of time, so I'm used to these missions and to prematurely-born sections – I have four of them coming out this year.
There must have been a lot of pressure. Was this an enjoyable experience for you in any way?
I didn't feel any pressure while filming because there were no expectations. I had set this challenge to get as much stuff done as possible in a short period of time. If I had ideas, perfect. If not, I just had to be patient and wait for the next spot. It was really helpful to film with the VX because you can make spots and tricks look better. Having only four weeks is my excuse for any disappointed viewer. Get your money back!
The video was filmed mainly in London. What do you like about filming here?
There are a lot of interesting spots to skate. I have always been welcomed so warmly and have lots of friends to go skating with, not just filming. London looks and feels good and is way too expensive. Being there is like a treat.
You also spent a week in Lyon, where you lived for several years. How was this experience? Did you skate different types of spots to those you used to skate when you lived here?
We stayed in Vieux Lyon (Old Lyon) at Loic Benoit's place, which is quite far from where I was living before so it was almost like staying in a different city. The spots have changed a lot over the last four years too. There is so much more to skate now… or maybe I have become more open to different types of spots during that time. I don't know. The spot from the cover of Grey (issue 12) is ridiculous – it's worth taking a trip to Lyon just to skate it. It was also good to see my old friends, but hard to manage because I wanted to skate, show Nick and Jake around and see everybody all at the same time. I love to speak French too, it reminds me that I'm not actually retarded the rest of the time. I'm just slower and harder to understand because I'm usually not speaking in my mother tongue. I moved to Berlin from Lyon quite impulsively and at the time I thought I would return, so I always have this guilty feeling coming back, like I betrayed the city or something.
The second Eleventh Hour trailer, featuring Sylvain and Nick Jensen
Can you talk a little about working with Jacob Harris?
Jake prefers skating over filming, which is a good quality for a filmer in my opinion, even if it can make our lives harder sometimes. He has a good heart and loves to have long conversations. It's easy to forget about filming in his presence.
He often loses or breaks something in his camera bag, so we feel blessed when everything is more or less working and we can start filming. I love those duct tape moments, though; they are good memories from this project.
He has strong opinions on the footage but spends so much time thinking about it, he ends up loving the things he hated and hating what he used to love. I stayed at his place in February and he was going through all the footage almost every day. I ended up finding little details as well and started to get passionate about this or that clip, debating if it should be in the video or not. I believe great videos come from a balance of simplicity and this kind of attention to detail.
As you can probably tell if you don't know him already, Jake is a 'personnage'. He is also now a good friend. I would like to try to film with him on a longer project and hang out more. Move to Berlin Jake!
Can you talk a little about skateboard videos, and their importance in your life as a skateboarder?
Videos give skateboarding its cultural dimension. They are influential in the long term at a time when most cultural products are disposable. In my opinion, the standard of skating/editing isn't as important as the way videos capture a certain feeling, place or time. I love small crew videos and skate shop videos for this reason. Nevertheless, once in a while a video will come out that is a true piece of art and deserves to be treated as such.
What skateboard video has had the biggest influence on you?
Probably Habitat Mosaic. It is the reason why I'm still skating now.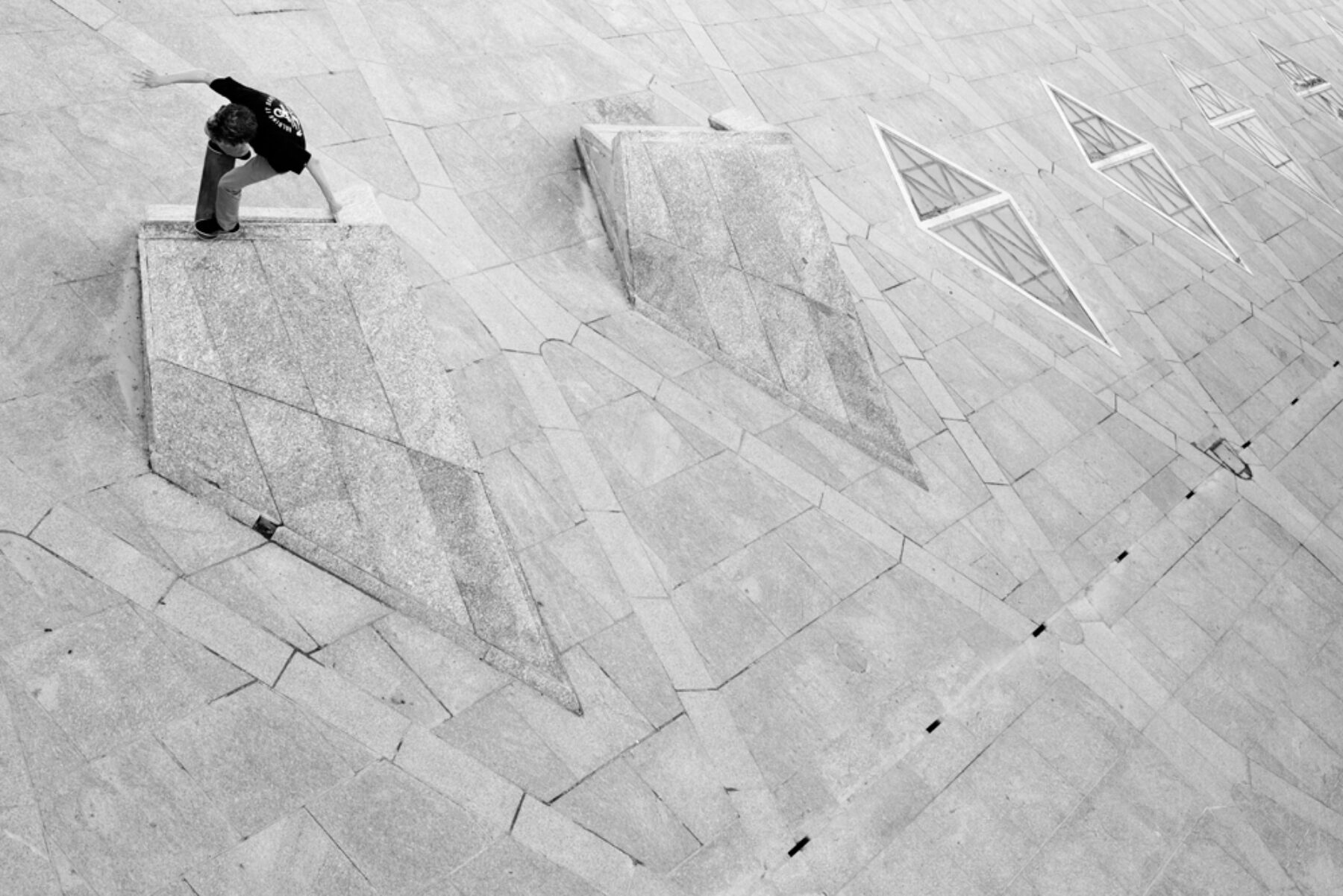 Switch bluntslide, Valencia. Photo Henry Kingsford
Do you agree that skateboarding should be presented as a full-length video, in the same way that music should be digested as albums, with tracks listened to in the order intended by the artist/s?
Live music is still the best, though and it's the same with skateboarding. Full-length videos, when done well, are one of the most enjoyable ways to experience skateboarding. But every approach can be done well: single web sections, iPhone photos, Instagram videos… We should open up to new ways of presenting what we love. It is easy to say it was better before but it doesn't change anything.
How do you feel about the project changing from The Grey Video to an independent video last minute due to issues with sourcing music?
If it makes it easier to pick songs and use them, I'm down for it. Musicians profit from being in a good video. It's an exchange and it shouldn't be treated so unilaterally. Even if it doesn't increase sales, it does spread their talent and get people interested in the rest of their back catalogue.
The video was filmed mainly in London and Lyon, with some Berlin and Valencia footage too. How do you feel these locations compliment each other?
Clips in London have more intensity due to the ground being a bit rougher and the tighter architecture. It's good to balance this with some space to breath, some footage from smoother and more open cities like Lyon and Valencia. Berlin is where I live so it made sense to try to get stuff there too.
What would you change about your part?
I haven't seen it yet so it's hard to tell, but certainly more footage would have been better.
Who has your favourite footage and why?
From what I've seen, Tom Knox. He worked so long and hard for this part, I cannot wait to watch it. But everyone has been picky on an aesthetic level, so I'm looking forward to seeing how the mix works. It should feel pretty organic.